Planning a wine-tasting holiday is not just about necking the nectar of the Gods: wine tourism offers you the opportunity to leave behind the hustle and bustle of everyday life for a relaxing holiday in the most beautiful settings.
And as well as beautiful rural scenery, wine tourism means discovering a rich cultural and historical heritage, maintained with passion. So it's about savouring wines and associated local foods, enjoying the fresh air and scenic beauty of the winelands and learning. In short, it's a great theme around which to plan holiday or a weekend break!
And staying at an open-air resort is the perfect way to visit the vineyards and their localities. Follow our guide to plan an open-air wine holiday!
How to plan a wine holiday in France, Italy or Spain
Wine tasting holidays in France: the best destinations
Wine tasting holidays in Italy
Wine tasting holidays in Spain
How to plan a wine tasting holiday in France… or Italy, or Spain!
What to do during your wine holiday
Taste some wine, of course! But you don't have to like to drink excessively to enjoy visiting a vineyard. Wine tourism is all about the interest of visiting cellars and vineyards and the experience of tasting local produce in moderation.
It's also an opportunity to discover the countryside – perhaps you can plan your itinerary to get around by bike? – and visit the villages and monuments of the region, to learn something new.
What is a wine tasting tour at a vineyard like?
Every estate and every tour will be slightly different, built around the land, the products and the people who work there.
But it is likely to involve meeting a winemaker and learning some of the secrets of wine production and tasting. Discovering the wine-producing facilities: cellars and wineries. And of course, wandering through the vineyards, which take on different colours throughout the year, for a real breath of fresh air. And the visit usually ends with a wine tasting, of course!
You usually need to book ahead, but only a day or two before. You can get all the details from the local tourist office on arrival, or before you travel, if you like to be very organised!
When to go on a wine tasting holiday in Europe
In any season!
Winter is chilly and gives the vines a bluish glow. This is the quietest season to discover the vineyard in a different way.
In Spring, life returns: the first buds appear on the vines and grass and flowers spring up among them. This is the time when the previous year's wine comes out of the cellars, ready for tasting, an exciting time! The weather is milder, but it's still a relaxed time to visit: high season hasn't yet arrived.
The vines start to bloom in June, and the grapes grow throughout the season until the veraison (the moment when the grapes change colour) in August.
In September comes the harvest, an exceptional time to visit the vineyards… if open, as some estates close their doors to concentrate on the work at hand.
At the beginning of autumn, the vines are decked out in a thousand colours, mushrooms are popping up, and the weather remains mild. It's a quieter time to visit than summer, but don't go too late or there'll be no colours left to see….
The best places for wine tasting holidays in France
France is of course a prime destination for wine tourism. Visiting one of the main wine regions of France – or even one of the smaller ones – is a great way to learn about French wines and vineyards and simply a great way to spend a few days or weeks.
And the country is overflowing with open-air resorts and campsites, so you'll easily find accommodation near the winery you're keen to visit.
Here are a few of the best wine destinations in France.
Bordeaux: the most famous wine region in the world
The Bordeaux area in the Nouvelle-Aquitaine region in the South-West of France is a must-visit for wine lovers, and there is also plenty to do nearby.
The region's capital, Bordeaux, is a beautiful tourist destination, with its elegant architecture, fine dining, UNESCO World Heritage districts and the Cité du Vin, a unique museum dedicated to wine.
The area also boasts beautiful beaches, the highest sand dune in Europe and huge forests to explore by foot or by bike.
This region produces some of the most famous vintages in the world. As wine production and tourism is so established here, there are lots of estates with great visits. Here are some accommodation options:
Camping Du Vieux Château, in Rauzan
Nestled at the foot of a medieval castle, the Vieux Château campsite offers pitches, mobile homes, chalets and lodges so that everyone can find their accommodation of preference. An ideal starting point for exploring the surrounding vineyards (such as the cellars of Rauzan, or the neighbouring vineyards of St-Emilion), the caves and grottoes of the region, or simply enjoying the activities organised by the campsite.
If you want a real change of scenery, have a look at the EcÔtelia estate, an eco-camp located at Le Nizan. Located in the heart of the Graves and Sauterne wine route, it gives you access to the estates making these famous wines. It offers lots of glamping options (including tree houses, pods and bubbles) and is eco-responsible, focused on harmony with nature.
Champagne: bubbles par excellence
The Champagne region in the North of France – the birthplace of that sparkling substance we all associate with celebration and renowned as the best place for it in the world, still today – is easily accessible, within an hour of Paris on the train.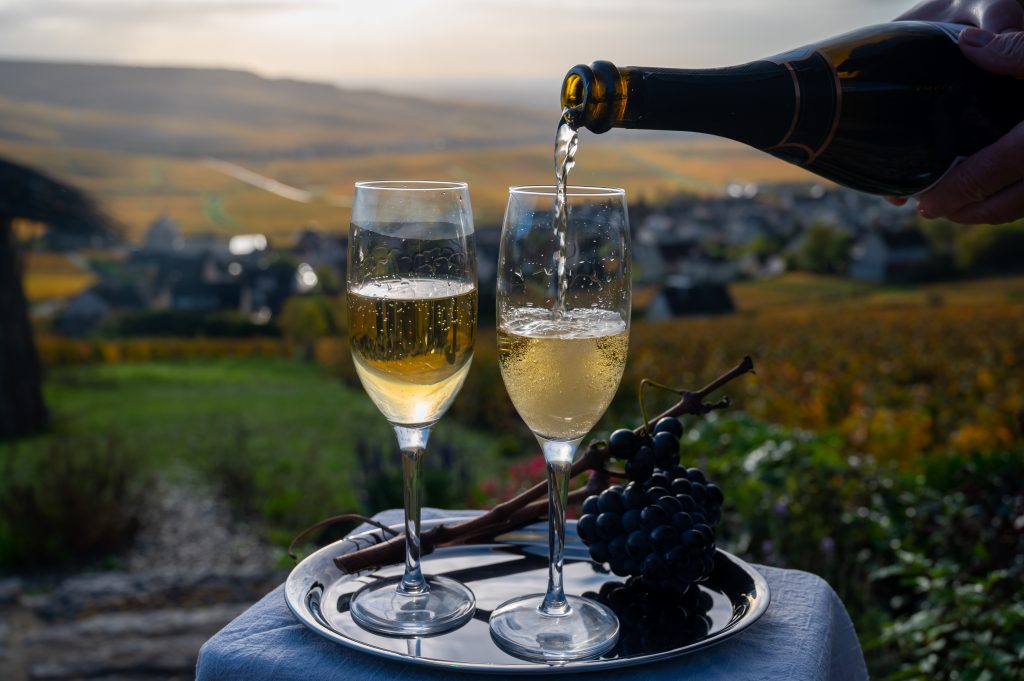 Épernay is a must-visit if you are interested in wine culture – it is the Champagne capital, its kilometre-long Avenue de Champagne said to be the most valuable road in the world, due to the more than 200 million bottles of champagne in cellars under it! You can visit many of these wineries, from famous ones like Moët et Chandon and Mercier to smaller, more intimate ones.
The larger town of Reims, nearby, also has some champagne houses and a fine cathedral. And you might like to break up the sightseeing with a visit to the new Reims pool, a big swimming complex with separate pools for serious swimmers and for families, with waterslides and games, as well as an adults-only spa area.
Between the two towns are kilometres of vines, which make for a pretty landscape to visit by car, by bike or on horseback…. With your exploring punctuated by some champagne tasting, naturally! For more structured exploration, the Montagne de Reims park is a park with walks, discovery trails, exhibitions and other activities to learn about the local flora.
Camping in Châlons-en-Champagne
Walkable from the centre of Châlons-en-Champagne town, this spot offers lakeside mobile homes in a calm setting.
Châlons-en-Champagne is home to the Joseph Perrier house, where you can visit 4th century Gallo-Roman cellars with interesting chalk pits and, of course, taste the wine. It also has a charming town centre, with a UNESCO-listed church and a museum dedicated to champagne. You can rent bikes from the tourist office, and there are plenty of greenways and cycle routes to explore the region.
The Loire Valley: castles, caves and vines
The Loire Valley is home to hundreds of the world's most famous châteaux and the Loire, Europe's last wild river, offers extraordinary landscapes. Another relatively flat and accessible area to plan to get around by bike, with many nice towns and villages relatively close to each other, interspersed with castles, caves and other sights of interest.
It is also a very popular wine tourism destination. Best known for its whites and sparkling wines, it also has some good light reds and rosés: there's a Loire Valley wine to suit all tastes.
Camping Les Rives du Douet, Concourson-sur-Layon
A pretty little campsite with lodges and glamping tents available to rent, Camping Les Rives du Douet is in the Layon vine-growing valley . The valley produces the famous sweet wines of the Coteaux du Layon. An out-of-the-ordinary wine tasting experience.
It is also close to Doué-la-Fontaine and its zoo, Saumur and its fantastic castle overlooking the Loire and Brissac castle. It's in the heart of Anjou, a peaceful rural region where you'll really relax. And the campsite has a heated swimming pool and excellent children's play areas… so you might even get to relax alone for a few hours!
Camping Les Patis, Nazelles Négron, Val d'Amboise
A family campsite with trees and a relaxing atmosphere, Les Patis is ideally situated in the Val d'Amboise. Book a pitch, a teepee or a lodge in this interesting spot!
The village is close to the famous castles of Amboise, Clos Lucé, Chenonceau and many others. Blois is not far either, and from there, Chambord. In short, some of the most remarkable castles of the Loire will be on your doorstep!
The Touraine-Amboise region is also overflowing with beautiful vineyards that produce whites, rosés and reds, including Chenins and Pineaux de la Loire. Treats for the eyes and the taste buds.
Alsace: the first region to develop a wine route
The Alsace wine region is known for its vineyards specialising in Riesling and Gewürztraminer wines, perfect refreshment for a hot summer's day. The Alsace Wine Route website is a great source of information about the 50 vineyards and other things to see in this famous wine region on the border of France and Germany.
The area is also full of outstandingly pretty villages, any one of which is good for a wander around for a while and have lunch: Bergheim, Eguisheim, Turckheim, Kaysersberg, Riquewihr, as well as the larger town of Colmar. Colmar's cobblestone streets are lined with pretty, half-timbered medieval and early Renaissance buildings and it has several areas to visit, including Little Venice and the Tanners' area. You can even visit by boat, along the canal. In fact, you'll have no shortage of things to see and do around here for a few days.
This campsite in Colmar is only 2 km from the town centre, so easily accessible if you are planning a train or bike-packing holiday. Book a glamping tent or chalet or mobile home and explore the town and the region by bike.
In a forest setting at the foot of the Grand Ballon mountain, the Huttopia Wattwiller campsite is a four-star campsite with a wide range of accommodation (Canadian tents, trapper tents, mobile homes, chalets, huts, etc.).
From here, you'll be able to head up to the Grand Ballon mountain resort over 1000m high, with hiking and bike paths, horse-riding, fishing, a pool and a playground. And explore the mountains, forests and natural parks of the Vosges.The campsite itself has lots of activities too.
Burgundy: vintages famed worldwide
Burgundy is another infamous wine destination. Exceptional vintages and food to go with them, picturesque villages and vineyards known throughout the world.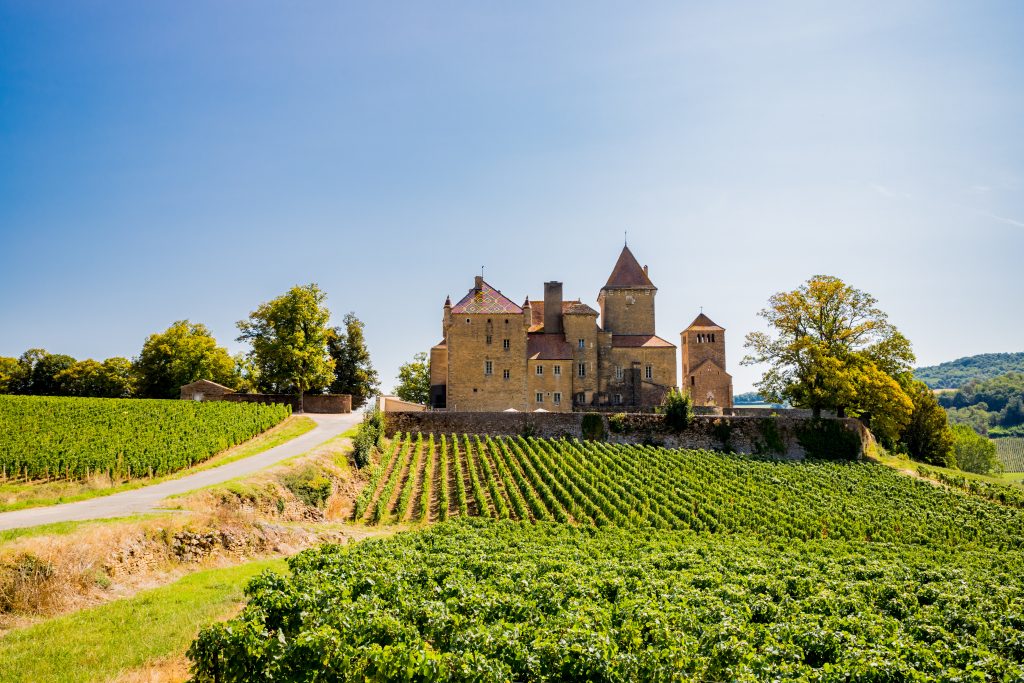 Camping Le Lac de Saint Point Lamartine – Southern Burgundy
You can stay in beautiful countryside in the south of Burgundy at camping Le Lac De Saint Point Lamartine. Discover Alphonse de Lamartine's castle, relax in the lovely lakeside setting between valleys and forests, choose from a range of glamping or traditional accommodation.
The campsite is very close to the famous Solutré vineyards, which delight wine lovers with their Pouilly Fuissé, white and red Mâcon, Burgundy and St-Véran. The region has lots of cycle paths to allow you to discover it under your own steam.
Camping Moulin de Collonge, Saint-Boil, on the greenway
Burgundy and cycling go very well together, in fact. The Moulin de Collonge campsite is 300 metres from a 117km long greenway that is perfect for hikers and cyclists. A great way to discover the architectural and wine heritage of Burgundy.
Choose a caravan, mobile home or chalet and relax amid the hills. The campsite is halfway between Châlon-sur-Saône and Mâcon, so you can discover the wines of both. For rest and relaxation, head for the campsite's swimming pool or the banks of the onsite fishing pond.
The Rhône Valley: history, hiking, biking and wines
The Rhone Valley is also a splendid destination, with an incredible diversity of colourful and preserved landscapes, and a large number of appellations. There is no shortage of activities: urban tourism in the Roman city of Nîmes and the nearby Pont du Gard, or Avignon, its Popes' Palace, bridges and splendid walled city. Hiking in the mountains, along the banks of the Rhône or through the Ardèche gorges. And of course, tasty excursions to visit the vineyards of the region!
Les Truffières campsite, Ardèche
How about a combination holiday where you discover the Ardèche gorges or take on a well-known cycling challenge, as well as get to know the Rhone wines? The Truffières campsite is ideally placed to satisfy both nature and wine lovers! Its mobile homes offer you comfort amid vineyards and truffle oaks, with pitches for you tent or campervan also available to get even closer to nature.
The campsite offers a beautiful view of Mont Ventoux, dotted with vines. The mountain is a revered challenge for committed road cyclists, with three different ascents of roughly 20kms each. The famous Grignan-les-Adhémar vineyard and Madame de Sévigné's castle are nearby. As a bonus, there are fields of lavender, as far as the eye can see, for almost a month in the summer.
La Pinède campsite in Provence, Orange region
Between Languedoc-Roussillon and Rhône-Alpes, the Orange region is also a popular destination for wine lovers, due to the famous Châteauneuf-du-Pape reds.
Camping La Pinède in Provence is an excellent base for exploring the region. Nestled in a charming pine forest, it offers pitches, tents and mobile homes, with a swimming pool to relax in between exploring. Road or mountain biking, walking, hiking on the GR4, excursions to Orange or Avignon… you won't be short of things to do around here.
Wine tasting holidays in Italy
But wine isn't the sole reserve of the French: Europe is full of fabulous wine regions. Not all are set up for tourism, with vineyard visits and accommodation easy to arrange, but Italy and Spain have a good few options.
Italy is the world's largest wine producer. It knows how to produce quantity, but also quality. With history, food and beautiful landscapes adding to the excellent wines, there are lots of great places to go on an Italian wine-themed holiday.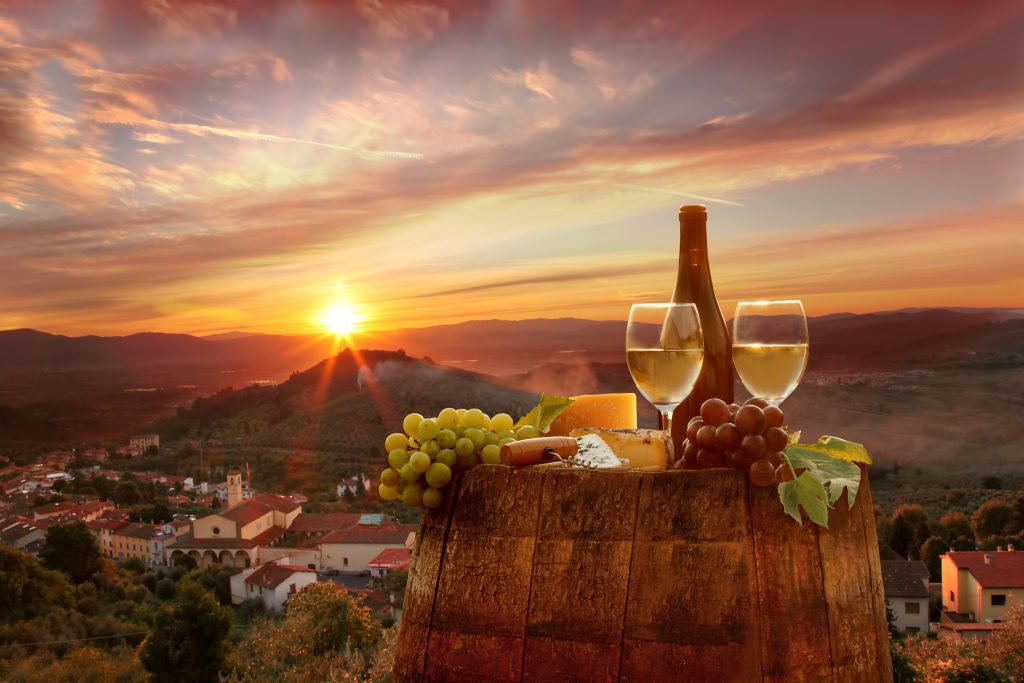 Piedmont: wine, cuisine, hills
Red wine lovers will know the famous wines of Piedmont, including Barolo and Barbaresco. The region has many beautiful vineyards on the hillsides, where you can enjoy fantastic scenery and do your soul and stomach good.
Nature and peaceful waters for a relaxing holiday! Camping Röse in Dormelletto is beautifully situated on the shores of Lake Maggiore, with access to the beach. It offers mobile homes and tent pitches. Not far from Novara, it is a great base for visiting the Piedmontese vineyards and enjoying the beauty of the Italian Alps.
Tuscany: match wines with beautiful cities
Tuscany is another region famous for its wine production. Chianti is the region's biggest name, but it produces many appellations, including the prestigious Brunello di Montalcino, whose vineyards stretch south from Siena. It is a leading tourist region, with picturesque and peaceful countryside and fantastic urban destinations to combine holidays and culture.
Siena's vineyards are world famous. The city itself is worth a visit: Florence's eternal rival, it's a medieval gem, centred around its magnificent Piazza del Campo. Its cathedral, museums and charming city centre make for great sightseeing.
The city of Florence itself is also, of course, an incredible destination, with its rich architectural heritage including the Duomo, Palazzo Vecchio, Giotto's Campanile tower and many museums. The surrounding vineyards and bucolic landscapes are a perfect antidote after a day of city sightseeing.
Combine visiting the city and the surrounding vineyards by staying in an open-air resort in the wonderful Tuscan countryside. Here's an option near Siena and one near Florence:
This open-air resort is ideally situated on the 573-metre-high plateau of Sarteano, for a wonderful view of the area. It has a large balneotherapy pool, fed by the thermal waters of Santa Lucia, to combine comfort with relaxation.
Village Internazionale Firenze, Florence
The Village Internazionale Firenze is located among pines, oaks and olive trees, just five kilometres from the historic centre of Florence. The number 37 bus, 700 m from the campsite, takes you there in 20 minutes! The campsite offers pitches for tents, caravans and a camper van area as well as mobile homes for a comfortable holiday.
Wine tasting holidays in Spain
While Italy is the biggest wine producer in the world, Spain has the largest wine-growing area in the world. So you can expect the country to be full of wine tourism destinations!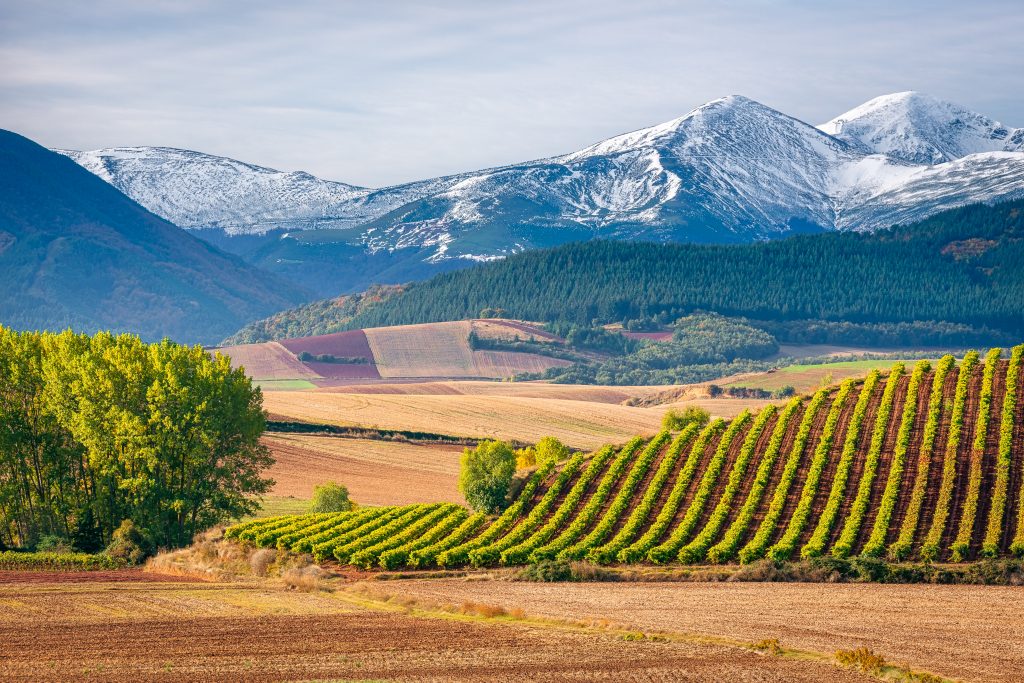 Catalonia: 12 AOCs and a unique culture
Catalonia is full of terroirs with unique personalities. Priorat, with its many small terraced vineyards on slate soil, is the most prestigious. A wine tourism holiday in the region is a great way to satisfy your taste buds, but also to discover an area with a unique culture and heritage.
And there is no shortage of places to stay in the open air! A small selection:
Verneda Camping Mountain Resort, Lleida
The Verneda Camping Mountain Resort offers bungalows, cabins and pitches in the Lleida wine-growing area.
The wines of Lleida are grown at altitude, 1000m above sea level, so you'll enjoy the mountains as well as the wines. There is a Lleida wine route to follow. The local area produces the D.O.C. Costers del Segre.
Ampolla Playa campsite near Tarragona
In Catalonia, wine tourism can also be combined with the beaches of the Mediterranean. Camping Ampolla Playa, south of Tarragona, offers you the chance to enjoy the beach and the landscape of the Ebro Delta Natural Park. The area is rich in wineries, in the terroir of the DO Tarragona, which produces many white wines.
Aragon: off-grid mountain exploration
Somontano is one of Spain's most famous DOs. The name means "foot of the mountain": the land lies in the shadow of the Pyrenees. Wine growing has been a tradition here since Roman times and even before.
Camping Isabena in the province of Huesca is an excellent base for discovering the wines and the region. The campsite is situated at an altitude of 700m and offers a wide range of walks, rafting and canoeing, as well as peaceful and beautiful scenery. It offers a wine holiday combined with nature and relaxation, in a region far off-grid and unknown to mass tourism.
Santé! Salute! ¡Salud!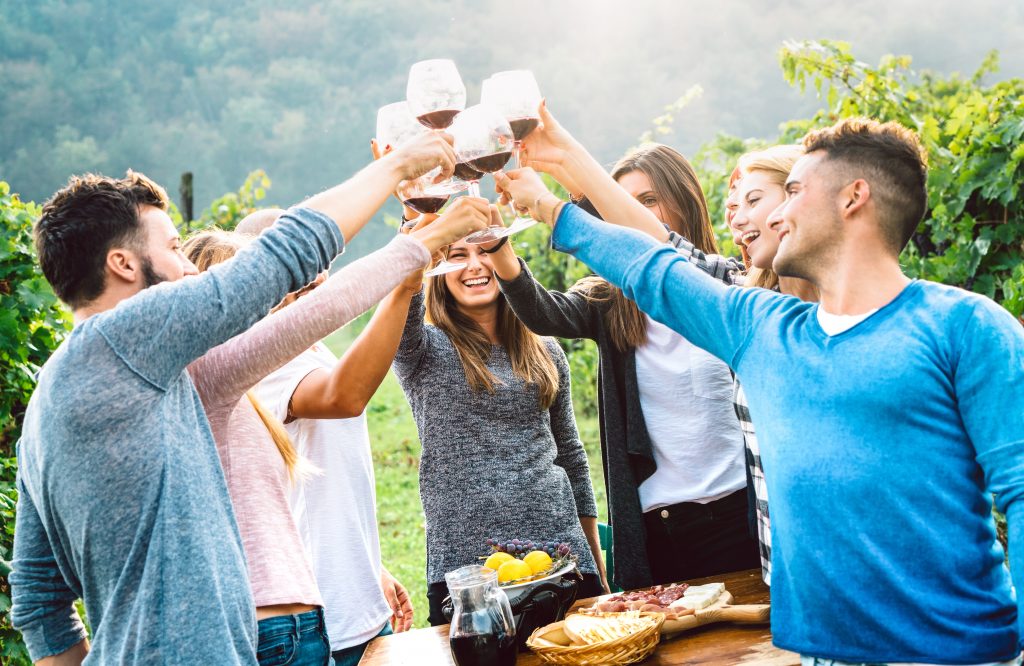 As you can see from the short synopsis, there is no shortage of destinations in Europe for planning a winetasting holiday, or a wine tasting weekend, in the open air! Wine tourism can be by the sea, in the mountains, in the countryside or even in the city – so you can make it the theme of a holiday in your favourite sort of setting.
So sit down with a glass of wine this evening, browse the possibilities and book your next break!