France is not only a land of enchantment with unmatched beauty, cultural treasures and delicious cuisine, but it's also a HUGE adventure playground, full of thrilling activities for the whole family to enjoy!
There are many great adventures to be had in France, all thanks to its diverse, bountiful landscapes and majestic scenery. There are the Alps & Pyrenees, the thousands of kilometres of Atlantic and Mediterranean coastline, age-old towns, bustling cities, canyons, lakes and so much more, all offering a vast range of terrain for exploration.
If, like us, you love spending time outdoors, surrounded by nature, trying out new and exciting experiences, then we've got you covered. In this guide we'll give you some inspiration for adventure hotspots in France, as well as nearby accommodation too.
Contents:
Hiking in the Chamonix Valley
Mountain biking or gravel biking in the Alps or Pyrenees?
Best places for caving and canyoning in France
Skiing and snowboarding in the French Pyrenees
Best paragliding sites in France
Scuba diving in the French Riviera
Kayaking in Marseille
Cani-rando in the Ecrins Massif
Horse-riding in Aquitaine
5 unique outdoor activities in France
Hiking in the Chamonix Valley, France
The Chamonix Valley is nothing short of spectacular. FACT.
Its raw beauty is made up of snow-capped mountains, waterfalls, glaciers, forests, rolling hills and lots more. Nature and wildlife thrives in these idyllic surroundings – and so will you!
In our opinion, there's no better way to experience its magic than by foot.
There are over 500km of way-marked trails, ranging from gentle walks through flowering meadows to epic alpine summits. Here are a few to wet your appetite:
Visit the Aiguilles Rouges Nature Reserve. A remote, bio-diverse landscape filled with lakes, limestone and wildlife. Spot the flocks of ibex, marmots and maybe some bearded vultures too.
>> Stay in a Mongolian yurt or rent a grass pitch in glorious settings at this camping resort with a jam-packed adventure itinerary <<
Explore the Arve valley and its many trails guiding you through forests, mountain bases and along the great Arve River, which runs through to Switzerland.
Discover the Grand Balcon Sud, enjoying Mont Blanc (and its neighbouring peaks) as your backdrop.
Trek the Fenêtre de l'Arpette, a moderate trail with stunning panoramic views of the Chamonix Valley and Trient Glacier. It even has cable cars at the end!
You can join a guided hike, or freestyle it. Just be prepared for all weathers – the temperature can change significantly between low-land and mountain peaks, so plan your wardrobe and hiking gear carefully.
>> Sleep in a boutique glamping pod, wooden chalet or bring your own tent at this mountain-side camping village near Chamonix <<
Mountain biking or gravel biking in the Alps or Pyrenees?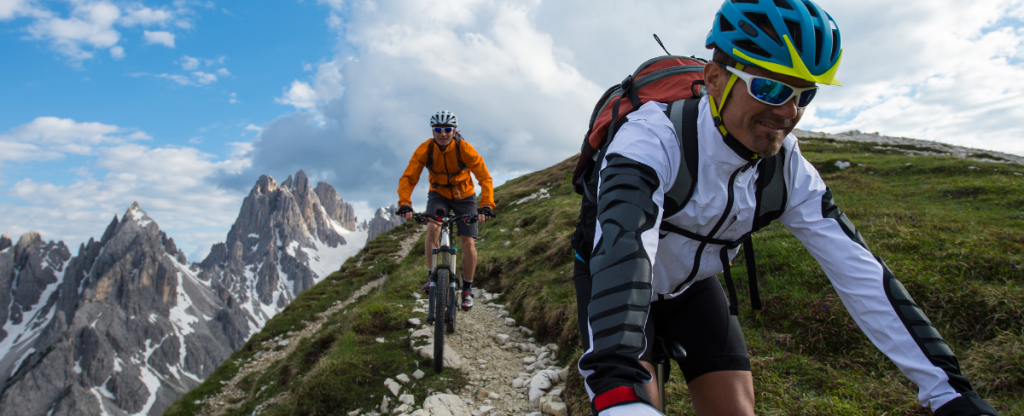 Mountain biking and gravel biking are an exhilarating way to discover the beauty and rawness of French mountain ranges, whilst challenging your physical and mental limits through rough terrain, climbs, descents and other spontaneous obstacles in nature.
Being off-road and off-the-beaten track is invigorating, especially in France – and you've the freedom to take your two wheels on a tour of majestic landscapes with jaw-dropping views.
Now, it's not for the faint hearted. You must have the confidence, experience or professionally guided support to navigate the literal peaks and flows of cycle routes in the mountains, but once you've mastered the art, there are so many cool places to ride, like:
Queyras Regional Natural Park (Hautes-Alpes). A protected area in the Southern French Alps featuring forests, alpine pastures, glacial lakes and peaceful bike routes with summits of up to 3000m. Bike rental and guided tours are available through Queyras mountain bike tours.
>> Stay in a wooden chalet in the woods, or rent a grass camping pitch at this serene campsite beside Queyras Natural Park <<
The Massif du Canigou with its centrepiece mountain rising to 2,784m. Many off-road trail bikers consider it one of the best places to ride in France, thanks to its sunny climate and panoramic views of the mountains and coast.
>> Rent a pitch or safari lodge at this family-focussed campsite with an exciting outdoor adventure programme <<
Best places for caving and canyoning in France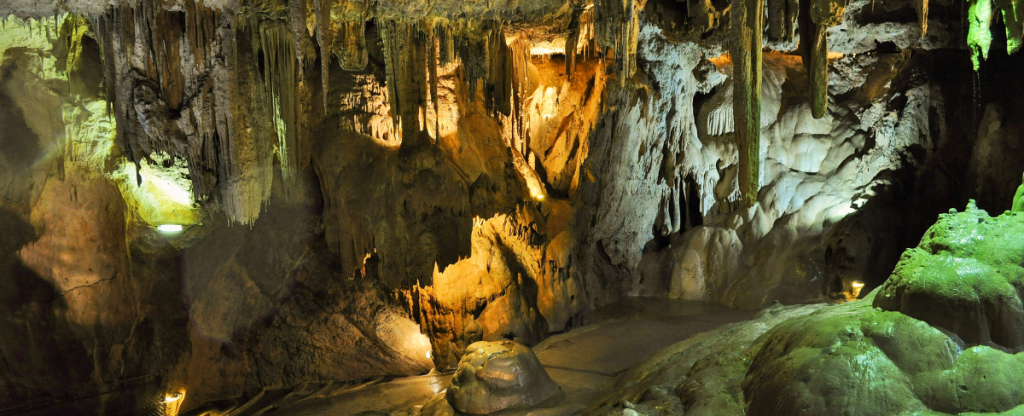 Popular for their unique landscape and cultural significance, we'd say the best places for caving and canyoning in France are in the Vercors, the Tarn Gorges and the Ardèche. 3 must-see destinations, each with a story to tell.
The art of cave discovery (also known as speleology) is a centuries-old, adrenaline-pumping activity that allows you access to the underground world in a unique way.
Similarly, canyoning is a type of mountaineering that involves abseiling, jumping and swimming through fast-flowing mountain gorges and cave streams. It doesn't usually require any experience beyond good general fitness and a taste for adventure, so can make a great day out for families with older kids or teenagers.
Together, these extreme sports invite you to a whole host of mineralogical treasures, like deep underworld rivers, ancient caves, white water rapids and historical cave art. It also gives you new orienteering skills such as roping, crawling and climbing.
Book a canyoning and caving course in France:
La Maison du Plein Air offers a 'cocktail of adventure' in the great outdoors. Join a group canyoning, speleology or canoeing expedition in the heart of the Tarn Gorges (a UNESCO World Heritage Site). The tours includes a visit to the magnificent Clujade cave too.
>> There are lots of open-air resorts on the banks of the River Tarn, like this family-friendly site with a waterpark <<
Bureau des Mniteurs du Vecors – offers professionally-guided tours for caving and canyoning, featuring exploration of the Eymards, Ture and Gournier caves.
>> This quiet, family-run campsite is 20 a minute drive away, between Grenoble and Bourg d'Oisans <<
Aven d'Orgnac – Visit a site over a hundred million years old in the limestone rich landscape of the Ardèche. Nicknamed 'the underground cathedral', the cave of Aven d'Orgnac is a sight to behold.
>> This neighbouring camp and glamp site in peaceful settings offers tranquility after a day of adventure <<
Skiing and Snowboarding in the French Pyrenees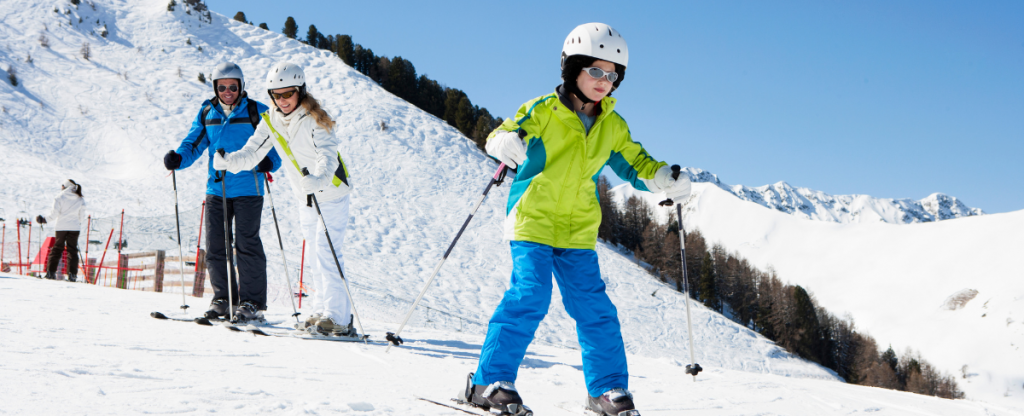 Winter sports in the French Pyrenees offer a one-of-a-kind adventure, with otherworldly views and varied terrain. The best time for skiing is between December and February.
As well as regular downhill, there's back-country skiing, cross-country trails and spectacular off-piste routes for all levels – and, arguably one of the most important consideration factors, a vibrant après-ski scene too!
And why the Pyrenees? Why not?! The Pyrenees mountain range is famed for snow-capped peaks, pristine lakes, picturesque villages and protected nature reserves… a huge temptation for skiers, snowboarders and outdoor adventurers alike.
>> And you don't have to break the bank to enjoy the experience. Here's a guide to planning a budget friendly ski holiday with the family, with accommodation and ski resort recommendations too <<
Ski lessons in the French Pyrenees
First time skiing? Or maybe you're a little rusty and would appreciate a refresher lesson? There are plenty of options by booking directly with your chosen ski-resort, or through booking agents and private instructors. You'll find private, group and children's ski lessons, for all levels.
>> This campsite is a short drive from the popular Saint-Lary-Soulan ski village – a resort with over 100km of skiable terrain and a toboggan run <<
Best paragliding sites in France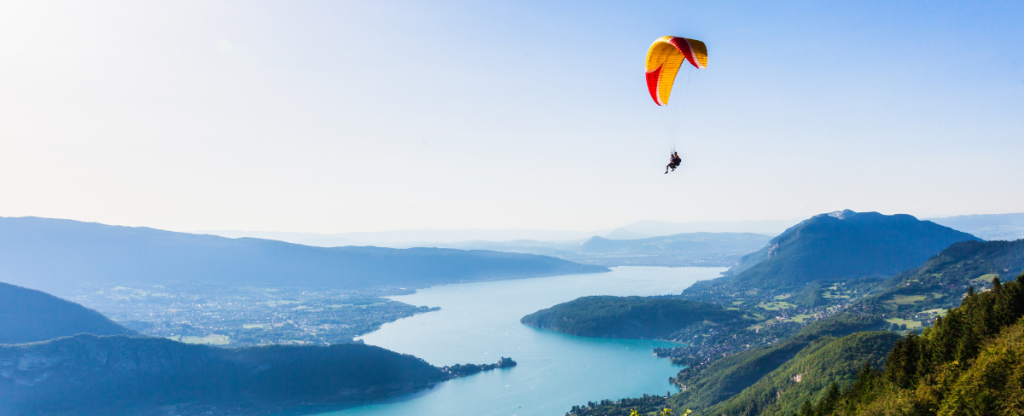 Paragliding is an extreme experience that involves soaring through the air using a custom-built paraglider wing. It provides an incredible rush and birds-eye view of your surroundings while offering tremendous freedom, personal challenge, and adventure.
France has so many cool places to paraglide and there are courses available for all levels. Take a look at our top 3 recommended destinations to experience this ultimate thrill:
>> Check out this lakeside, open-air resort near to Lake Annecy and 300m from the quaint village of Doussard <<
Dune de Pilat near to Bordeaux is the largest dune in Europe and overlooks the Arcachon Bassin, Banc d'Arguin and the Landes forest. This is a popular place for paragliders, and so you'll find a number of tour operators to train you and tandem your glide.
>> Stay in a wooden chalet or pitch up in peaceful natural settings at this camping ground close to Archachon Bay and Dune de Pilat <<
Puy de Dôme, part of the UNESCO World Heritage Site Chaîne des Puys, is highly celebrated as one of the best paragliding sites in France. The land is filled with volcanoes, mountains, ice caves, mineral spring lakes and unbelievably beautiful countryside. Keep your head in the clouds and book a guided paraglide.
>> Bring a tent or motorhome, or stay in a gypsy caravan at this campsite in the clean-air spa town of Royat <<
Scuba diving in the Med on the French Riviera (Côte d'Azur)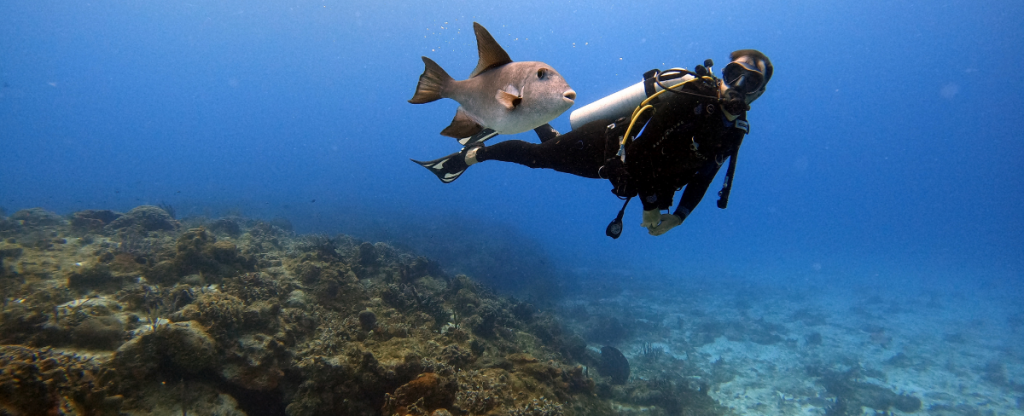 The freedom, adrenaline-boost and pure awe that scuba diving offers is seldom found in any other outdoor activity. There really is something special about becoming 'at one' with marine-life – feeling like a literal drop in the ocean, defying gravity and swimming gracefully into the deep blue.
The French Riviera is home to France's most breathtaking collection of dive sites. Dive in and discover some of the best dive hotspots of the Mediterranean, like:
The Donator and Grec shipwrecks on Porquerolles Island
The WWII sunken submarine Rubis by Saint-Tropez
The Tombant Des Américains in Nice
Port-Cros National Park Marine Reserve
>> This sunny, family-run campsite, just 200m from Bergerie Beach is a short drive from Saint-Tropez and Port-Cros <<
Best place for scuba diving in France?
Nice is perhaps the most accessible diving spot in France. Here you'll find scuba diving courses and scuba tours (an absolute must if you've never dived before!). From equipment handling to communicating under water, it's essential you learn the basics to keep you safe from harm.
Even more seasoned divers should take caution, especially with wreck diving, but once you're prepped, you'll be like a fish in water!
Kayaking in Marseille, France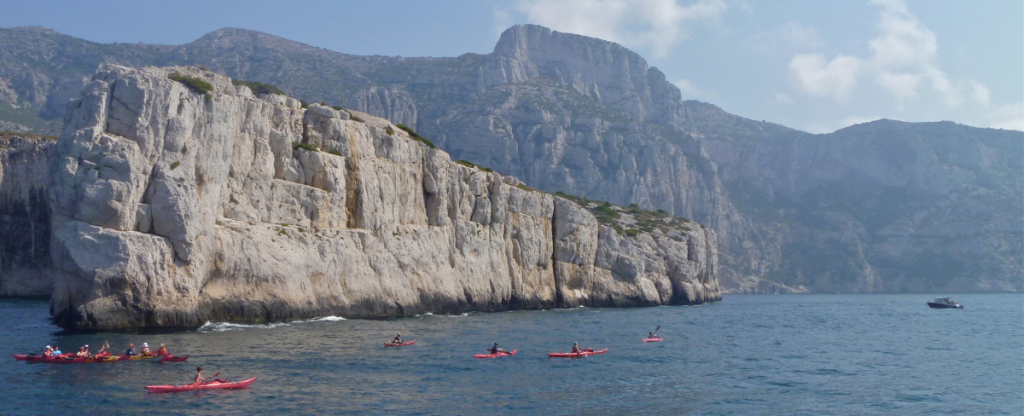 Marseille, Cassis and their surrounding stretches of crystal waters are the perfect playground for discovery. Kayaking is a great way to partner up and spend quality time together hopping from land to sea (and all those refreshing swims in between!).
One of the most picturesque areas to kayak in is Calanques National Park, with its turquoise waters, hidden coves, bankside wildflowers, rugged cliffs, sandy coastlines and uninhabited spots, inaccessible by foot.
Just a few strokes of your paddle and you'll find yourself in deeper paradise – the Calanques d'En-vau and Port-Pin, with their breathtaking views from the shores of Cassis!
(Look out for the awesome creeks of Establon and Aragnols too!)
Just rent a kayak or canoe, or join a guided tour to admire the true-blue beauty of Marseille.
>> Secure your spot at this charming campground in the middle of a pine-tree forest, close to Marseille <<
Cani-rando in the Ecrins Massif, France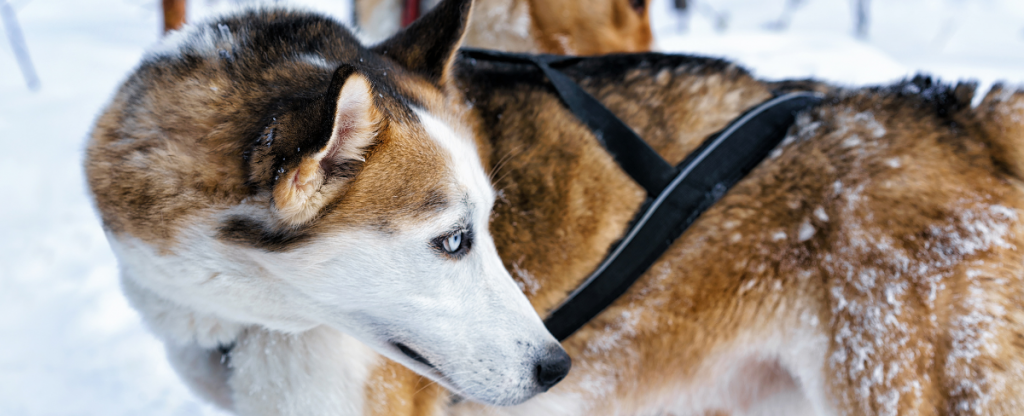 The North-American activity known as 'Cani-rando' is trending across Europe right now, mainly because the quirky sport lends itself beautifully to mountainous regions of France, Spain and Italy – but also because it's just such fun!
Cani-rando is basically a hike where you're guided (aka pulled along) by a sledding dog, using a harness and an elastic lanyard – effectively, you become the sled! It makes trekking more difficult terrain like snow, steep elevations and rugged paths much easier to navigate and uses up less energy.
And the dogs? Well, they're adorable – and they get to enjoy stretching their legs as much as you do (along with all the fuss and compliments they'll receive from their masters for the day).
Cani-rando is a fantastic, family activity, best enjoyed as a group – and the French Alps are perfect backdrop for the expedition, especially the around the Haute-Savoie area and its crown jewel, the Ecrins Massif.
Tour operators like Pays des Ecrins offer guided hikes, plus the chance to meet and play with the dogs beforehand.
>> Check out this mountain-side campsite, positioned at the gateway to Ecrins National Park, with it's own private beach <<
Horse-riding in Aquitaine, France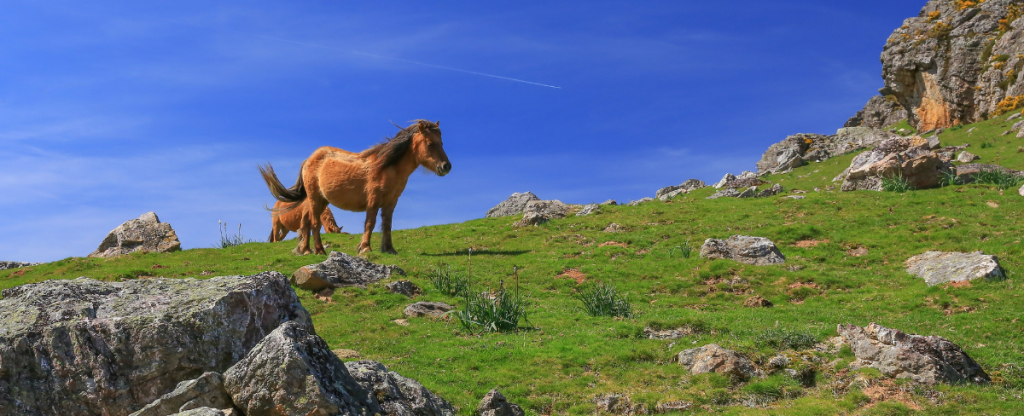 Hacking on horseback along coastal routes, through medieval villages, mountainous regions and in lush countryside is a wholesome and joyous experience. A sense of adventure, teamed with feelings of calmness and presence.
The stunning landscapes of the Aquitaine region of Southwest France is the perfect spot to experience culture and captivating views, together with your equine friend. Here's a couple of our favourite spots to go horse riding:
The Basque Country offers diverse natural terrain and the Mountain Pottocks, a breed of ponies indigenous to the French Pays Basque, are found here. The region's equestrian centres will offer you different lengths of rides here, suitable for all abilities.
>> This nearby camping village is 5km from the beaches of Biarritz and Anglet and 30 minutes from the Spanish border <<
Les Landes is the dream destination for galloping along glorious beaches, around crystal lakes and in the heart of the Landes pine forest. Learn to ride, or join a guided tour with Discover Landes.
>> Book a glamping hut or grass camping pitch and relax in a heated pool at this campsite in the Landes Forest <<
5 unique outdoor activities in France for the whole family
In this article, we've talked about hiking, skiing, kayaking, horse-riding and other incredible experiences to be had in France, but here are 5 unique activities to add to the adventure wish list: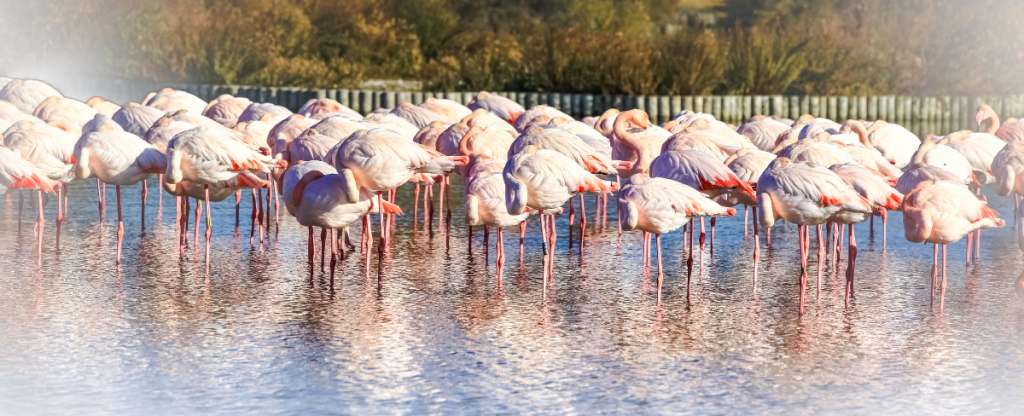 1. Walk with flamingos in Camargue, France
Like hiking in the French countryside isn't already full of pleasant surprises… How would you enjoy being joined by a flock of pink birds standing on one leg?
The Parc Ornithologique in Camargue, Southern France, is home to thousands of protected flamingos and a variety of species of birds including purple herons, spotted eagles and white storks. You can walk for miles on way-marked trails and boardwalks – or jump on a boat tour, losing count of the amount of feathers and beaks along your way!
>> This family-friendly campsite sits in the heart of the National Park of Camargue and has well-equipped mobile homes and camping pitches <<
2. Safari-trek in Monts d'Azur, France
A safari in France you ask? Ok it might not big-5 spotting in the South African savannahs, but it's still a great adventure!
Join a one day walking safari in the bio-diverse Monts d'Azur, a mountainous region within the Alpes-de-Haute region and peacefully observe wild bison, horses, deer and many other species of flora and fauna in their natural habitats of grasslands, glacial lakes, rocky cliffs and forestry.
>> Take a look at this open-air retreat nestled on the heights of the Alpes Maritimes. Stay in a mobile home or pitch up your tent or campervan <<
3. Whale and Dolphin watching in Sanary, France
Not only is Sanary-sur-Mer, in the Var, a desirable coastal destination for its excellent markets, culture and cuisine, it's also a great place to spot whales and dolphins in their natural habitat.
There's an abundance of sea-life, thanks to the Pelagos Sanctuary and the respectful tour operators who work hard to protect their marine environments, putting as much effort into conservation work as driving tourism. You can book day cruises in advance or at a ticket office by the marina.
>> Stay in a fully-furnished, boutique glamping tent or bring your own at this eco-site in nearby La Seyne-sur-Mer <<
4. Truffle hunt in Provence
Truffle hunting in Provence is a fun outdoor activity that the whole family can enjoy. It's like a big treasure hunt (although the treasure is a subterranean truffle fungus, which makes for delicious dinners!).
You can explore forests, orchards and stunning Provençal countryside in search of your prized truffles and most tour operators let you sample the goods, whilst they share stories of this age-old pastime.
>> This open-air resort is perfectly positioned for exploring Provence-Alpes-Côte d'Azur and offers unique glamping accommodation and modern amenities <<
5. Olympic games in Gironde
Design your own Olympic games, with your family or friendship group, made up of fun outdoor activities like tug-of-war, stilt walking, barrel building, paddle boarding, beach volleyball, archery and more!
Multi-activity holidays in France are gaining popularity and the Girondine Olympiad course is a great chance to channel your inner athlete and bring your competitive A-Game, with challenges to suit all fitness levels.
>> This quality campsite on the edge of Lacanau lake has incredible views and a unique range of accommodation options <<
We wish you an adventure of a lifetime and are always on hand to help you find accommodation and other holiday essentials. For more travel guides like this one, visit our blog.
Frequently Asked Questions
What is the best way to explore France?
There's so much to do and see in France, especially in the open-air, surrounded by nature. Public transport is quite good, but to access more off-the-beaten-track areas, you are often best to hire a car.

At Campsited, we think the best way to explore an area is by foot (if your time and ability allows for this), to soak up all of
France's natural and cultural goodness… it also keeps you fit and can save money too!

You could even combine your walking with kayaks, mountain biking, horse-riding and other exciting modes of outdoor transport, the world is your oyster…

How many days are enough to explore France?
This depends on the area you're visiting and the type of holiday you want. For long weekends, choose one or two activities near you access point (for example within an hour of Nice or Marseille…) whilst a family adventure holiday in the mountains may be more suited to a longer break, like the Easter or summer holidays.

It's always worth researching several areas first to scope out any hotspots and/or activities you'd like to pursue. Put together a draft itinerary and work out how long you'll need to make the most of your visit, without rushing and missing things.