Affordable family ski holidays in the Alps and beyond
Ski season is just around the corner and perhaps this is the year to take the family on a ski trip? There are French campsites open all year round – and many more across Europe that are just waiting to host your next winter sports adventure.
There's no doubt a holiday on the slopes is an experience to match no other: outdoor activity that all the family can enjoy, fresh mountain air, incredible views and tasty mountain food at the end of the day. A snow holiday in the open air offers a connection to nature – and to each other, like nothing else. An opportunity to bond over an evening hot drink and reflect on the best slides, swerves, skids and carves from a day on the slopes.
But there's also no doubt that it can be a very expensive holiday and you might be interested in finding out how to do it on a lower budget. Or maybe you're looking for an alternative to the usual package family ski deals at busy resorts…. you'd prefer to plan your own off-grid adventure!
We have a few ideas for a cheaper and more adventurous family ski holiday, from the French Alps to the Dolomites, in open-air resorts offering year round camping and self-catering accommodation. We'll show you some unique accommodation options, with fun activities nearby, perfect for families.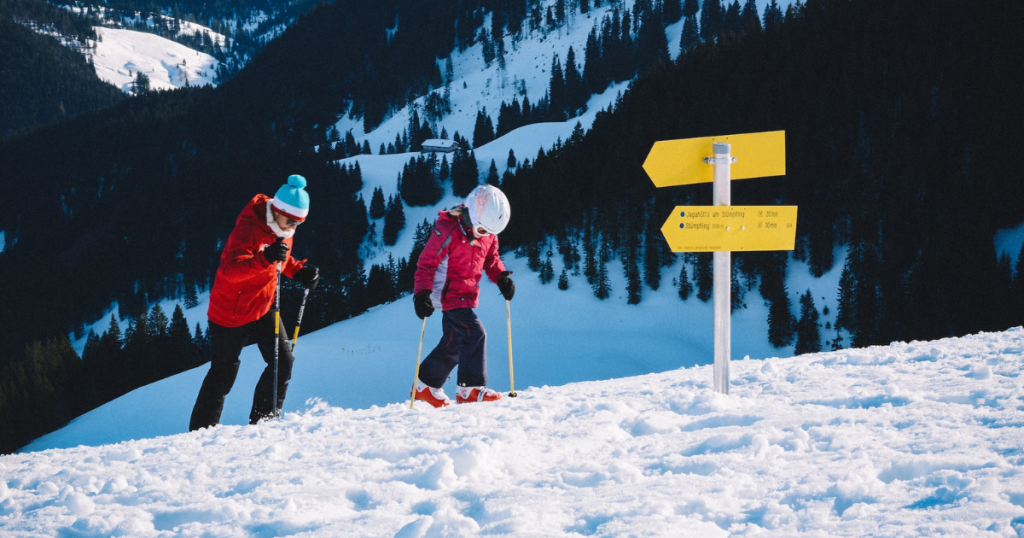 How to plan a cheap family ski holiday
There are plenty of ways to be thrifty with your ski holiday, saving your valuable euros for ski passes and invaluable memories. In this guide, we'll share some top tips to planning your family ski holiday, without breaking the bank. So, let's get started with some initial considerations…
Not only could ski passes, lessons and on-site dining be kinder to your budget, but you'll also be supporting a small, local ski resort, helping them continue growing and upgrading their facilities. You'll enjoy the less traffic on the ski runs, especially during school holidays (and less time in lift queues!).
Don't be fooled by their size in comparison to the larger ski resorts, you'll still get miles of skiable terrain with majestic mountain views and plenty of après-ski delights to help you wind down (or keep the party going).
Staying at a chalet, a self-catered apartment or pitching up at a campsite within a short drive of a ski resort in your caravan or campervan, could save you a lot of money. You can expect to pay a proportion of the rate that you would pay for accommodation in or beside ski stations – if indeed you can get accommodation in a station in peak ski season.
You'll benefit from using your car as a vessel to store your skiing equipment, whilst enjoying all the comfort, facilities and superb surroundings a campsite can bring you. You can even find glamping accommodation in Europe such as self-contained chalets, bungalows and shepherd's huts, as well as other types of accommodation with multiple rooms (especially affordable if booking as larger group).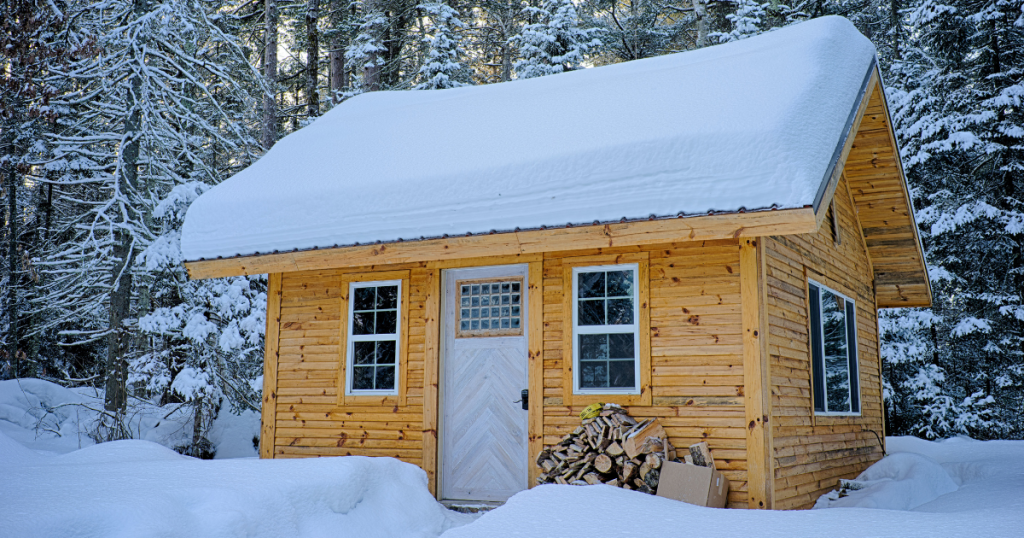 We've listed our pick of campsites open for camping in winter and all year round, which are near to a ski area.
If you're ready to see our favourite campsites for a ski holiday click here
We know that a ski holiday is more than just what goes down on the slopes, it can be as much about those après-ski activities and dining experiences, both at the ski resort and in the local area. Now, we wouldn't wish to dampen that excitement, but just note that a typical, one-course meal for four could cost you between €75 and €150 (depending on how extravagant your tastes are).
You might want to consider cooking your own evening meals, and definitely filling up on a good breakfast before you hit the slopes so you won't need a huge lunch, to make your ski holiday more affordable. This is where self-catering accommodation and in particular the well-equipped type available at campsites come into their own.
A campsite is the ideal place to cook up a storm. Often there is a shop on site, or within a short walk or drive. Some campsites offer freshly baked breads and other local ingredients. At others, you can rent a barbecue to reward yourself with an excellent steak or some sizzling sausages with warming mash, accompanied by a good glass of wine, at a fraction of restaurant prices.
If you want to read more about cheaper meals on your family ski holiday click here
This is essential for avoiding the nasty surprise of overpriced ski hire and equipment offered at ski resorts. Planning in advance could save you hundreds on your skiing gear, especially if you're shopping for the whole family.
Use your time in the lead up to your skiing holiday to purchase skiing and camping gear prior to your trip – buying second-hand can land you a bargain, is more eco-friendly and you can often find items from pre-loved selling sites that are nearly new or unused.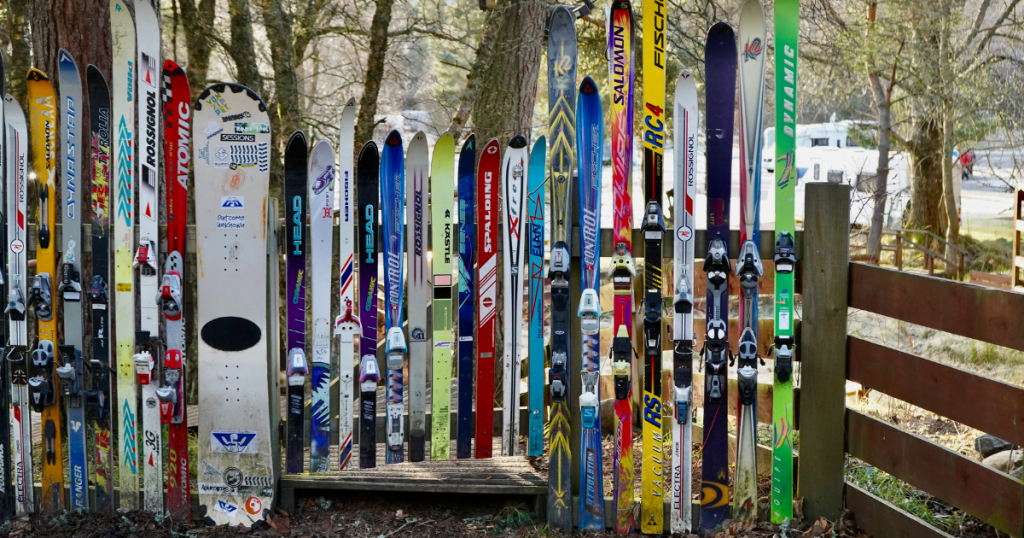 Remember, essential outdoor clothing such as thermal base, mid and top layers, as well as socks and sunglasses are useful for both winter camping and skiing, so make sure you're not doubling up on purchases! Some things it is good to double-up on are gloves, however – especially kids' gloves, which have a habit of getting wet and lost, requiring purchase of expensive replacements, if you haven't planned in advance.
If you want to find out more about saving on ski supplies and gear click here
Not sure what camping gear to bring? Check out our ultimate guide to winter camping here.
---
Find cheap ski resorts
Ski passes and classes and eating on the slopes are all often cheaper in lesser-known ski stations.
In France and other European countries, there are lots of little-known ski resorts in lower mountain areas which may not have snow in the Easter holidays, but are a safe bet for skiing in February half term.
You can also enjoy the slopes without the crowds of very popular resorts in school holiday periods – you'll be skiing with the locals in the know, rather than the tourists. Some of our open-air accommodation options are located near off-grid ski resorts – read on to find out about them….
That said, of course don't ignore the larger ski resorts entirely, as there may be special offers or family deals to grab. It's good practice to compare prices.
Cheaper ski accommodation
Campsites open year round in the mountains
While ski-in ski-out accommodation is the dream, even if you stay right in the centre of a resort, only a small percentage of accommodation has this. In most cases you will have a good walk or a shuttle bus transfer to the lifts and ski schools. This can be awkward with an armful of equipment and especially with small children.
So why not consider staying a short drive from the resort and arriving at the lift station in the comfort of the car or camper van? It will cut your accommodation costs considerably and may even make for a more convenient experience. It will also open up options if you're planning a ski holiday last minute and struggling to find accommodation.
You'll find all sorts of self-catering accommodation at campsites, as well as facilities you might not have in an individual rental property or a B&B, like spa or leisure facilities, shop, restaurant and easy access to a range of local outdoor activities. And of course, camping with your family will make the whole holiday even more exciting, with more unique memories that'll last forever.
You could also look on this as an opportunity to take your motorhome on its first (or next) rodeo… Read our guide to campervan holidaying with the kids.
Why go skiing in France?
If you're not already won over by France's charm and world-class reputation for being a top ski destinations of choice, then let us enlighten you!! La France proudly offers some of the largest and most accessible ski areas in the world and boasts some of the highest, most breath-taking altitudes within the French Alps, Pyrenees and other spectacular mountain ranges.
Skiing and other snow sports / snow leisure is celebrated, at all levels, at resorts of varying size, style and popularity in France and they have some of the best ski facilities in the world; with ease-of-access and family-friendliness being a priority for many ski resort hosts.
Whether you're a Nordic skier, cross-country snowboarder, snowshoer, sledder, observer (or all of these and more), you'll be spoilt for choice on your ski holiday – and the memory of the outstanding scenery, friendly locals and exhilarating off-piste activities will live rent-free in your hearts and minds forever!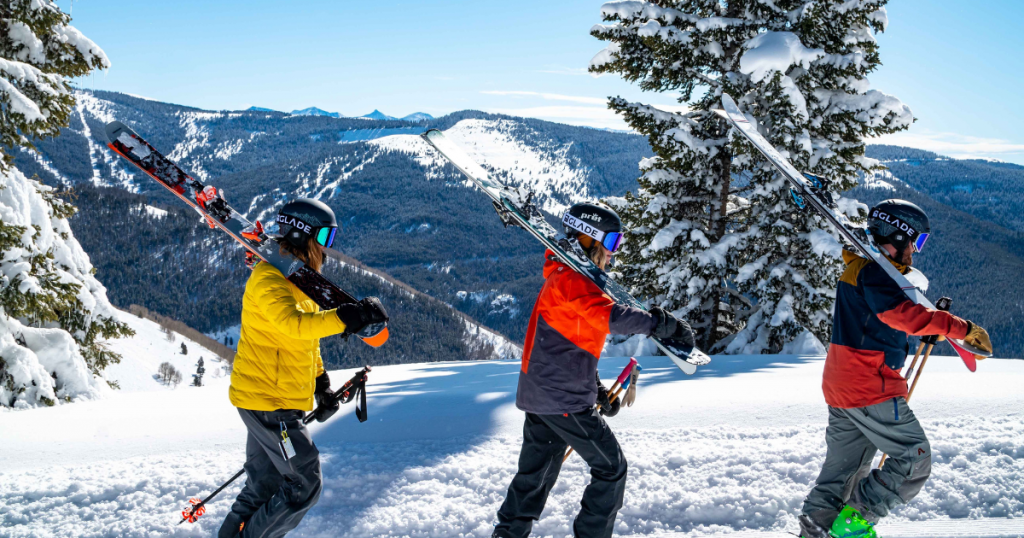 Campsites in France within a short drive of a ski resort
We've trawled the mountains of France to identify campsites open in winter, with chalets or other accommodation options for two or more people; each within a short drive of a ski station. Just click on the links to learn more and secure your spot.
Campsites in Europe near to a ski resort
Throughout this article, we've preached the benefits of staying at a campsite within a short drive of a ski resort and, whilst France provides some of the most legendary landscapes for skiing and winter sports in the world, the rest of Europe also offers epic, snowy adventures.
We've listed a few camping grounds elsewhere in Europe, within an hour of a ski station.
Cheaper ski gear and supplies
Unlike most outdoor leisure activities, skiing, snowboarding or winter sports in general need more equipment which can be expensive to purchase from new and, if not sustainably sourced, can be damaging to the environment. Planning well ahead and borrowing or buying second hand tackles both of these important points.
Here's a checklist of ski holiday core items that you might need to think about sourcing:
Ski clothing: Correct ski clothing is essential for keeping hyperthermia or hypothermia well away, to protect you in the event of a fall or emergency and simply to allow you to enjoy yourself. Think breathable and durable, base and mid layers. A good quality, waterproof top layer / ski jacket, ski pants, socks and ski gloves are also very important.
Ski gear: Take your time to consider a well-fitting and undamaged ski helmet, ski boots, ski poles, skis and goggles or anything else relevant to the winter sport you've decided on. Whether you're loaning, buying second hand or brand new, do your research of the area you're travelling to, the type of winter sports you'll be enjoying and the terrains you'll encounter. These will dictate the type and style of ski gear required, best suited to your ability.
Ski safety: Aside from the essentials like a helmet, you may want to bring other protective gear such as knee braces, compression layers or body armour. We also recommend you take avalanche safety gear such as a transceiver, head lamp. portable shovel and beacon, if you're planning on skiing off piste.
Weather protective skin care products: Winter sun reflected off the snow can cause bad sunburn, so always wear sunglasses and sunscreen! The harsh wind from high altitudes or fast downward descents can also cause your lips to dry out and crack much quicker, so invest in a moisturising SPF lip balm too.
Camping gear and clothing: From clothing to cooking, sleeping and washing, check out our ultimate camping checklist here. Even if you're not planning on staying in a tent or van, you might get some tips for handy things to have in self-catering accommodation.
Borrow or buy second hand ski gear
Have you got a friend or family member who would loan you their ski goggles and helmet? It's worth an ask as a first port of call. Otherwise good sources of cheaper gear are car boot sales, second hand shops and websites like Ebay, Preloved, Gumtree, Vinted or Facebook Marketplace. Some liken the process of finding a bargain on these sites to a treasure hunt and often items are barely used, if at all!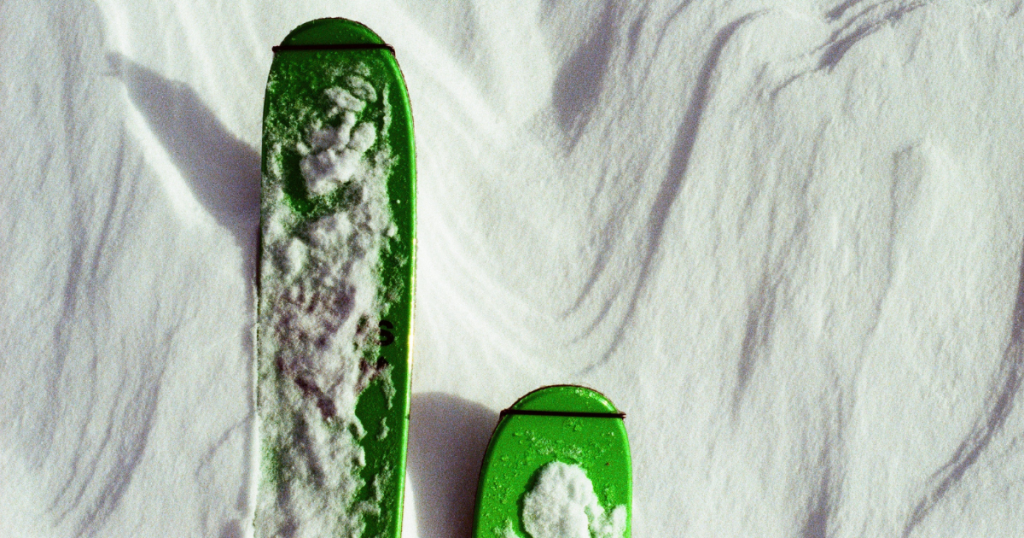 Also, check out Decathlon's 'Second Life' initiative aimed at saving you money and saving our precious planet.
Buying second hand is especially useful when travelling with a young family as smaller items like kids gloves, hats and scarves could get wet or lost, and you could end up paying 3 times the price for a pair at the resort!
Shop out of season
If you're really good at planning in advance, you'll find deals on new ski gear by shopping out of peak skiing season (usually between March and August) as brands are usually trying to shift old stock to make way for new styles and colours.
We hope you enjoyed this guide and we've got you in the money-saving mood? You can read more tips on saving money on your camping trip here. Until then, we'll leave you to your booking and packing – and see you on the slopes!