Step away from the shop-bought sandwiches and put down the Pot Noodle, here are some quick, easy and delicious food ideas for camping trips. When you're travelling by campervan or motorhome, the chances are you will have a fairly small kitchen area to work with. You probably won't have your favourite pots and pans, and you certainly won't have an oven (unless you are in a pretty swanky RV). (If you need advice on what sort of pots, pans and other kitchen equipment to prioritise, look at our Campervan Essentials Checklist.)
But this doesn't mean your meals have to be worse than if you were cooking at home. In fact, they can be even better! If you're looking for good ideas for food for camping, you've come to the right place.
The ultimate camping recipe requires a small amount of ingredients and minimal washing up. That's why we've hand-selected this list of our favourite ideas for camping food, suitable for a two-ring gas hob, a BBQ, cooking over a campfire or on a portable stove.
Whatever your set-up, we've got camping food ideas to suit everyone – even the really fussy eaters out there.
Camper food ideas: 12 easy recipes to cook on your campervan holiday
Campervan food ideas for breakfast
Two-ingredient banana pancakes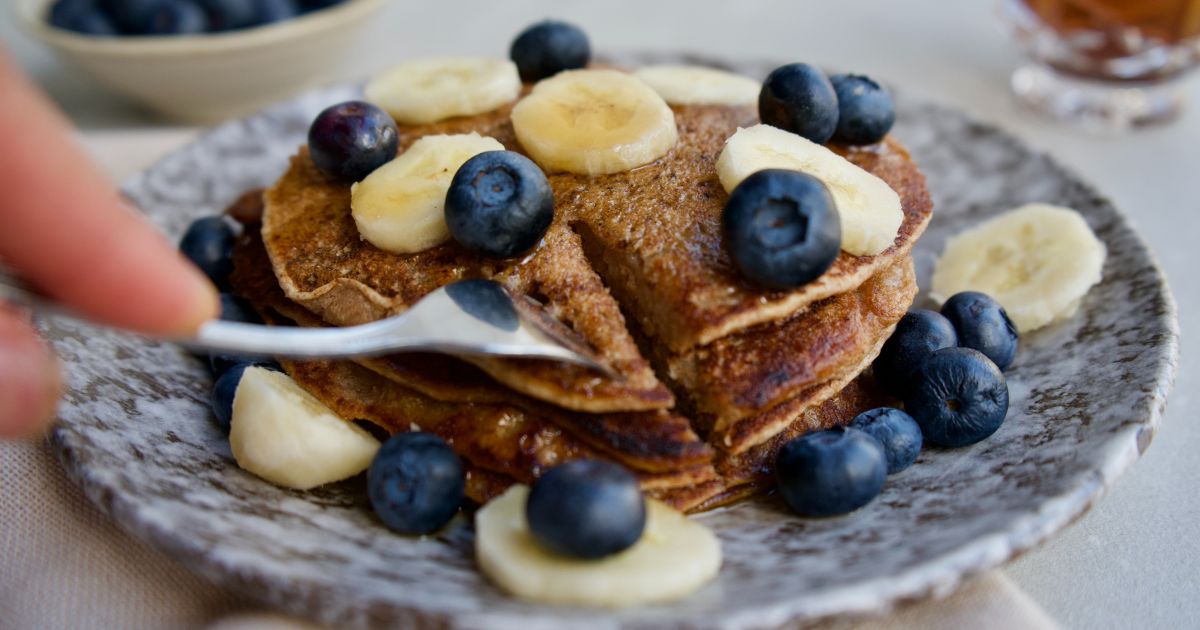 You will need (for 1-2 servings):
1 overripe banana
2 eggs
Oil for frying
Handful of oats (optional)
Baking powder (optional)
This is by far the easiest way to make pancakes on the road. You simply mash up the banana and mix with two eggs. Fry the pancakes until golden brown and top with your favourite toppings. We recommend fruit and yoghurt, honey or maple syrup.
If you want to make the pancakes a bit more substantial, add a handful of oats and some baking powder to make them light and fluffy.
No-cook overnight oats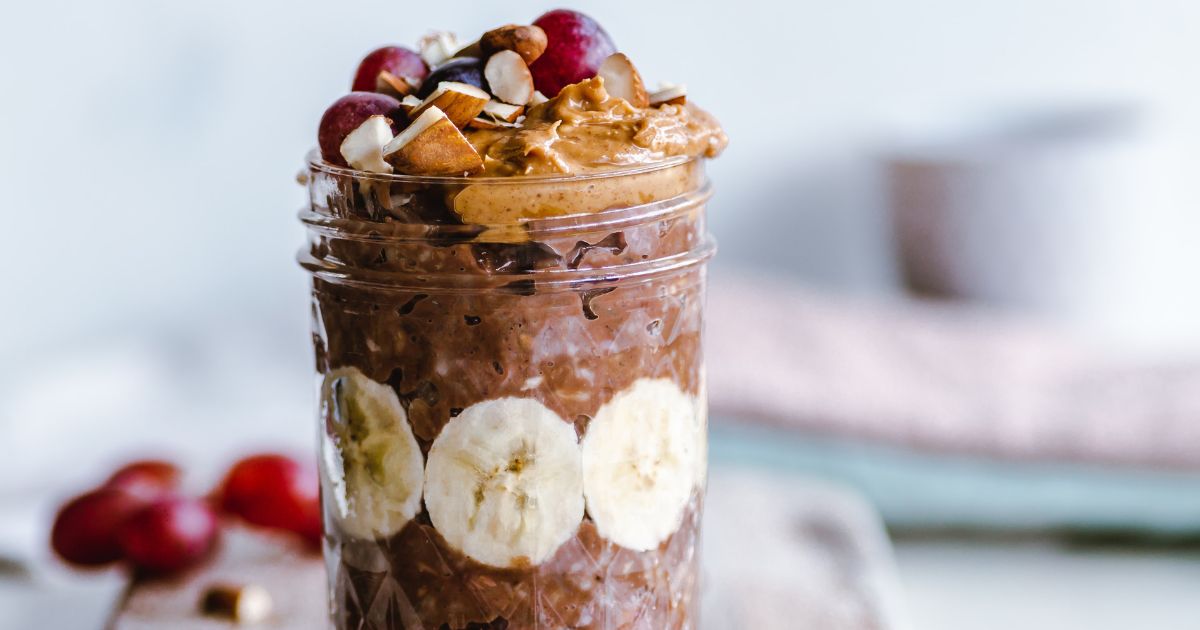 You will need (for 1 serving):
½ cup oats
½ cup liquid: milk, oat milk (or other milk alternative) or fruit juice
2 tsp chia seeds
Optional toppings:
Honey
Peanut butter
Cinnamon
Cocoa powder
Yoghurt
Sliced banana
Berries
Nuts and seeds
The ultimate healthy breakfast with no cooking, no mess and no fuss. Simply add your oats, liquid and chia seeds to a jar or container the night before and enjoy them cold the next morning.
There are a million variations you can try, but we love making ours with oat milk and adding banana and peanut butter. Creamy, filling, delicious!
French toast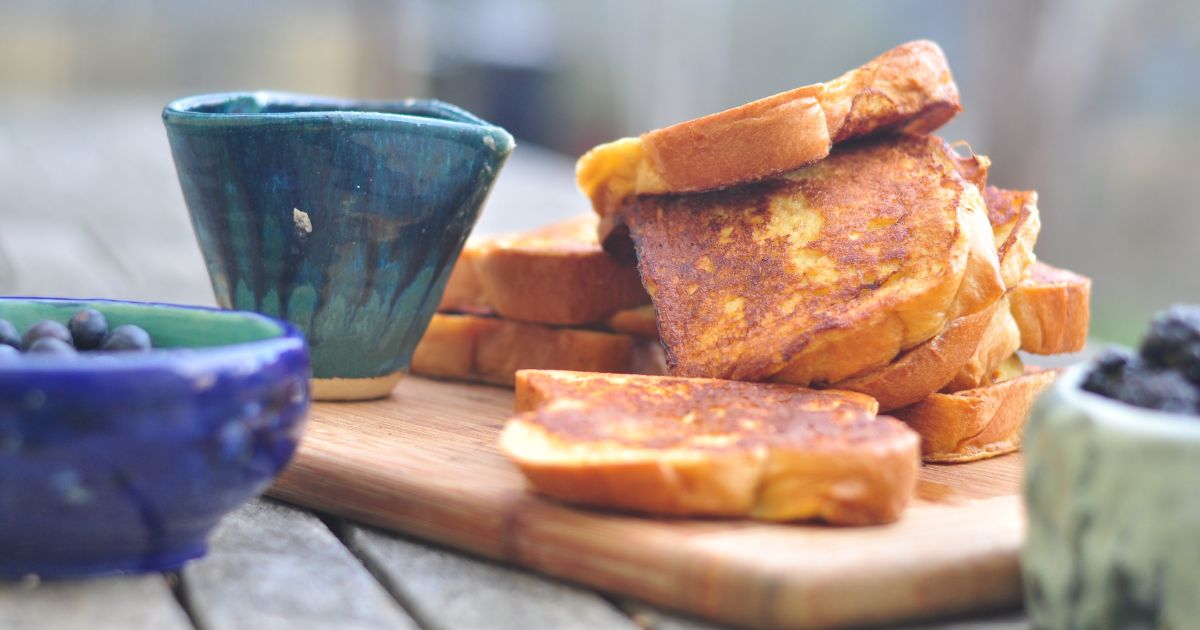 You will need (for 4 servings):
4 slices of thick bread
2 eggs
½ cup of milk
1 tbsp sugar
1 tsp cinnamon
Pinch of salt
2 tbsp butter
Optional Toppings:
A sweet holiday treat that will be adored by the whole family. These fluffy slices of goodness are so easy to make, requiring just one bowl and one frying pan.
Mix up your batter of eggs, milk, sugar, cinnamon and salt. Melt a quarter of the butter in your frying pan. Dunk a slice of bread in the batter and allow it to soak up lots of liquid, then fry it for about 3 minutes on each side. Repeat this process for all four slices!
Top with berries and maple syrup (and bacon which you cooked before the toast if you're feeling really naughty). HEAVEN!
Vegetarian campervan food ideas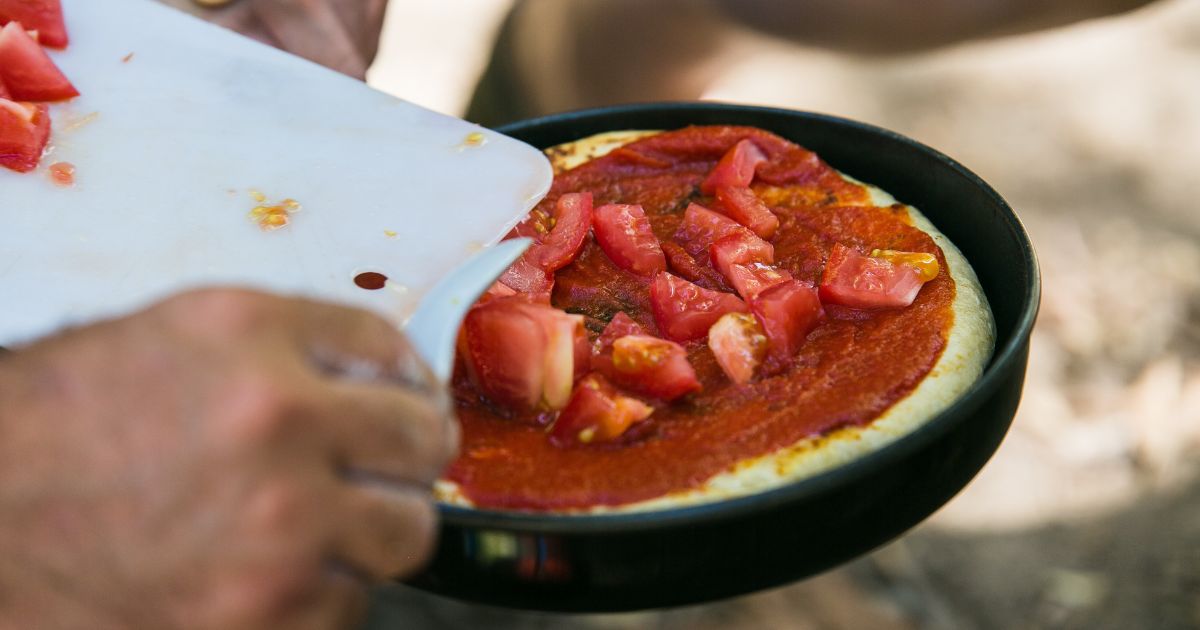 No-oven pizza
You will need (for 2 small pizzas):
225g self-raising flour
3 tbsp olive oil, plus a drizzle for frying
6 tbsp warm water
For the toppings:
A drizzle of olive oil
1 sliced onion
3 diced garlic gloves
250g cherry tomatoes
4 tbsp tomato passata
Fresh basil leaves
Salt and pepper
Sliced mozzarella
No oven? No problem! You can still get your pizza fix when travelling in your campervan, motorhome or RV. As long as you have a frying pan and a stove, you're all set.
Start by making the pizza sauce. Fry a drizzle of oil with the onion, garlic, tomatoes and passata (or a tin of good quality tomatoes). Simmer for 5-10 minutes before adding the basil, salt and pepper, and allow to cool.
Now it's time for the dough. Mix the flour, olive oil and warm water to make a soft dough. Lightly flour a surface or chopping board and split the dough into two balls. Roll out each ball into a small circle.
If you only have one frying pan, you'll need to make one pizza at a time. Heat up a drizzle of olive oil and fry the pizza base for 8-10 minutes until the bottom is golden.
Crank up the heat, add the pizza sauce and mozzarella and serve when the cheese has melted. Buon appetito!
Campfire baked sweet potatoes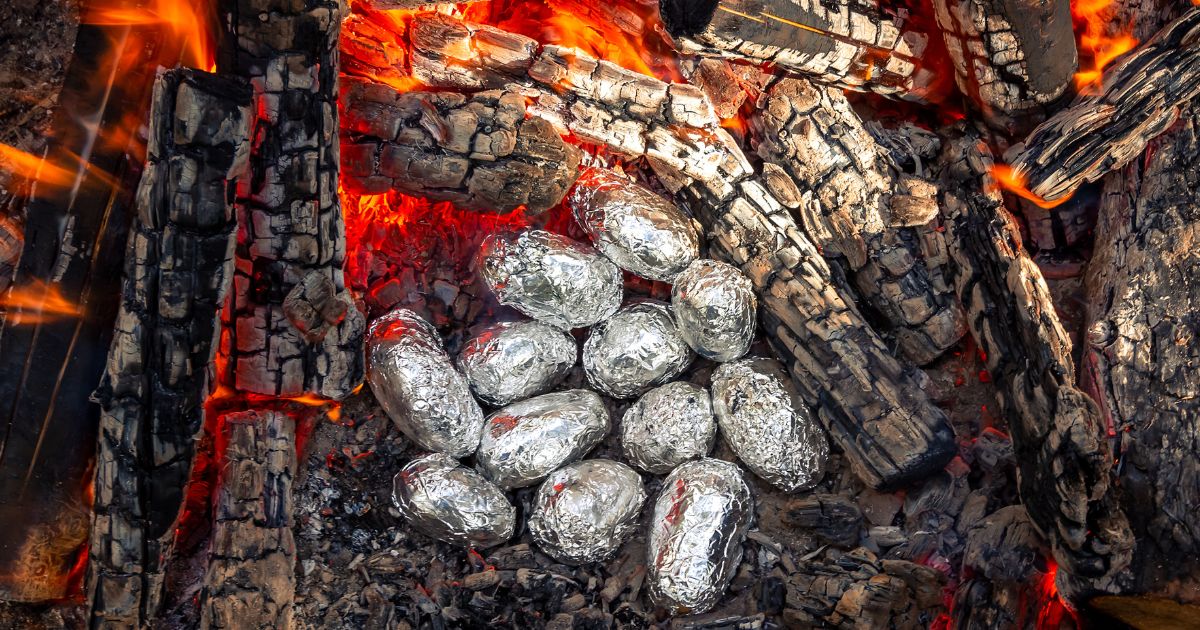 You will need (for 4 servings):
4 sweet potatoes or potatoes
Olive oil
Salt
Optional toppings:
Bean chilli
Baked beans
Grated cheese
Coleslaw
Butter
Cooking potatoes or sweet potatoes on a campfire is as wholesome an activity as it gets. Gather the family around the fire for some quality time and a delicious dinner.
Rub olive oil and salt all over the potato skins and wrap each one in foil. Place the potatoes in the embers of your fire. Let them bake for 45 minutes – 1 hour, turning occasionally.
Remove the potatoes (carefully), slice them open and fill with your favourite toppings.
One-pot pesto pasta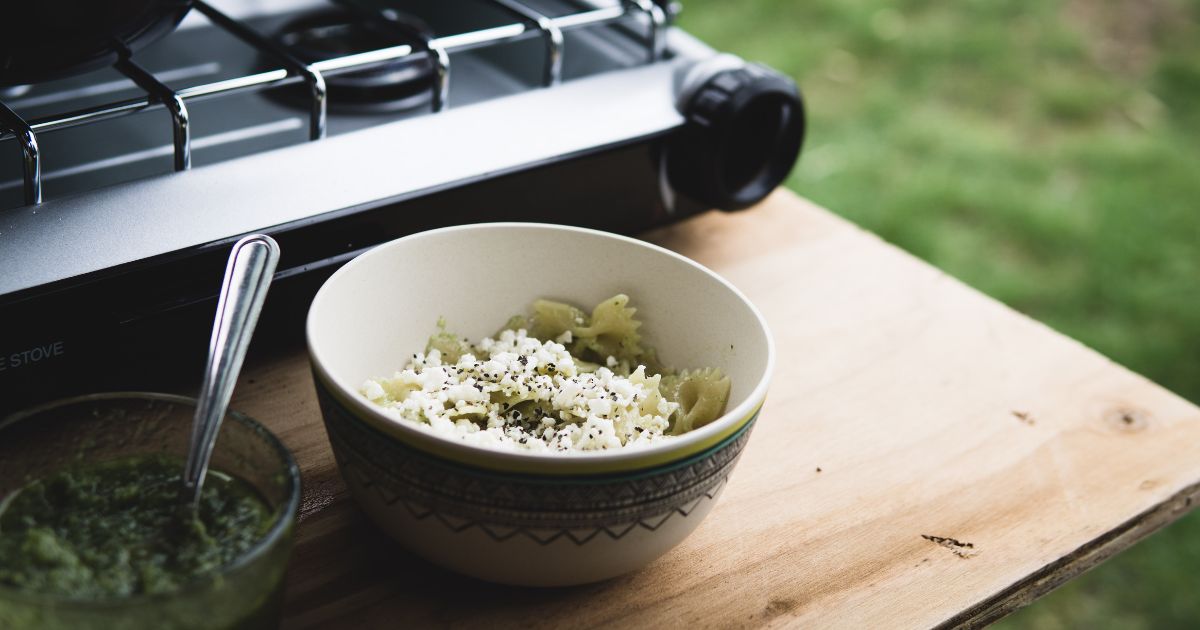 You will need (for 4 servings):
Pasta (75g per person)
Broccoli
A few handfuls of spinach
2-3tbsp of pesto from a jar
Olive oil
Salt and pepper
Grated parmesan
Mayonnaise or plain yoghurt (optional)
Pesto pasta is one of the easiest (but tastiest) meals you can make while camping. One of the main benefits is that you only need one pot to make it.
Boil your pasta as per the instructions on the packet. Add broccoli when there's a few minutes to go. Drain the pasta and broccoli and stir in your spinach until it starts to wilt.
Add the pesto and a glug of olive oil and stir through the pasta. Want to make your pesto pasta extra creamy? Simply add a big squeeze of mayonnaise.
Season to taste and top with a good helping of grated parmesan.
Meat and fish campervan food ideas
Chicken and veg skewers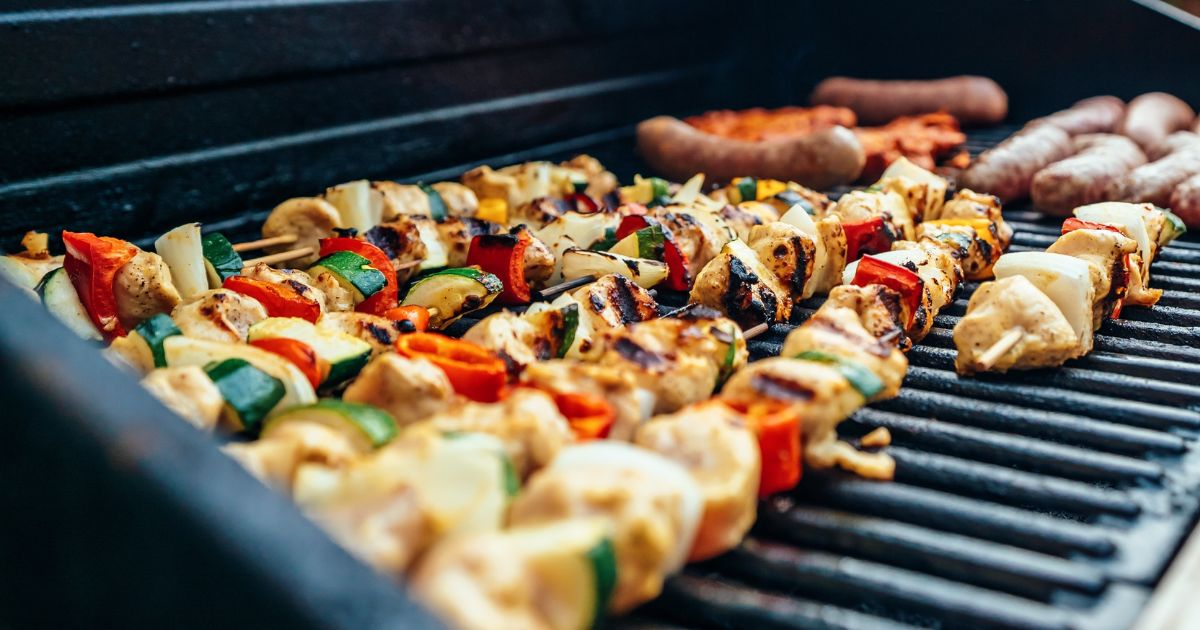 You will need (for 4 servings):
4 chicken breasts cut into 1 inch cubes
1 red onion chopped into small chunks
1 sliced courgette
1 sliced pepper
Button mushrooms
Salt, pepper and a sauce of your choice
Optional extras:
Chunky bread and butter
Campfire baked potatoes (see above)
Thread a slice of pepper, a button mushroom, a slice of courgette and a few pieces of red onion onto your skewer with a chunk of chicken between each layer. Repeat until you run out of chicken and veg.
Place your skewers on a BBQ or over the embers of your campfire. Cook for 5-7 minutes on each side, turning when each side starts to char. Add salt and pepper and serve with ketchup, mayo or BBQ sauce.
IMPORTANT: make sure the chicken is white throughout before eating.
You can also try this simple recipe with red onion and pineapple chunks, or any other veg combinations you fancy.
Fish tacos with charred corn salsa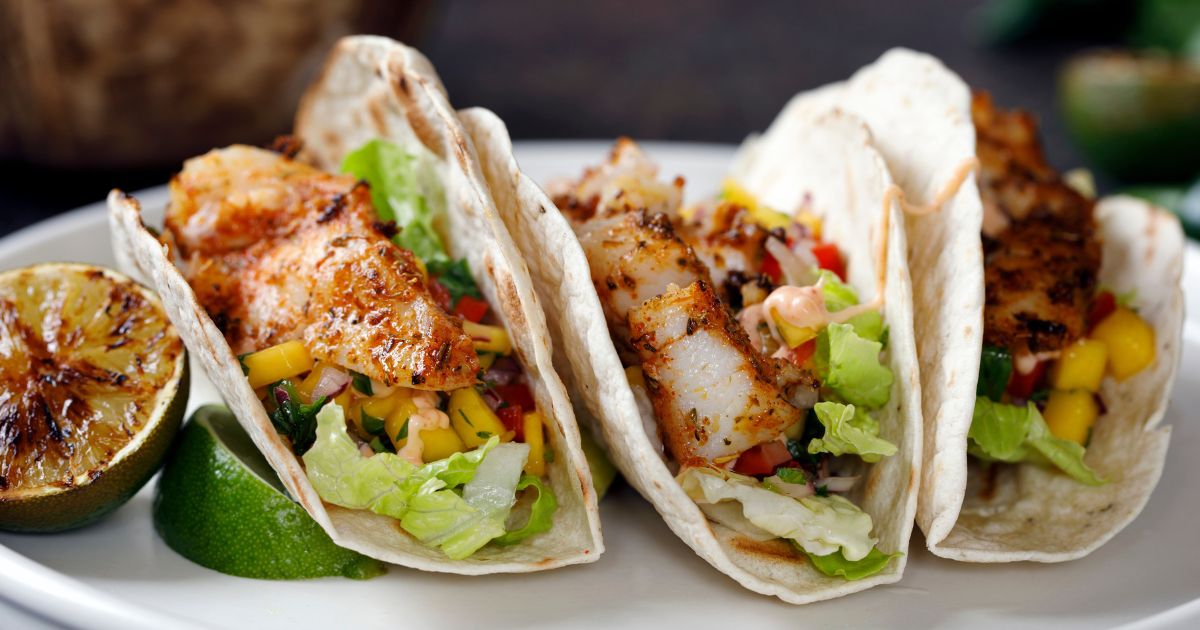 You will need (for 2 servings):
2 fillets of white fish
1 lime
1 tbsp olive oil, plus a drizzle for the salsa
Salt and pepper
1 tsp chilli powder
½ tsp cumin
1 tin of sweetcorn
1 spring onion chopped
1 medium tomato diced
6 small tortillas or hard taco shells
Chopped lettuce
Grated cheese
Hot sauce
Okay, so this one has a few more steps and ingredients than the other recipes featured in this list, but we promise it's worth the effort. These tacos are fresh, zesty and packed with flavour.
For the fish: Mix together the juice of half a lime, 1 tbsp of olive oil, chilli powder, cumin, salt and pepper. Coat the fish in the lime mixture, cover in foil and grill on the BBQ for 5 minutes on each side. Once cooked, leave to one side.
For the salsa: Drain your sweetcorn and fry in a large saucepan until charred. In a bowl, add your charred sweetcorn, tomato, spring onion and the juice and zest of half a lime. Add a drizzle of oil and salt and pepper.
For the finishing touches: Warm your tortillas or taco shells over the BBQ. Fill with lettuce, corn salsa, baked fish and top with grated cheese and hot sauce.
This recipe is so good that it will probably become a staple meal when camping and back at home.
Grilled prawn foil packets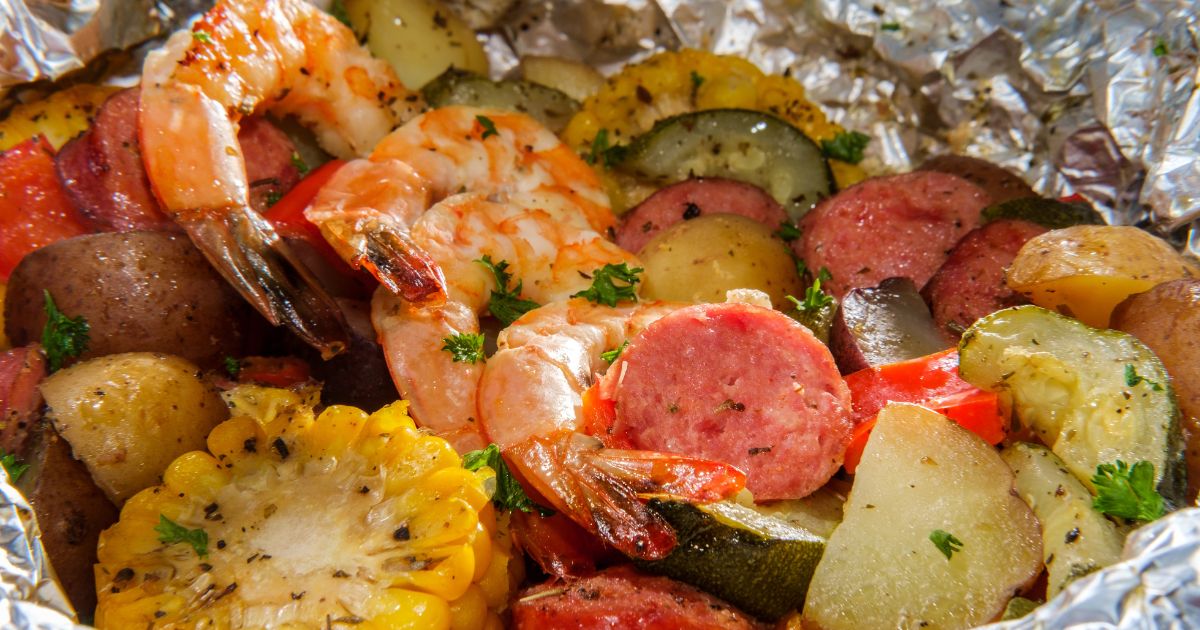 You will need (for 4 servings):
Raw king prawns (4-5 per person)
2 corn on the cobs cut into quarters
500g baby potatoes chopped in half
Sliced courgette
Sliced red pepper
Sliced smoked sausage
2 diced garlic cloves
2 tbsp olive oil
1 lemon cut into thin slices
4 tbsp butter
Salt and pepper
Here's another recipe with very little washing up. All of the ingredients get cooked together in a foil parcel over a BBQ or campfire embers, and can be eaten straight from the packet.
Cut four large pieces of heavy duty foil and divide your prawns, veg, garlic, sausage and potatoes between them. Drizzle with oil, season with salt and pepper and mix your ingredients. Top each mixture with a few lemon slices and a tbsp of butter.
Fold your parcels and scrunch the edges to stop anything escaping. Place them on your BBQ or embers for 15-20 minutes. Check the potatoes are soft and the prawns are pink throughout before eating. Enjoy!
Camper food ideas for dessert
Marshmallow and strawberry skewers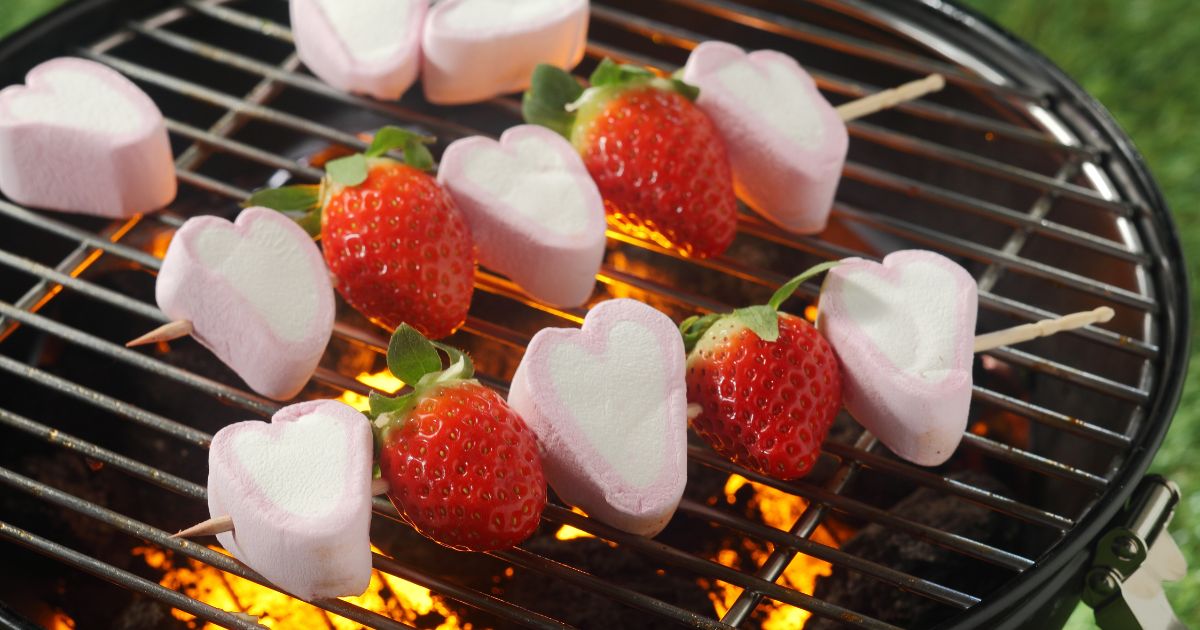 You will need:
Optional toppings:
Chocolate/caramel sauce
Crushed hazelnuts
Crushed biscuits
Thread marshmallows and strawberries onto skewers and hold over a campfire or gas stove until the marshmallows turn golden brown.
These are delicious on their own. However, if you want to take them to the next level – drizzle with sweet sauce and sprinkle with hazelnuts or crushed biscuits for added crunch.
Campfire popcorn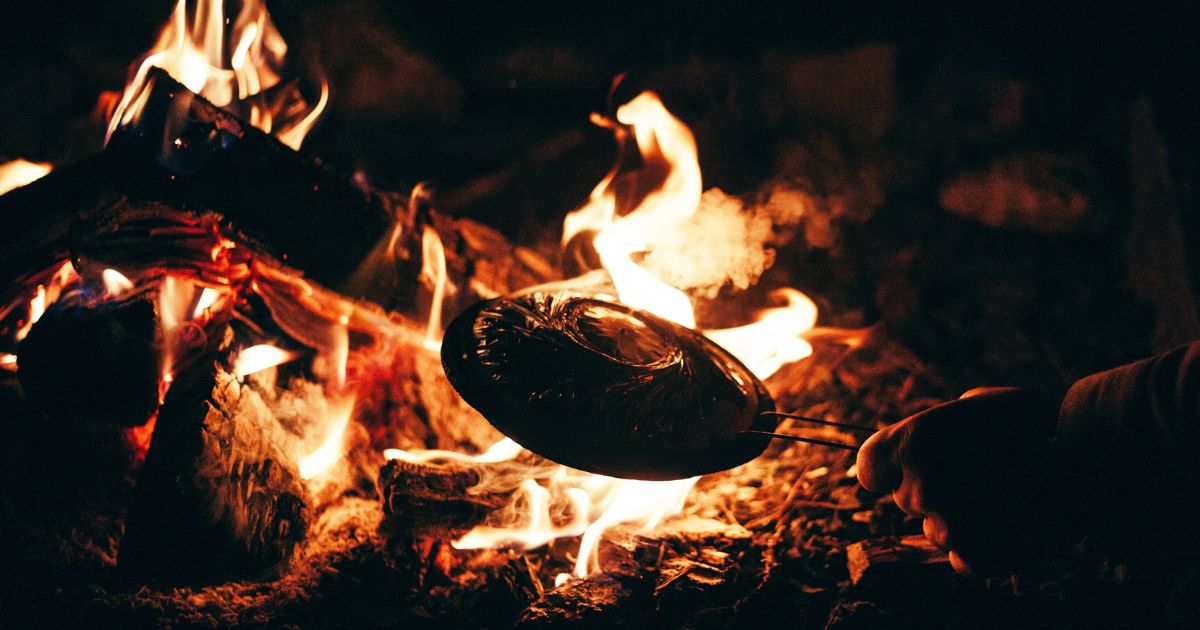 You will need:
¼ cup of popcorn kernels
1 tbsp vegetable oil
Optional toppings (sweet, salty or both!):
Salt
Garlic powder
Sugar
Maple syrup
Chocolate sauce
Cinnamon
Toss the kernels in oil and place into a foil tin. Cover tightly with aluminium foil, but dome the top to allow room for kernels to POP!
Place on the campfire or stove and use tongs to gently shake the foil parcel until the popping stops. It should take a couple of minutes.
Now it's time to decide if you are team salty or team sweet (or a bit of both). Top with your toppings of choice and enjoy.
S'mores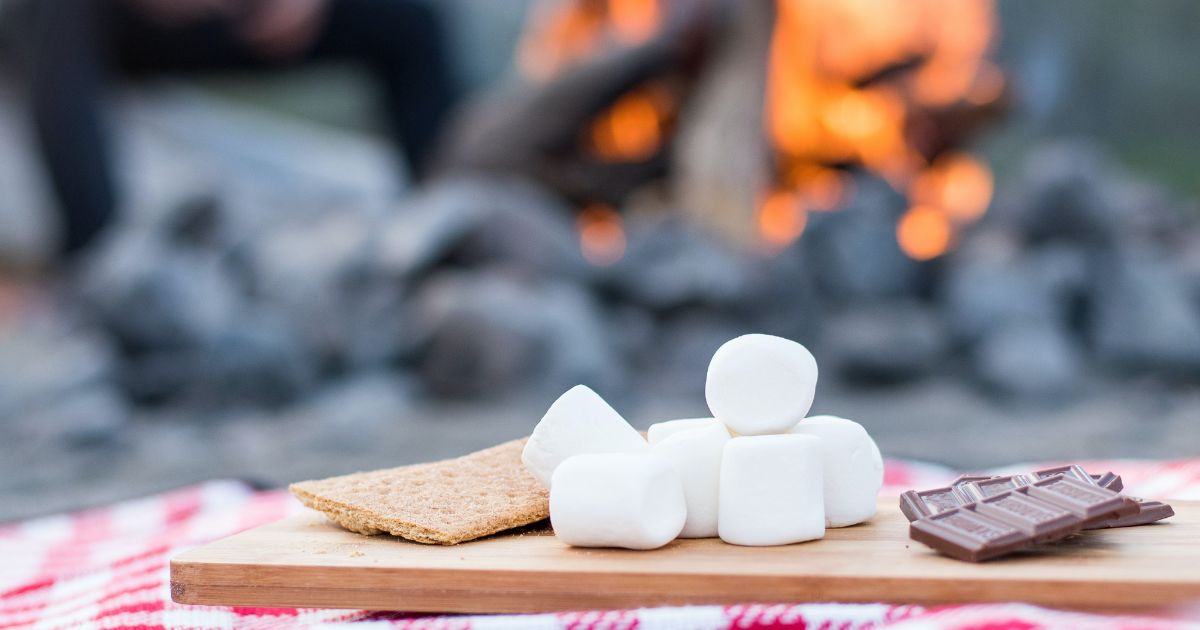 You will need:
Graham crackers or biscuits of your choice
Marshmallows
Thin chocolate
Is it really a camping trip if you don't have S'mores? Originally made in America with Graham crackers, but any plain biscuit you can find wherever you are will do. This gooey campfire treat has been around for over 100 years, and for good reason – it's incredible!
Layer a couple of squares of thin chocolate on top of your biscuit. Toast your marshmallow over the campfire until it is gooey and golden. Sandwich the marshmallow between your chocolate-y biscuit and another biscuit on top and squeeze together to remove the skewer.
It's called a S'more because you will always want some more!
Feeling hungry after reading that? We don't blame you!
Now you have our ultimate list of camper food ideas, there's no excuse for boring meals on your next open-air holiday. Whether you're in a campervan, motorhome or RV, you can have delicious meals every night of the week with minimal effort.
Have we missed something? We'd love for you to get in touch on social media and share some good camping food ideas with us – and don't forget the photographic proof!
If the campfire recipes have got you drooling, use Campsited.com to find campsites that allow fires, so you aren't disappointed!