Your motorhome will be your home during your holiday, so if you are renting, put thought into choosing one that is most suitable for your family or travelling party and where you are going.
It's not necessarily a case of bigger is better – you also need to consider your experience and comfort level driving large vehicles; and how much time you'll be spending on the road versus stationary.
Also take into consideration the capabilities and behaviours of very young children in particular – some models and layouts may be safer and more practical for them. Weigh this up together with other factors, like the types of roads you will be travelling on.
Let's take a look at the possible options.
Types of campervan or motorhome
While we tend to use the terms "campervan" and "motorhome" interchangeably, to be pedantic about it, campervans are really the ones that are categorised as Class B vehicles, while motorhomes are vehicles within Classes A and C. While some of the largest Class A motorhomes could be called RVs, recreational vehicles or RVs are really a whole other animal: giant, coach-like vehicles that are more commonly seen in the US than in Europe.
Small campervans
The only true campervan is what is generally referred to as a "Class B" vehicle – the smallest type of camping vehicle. You can get purpose-built ones and van conversions. The classic campervan image which springs to everyone's mind is the VW Bus, but they can be anything from a converted car like a Renault Kangoo to a Toyota Hiace, Ford Transit or any other transit-style van.
Generally, Class B campervans tend to be relatively compact – no bigger than 6 to 8 metres long. Built on a van chassis rather than a truck chassis like bigger motorhomes, they are much more nimble vehicles, similar enough to a car to drive and park. So, they can be used for exploring, give you the most freedom in campsite selection and are most fuel efficient. This is an advantage when the journey involves particularly narrow roads and it gives you more freedom in planning your itinerary and rest-stop locations.
Generally, you can drive a Class B campervan on a normal driving licence, although it's always a good idea to check. You do need special campervan insurance, however.
Of course, space and facilities inside are more limited than in bigger motorhomes, so they are more suitable for singles, couples or small families with adaptability. (Think of them as a 'van with sleeping space', rather than a 'home on wheels'.) Most include limited cooking facilities, an eating space, double bed space and limited storage (all of which may in fact be the same space).
Beware of fixed-height rooves, which could literally be a pain the neck on a longer trip! Many vans have pop-up rooves to get over this problem (although these don't tend to be insulated). Sometimes bunk beds are fitted into the pop-up roof space, allowing parents to relax in the main van at night after the kids go to bed. So, this is definitely a feature to take into consideration in your choice of van.
In summary: Small, Class B campervans are best suited to 1 – 3 nimble people who want to travel and explore on smaller roads (in good weather locations!), spending limited time inside the vehicle when not driving.
Take a peek inside Chiara's little van below!
Medium motorhomes
The smaller motorhome is generally referred to as a "Class C" vehicle and it is the perfect middle-ground between the agility of the van and the comfort of the larger motorhome. More compact than the biggest models, it consumes less and offers more freedom of movement, while still providing a greater degree of comfort than a classic campervan.
They are sometimes called "semi-integrated motorhomes" because the cab and living area are usually (but not always) separate. They are typically bigger than campervans, but more compact than their luxurious Class A cousins, usually between 6 and 10 metres long.
Driving and parking is different to driving a car or small van, but is not too difficult (think driving a medium-sized truck, which is the chassis these are built on). Generally, you can drive a Class C motorhome on a normal driving licence, but if it is above a certain weight, you may need a different licence.
You will have facilities like a kitchen corner with a fridge, cooker, sink and dedicated kitchen cupboards; a toilet and shower; heating and air conditioning. It will feel more spacious than a campervan, but less spacious than the biggest motorhomes. For example, bathrooms will typically be wetroom style and the toilet holding tank will be small, so you'll have to pump it out frequently (if you normally stay at campsites, that isn't a problem). They'll offer comfortable accommodation for four people with good storage.
Another advantage of this type of vehicle is that there is quite a wide range of layouts available, suitable for different group set-ups. So do look at different options as one set-up may be way more convenient for you than another.
In summary: Medium-sized, class C motorhomes are great for small to medium-sized groups, where both flexibility and a certain amount of comfort and facilities are important (like if you have small children).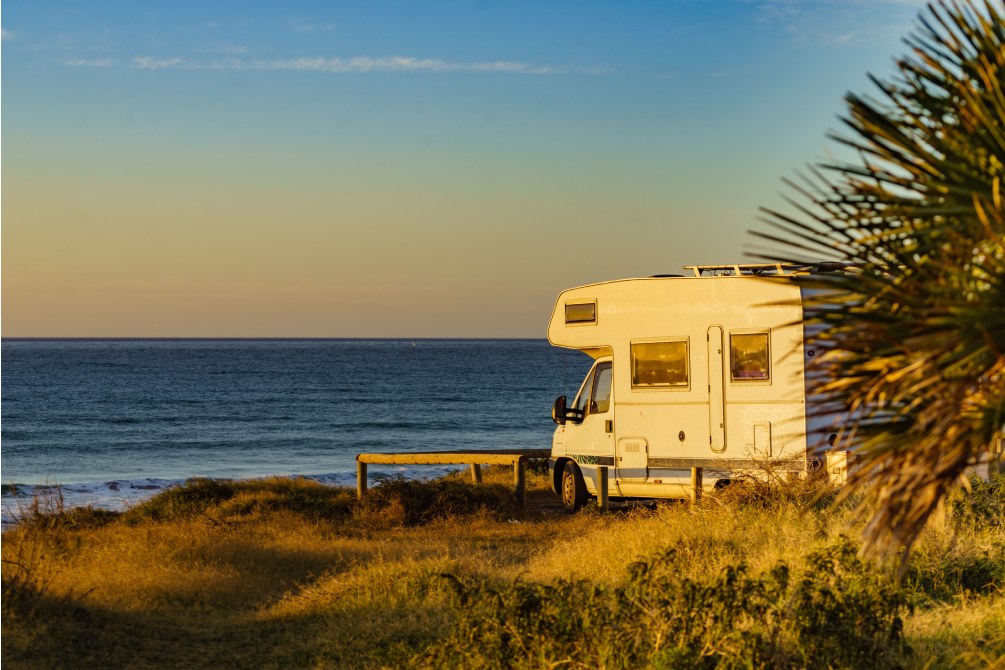 Large motorhomes
The largest and heaviest types of motorhome fall into the category of "Class A" motorhomes. They range in size from about 8 to 12 metres long, the biggest ones verging on what we might think of as American-style RVs (and being more common in the US than in Europe). Generally purpose-built, the cab is integrated with the living area.
These are the biggest and classiest of motorhomes, so luxurious they'll turn heads at the campsite! They'll satisfy even the pickiest of guests, but you don't necessarily want to be travelling on narrow roads with them.
Class A campervans are not exactly easy to manoeuvre. If you are unfamiliar with driving bulky vehicles, this type of van may not be the best choice – it could make your trip quite stressful. These vehicles do not fit in a regular parking space, will cost extra on ferries, at toll plazas and at the pump, and cannot realistically be used as a vehicle for exploring your destination. Also, you will generally need a specific type of driving licence for Class A motorhomes.
But if none of that bothers you, then there are lots of reasons to splash out on this superyacht of the land! The first luxury a Class A vehicle offers is the luxury of space. Entertaining and living spaces comfortable for large groups are par for the course. Fridges, bathrooms, televisions and great storage can be expected, often including a spacious 'garage' for sports gear, plus extravagances like high-spec heating and air conditioning. 4 to 8 beds will be included.
So, these giants are a perfect choice for mostly motorway and stationary trips, and for large families or groups.
In summary: Large, class A motorhomes are a good choice if comfort is the priority, if you have a large group or loads of equipment and if you're planning to stay in one place for your holiday.
5 tips for driving campervans and motorhomes
It's worth remembering that, while you're driving, all passengers must wear seat-belts in any of these vehicles, so make sure there are enough fixed seats with belts for all travellers. When travelling with children, the same car seat rules apply as in cars.
In all types of campervan and motorhome, you tend to be higher above the road than in a car – which can mean great views over the surrounding countryside, from a different aspect than you get in your car. So, take scenic routes when you can, to take full advantage of this.
In a bigger vehicle like a campervan, you are likely to be travelling more slowly than in a car. This means that, on a motorway, you can often be relegated to the slowest lane, travelling between lorries, which can make for difficult driving which may not feel like a holiday. So, if you can opt for other types of roads, it's often a more pleasant experience. (Fuel is often cheaper than at motorway stations too.)
Water tanks, no matter the size, run out much faster than you might think! So, get in the habit of conserving water. Make sure everyone knows not to leave the tap running while washing hands or dishes, brushing teeth, etc. And don't plan on having daily showers in your motorhome – use the campsite facilities for that, knowing that it's still great to have the shower facility for emergencies. (Note that it's often handy, and more economical on water, to stick the shower head out the window and use it to quickly rinse off after a swim or hike, outside the van.)
We've mentioned having drinking water accessible while on the road, but it's also a good idea to have a few 5-litre bottles of water in storage – clean water can be handy in all sorts of situations.
Now you're armed with the key information you need to start comparing the options for that campervan holiday idea you've been toying with. Next step is to open up our motorhome hire page, enter your pick-up and drop-off location and your dates, to get an idea of cost. The use our campsite booking tool to book campsites along your route.
Happy campervanning!