A motorhome holiday is a great adventure for kids. Waking up in the middle of nature, spending more time with mum and dad, exploring new places every day, freedom to roam the campsite, outdoor games, new friends – what more could you want?
Family camping strengthens bonds and is the perfect holiday to give children an authentic and fun experience, but for the sake of peace and quiet and a stress-free experience, it does need preparation and planning.
In this article we'll give you our top tips on how best to organise a motorhome holiday with the kids: how to choose the right type of motorhome, what to bring, mistakes to avoid, and links to some good spots in France and in Italy for an unforgettable holiday.
Motorhomes with children: tips for life on board
Travelling in a camper van with children is undoubtedly easier than travelling by car: it's more comfortable, you can stop to eat wherever you like, your plans can be more flexible. But here are a few tips that will make it even easier.
Planning is important
What a lot of people love about campervan holidays is the flexibility – the idea that you are not tied down to fixed plans. Remember, however, that children have a limited patience and specific needs, so it is good to have the different options of where to stop well researched beforehand.
Identify spots along your route with something interesting to see and where children can stretch their legs, use up some energy and have something to eat. Don't plan to go more than three hours without a rest stop.
A great advantage of travelling with a campervan is that you can bring your own meals and plan your meal stops in quiet spots outside of towns, rather than having to go to restaurants. This obviously saves money, but it also means that you don't have to worry about maneuvering and parking the vehicle in a town, or about controlling kids who have just been released from hours of sitting down in a restaurant – they can run about happily while you relax for a while after your lunch, before taking to the road again. So take full advantage of this by having all you need for your first few meals in the van when you leave home.
Another little tip from experienced campervan parents is that long distances, especially in high season, are often best done at night when it is cooler, and the kids are asleep and not looking for progress updates every ten minutes!
Involve children in preparing for the trip
Children are curious by nature and a campervan trip will be a whole new world of exciting stuff for them to think about and ask about! Start involving them even before the holiday: explain to them and 'practice' how life in a motorhome works, from the kitchen to the bedroom, including the dynamics of securing everything within the vehicle, using the toilet, limiting water use while washing hands and dishes and brushing teeth, etc.
Get them to help you prepare their spaces pre-departure, so that they know where everything is and how to keep their things tidy and secured in place. Look at maps of possible destinations with them and perhaps allow them to choose some of the activities and destinations for the trip. That way, they will already know what to expect.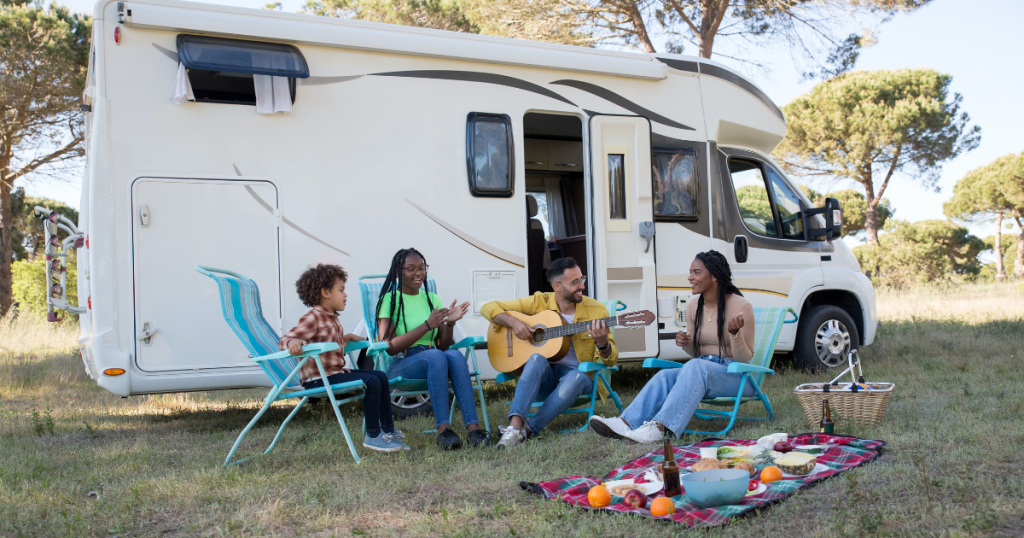 Life in a campervan takes some getting used to. If you get the chance, before setting off on a long trip in terms of both time and distance, do a test weekend in a destination not far from home. It will help the whole family know what to expect, and you will realise what little things it would have been handy to bring or have to hand while travelling. Then you can leave for the 'real' holiday with much more confidence and enthusiasm.
Think about activities to entertain them
Travelling in a campervan allows a variety of activities that are not possible in a car: use this to your advantage! Bring card games, colouring books, music and stories to listen to, films to watch, to combat boredom. Always have something new up your sleeve. Our article on camping games for kids has a few ideas of games that can be played on the journey too.
Always have water and snacks to hand
There are lots things it is important not to forget, but the really important one is… the snack! Keep the larder well stocked for any on-the-road snacks and you'll avoid hangry meltdowns, from parents or kids. And of course, always keep fresh water available and easily accessible while driving, especially if you are travelling in summer.
Motorhomes with children: how to choose the right one
Your motorhome will be your home during your holiday, so if you are renting, put thought into choosing one that is most suitable for your family and where you are going. It's not necessarily a case of bigger is better – you also need to consider your experience and comfort level driving large vehicles and how much time you'll be spending on the road versus stationary.
Also take into consideration the capabilities and behaviours of very young children in particular – some models and layouts may be safer and more practical for them. Weigh this up together with other factors like the types of roads you will be travelling on.
You may want to read our more detailed article on how to choose which type of campervan or motorhome will work best for your trip and your family make-up, but below is a short synopsis of the three options.
SMALL: The classic campervan
This is the smallest type of motorhome, and is usually a raised van adapted to the function of a campervan. There are various sizes, but they tend to be relatively compact and similar to drive and park to a car. This is an advantage when the journey involves particularly narrow roads and it gives you more freedom in planning your itinerary a rest stop locations. But of course space and facilities inside are more limited so they are more suitable for small families with a certain degree of adaptability.
MEDIUM: The smaller motorhome
Smaller motorhomes are the perfect middle ground between the agility of the van and the comfort of the larger motorhome. More compact than bigger models, they consume less and offers more freedom of movement, while still providing a greater degree of comfort than a classic campervan. Recommended for hybrid travel, where both flexibility and a certain level of comfort/ safety/ facilities are important (like if you have small children). Only suitable for small to medium-sized families, as they usually accommodate a maximum of 4 people.
LARGE: The larger motorhome
Larger motorhomes are the largest and heaviest types of motorhome (before you go into huge, American-style RVs) and are, therefore, not exactly easy to manoeuvre. If you are unfamiliar with driving bulky vehicles, this type of vehicle may not be the best choice – it could make your trip quite stressful. Inside, however, they offer lots of space and all possible comforts: 4 to 6 beds, a much better equipped kitchen and bathroom, and a living area that is comfortable for large families. Recommended for mostly motorway and stationary trips, and for large families.
It's worth remembering that, while you're driving, all passengers must wear seat-belts in any of these vehicles, so make sure there are enough fixed seats with belts for everyone in your group. When travelling with children, the same car seat rules apply as in cars.
Renting a motorhome
Buying a motorhome is no small investment, which is why trying it out by renting is a great idea. Using our motorhome rental search engine, you can easily compare prices and models for your holiday dates and book the best one for you.
Motorhomes with children: what to bring
Generally speaking, the preparations for a motorhome trip are more elaborate than those for other types of travel: after all, here it is a question of equipping a real home. First of all, make sure you fill up your water tank and have a full cannister of gas if you are using it. Then make up a box with your campervan first aid kit: plasters, disinfectant, cotton pads, bite cream, aftersun, paracetamol for all ages and all the other things you most often need at home.
Then prepare a list divided by living space: things for the kitchen, for sleeping, for the bathroom, motorhome equipment, entertainment for the children and so on. Favour a functional and minimalist approach, opting for foldable and stackable accessories and quick dry clothing. Remember that there are coin-operated laundries on campsites, so you can avoid bringing your entire wardrobe, even if the little ones tend to get dirty often, but do bring individual detergent capsules to use.
Consult our full campervan checklist here.
Hopefully you're now you know where to start when preparing for a motorhome holiday with the kids. So it's time to start making lists and purchases, looking at possible destinations and drawing up the adventurous itinerary for your next family adventure!
Next steps:
Happy planning!