Packing for your campervan adventure might seem like a daunting task. With everyone trying to sell you the latest 'must-have' campervan gadgets, it's understandable to feel a little overwhelmed. Gone are the days of packing everything but the kitchen sink; the secret to the perfect open-air holiday is keeping it simple. A few key camping accessories can make all the difference to achieving that stress-free family holiday. But stripping back doesn't necessarily mean going without. With these camper van essentials, you can still have your home comforts, while saving on space, time and money.
This camping essentials checklist will reveal exactly what you need to bring (and all the things you don't). We've taken the hard work out of packing so you can focus more on the important stuff, like planning exciting activities with your loved ones.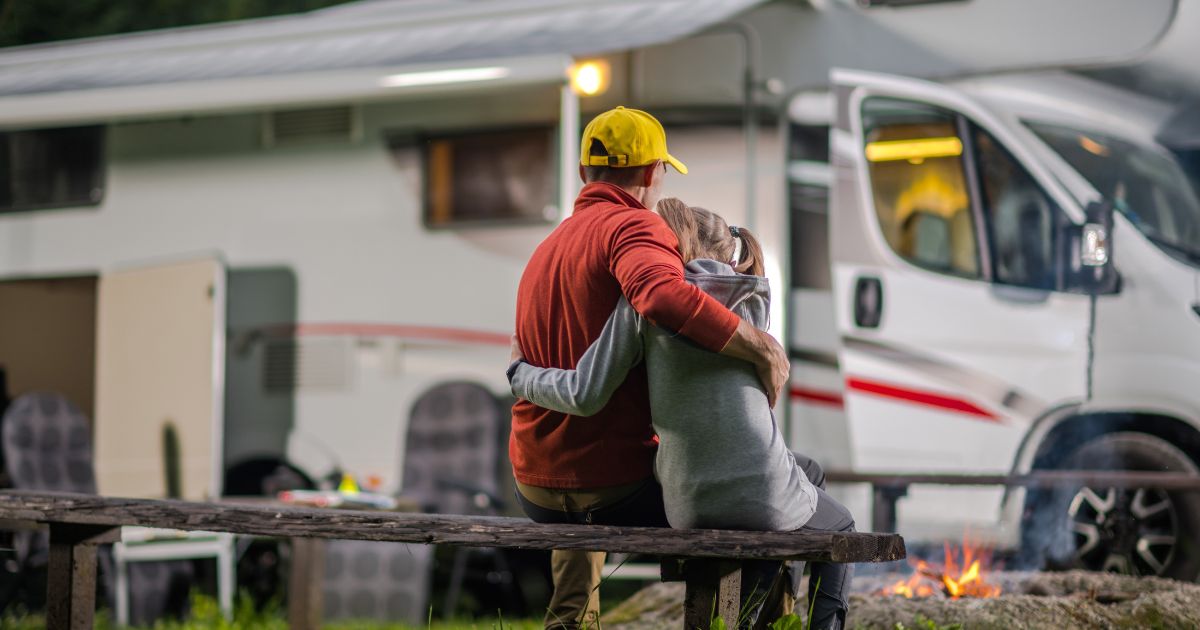 The Complete Campervan Essentials Packing List
Campervan essentials for the campsite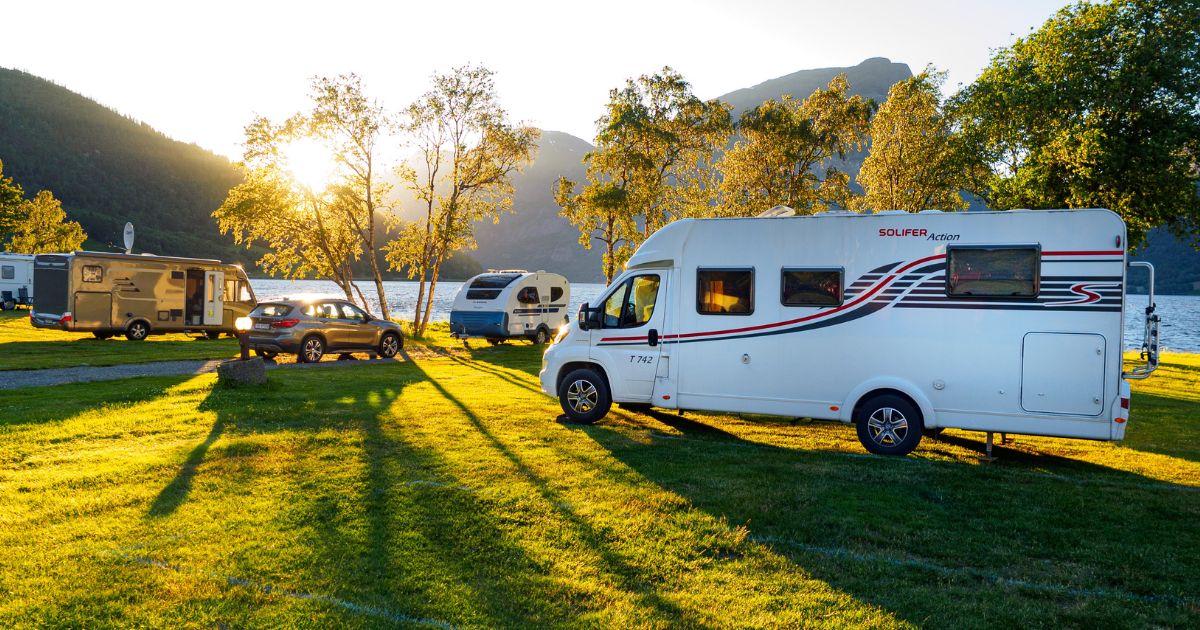 Drive-away awning
If you're travelling with kids, then even the most spacious of motorhomes can get a little cramped at times. A drive-away awning gives you vital extra space to stop you getting on top of each other. It's also a great option for outdoor dining, even when the weather isn't great. Don't forget the mallet!
Campervan chocks/levellers
No matter how long you spend finding that perfectly 'flat' pitch, chances are that there will still be a bit of a slope. Not so noticeable when you are driving, but oh-so-noticeable when you try to sleep. A set of chocks or levellers can make all the difference and ensure you are well-rested for all of your adventures.
Camping table and chairs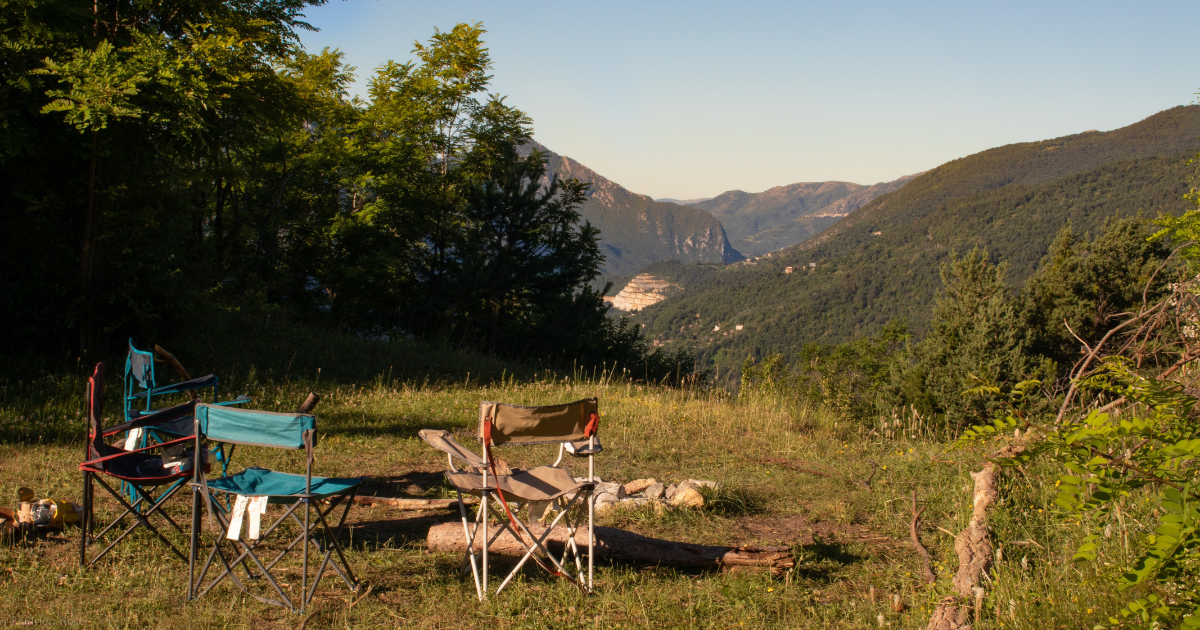 Even if your camper has a full dining table set-up, a camping table and chairs will always come in handy. Who doesn't love al fresco dining? Plus, if you're travelling with messy eaters, the mess stays well away from the bedroom.
Campervan electric hook up
Be sure to opt for a long electric hook up cable (25m) so that you aren't limited by certain pitches. It's worth double-checking whether your campsite uses a 3-pin or 2-pin system, or else purchasing an adapter, just to be on the safe side.
Collapsible bucket
The humble bucket is one of the most versatile accessories for vans. It can have a million and one uses when camping – washing up bowl, storage, rubbish bin, drinks cooler, laundry basket, baby bath – the possibilities are endless.
Camping lights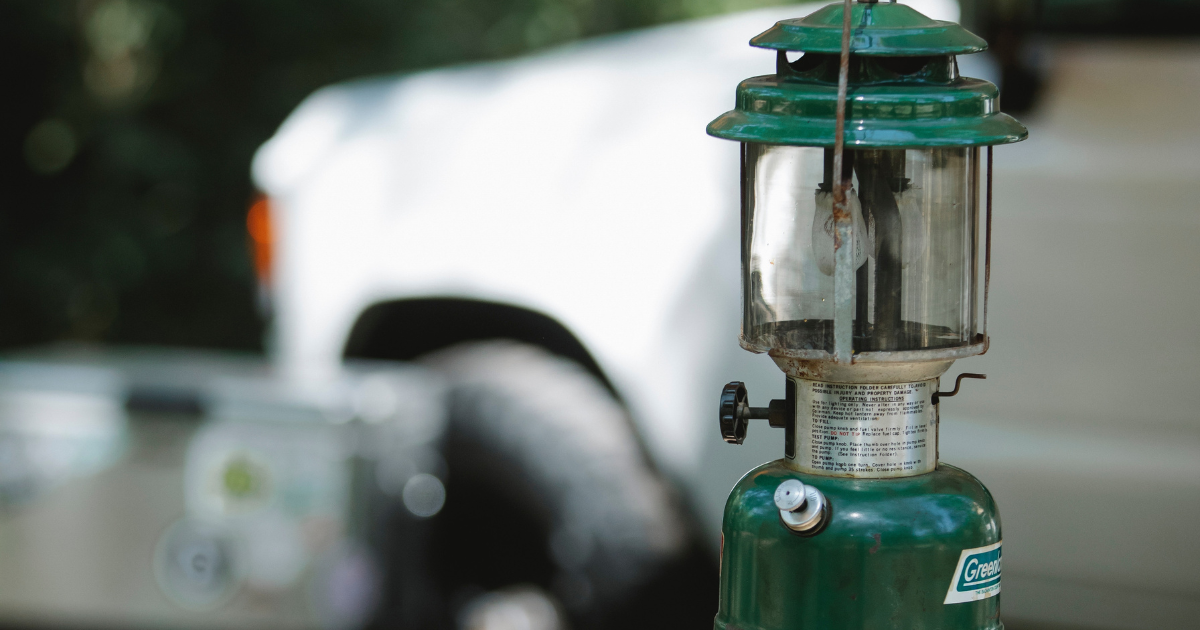 Let there be light! One of the biggest benefits of an open-air holiday is being away from light pollution and being able to stargaze. With that, however, comes the reality of trying to navigate your way to a toilet block when it's pitch black. A camping lantern or head torch can prevent a whole host of trips, slips and stubbed toes.
Camping gas
An essential for the morning tea-drinkers and gourmet camping chefs among you. Be sure to find out which gas bottle fits your campervan – most can be easily exchanged across Europe when you're running low.
Campervan essentials for the bedroom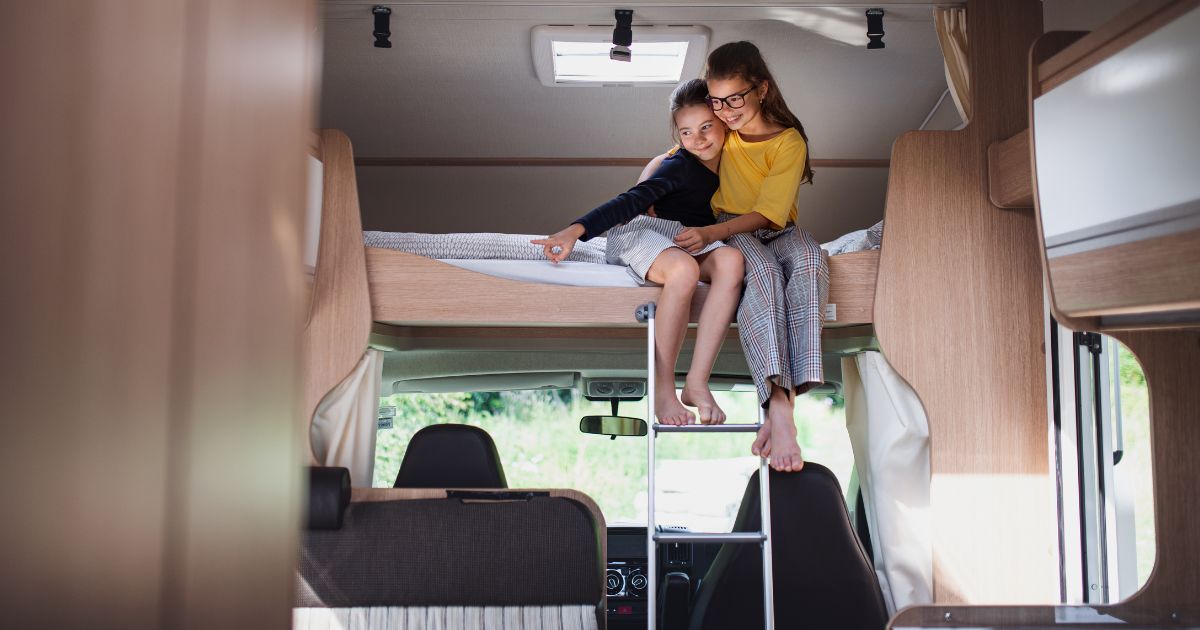 Campervan bedding
A good night's rest is essential for keeping your campers happy. Whether you opt for duvets or sleeping bags, one thing is certain: nothing beats a comfy, full-sized pillow. It's also worth considering the climate, as you might need extra blankets to keep you toasty.
Windscreen cover
A good thermal windscreen cover can keep you cool when it's warm and warm when it's cool. They can prevent condensation from building up and light from getting in in the morning. A screen also gives you that extra bit of privacy for the evenings spent cosying up in the van.
Campervan essentials for the kitchen
Campervan cooking utensils
The award for the best multi-use campervan gadget goes to the Swiss Army Knife. Many double up as bottle opener, nail file, tweezers, tin opener and pair of scissors.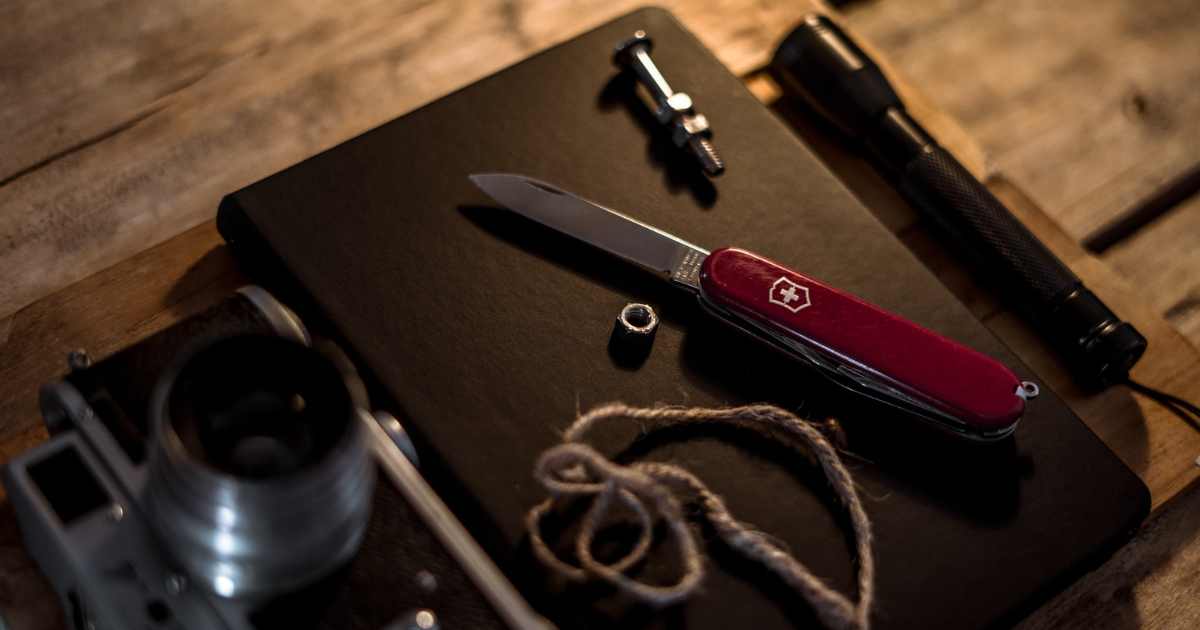 Other key kitchen items include: wooden spoon, peeler, chopping board, sharp knife, slotted turner, tongs, grater, colander and large plastic mixing bowl. Anything else very much depends on what/if you plan to cook and what your personal kitchen essentials are.
Campervan pots and pans
Find stackable pots and pans, designed for travel and a great space-saver. You don't need many as there are lots of one-pot and simple camping recipes out there. A compact or collapsible kettle is also a must for tea and coffee drinkers.
Camping plates, bowls, cups and crockery
Enough for each person to have one meal and a drink is plenty. Then you're obliged to keep on top of the washing up, keeping the place clean and tidy. We recommend a rota where everyone takes turns on washing-up duty, washing in a basin with a focus on saving water. Again, opt for light-weight, collapsible and stackable products designed for travel.
Camping stove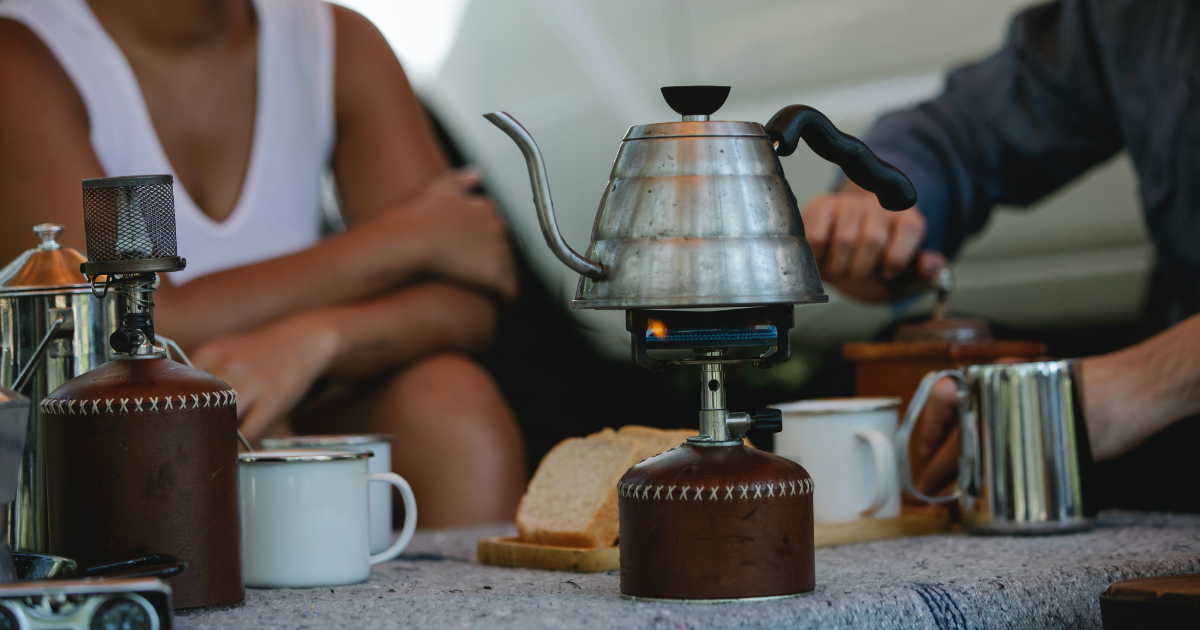 It might seem a little excessive if you already have a cooker in the van, but trust us on this one. An extra stove is vital if you are cooking messy or strong-smelling meals. No one wants to smell last night's dinner on their pillow or clothes the next day. Cooking outside is all part of the fun and gives you more space to show off your culinary skills.
Cupboard essentials
Although you can probably find everything you need in local shops and supermarkets, shops may be closed at different times to what you expect, or you may not feel like doing essental supermarket shopping on holiday. So it's good to pack a few staple items which will allow you to whip up a snack or meal at a moment's notice. Things like tinned foods, olive oil, salt and pepper, pasta and sauce, peanut butter and crackers or oatcakes, dried fruit, nuts and cereal bars are perfect.
Washing up and cleaning essentials
It's time for your collapsible bucket to shine (see above). Other key items include: a small dustpan and brush (for ridding the van of sand and crumbs), washing up liquid, sponges and dish cloths, anti-bacterial spray, kitchen roll, laundry detergent/powder, clothes line and pegs.
Campervan essentials for the bathroom
Camping toilet and shower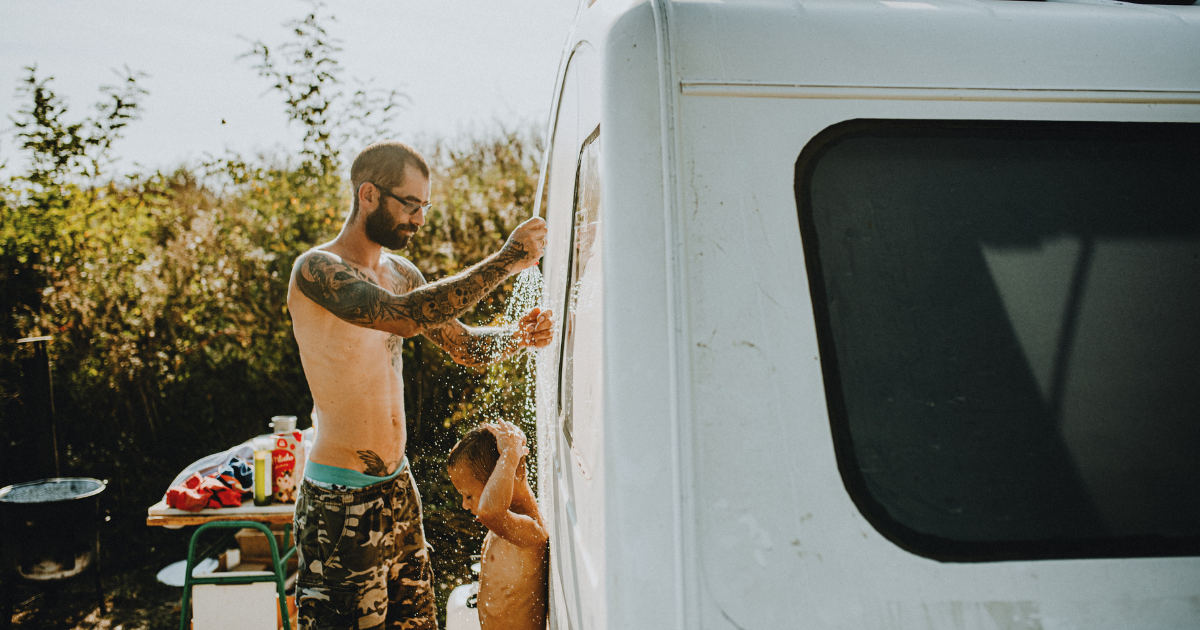 It depends who you ask as to whether these count as essential. You'll be hard-pressed to find a Campsited campsite without toilet and shower facilities and no one really wants to be in charge of filling and emptying the toilet and shower tanks, but having your own facilities can be convenient on occasion. There are lots of options available from a basic bucket set-up to a fully-functioning portable toilet. The same goes for showers.
Microfibre towels
Packing down to the smallest of sizes and quick-drying, microfibre towels are every camper's best friend. They come in a range of sizes for cleaning, showering and beach days. Take spares – you'll need them.
Campervan toiletries
Everyone has their own list of essential toiletries, but we definitely recommend soaps and shampoos that come in bar form. You can keep them mess-free in a travel tin, to save on space, weight and plastic packaging.
Oh, and don't forget the loo roll!
Entertainment for the kids (and big kids)
Games, games and more games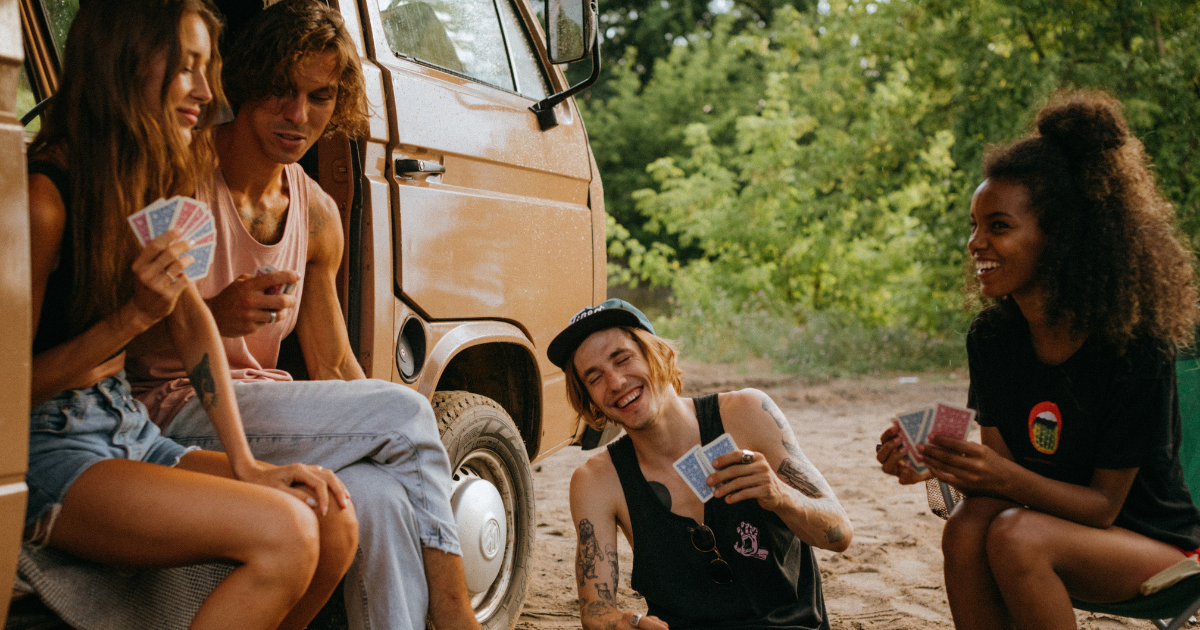 Card games are a great way to gather the whole family around the camping table for some wholesome fun. Normal playing cards, Dobble or UNO are firm family favourites and never get old.
For the more active of families, you can have hours of fun with a simple tennis ball or frisbee. Or, allow for some quiet time with books, paper and colouring pens. If you're very organised you might have brought some books or print-outs about the local flora and fauna, which kids can identify and draw.
Electronics
Although you're probably wanting to connect with each other and nature, there can still be times when laptops and tablets come in handy. You may also wish to bring portable speakers or headphones (for when you can't handle hearing Baby Shark on repeat).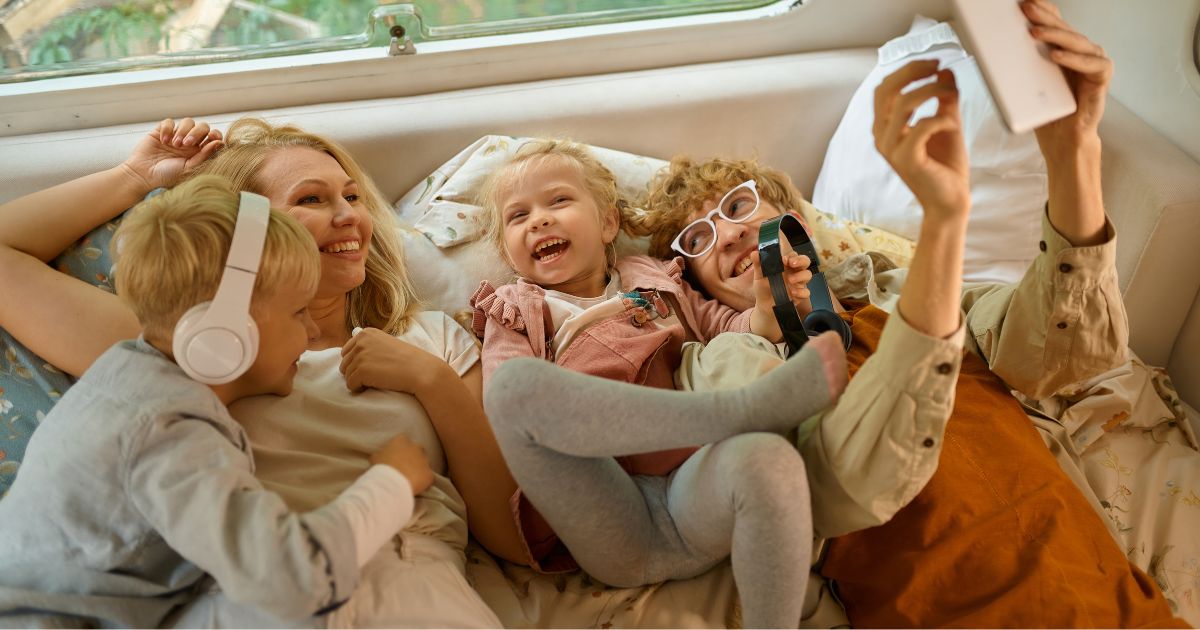 Power banks, charging cables and mobile phones are also important to remember. Unless of course you are aiming for a digital detox, then ignore all of this and simply switch off.
Miscellaneous camping essentials
The things you always need
These are the items that don't necessarily have an obvious purpose but ALWAYS come in handy. Make sure you stash:
bungee cords
old towels
matches
super glue
duct tape
reusable shopping bags
carabiners
in the van for a whole host of situations and quick fixes.
Storage solutions
Camping with the family, with lots of stuff in a small space means that your campervan can get very messy, very quickly. But it doesn't have to be that way. Packing cubes are a great way to keep clothes and personal items neat and tidy. One or two per person should do the trick.
There are lots of storage solutions out there, so it's worth having a look around for ones that fit your campervan.
Just-in-case camping essentials
Campervan safety essentials
We all hope that every open-air holiday will be plain-sailing, but it is essential to pack for emergencies, just in case.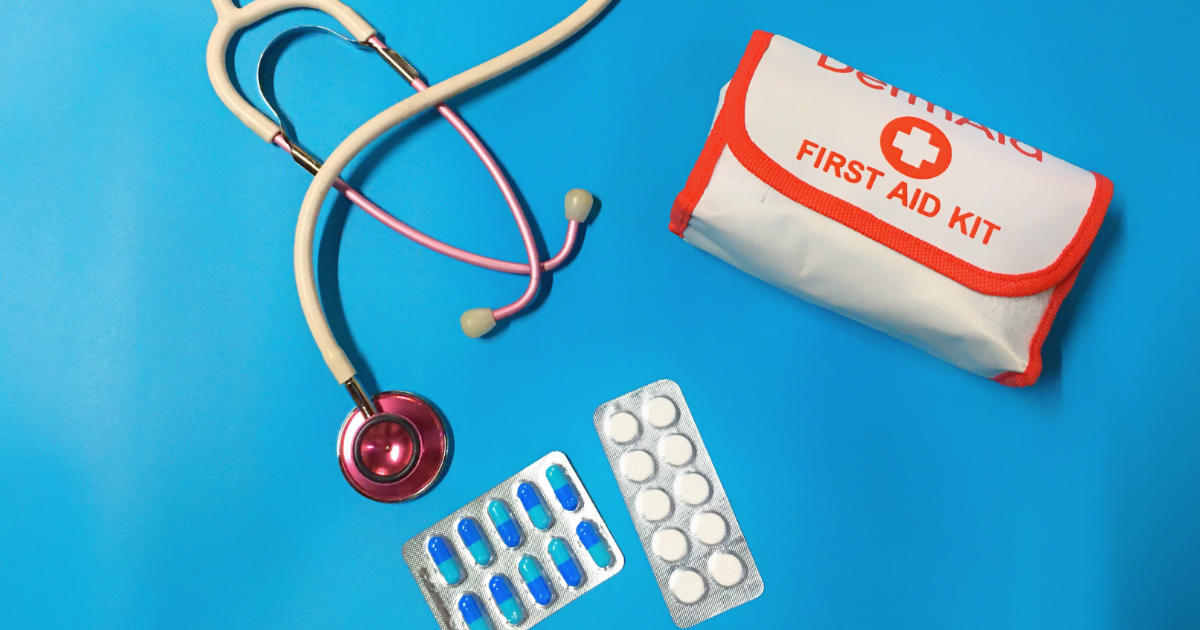 Make sure you have:
a small fire extinguisher
a roadside emergency kit
a first aid kit
a spare tyre
fuses and lightbulbs
tools you need for your van.
Check the rules for each country you travel in, as some have legal requirements for what you need in your vehicle when driving there. Safety first!
Important documents
It's a good idea to keep all of your important documents together in an easy-to-reach folder. Things like passports, driving licences, travel insurance, tickets and bookings, campervan registration and insurance, and breakdown cover should always be kept in a safe place that is out of view.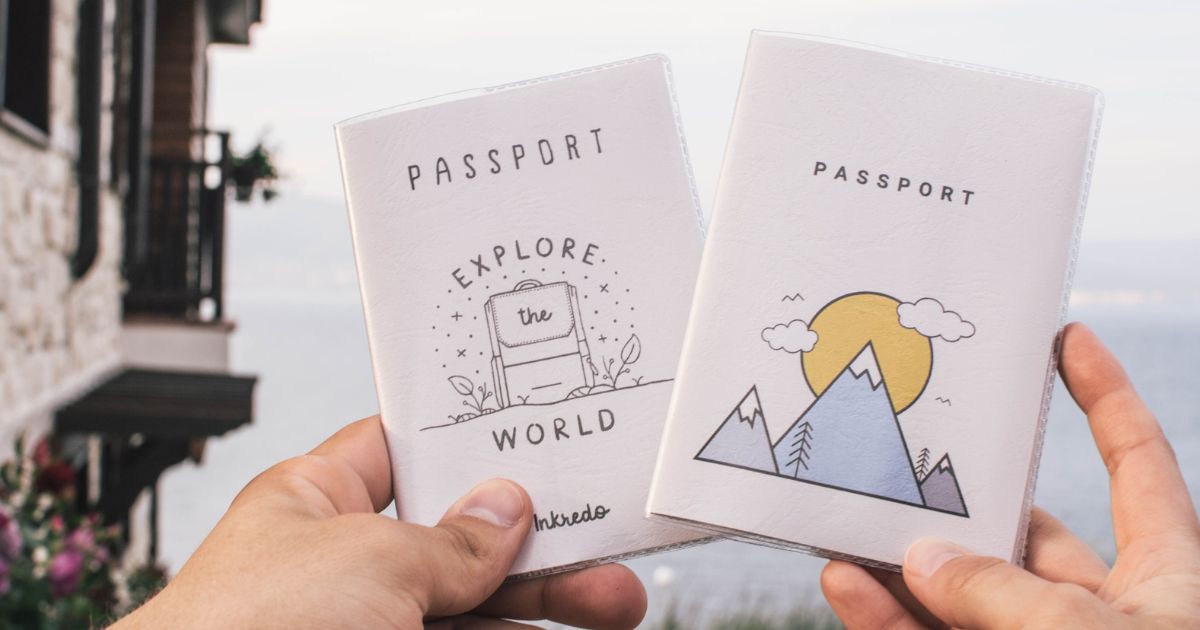 So there we have it – Campsited's ultimate campervan essentials checklist. We hope this list makes packing the motorhome a breeze, so that you can head off feeling calm and prepared.
Once you've gathered everything you need, all that's left to do is choose from our huge selection of campervan-friendly campsites. From rustic nature spots to the very height of luxury, you're guaranteed to find the perfect site for your next campervan adventure.
If you think there's anything that we've missed – let us know on social media! We'd love to hear all of your top campervan essentials.