Choosing a destination for a motorhome holiday with children is not always easy. It's important to choose destinations with plenty of space to run around, activities that won't bore them and, in the case of a camping holiday in summer with small children, also places where you won't risk excessive heat.
Those are the criteria we have considered in choosing these destinations. They cover North to South, mountains and sea: all places where young and old can enjoy nature, trails, water, pools and a wide range of campsites.
Val di Fiemme
Val di Fiemme, which you can visit while staying at a campsite in Trentino, is a fun, picturesque destination for an adventure holiday with children. Choose a campsite near Predazzo as your base and organise lots of activities for the family. Here are the best, in our opinion:
Themed trails and Adventure Forest on the Latemar
The Latemar massif in the Dolomites has lots of trails. With children, we recommend:
The three trails on the Montagna Animata, which are fun and achievable for everyone. You can choose between the Forest of Dragons, the Distracted Shepherd and the Geotrail, or try all three!
The Obereggen Adventure Forest, which includes four 30-stage routes with other activities along the way, combining walking with other things to keep children from getting bored.
The Latemar Alp, a magnificent alpine pasture on the border between Val di Fiemme and Val d'Ega. The path there is accessible with a buggy, so you can enjoy this spot even with the smallest of children.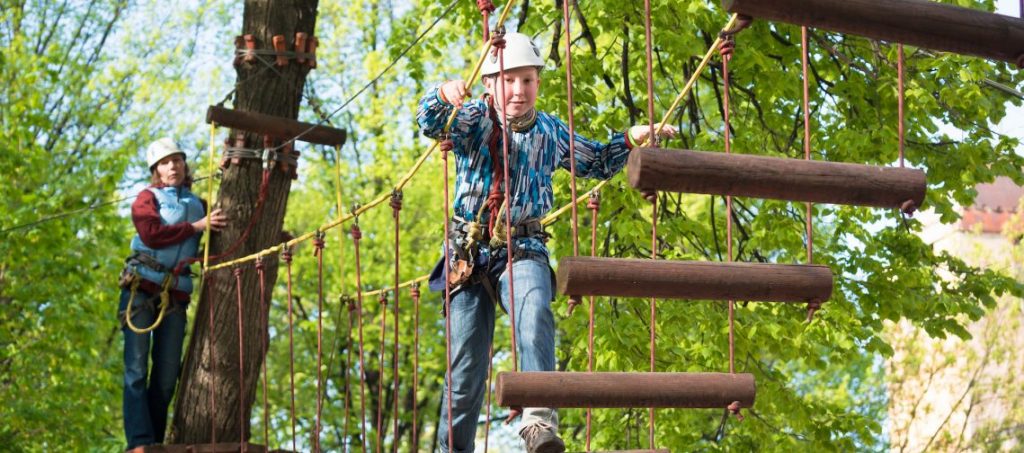 Predazzo: the sounding forest and the water parks
In summer, the town of Predazzo is filled with events for all ages. Particularly noteworthy is the Bosco che suona (Forest that plays), a musical itinerary among the centuries-old fir trees that master Stradivari used to make his violins. In the forest, internationally renowned musicians were able to choose and 'christen' their own tree. Take a stroll and lose yourself among these legendary trees.
For particularly hot days, the area also has several waterparks. Or, of course, you can choose a campsite with a swimming pool to go back to, so that everyone can keep cool.
Fassa Valley
The Val di Fassa is great for both children's activities and incredible mountain scenery. Choose a campsite near Pozza di Fassa to be in a central and strategic position, to access all the great things this region has to offer!
Buffaure: alpaca trails and mountain survival courses
From Pozza di Fassa, a short ride in the Pozza-Buffaure gondola will take you to the Buffaure basin, at an altitude of just over 2,000 metres. Depending on the age profile and interests of your group, here you'll be able to choose from
a good playground
various hiking trails towards Val San Nicolò and Val Jumela
an easy guided walk with alpacas (about 90 mins)
a short mountain survival course, where experienced guides will teach you how to orient yourself with maps and compasses, how not to get caught unprepared in a storm, how to build a fire and how to set up camp for the night.
Malga Jumela and the art of cheese making
Malga Jumela can be reached by a leisurely walk downhill through the forest from the Conca del Buffaure (see above). Here you can get hands-on with milking cows and making cheese, transforming yourselves for a few hours into real Val di Fassa 'cheese makers'. At the end, of course, don't forget to taste the locally produced cheese: mouth-watering!
Val San Nicolò and the waterfall trail
There is an excursion suitable for the whole family up to the Baita Cascate di Val San Nicolò. Children will love taking the little train that goes up from Pozza di Fassa to the start of the path, then running around or picnicking in the high-altitude green meadows. The trek up to the waterfalls is short, easy and well signposted.
Tuscany
Tuscany has the good fortune to be varied: it has cities of art, breath-taking coastlines and picture-perfect countryside scenery that is impossible not to fall in love with. Here are the destinations for an unforgettable open-air holiday with kids in Tuscany.
Grosseto Maremma and its hinterland
For a seaside holiday with kids, we recommend the Grosseto Maremma between Follonica and Castiglione della Pescaia. Here, the beach is particularly suitable for children: shallow, with transparent waters. There is also a variety of activities for the whole family, including excursions with environmental guides to explore the neighbouring nature reserves and watersports of various kinds.
We would recommend a few day trips inland from here too. Visit:
the incredible lavender fields near Civitella Marittima
the Cascate del Mulino di Saturnia waterfalls, natural cascades of thermal water (of around 36°C)
the extravagant Giardino dei Tarocchi park, gardens full of eccentric and lively Gaudi-style statues that will stimulate your children's imagination.
Lake Trasimeno – Umbria
A camping holiday in Umbria should include a visit to Lake Trasimeno, an excellent destination for a nature holiday with children, away from the more crowded holiday resorts. It's a relatively small lake, so you can choose a campsite anywhere on or near it as your base and see it all in day trips.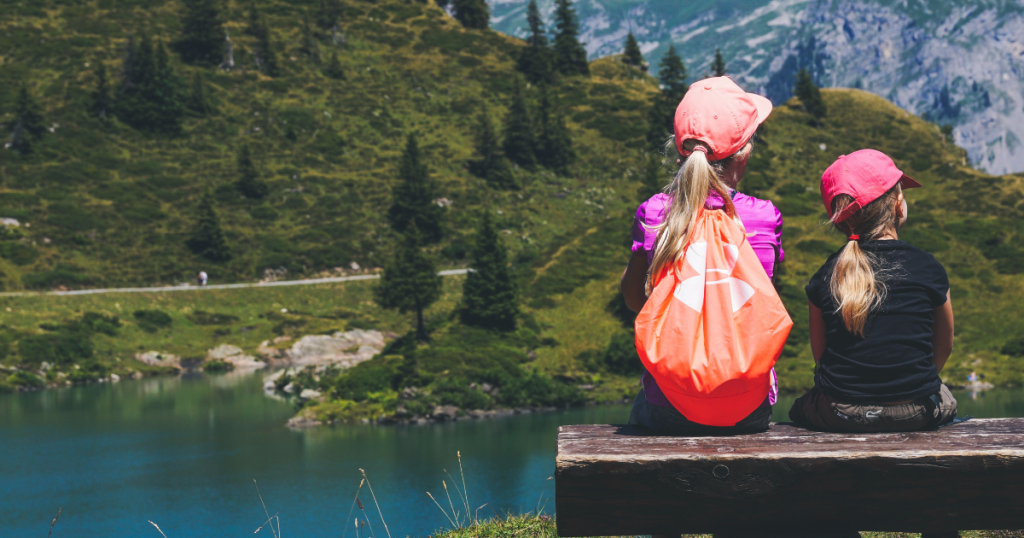 Great activities with the children include:
taking the ferry to visit one of the two islands in the lake, Isola Maggiore or Isola Polvese
cycling sections of the cycle path that circuits the whole lake
visiting fishing villages such as San Feliciano, Castiglione sul Lago or Passignano, real picturesque spots of pure historical and natural beauty
taking part in the kite and hot-air balloon festival in May.
Excursion to Perugia
If the lake is not enough, you can also reach Perugia in about half an hour by car. On the outskirts of the city, between April and November, the Città della Domenica Park is open, which can be visited on foot or on board a historical train. This has stops inside the forest, evoking fairytales such as Pinocchio, Sleeping Beauty, Little Red Riding Hood and Snow White, before going into the Wild West, passing through the masonry labyrinth, entering the Trojan Horse or boarding a rocket bound for the Moon!! Within the forest, there is also a wildlife trail – on it you can see local and non-local fauna, including fallow deer, squirrels, snowy owls and other animals.
Puglia
Moving further south, don't miss Puglia, a region with crystal-clear waters, but also rich in history and activities for all ages. The campsites in Apulia are of the highest quality and have many child-friendly facilities, from mini-clubs to sports and water parks, to exploring the Mediterranean maquis.
Gargano: between sea, woods and dinosaurs
The sea in the Gargano is a guarantee wherever you go, but the areas of Rodi Garganico, Vieste, and the Bay of Sfinale near Peschici are the most suitable for families with children and where the choice of campsites is also the best.
Within the Gargano National Park, there is the Foresta Umbra, the perfect place to visit with children. Pick up trekking and biking trail maps at the Visitor Centre and go exploring! Don't miss the path to the artificial lake, a habitat for fish and turtles. The path also passes the deer enclosure, and you can feed the friendly deer.
Another attraction is the Play Forest: a wooden area dedicated to little ones, featuring playhouses, toy trains, animal sculptures and much more, for an immersive experience. Dinosaur lovers should head to the Dinosaur Theme Park and the Borgo Celano Palaeontological Museum, which offer interactive routes, reconstructions and illustrative panels on the finds and life of these incredible animals. The museum park also includes an outdoor area with a pond and organises outdoor excursions for the whole family.
How to book a campervan trip in Italy online
…And all of this is just a drop in the ocean! There are SO many places to go on a campervan holiday with kids in Italy. You can start planning right here: check out campsites in Italy and look into book a campervan in Italy online today.