France is a top destination for campervan holidays, boasting diverse natural landscapes and charming villages. Drive your campervan along either the Atlantic or Mediterranean coastlines, to enjoy breathtaking coast scenery, pretty villages, long sandy beaches and quiet coves, for surfing and swimming and relaxing. Travel inland to experience the lush countryside, stunning natural parks and thrilling mountain passes, with spectacular views.
You can choose from thousands of campsites in France, with private pitches for motorhomes and campervans. After a busy day of sightseeing, hiking or swimming, enjoy a drink or meal at the campsite bar or restaurant. Facilities for the whole family include swimming pools, kids' clubs and playgrounds. But be warned: if you're planning to go camping in France with your own camper during the school holidays or the summer months, reserve your site as early as possible, as both campsites and aires tend to fill up.
Travelling with your own camping vehicle gives you the freedom to wake up in a whole list of new places during one trip. Here's our whistle stop tour of mainland France and its top destinations.
Campervan holidays in the north west of France
Normandy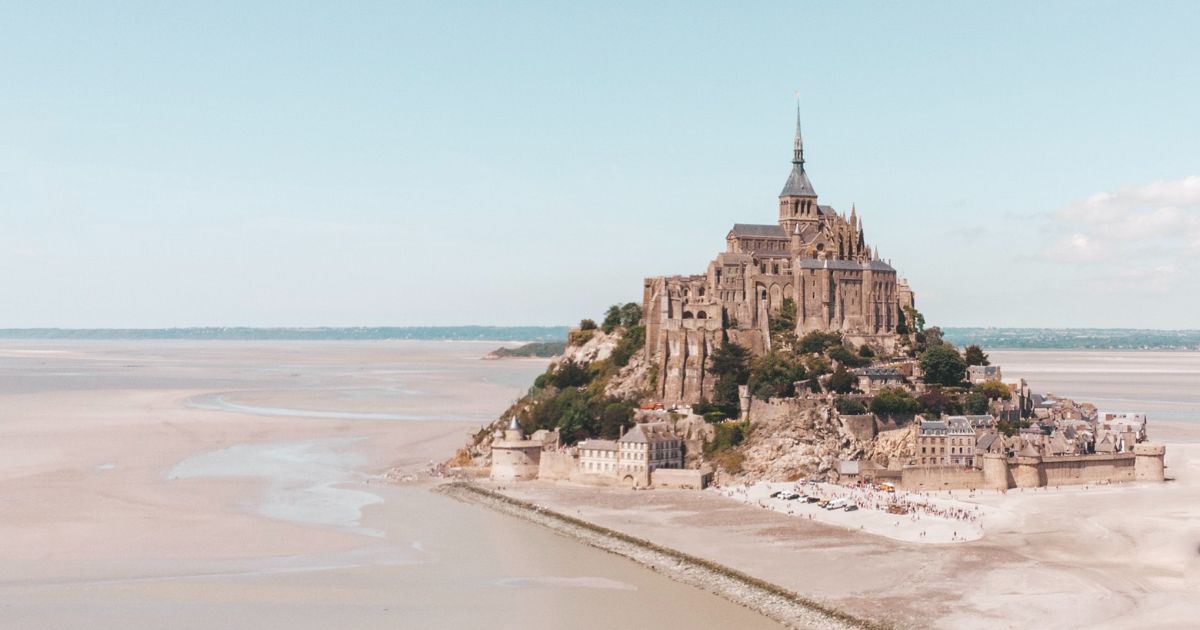 Normandy is accessible by a number of large ferry ports, making it the perfect spot for motorhoming in France if you are heading over from the UK… and it's also very easy to access from Northern Europe. History buffs will be fascinated by the plethora of WWII museums and sites. By staying at a campsite in Normandy you'll be able to visit also Mont Saint Michel – one of the country's most famous landmarks – and well worth a visit.
Brittany
Cider, culture and dramatic coastlines – what's not to love about camping in Brittany?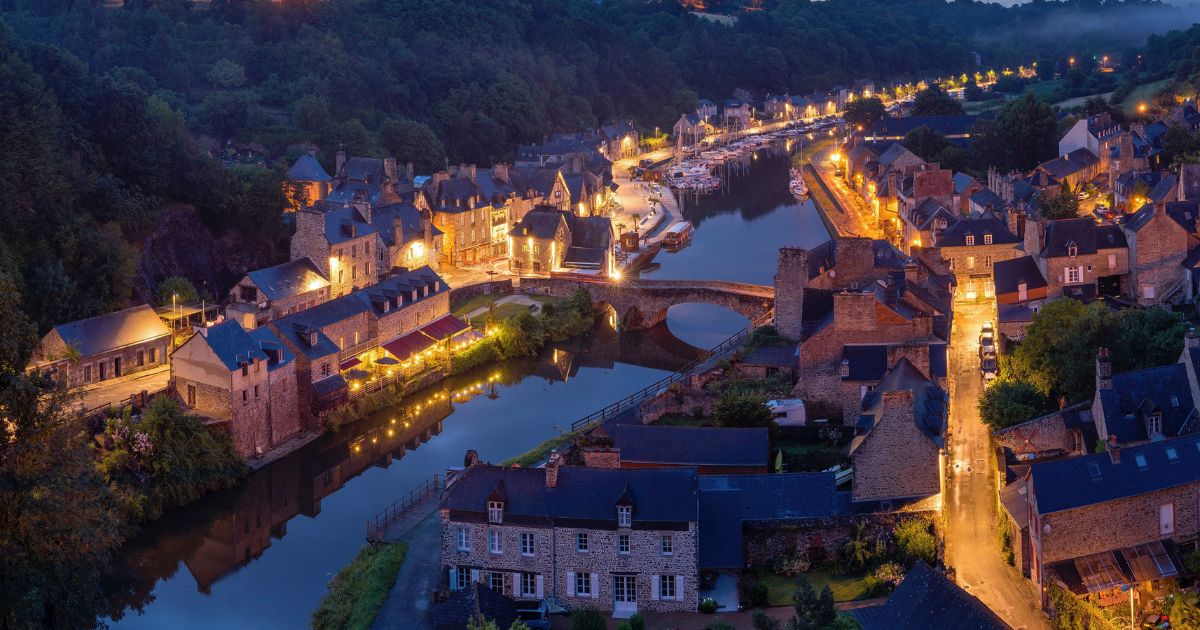 Brittany is also easily accessible from Belgium, the Netherlands and Northern Europe – and also from the UK by the north west ferry ports of France.
The Emerald Coast is located between Cancale and Cap Fréhel and it's a great route to travel by campervan or motorhome over 4 or 5 days. The route takes in Saint-Brieuc Bay and Saint-Malo, a beautiful city to discover on foot (there are big carparks outside the ramparts). You'll also pass through the elegant seaside resorts of Dinard, Saint-Lunaire and Saint-Briac, many small fishing ports and pretty medieval sites such as the Château du Guildo and the Fort la Latte (Château de Roche Goyon). On arrival at the shale and pink sandstone cliffs of Cap Fréhel, you'll have one of the most beautiful views in Brittany.
The Pink Granite Coast is also worth travelling in your van. There is a lovely coastal walk along the Douaniers path, between Perros-Guirec and Trébeurden. There are beaches and creeks (Ploumanac'h, Trégastel, La presqu'île Renote and Perros-Guirec), the seaside resort of Saint-Guirec, the pink lighthouse of Men Ruz, and archaeological sites such as the Dolmen of Kerguntuil and the Menhir of Saint-Uzec. Trégastel and Trébeurden are good places to stay with a campervan or motorhome.
If you're lucky, you may come across one of Brittany's many Celtic festivals celebrating music, dance and local cider.
Pays de la Loire
South of Brittany, the diverse attractions of the Pays-de-la-Loire include historical cities, charming mediaeval villages, grand chateaus and miles of vineyards. Head west to the coast for long sandy beaches and campsites galore.
Campervan holidays in northern France
Hauts-de-France
Hauts-de-France is the northernmost region of France, with plenty of campsites away from the crowds. Camping in this area brings you close to regional natural parks, historical villages and the wide beaches of the Opal Coast, which are great for families.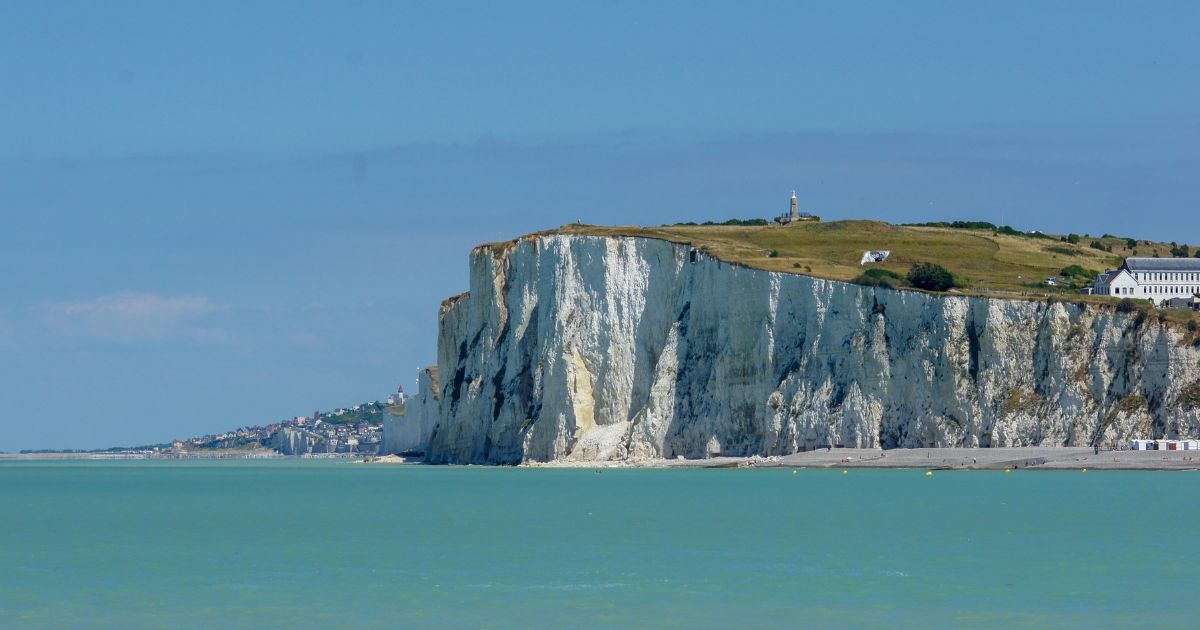 UNESCO World Heritage Sites include the Belfries of Belgium and France and the 13th century Notre-Dame d'Amiens Cathedral.
Camping in the east of France
Grand Est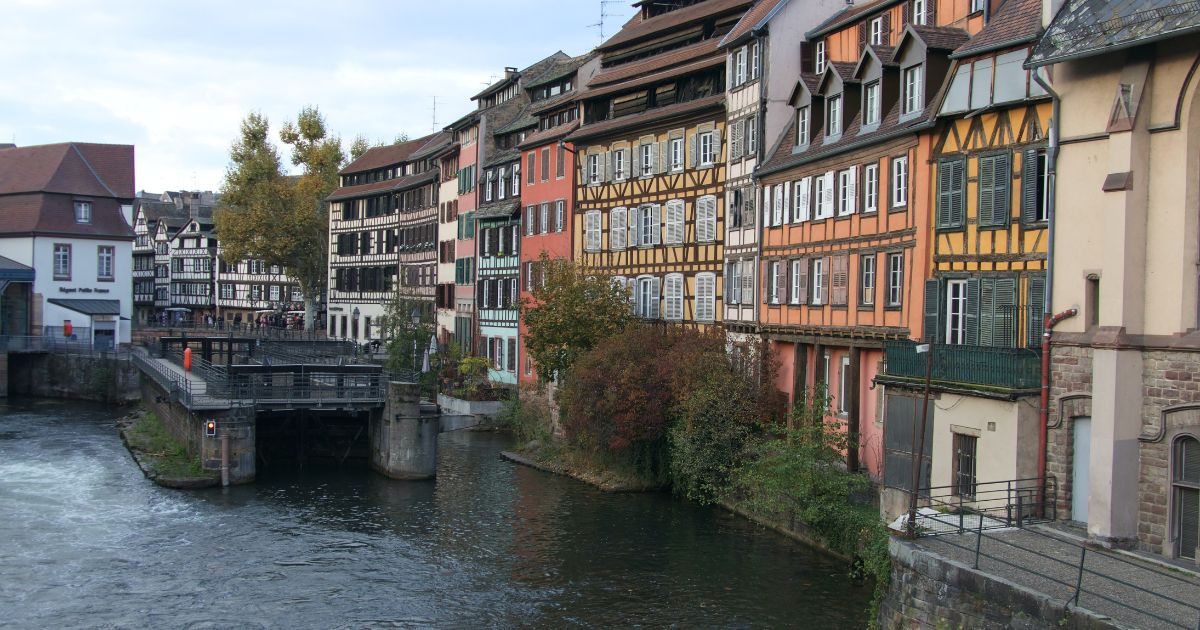 This region shares a border with Belgium, Luxembourg, Germany and Switzerland and ownership has switched through history, so it has a very diverse architecture and gastronomy. The region featured heavily in the inaugural Tour de France Femmes in 2022 and the television coverage showed some fabulous scenery, perfect for travelling through in a campervan.
Two fascinating little towns worth putting on the itinerary are Troyes and Bar-le-Duc. Troyes is a charming medieval town, nice to just wander around for a morning. It has interesting architecture: cobbled streets and half-timbered houses dating from the 16th century, narrow alleys only wide enough to walk through in single file. It has museums and Gothic churches with pretty stained-glass windows to visit. And it has lots of restaurants and a real café culture, being known for its cakes, pastries and breads. So, take your appetite with you, stay for lunch and stock up the van with cakes. Bar-le-Duc is a pretty Renaissance town. You can download a discovery walk of Bar-le-Duc here. The castle and ancient seat of local royalty is now a museum, which has a special children's booklet to make the tour more fun.
If you are keen on doing a few days of bike-packing, find somewhere safe to park the camper and get on to La Voie Bleue. This is a 700km cycle route running from Luxembourg to Lyon, that takes you along canals and rivers, through wetlands and by lakes, with lots of pretty villages, towns, historical and cultural sights to discover along the way. And you can dip in for as long or as short a discovery tour as you want. For a shorter spin of the legs, you also have the option of the Seine & Aube Greenway, which starts at Troyes and runs for over 40kms to Port-Dienville. It brings you past the Lac d'Orient and Forêt d'Orient, which are great places to stop for watersports, relaxation on the beach, and exploration or aerial activities in the forest. There is also an animal park to visit, in Mesnil-Saint-Père (Espace Faune de la Forêt d'Orient).
Take a road trip in your campervan and stay in campsites in the Grand-Est surrounded by beautiful natural locations, close to mountains, lakes, forests and picturesque villages.
Bourgogne-Franche-Comté
Perhaps the best-known features of this region are its Vosges, Jura and Morvan mountain ranges, which are perfect for a campervan holiday with lots of great spots to base yourself and visit.
La Planche des Belles Filles is a family activity resort in the heart of the Ballons des Vosges Regional Nature Park, with activities for families of all ages: accrobranche (a sort of aerial obstacle course in the trees), hiking, cycling, mountain biking and rafting. So, near here could be a great place to base yourself.  Places to discover nearby include the Cascade de Longeligoutte, a lovely waterfall almost 10m high, and the Réserve naturelle régionale de la tourbière de la Grande Pile, a bogland with unique flora and fauna to be spotted on a short discovery trail, well suited to family adventures. The Réserve naturelle des Ballons Comtois, meanwhile, offers 90kms of waymarked trails for more intrepid hikers and cyclists to explore.
Anyone with a bike shouldn't miss the Hautes-Vosges Greenway either. It offers over 50kms of cycling trails through beautiful natural surrounds. You can cycle almost the whole 50kms if you go all the way from Cornimont-La Bresse to Bussang, or you can start at Remiremont and go either direction, for a shorter ride. The trail, which winds along the valleys of the Moselle and Moselotte rivers between meadows and forests, passes lots of interesting sites to stop and see on the way.
Lastly, for a family-friendly forest walk punctuated by the excitement of spotting some local animals, visit Parc animalier de Fougerolles-Saint-Valbert. Nature lovers of all ages will LOVE this 5km out-and-back woodland walk inhabited by deer, sheep, goats and other local animals. Panels will tell you all about the native fauna. If you are planning a trip here with kids, you'll find more ideas in our article about top activities for younger ones in Bourgogne.
If you choose the Jura mountains, you'll have to stop at the Cascades du Hérisson. There are several viewpoints along a walking trail where you can admire this natural wonder. Hiking enthusiasts should not miss the fabulous Haut-Jura Regional Nature Park. You might spot a capercaillie: an amazing gallinaceous bird, which has become the emblem of this spectacular area. Also hike the trail from the Pic de l'Aigle to the Belvédère des 4 lacs. The end point offers a magnificent view of the Narlay, Ilay, Petit and Grand Maclu lakes. For some heritage, or for a lunch break, go to Salins-les-Bains: the Grande Saline, a UNESCO World Heritage site, recounts 1,200 years of salt production in the region.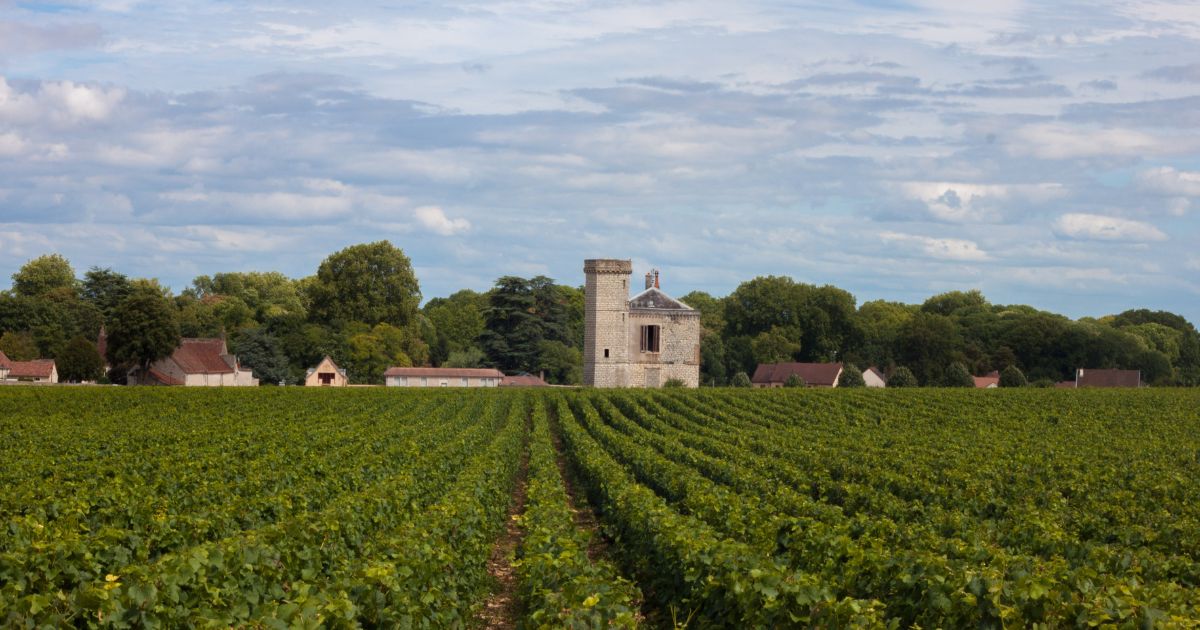 Whatever you do, don't forget to enjoy the renowned wines and cuisine of the Burgundy region: you're sure to love the local charcuterie, including smoked Morteau Sausage, and the outstanding Comté cheese. Pair your meals with a bottle of local wine, Vin Jaune or a sip of the infamous Absinthe, which is distilled in Franche-Comté.
You can use our campsite booking tool to find campsites in the Bourgogne-Franche-Comte region.
Auvergne-Rhône-Alpes
Motorhome trips to France don't come much better than the Alps in the summer.
There are so many wonderful Alpine resorts to base yourself for a few days that it's impossible to explore all the possibilities. Let's just give a couple of examples: Morzine, a Tour de France favourite since the race began, of course offers epic road cycling, but also horse riding, fitness trails, climbing, fishing: there is no shortage of activities. Courchevel describes itself as the "Ski Capital of the World"and knows how to treat visitors in the summer too, with hikes, walks, guided heritage tours and fishing trips.
Another great spot to go is Lake Geneva, where you can base yourself near the pleasant town of Thonon-les-Bains and perhaps visit the famous village of Evian-les-Bains. Both are renowned wellness destinations, so plan to take advantage! You're probably a bit stiff after all that driving… a trip to the thermal spas or a good massage can't hurt, right?
Albertville is best known today for having been the host city of the 1992 Winter Olympics. But the area also has a major historical heritage with the medieval town of Conflans. On its rock, this fortified enclosure, which protected the entrance to the Tarentaise valley, is full of architectural treasures. Still on the heritage side, make sure to go to Aix-les-Bains on the banks of Lake Bourget. The "Riviera of the Alps" offers you wellness and relaxation activities, but also family activities. Upstream, another lake, Annecy, also awaits you. The town of Annecy itself is a little jewel. It is regularly on the podium in the rankings of best cities to live in. You will quickly understand why, with its peaceful atmosphere and spectacular views over the lake.
The Vanoise National Park is one of the best places to visit in the Alps and offers a multitude of hikes for all levels. You can also learn about the protection of the fauna and flora through numerous conferences, exhibitions, etc. But it has strong competition from the Serre-Chevalier valley and the Ecrins National Park. In the Serre-Chevalier valley, go to the Serre-Chevalier Bike Park for a mountain bike session, or simply for some nice mountain walks. If you're full of energy, there are via ferrata routes that are a unique experience. Finally, to recharge your batteries, a visit to the Grands Bains du Monétier is a must. The benefits of its waters have been recognised since Roman times and the 4th century! In the Ecrins National Park, you will of course be able to hike to your heart's content, but also discover exhibitions on glaciers or hire a guide to discover the flora of the park.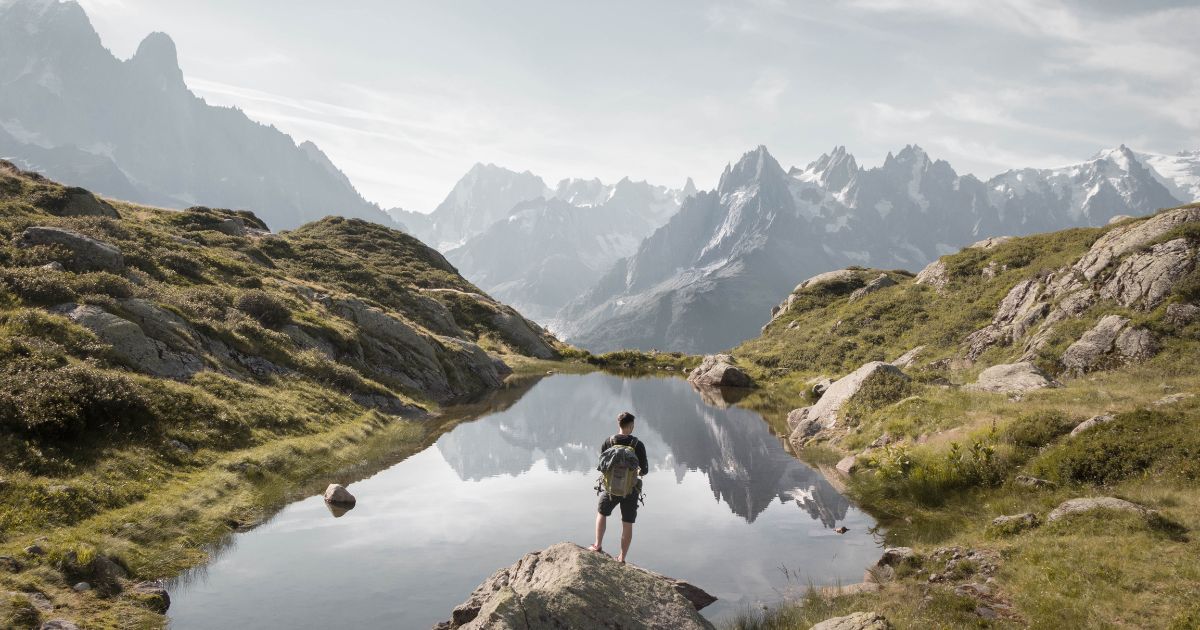 The Alps has so much to offer that one can almost forget that there is so much more to the Auvergne-Rhone-Alpes region. For example, if watersports are your thing, you might be better to head southwest to the impressive limestone gorges of the Ardèche natural reserve; the perfect spot for canoeing, kayaking and wild swimming.
The Auvergne-Rhone-Alpes region is the ultimate adventure playground for kids and big kids alike. Park up in the greenest of alpine campsites in Auvergne-Rhone-Alpes with mountain views all around you and choose from a massive amount of outdoor activities to suit the whole family.
Campervan holidays in central France
Centre-Val de Loire
Located in the heart of the country, the Loire Valley is popular with foodies, history buffs and nature lovers.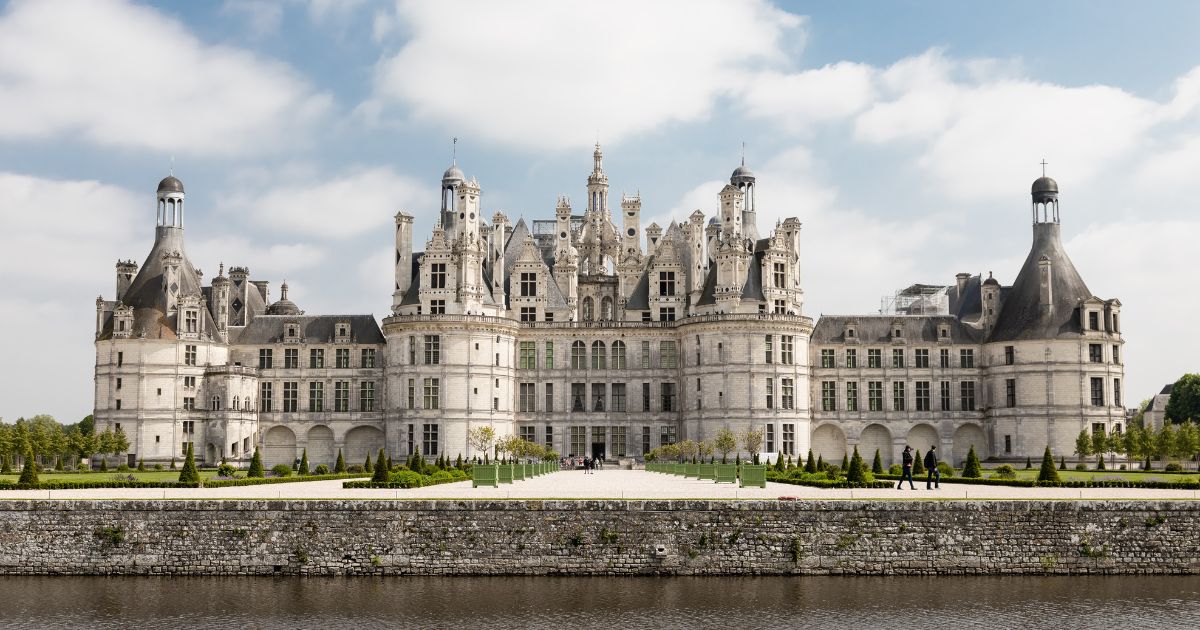 Plan a trip in your campervan to visit stunning landscaped gardens, historic chateaux and vibrant cities with magnificent architecture and cathedrals. Leave your camper at the campsite and ride your bike along picturesque trails through the countryside. Don't forget to try some of the excellent local wines.
Campervan holidays in the south west of France
Nouvelle-Aquitaine
Along the western coast, the Nouvelle-Aquitaine is the largest region in France, with plenty of renowned surf spots, such as Hossegor.
You can opt for one of the many campsites in Nouvelle Aquitaine and bring your surf buddies and boards for a campervan surf trip, driving along the Atlantic coast from La Rochelle to Biarritz, getting up-close-and-personal with the local surf breaks. Visitors can also enjoy picnics in scented pine forests, slide down the tallest sand dunes in Europe or spend a day out at the chic shops and restaurants of Biarritz. Check out the best 10 things to do on a campsite holiday in Aquitaine.
Nouvelle Aquitaine is also home to the Dordogne Valley, which stretches over three departments, Corrèze, Lot and Dordogne. The Dordogne Valley is a great place to travel in a motorhome because of its rich heritage, evidence of which you'll see constantly out the window. There are many castles, like the well known Castelnaud, Bridoire and Beynac Castles, and gardens like those at Eyrignac Manor, Limeuil and Marqueyssac. There are also prehistoric sites, including caves, like the famous Gouffre de Padirac and the Caves of Lascaux. And lastly, some of the "most beautiful villages of France" to discover: charming medieval towns such as Curemonte, Collonges-la-Rouge, Rocamadour and Sarlat.
As well as all this culture, there are lots of open-air activity opportunities in the Dordogne: swimming and canoeing in Dordogne river, hiking in the many natural parks, and visiting the vineyards of Bergerac and Montbazillac among them.
Campervan holidays in the south east of France
Occitania
Set between the Mediterranean Sea and the Pyrenees, and sharing a border with Spain, the southernmost region in France is Occitania. Home to lush countryside and stunning mediaeval villages, there are many beautiful campsites in the Occitanie region, which are a great base for hiking and biking in the Pyrenees mountains. Learn about the history of the region at the mediaeval site of Carcassonne or Roman sites such as the Arena of Nîmes.
Occitania is a region of contrasts, with its long Mediterranean coastline, historic towns, scenic countryside and high mountain passes. All of these make great material for a campervan trip.
A great motorhome trip is the Route of the Cathar Castles. These fortresses are one of the highlights of the Occitanie region, perched on rocky peaks several hundred metres high. Dominating the plains and the towns, majestic despite the marks of time, these ruins reflect the tragic history of a region marked by the crusades and religious wars of the 13th century. Visiting them makes for an unforgettable experience.  In the Cathar country, make sure to spend time in the Montagne Noire, a preserved natural area ideal for forest walks or river swimming.
You could also take your motorhome through the Gard, Hérault and Cévennes, where there are rushing rivers to swim in, mountains to hike and beautiful gardens to visit. Here are some stop-off points for your trip:
Pont du Gard: Listed as a World Heritage Site, this ancient and majestic site is set in a splendid natural setting, easily accessible by motorhome. Park up and wander the paths nearby, admiring the spectacular views of the bridge and the river.
Cévennes National Park: A little corner of paradise in the heart of this national park, the Gorges du Tarn offer magnificent landscapes. It's nice to drive, but really the best way to appreciate it is by water, in a boat or a kayak. The Corniche des Cévennes overlooks the Vallée Française and the Vallée Borgne, two very beautiful valleys. The Cirque de Navacelles is classified as a Grand Site de France. The views of the cirque from the viewpoints are extraordinary. If you wish to be totally immersed, there are magnificent hikes in the heart of the cirque. The site is easily accessible by motorhome, but descent into the cirque with a motorhome is not recommended. Park up and hike down – or use the shuttle bus if you must!
The Hérault Gorges: Admire the cliffs all along the deep gorge from the driver's seat, then head for a dip or paddle at Devil's bridge (pictured below) or Salagou lake, nestled in the middle of arid red rock hills.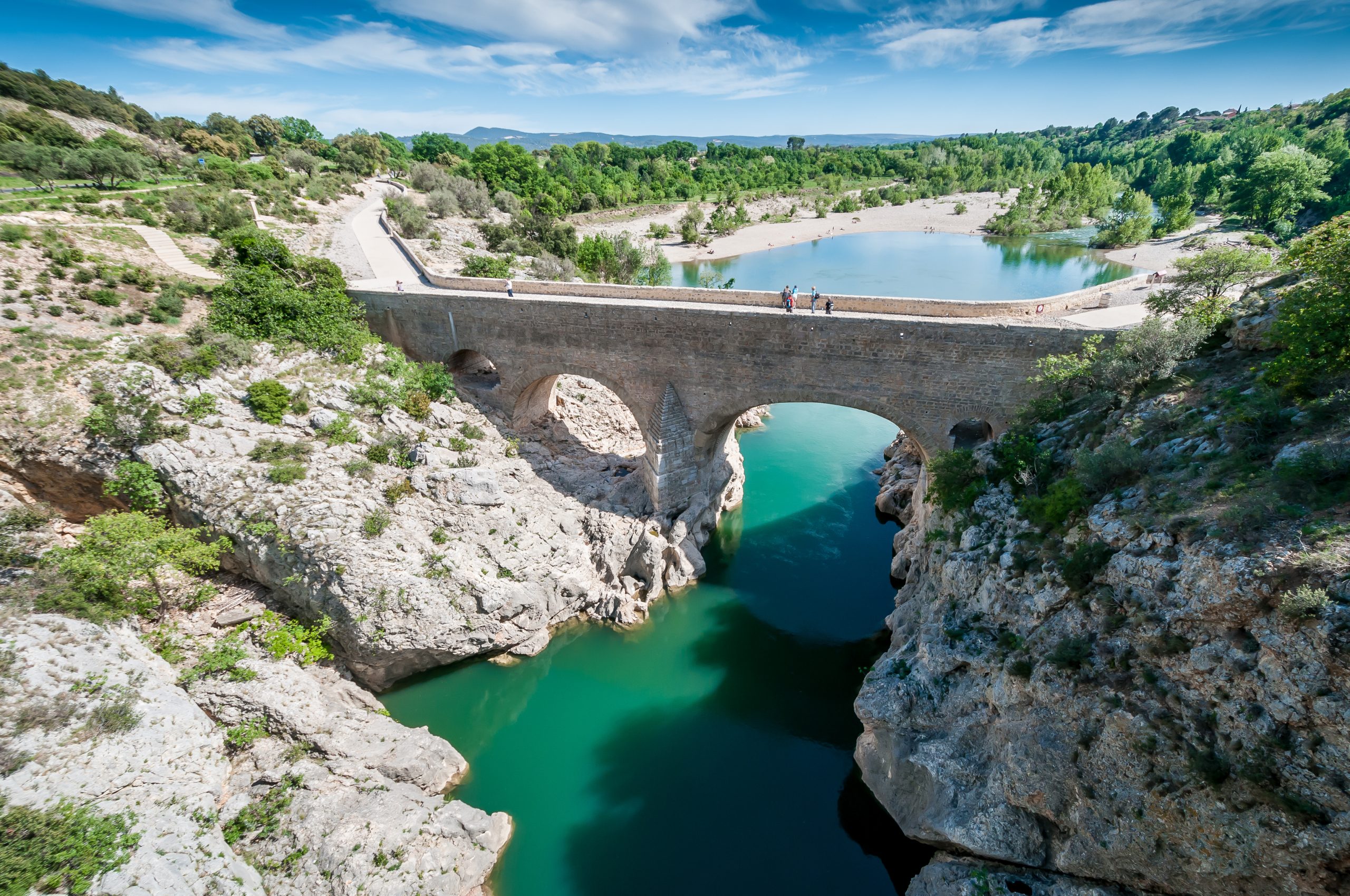 As well as jaw-dropping nature, this region has some incredibly interesting towns and villages. Carcassonne is one of its jewels, but lots of other towns and villages, some classified among the "Most Beautiful Villages of France" some not,  are worth a visit: Bozouls, situated in a canyon, Sauveterre-de-Rouergue, Lautrec, famous for its pink garlic and for being the birthplace of the famous painter Toulouse-Lautrec… whose museum is located in Albi. The Sainte-Cécile cathedral there, both massive and futuristic on the outside and very colourful on the inside, is a UNESCO World Heritage Site. One more for the road? Then head for Cordes-sur-Ciel, not far from Albi. A medieval village which, as you may have guessed, is also classified as one of the "Most beautiful villages in France"!
Another great day's driving would be from Lacapelle-Marival to Rocamadour. The former is a pleasant town in the foothills of the Massif Central. Rocamadour is a major tourist site in Occitania as well as an important stage on the Pilgrim's Camino de Santiago de Compostela. Its worldwide reputation is well deserved: built in successive levels on the side of a cliff 120 metres above a canyon, it is likely to leave you breathless. The shrine of the Black Madonna, Rocamadour remains a place of pilgrimage for Catholics from all over the world, who have been flocking there since the 12th century. You can't afford not to visit it, but you should know that the site is always very busy, especially during the high season. On the way from Lacapelle-Marival to Rocamadour, you could visit one of three very different animal parks:
the Gramat animal park: close to Rocamadour, this park has 1 000 wild animals and 150 different species;
La Forêt des singes: 150 Barbary macaques live freely on 20 hectares of forest and meadows; an exceptional setting and experience!
the Rocher des Aigles: still in Rocamadour, in the Causses du Quercy Regional Natural Park, this park is home to birds of prey.
Last but not least, the Occitan coastline makes for a nice drive too, lined with magnificent seaside resorts. To name but a few : Cerbère, a paradise for diving enthusiasts on the border of Spain, Port-Barcarès, an authentic resort on the amethyst coast, Canet-en-Roussillon, the 'resort with two faces', Argelès-sur-Mer, at the foot of the Albères massif, Collioure, a charming fortified port between the sea and the mountains, Cap d'Agde with its volcanic beaches and nudist resorts, or Grau-du-Roi, at the gateway to the Camargue.
Provence-Alpes-Côte d'Azur
To the east of Occitanie, stretching to the Italian border, is Provence-Alpes-Côte d'Azur.
The lavender fields of Provence are legendary. Head here between mid-June and late July to drive by endless fields of lavender in bloom, stretching for miles in every direction. Nearby, you can drive through the winelands of the Lubéron, admiring the vineyards and perhaps visiting some wineries to stock up on rosé.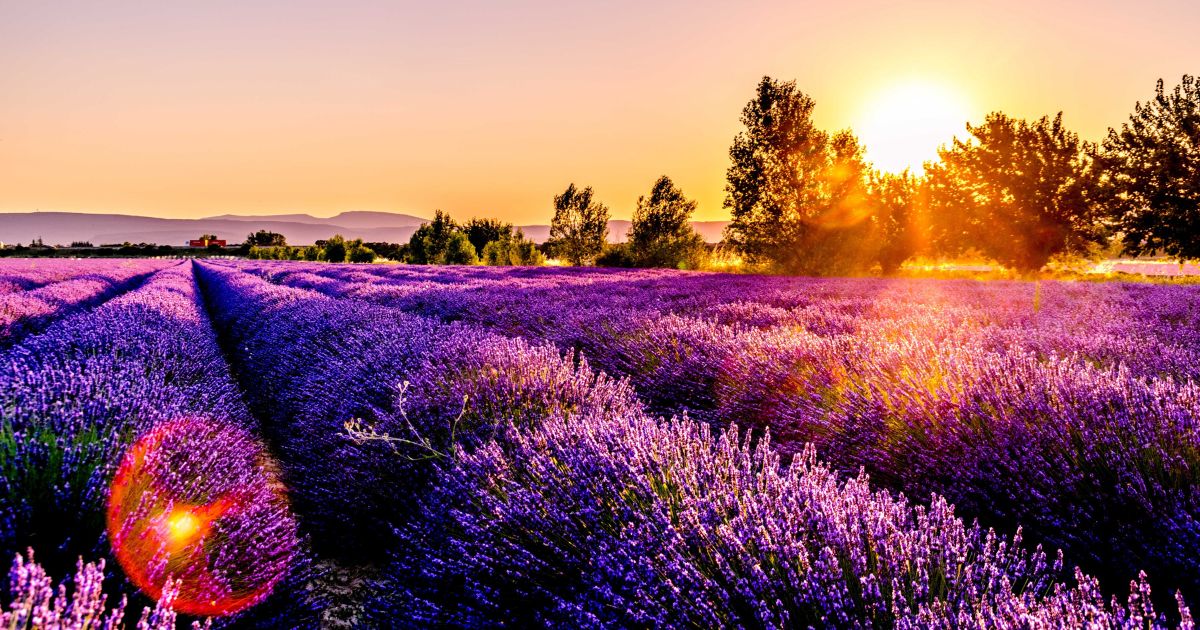 This region is also home to the Côte d'Azur, famously known as the French Riviera. Here you'll find epic coastal roads with stunning views of the azure Mediterranean to drive – like in the Parc National des Calanques near Marseille and the stretches from Fréjus to Théoule sur Mer, or from Nice to Menton on the Italian border.
With diverse landscapes, fascinating attractions and exciting activities to suit the whole family – France is the perfect destination for the ultimate campervan holiday.
Now you've identified the regions that most interest you, type them in to our search tool to find a huge number of campsites in France for motorhomes, campervans and RVs, and prepare for an unforgettable road trip.
First time in France? Find our top tips for a campervan holiday in France.