No, your eyes are not deceiving you. We really mean going camping in winter! It's our new favourite activity and we know that, once you try it, you'll love it too.
We're on a mission to get as many people camping, and into the outdoors, as possible.
Scientists speak more and more of 'nature therapy' and are releasing studies that show just how beneficial getting into the outdoors is for us. Winter can be depressing, partly because we often spend less time outdoors, so break this mould and think about wrapping up and getting out!
Winter camping is a lot of fun, but it's not the same as pitching your tent in a warm and sunny meadow by a stream in the middle of summer, or parking up your campervan or motorhome on an aire de services pour camping-car in France.
In fact, camping during this season is about as far from the heady days of summer camping as you can get. Winter camping is colder, darker and sometimes more difficult than you might think. But, done right, it can be massively exciting, exhilarating and reward you with a totally new outlook on the world.
Imagine waking up to twinkling frosts, snowy mountains or a cool, calm day by the coast. There is nothing like it.
In this Campsited ultimate guide to winter camping, we'll show you the best way to find a campsite that's open all year, know what winter camping equipment you'll need, and get savvy about what to look for when buying winter tents, sleeping bags and sleeping mats.
Winter Camping Guide: Contents
There's a lot to cover – this is a might guide – so let's start with a list of contents. Click on the topic you're most interested in to go straight to the relevant section.
How to plan a camping trip in the winter – The fun begins! Time to turn that winter wonderland you've been manifesting into a reality. In this section we'll guide you through the decision-making process, helping you consider where to you go, what to do and what to bring.
Choosing a tent for cold weather camping– Braving that frosty air in a canvas home? We salute you! Let us help you make informed decisions around tent classification, strength, cost, thermal properties, water-resistance and pole design, to keep you safe and protected from the elements.
Choosing a campervan or motorhome for cold weather camping – Winter-proofing your house on wheels is essential for keeping you warm and dry in sometimes unpredictable and relentless weather conditions. Here we're talking heat-loss, condensation prevention, storing fuel, power and water in sub-zero temperatures.
Choosing a glamping pod for winter camping – The best of both worlds! Increasingly popular for giving us that exposure to nature, whilst benefitting from less prep and greater protection from the elements than conventional tent camping. Learn more about winter glamping in all its glory in this part of the guide.  
Choosing the best sleeping bag for winter camping – Sleep tight and wake up as fresh as the air around you with our top tips on finding a sleeping bag that's right for your adventure. There are a few key factors to take into consideration in your decision: temperature control, shape, comfort,  seasonality and sustainability. And a fair few alternatives and add-ons to send you into a deep sleep.
Find campsites and campgrounds open for winter camping – You asked, they listened. There are a whole host of hosts, throughout Europe, who share our belief in the well-being benefits gained from winter camping (with some of them welcoming guests for Christmas too). Use our booking tool to select your dream date and destination.
Wild camping in winter – There are lots of benefits to wild camping, not just deeper immersion into nature's playground, but it can save money too. Choosing the right spot to pitch up can scratch that spontaneity itch and lead you to unique, off-the-beaten-track discoveries, but there are restrictions to consider, trespassing legalities and limitations by way of power, heating and running water. We've got some important tips to help plan, prepare and weather-watch on your stay in the wilderness.
Clothing essentials for winter camping – Forgive us for stating the obvious, but have you checked that your cold-weather camping wardrobe is filled with clothing suitable for extreme weather conditions? In this section, we'll remind you of the importance of packing breathable base, mid and top layers and not forgetting durable, weather-proof footwear too.
How to stay warm and dry for your camping trip – Or perhaps, more worryingly, knowing what can happen if you don't take precautions to withstand those winter chills. This is the part where we call out potential the dreaded 'hypothermia' word (something that need never enter your vocabulary on your winter camping trip if you've adequately prepared). Learn about spotting the signs of extreme heat-loss early and what to do in the rare event hypothermia occurs.
How to keep well and safe on your winter camping trip – Winter camping is exhilarating and we wouldn't want to kill the mood with over-proliferation of safety advice, but you'll thank us in the long run. Here you'll find some friendly 'dos and 'don'ts' from one happy camper to another, that'll ensure a safety-first mentality whilst living your best life.
==>Download our winter camping checklist !<==
How to plan a camping trip in winter
So you've decided that you want to go winter camping? Fantastic. Here at Campsited we applaud you. However, it's the coldest of all seasons and there are a few more things to think about than just slinging your sleeping bag in a rucksack and walking out of the front door.
Actually, there are a LOT of things to think about, from your camping location to what you are planning to carry, how you are going to get there and what you are going to do when you get there, which sleeping bag to take and what kind of boots to wear.
There's more detail on sleeping bags, boots, layering and places to camp later, but for now, let's talk about planning the type of trip you are going on.
Everyone camps differently. You might choose to stay near an attraction, near a favourite walk or in the city as a way of saving money. You might even want to make the most of the cold weather to try glamping or to do some skiing or hiking.
This is what will determine your location, of course, and that, in turn, will determine how you camp, how you travel and what you need to take. However, the most important thing of all is to make sure that you come back from your winter camping trip happy, full of life and love and not suffering from a nasty cold or hypothermia.
And the thing that's going to make sure of that is your kit.
1. Sort out your winter camping gear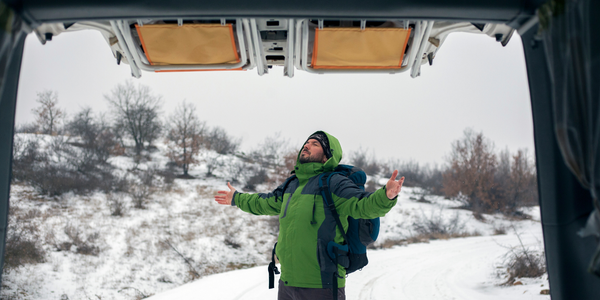 Kit is the thing that's going to make all the difference when it comes to winter camping, never mind winter survival.
We'll talk about winter camping essentials and winter camping equipment more later on, but for the moment it cannot be stated enough that it will be your kit – tent, sleeping gear, clothing, footwear, cooking kit – that keeps you warm and cosy on any winter camp.
You'll need to make sure you have the right clothing, that'll keep you warm and dry but will also dry quickly if it gets wet. This is where layering is important. Footwear will need to be sturdy enough to withstand more than just a shower and your outer layer will need to be waterproof and breathable, so that you don't get wet (or sweat so much that you get wet even on a dry day).
You'll also need to make sure your sleeping bag is up to the job and that your sleeping mat will be both comfortable and able to insulate you enough from the cold ground.
Finally, you'll need to think carefully about the fuel you plan to take with you to cook. In sub-zero temperatures your standard camping gas canisters will be useless – because of the way butane behaves in sub-zero temperatures – so you might need to rethink what you cook with. There's more about that later in the cooking section.
==>READ MORE: For some great tips on how to store your camping gear, read this useful guide from Porch on How to store your outdoor sporting gear.<==
2. Choose the best winter accommodation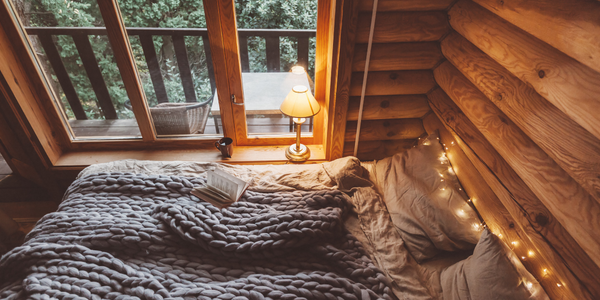 When the stars are twinkling outside, the snow is falling and the night is creeping in, your home from home is going to be the thing that separates you from the elements – no matter how magical the frosty landscape may seem.
But what is it going to be for you? Winter tent, glamping pod, camper van or motorhome? For some the decision is a no-brainer, while for others the choice is less clear cut.
A significant number of camping parks are open for business during the chillier months and you can take your pick as to the type of camping trip you want to go on!
From glamping sites to traditional campsites, your unique camping style is not dampened at all by the frosty temperatures outside.
We have more details here on all the different types of camping accommodation you can choose from and the benefits on each, though a few words more on glamping would not go amiss here.
Glamping is fun all year round but some glampers feel that it really comes into its own during winter. You still have all the adventure of winter camping but you are a little more protected from the cold. It's a worthwhile option to explore if you're new to winter camping and gives you as authentic a winter camping experience as any other option.
Essentially, the decision you make with regards to the type of winter camping trip you go on will be determined by your own appetite for the elements, the equipment you have and your experience.
How to choose a tent for cold weather camping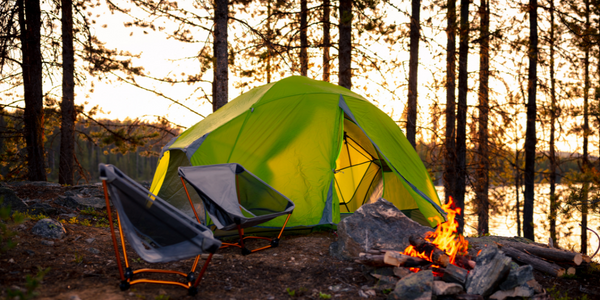 Tents can be lightweight, cheap, easy to carry and very quick to put up, even in harsh conditions. An essential part of backpacking, hiking or cycling kit, they enable you to take the path less travelled and to pitch in places where wheeled accommodation cannot go. Even on campsites that are open all year ,winter tents will allow you to pitch in quiet corners, while the camper or motorhome has to remain on hardstanding pitches.
So, if you want to wake up in the wilds, with spectacular views and few other people or vehicles for company, winter tents are the way to go. You can decamp in minutes and be on your way, over the hills and far away, in just a few more.
Tents are often classified by the type (adventure, trekking or expedition) or the season suitability (1, 3 or 4 season), although you can generally get a good idea of their intended purpose by the price tag and the name. Any tent that is called something like 'The Polar Storm' has a lot to live up to! But don't be fooled by names alone.
1 season tents are generally lighter weight and intended for summer camping. They may not be capable of keeping out a lot of wind or rain.
3 season tents are intended for use in spring, summer and autumn and should be much sturdier and capable of keeping out the more serious wind and rain.
4 season tents are intended for winter use and should be strong enough and waterproof enough to keep out the worst wind and rain, although they won't be quite as sturdy as an expedition tent.
As an absolutely essential part of your winter camping gear, any winter tent is going to need to be able to withstand the elements with two basic qualities: strength and waterproofness.
Your tent should be able to cope with a heavy downpour as well as a strong wind and even a fall of snow on top of it. It also has to be light enough for you to carry (if that's important) and of a suitable size for the number of people you will be camping with (if there are two of you then a 2 man tent will be a lot more cosy than an 8 man tent).
1. Hydrostatic head ratings and your tent's ability to withstand water
A hydrostatic head (HH) test determines the ability of a fabric to withstand water. To be classed as waterproof, a fabric must have a HH rating of at least 1500 mm, which is the amount of water that fabric can withstand in a 24 hour period. In the UK, a tent must have a rating of at least 1000mm to be considered waterproof. Of course, this is a basic standard and does not necessarily allow for wind-driven rain.
Our winter camping tip here is to go for the highest rating you can afford. Good retailers will often give you the rating of any tent in mm in the tech spec section.
In the US, the HH rating is often called the 'water column' rating and it could be given in mm or in imperial measurement. It is essentially the same as a hydrostatic head rating and is the height of the water column that a material can withstand in a 24 hour period before it starts to fail. The higher the rating, the more waterproof a tent will be. Expect at least 1500 mm for a fly sheet and around 5000 for the groundsheet. Go Outdoors offer a good technical spec for all their tents – even those that are considered as family tents for 3 season camping.
2. Should you choose your gear based on its toxic make up?
In 2015 Greenpeace took some major outdoor retailers to task over their use of perfluorinated chemicals (PFCs) in the manufacture of their waterproof garments.
These toxic chemicals break down very slowly in the environment and have been found in remote locations. They have been linked to hormone disruption, cancer and immune suppression in children. Some companies now offer PFC-free ranges that are made without the use of any harmful PFC chemicals, while others continue to use them.
We think that outdoor brands that 'sell' the outdoor lifestyle should also have a commitment to it. And that should mean making their clothing as eco-friendly as possible. So, next time you choose a tent or jacket, think twice about the buying decision you are making. Is it PFC free?
Paramo, the UK based outdoor clothing company has pledged to keep its clothing free from PFCs. They explain why in this article. 
3. How pole design can affect your tent
Pole design is an important factor when it comes to choosing a tent for your winter tent camping trip. Today's market offers two basic designs: geodesic and tunnel.
Geodesic tents have poles that cross over to create a structure formed by geometric shapes. They will often stand up on their own without guying out (pegging out with additional guy ropes) and have a lot of inherent strength. However, they often have more poles than tunnel tents, which means they may be heavier and take longer to put up.
Tunnel tents have poles that bend over independently of each other to give the tent its structure. They have fewer poles, and are therefore lighter than geodesic designs but may not have the strength and durability.
4. Two sheets or one?
Most 4 season tents will have a fly sheet and an inner tent. The fly sheet is the waterproof outer layer that will take the force of the elements, while the inner tent provides a breathable cocoon with built in groundsheet below to keep moisture from seeping up from the ground.
The inner tent will breathe to allow moisture from your breathing (you expel water each night in your breath) to escape and avoid condensation building up inside.
However, as with poles, the more to a tent, the heavier it'll be. This is why some lightweight campers prefer single skin tents. They consist of just one skin with poles to reduce the weight. The single skin is waterproof so may offer less protection from condensation and insulation. They are also more vulnerable to being put out of commission if damaged.
5. Insulated tents for family comfort
In 2015, a company called Thermo Tent brought out a new camping product for winter camping. It is an insulated tent with heat-retaining and noise-reducing properties. It offered – for the first time – an option to have insulation within the structure of the tent. It's a tunnel design with a thermal inner tent and carpeted groundsheet. However, all that loveliness comes at a price – the 3 man version weighs in at 46 Kg. So, perfect for a family camping trip to an all year round campsite in the darker months, perhaps not so good for a trek up Ben Nevis! One to put on your winter camping list? If you are taking the car, yes!
6. The cost factor when buying winter tents
Once you have determined the size of your party – which will determine the size of your tent – the next thing to decide is how much you want to spend. The more you spend the better the materials and quality will have gone into it, and the higher the hydrostatic head rating is likely to be. If you are expecting rain, then go for the highest rating you can afford. It'll be money well spent.
Expect to spend upwards of £300 / €400 / $430 for a two berth, 4 season tent with a rating of 4000 mm on the flysheet. Some expedition tents that are designed for the harshest winter camping in the UK and beyond can cost up to around £4000 / €5340 / $5800 for an 8 berth geodesic dome.
Choosing a campervan or motorhome for cold weather camping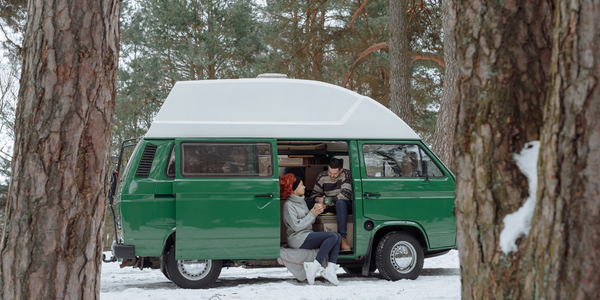 For those who want to get out and see the world in winter, but don't want to give up the comforts of home, a camper van or motorhome is the ideal way to do it. From a simple converted van with cooker, sink and bed to an all mod cons motorhome or RV, the choice is astonishing.
==>READ MORE: Our guide on how to choose the best camping vehicle for your needs<==
Basic campervans, such as the VWT5 or earlier aircooled models, the T2 and T25, come at a price but will give you extra protection from harsh weather, especially when insulated and with a night heater or parking heater.
The advantages of camping in a vehicle in winter are obvious, and the larger the vehicle the more like a 'home from home' they become. Consider an on board shower, toilet, heater, fixed bed, fluffy pillows and duvet and you might say that living in a bigger 'A' Class (vehicle built onto a chassis) or coach-built (vehicle that retains the cab of the original vehicle) motorhome is as far from camping as it is possible to get, but it does mean you are fully mobile and can get to the places you want to see and live in comfort and luxury when you are there. Walking in the hills becomes a whole lot easier when you know you have a warm and dry van to go back to. Just take your muddy boots off before you go in!
You might think that winter camping in a camper van is going to be a lot easier and require less preparation than tented camping. Well it is and it isn't. If you consider that your campervan or motorhome is just another piece of kit that needs to be checked and 'winter proofed' then it soon becomes clear that there could be a lot more to it – and therefore more cash to splash.
==>READ MORE: Essential checklist for going camping with a campervan or motorhome<==
Some motorhomes will already be 'winterised' when you buy them, others will not. So, to give you a good idea of the things you'll need to think about, here are some of the basics:
1. Insulation and condensation
Insulating your camper against the cold is going to be one of the most important things you can do. This means going back to the build stages and making sure that the panels, doors and floor are as well insulated as possible with foil, foam or rockwool. However, in the cases of old vehicles it's important to make sure that you don't use insulation that will gather moisture (like rockwool can) and make the vehicle rust.
Condensation happens when one temperature meets another and moisture condensates on the warm side of the cold surface. In your van this means moist warm air inside will condensate on the inside of the windows or panels. In the cases of most motorhomes and RVs that have insulated walls and panels, this is the windows. One way of stopping the windows from condensating is to use thermo screens on the outside to create a thermal barrier between the warm inside and cold outside. Otherwise, just make sure that there is enough air circulating to allow moisture to escape – although that means opening a vent or window!!!
2. Heating and keeping warm
Camper vans have the added benefit of being able to carry parking or night heaters.
This can be a gas powered heater – a Propex heater – that is independent of all the vehicle's usual electrics or power. These run off gas bottles and heat air from inside the van, using a closed chamber combustion system with an external exhaust system, so that no harmful gases enter the van. The only issue with these is making sure you have the right type of gas for conditions below freezing. Butane turns to liquid at around freezing point so a Propex heater will not work when it is below one or two degrees. Propane, however has a much lower freezing point, so will work in much colder conditions.
Some campervans and motorhomes run systems that are similar to the Propex system but draw fuel from the fuel tank. These can be retrofitted to any camper and sometimes come factory fitted in models such as the VW California. The common makes that are fitted to lots of motorhomes are Eberspacher and Webasto. Again, they have closed combustion chambers so no harmful emissions such as carbon monoxide enter the van during operation.
3. Storing water, gas and power at below zero temperatures
When the temperature starts to drop, water, gas and power can become a problem in your camper van or motorhome. Freezing water can rupture pipes in motorhomes, especially when underslung tanks (that are under the body of the motorhome) are used and they aren't insulated. In very cold weather, if tanks aren't insulated it can be prudent to empty both waste and fresh tanks and store some water in a separate container inside where, presumably, it won't freeze.
You can also get yourself an EZPack JerryFlex – portable water container. Some motorhomes – those that have been prepped for winter by the manufacturer – have heaters installed in tanks for very cold nights to keep them from freezing.
Gas, as explained in the previous section, will also behave differently at lower temperatures. Propane will turn to liquid at a lower temperature than butane (its freezing point is lower, which means it'll remain as a usable gas at lower temperatures than butane) so is the best bet for using on winter camping trips – if you intend to use it for cooking and heating. However, if the ambient temperature inside your van remains high (it may not – they cool quickly), then butane may not be a problem. If you have a night heater (Webasto for example), then it may pay to set the temperature at around 10 degrees so your water and butane won't freeze or turn to liquid while you are out walking or skiing.
Similarly your battery's capability to store power is reduced in cold temperatures. Leisure batteries, which are used to power lighting and fridges etc., if stored outside the van in a separate compartment (in the engine compartment, as they are on the VW type 2), can run down easily if overloaded in cold conditions. They may not recover so it's wise to make sure they are fully charged before setting off and to allow them to recharge (if you have an on board charger) when you are plugged into the mains at a camp site. Remember also that solar panels will be much less effective in the winter for charging leisure batteries.
==>READ MORE: Campervan storage tips<==
Choosing a glamping pod for winter camping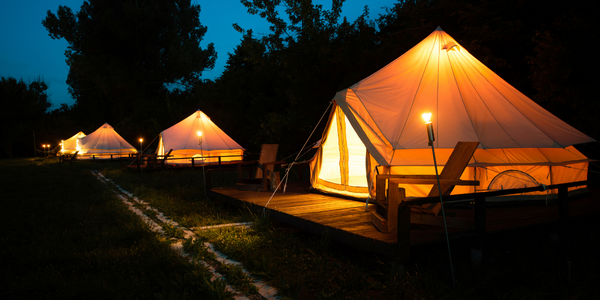 Some glamping sites stay open all year and offer fully insulated and heated accommodation like eco pods, bell tents, shepherd's Huts and tree houses that are perfect for winter camping. OK, so you might still have to cook outside and sometimes shower 'al fresco', but at least you can close the door to your pod and stay warm when you need to.
Linen is often provided too, so you won't even have to worry about bringing a sleeping bag (or a tent for that matter). Just pack your clothes and turn up. Glamping can offer the very best of both worlds for those who don't want to give up camping in the winter, but also like a memory foam mattress and a warm place to snooze after a day out on the coast path.
How to choose the best sleeping bag for winter camping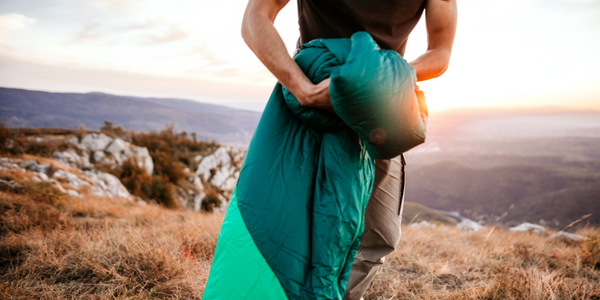 Sleeping bags are temperature rated. These are set by a European Standard (EN13537), which means that all sleeping bags must conform to the same standards and that the standards must be set in a predetermined laboratory standard test. The ratings are as follows, and they refer to someone with clothes on, sleeping on a mat, with a hat on. They don't specify what kind of clothes, however.
Let's assume it's base layers of tee and long johns. When it comes to standards it's also safe to assume that, if you are slimmer than the standard man or woman, you will feel the cold more. The reason they cite men and women is because of the fact that women and men react to temperature in different ways. Women generally feel the cold more.
In the US, sleeping bag ratings are less consistent than in Europe, as there is no standard. There has been no set rating system, other than with some retailers such as REI and Marmott, who have adopted the European system described above. This means that it's more of a lottery buying from American retailers, who often only give the lowest temperature at which the average sleeper will be warm. The advice is to buy warmer (or slightly warmer than you anticipate). You can always pop a leg out if you get too hot.
==>READ MORE: Cold weather tent camping tips<==
1. Upper limit/maximum rating
This is the highest temperature at which you can sleep comfortably without sweating (based on a standard man age 25 with a height of 1.73 m and a weight of 73 kg).
2. The comfort rating
This is the temperature at which a standard woman (25 years old, with a height of 1.60 m and a weight of 60 kg) can have a comfortable night's sleep.
3. Lower limit/minimum rating
This is the lowest temperature at which a standard man can have a comfortable night's sleep.
4. Extreme rating
This is the point at which the standard woman will be protected from hypothermia.
5. The best bag shape to go for
The shape and style of your sleeping bag will determine how warm it is. The rule is that the more air is inside the bag, the cooler it will be.
Standard/rectangular shapes are standard in that they will fulfil your needs but may not be as warm as a mummy shaped bag. BUT, on the plus side, you can zip two of them together to make a double bag.
Lozenge shapes don't have the awkward corners of a standard bag shape so will still allow you to move about with a little extra warmth.
Mummy shapes will get warm quicker and stay warm longer. This is because there is less chance of colder air circulating, especially if you zip up tight and keep your head inside the hood. The shape can be restrictive for those who like to move about in the night.
For extra warmth and comfort, sleeping bag liners will add another layer – and potentially as much as 8 to 15 degrees of warmth to your bag – and make it easier for you to keep it clean. You also get the added benefit of sleeping in a cotton sheet.
Fancy making your own sleeping bag liner? This article is one of many great winter camping tips on Backpacker.com.
6. What season bag to go for
Camping stores divide their bags into seasons. These are as set out below and will allow you to make a choice. Remember though, that the temperature ratings still apply here. So, when choosing your bag you still need to think about when you'll be using it and what limits you expect it to cope with. Remember also that the extreme limit is less about comfort and more about survival.
One season bags are for use in a hot climate or indoor use.
Two season bags will see you through, as long as the temperature remains above 9°C.
Three season bags are for temperatures as low as 0°C and can be used from early spring to late autumn.
Four Season bags are designed for winter camping, backpacking or climbing.
READ MORE: Ellis Brigham provide a really useful sleeping bag buyer's guide.
7. Cruelty free sleeping bags. How you can decide what to buy.
Do you know where the down in your sleeping bag came from? There is a campaign, The FOUR PAWS Cruelty Free Down Challenge, that is trying to ensure big retailers and manufacturers source their down responsibly. This means sourcing down that hasn't come from geese and ducks aren't live plucked or force fed. The problem, until now, has been that manufacturers have depended on their suppliers to provide audits and certificates. This has not always been a reliable proof of a cruelty free existence.
Four Paws is challenging companies to declare how their down is made. The Four Paws website shows very clearly what companies have pledged their support to the challenge. It's a very useful tool to help you decide what kind of sleeping bag to buy, if cruelty-free products are important to you. They are to us.
8. Mattresses and sleeping mats
If you are sleeping in a tent –basically on the ground – then you'll need something to sleep on. As usual with camping kit, there is a compromise to be made here. This is weight versus effectiveness. If you are lightweight winter camping and looking for something small and light, then your choices might be limited, as some of the better performing products available tend to be thicker and heavier. But what type is best?
Sleeping mats are the cheapest and usually made of foam, with perhaps a layer of foil to retain heat and keep the cold out. They roll up and are light, but not always the most comfortable to sleep on, even though they can have reasonably good insulating properties.
Self-inflating mattresses are usually constructed of foam cells with air spaces. The way they self inflate is to return to their natural shape when unrolled. However, they usually need an extra few breaths of top-up air to get them to a comfortable level. They offer good insulating properties, with the thicker, more expensive models being best.
Blow-up sleeping pads can be the most comfortable to sleep on but are vulnerable to middle-of-the-night deflation and seeping cold (because of the air they contain or if they deflate) and are the most expensive. Some have all kinds of insulation – including some with down interiors – so they can have good insulation properties (look at the most expensive ones first).
A combination of high insulation-value foam mattress with comfortable blow-up pad can be the most effective, especially on really cold ground, even though it's more to carry. There is an interesting article about R-values and insulating properties from Wales' Multimat here.
Wild camping in winter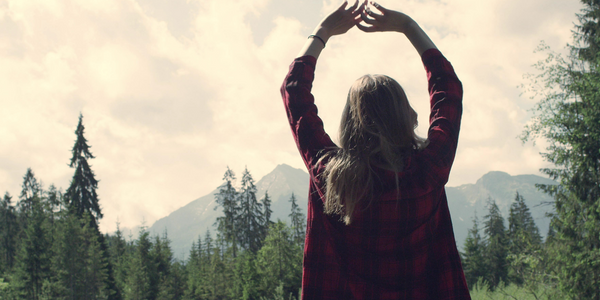 The rules for wild camping (also known as free camping) are the same as they are for summer wild camping, except that your location is likely to be decided more by the weather at your chosen location, than by the location itself.
Wild camping is legal in some places and illegal in others so it is best to check locally if you can camp anywhere. Some national parks (in the UK, US and throughout Europe) allow wild camping while in others it is banned, either because it is not safe to do so or because the law prohibits it.
If you are going into the wilderness, always make sure someone knows where you are going, when you are expected back and who you are with. Check the weather, take the right winter camping equipment, make sure you have enough supplies and, finally, check out our winter camping tips below.
1. Watching the weather and having a back-up plan
Once you have decided on your location it is essential to check the weather forecast for the place you are going, right up until the last minute and even when you are en route. In winter, as we know, the weather can be very unpredictable. Low-lying areas can flood, high ground can become impassable through snow and ice and temperatures can plummet overnight, making life very difficult. Thankfully it's easy to check local forecasts with sites like the BBC offering very local up to the minute forecasts for winter camping in the UK and beyond. Local services, of course, will often have more localized detail.
Your phone will also have weather services and preloaded apps. They may not often be very detailed, but they will but they will give you a forecast for your local area. And there are lots of other useful weather apps available for both iphone and android phones – as long as you can get online.
If you know you are going to an area that has no signal, consider downloading one of the few weather apps that work offline. When you need them, they will give you the latest forecasts based on the last time you connected to the internet. There is a great review of the best offline android weather apps here.
In cases where localised problems make it too difficult to travel, then having a backup plan can pay dividends. This could be an alternative campsite that's open for winter camping or an alternative location in an altogether different part of the country.
Only you will know what's right for you, but keeping your phone charged and ready to start searching could well be the best thing you do in extreme weather situations. If you aren't travelling with a vehicle and have no way of recharging your phone en route, consider (as a very important part of your kit) taking an emergency power pack, a solar charger or even a BioLite stove that will provide heat and charge your phone!

The Independent reviewed a few phone charging battery powerpacks HERE.
Clothing essentials for winter camping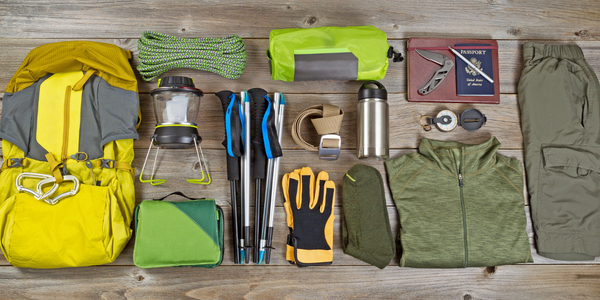 The key to keeping warm in winter – and especially if you are doing exercise – is layering. Layering allows you to regulate your temperature with multiple layers – base layer, mid layer and top layer – instead of investing in one heavy duty layer that then becomes too warm or won't breathe, causing you to sweat and potentially get cold as the sweat cools.
It's a simple concept. You put on layers when you are cold and then take them off when you are hot. The principle can also be applied to socks and gloves, with a thin pair as base layer and a thicker pair on top to add comfort, warmth and waterproofing.
1. What makes a good base layer?
Base layers are available in lots of different materials. Worn next to the skin, they need to be soft and comfortable, as they form the basis of your insulation. Base layers can be made from technical man-made material or natural fabrics that have similar properties. These have the ability to wick moisture (sweat) away from the body, to insulate and to dry quickly.
Synthetic materials often perform really well, however they can often lack the anti-bacterial properties of natural fibres, which mean they can start to smell when you have worn them for a while. Once embedded, that smell can be tough to wash out (although vinegar is always worth a try).
Merino wool wicks and insulates and also rises in temperature when wet, making it very special among base layers. It also has antibacterial qualities, so it won't need washing as much as other non-natural fabrics. A good thing in the great outdoors.
Bamboo is newer to the market. It can provide a really nicely fitting base layer that's soft and comfortable to wear and has all the same wicking and antibacterial qualities of merino.
Silk is another classic natural material that's good for base layers, but tends to take longer to dry out once wet.
Alpaca is another 'discovery' that makes good base layers. It's not itchy like wool can be and feels soft. Its fibres are lighter too and have the same qualities as merino. It is really good for socks!
2. Mid layers and insulation layers
Mid layers are usually thicker than base layers and will often have waffle-like structure to increase insulation. They can often be fleece, wool, merino or alpaca or even cotton. On top of that you could do well to invest in a lightweight insulation jacket that will provide lots of added warmth but not necessarily be waterproof. These can be made from synthetic fibres or from down.
Down is lighter, more expensive and packs smaller, but takes longer to dry out when wet. Insulation layers also double as good pillows, if you are short on space!
The top layer (or 'hard shell' layer) is one of the most important layers as this is what will protect you from the wet. It also needs to be breathable so that your sweat doesn't condensate on the inside and make you cold. Gore Tex is one of the best known waterproof fabrics on the market but there are plenty of others available. As noted in the section on tents, waterproofness is measured by a hydrostatic head (HH) test, with numbers above 1500 mm being classed as waterproof. The higher the number the better the ability to withstand water over 24 hours.
As well as man-made fibres, there are expensive natural alternatives made from ventile cotton, a tightly woven cotton fabric that uses no chemicals or additives to make it waterproof. It was developed in Britain during WWII to protect airmen who had ditched in the water. Its development made a huge improvement in survival times in cold water. There is a really interesting article on GO Outdoors about buying hard shell jackets.
3. How to choose the best winter footwear
There is nothing quite as miserable as having cold feet. So, looking after them, whether you are walking, hiking, messing about in the snow or just hanging out at the campsite, is vital on any winter camping trip.
Like sleeping bags, walking boots are often categorised into seasons, with 4 season boots being designed for the harshest conditions. They are often called alpine boots.
Whatever type you go for, boots for winter camping must be waterproof and insulated against the cold. In addition, your socks will need to be warm and woolly – and also season specific – and made from the right materials, such as alpaca, wool or merino! Wellingtons might seem like a good bet for wet campsites but they can make your feet sweat and aren't usually very warm unless you wear really good socks.
Some walking boots (actually, all good walking boots) use Gore-Tex liners for breathability as well as waterproofing, while others rely more on good old leather uppers.
Leather provides durability, suppleness, strength, warmth and can remain strong, watertight and comfy if treated properly. Whether buying four season mountain boots, hiking, snow, trail, approach or just everyday walking boots, it's vital to make sure they fit well, are comfortable and will stay waterproof when you need it most. Buy once and buy well, and they will serve you for a lifetime – and your feet will thank you!
Alpaca and lambs' wool are good natural materials for socks that will not sweat too much and will wick away moisture. Alpaca, particularly, has anti bacterial properties that will keep your feet smelling sweet. Yes, so they are more expensive than cotton or synthetic fibres, but the benefits will far outweigh the cost – Mountain Warehouse helps you choose the right walking or hiking boots.
How to stay warm and dry on your winter camping trip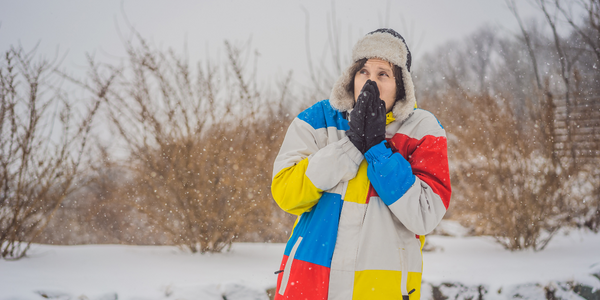 When it gets cold, hypothermia can be a potential problem, especially if you go out without the appropriate clothing gear or sleep in a sleeping bag that isn't up to the job. It has varying stages and severity, depending on how low the body temperature has become.
1. How to judge the severity of hypothermia
Mild hypothermia: (a body temperature of 32-35°C) the symptoms may include constant shivering, tiredness, low energy, cold or pale skin, fast breathing (hyperventilation).
Moderate hypothermia: (a body temperature of 28-32°C) can include symptoms such as confusion, loss of judgment, difficulty moving, loss of coordination, drowsiness, slurred speech and slow, shallow breathing.
Severe hypothermia: (a body temperature of below 28°C) symptoms include shallow or no breathing, unconsciousness, a weak, irregular pulse or no pulse, dilated pupils.
In any case, whether mild or severe, you must seek help.
2. What to do if you suspect someone has hypothermia
If you suspect someone has hypothermia, seek help immediately, then do the following:
Move them somewhere warm.
Remove wet clothing and dry them gently.
Wrap them in blankets or towels to keep them warm.
Give them warm drinks or high energy foods.
However, do not do the following:
Give them alcohol.
Rub or massage them to increase blood flow (this can cause loss of flow to vital organs).
How to keep well and safe on your winter camping trip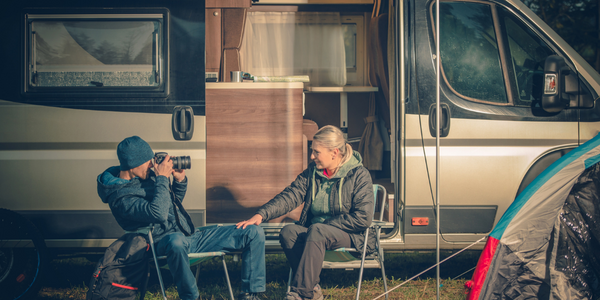 Camping is a fairly low-risk activity, it's fair to say. Injuries from chopping wood or tripping over guy ropes are the most serious it will usually get and are all a part of the camping experience for some. However, in winter things can get more serious, especially if you are out in the wilds. And of course, while we can't watch over you all day and night, we can offer some sound advice on THINGS NOT TO DO on your winter camping trip – as well as a few THINGS TO DO!
1. Safety things not to do on a winter camping trip
DON'T DRINK ALCOHOL UNLESS EVERYTHING HAS BEEN DONE. Do we really have to say this? Okay – so if you have been drinking, don't swim, chop wood, cook or do any whittling of wood! Do it all first, then let your hair down. Alcohol seriously impairs judgment.
NEVER TAKE BARBECUES OR FIRES INTO YOUR TENT. Carbon monoxide – especially from disposable barbecues – will kill you very quickly.
DON'T GO OUT AT NIGHT WITHOUT A TORCH. OK so tripping over guy ropes is like a rite of passage for every camper. But it can cause serious injury. Be careful when walking around your tent at night and, if you can, fit high visibility guy ropes.
DON'T CHOP WOOD AT NIGHT, WHEN DRINKING, OR ON A SOFT SURFACE (like grass). If you do have to use an axe, do it with your legs far apart and swing the axe between them – if you miss you won't cut your leg off.
DON'T WALK ON ICE! Unless you are 100% sure it's strong enough to hold your weight, it's asking for trouble… even then. Are you sure it'll hold your weight? Don't do it.
DON'T SWIM UNLESS YOU ARE USED TO COLD WATER SWIMMING. If you must, make sure you know how you will get out before you get in, and breathe out as you hit the water. The body has a reflex which means you take a sharp intake of breath as you hit cold water. It can lead you to taking in a big gulp – and that's not good. Breathing out will stop this.
2. Safety things to do on a winter camping trip
IF YOU GET WET AND COLD, SEEK SHELTER IMMEDIATELY, dry off and wrap up in dry warm clothes or blankets.
ALWAYS HAVE A BACK UP PLAN. If things go wrong, who are you going to call? Have you got a mobile charged up? Is there a signal? Do you have a credit card in case you need taxis, hotels, food?
USE A DRY BAG TO STORE MATCHES, SPARE CLOTHES OR MONEY. If you get wet you'll need dry stuff to change into, help you light a fire or help you cook a meal. Dry bags are inexpensive and will store it all for you, even in the worst downpour. Rain covers for rucksacks will help keep the rest of your kit dry too.
CHECK THE WEATHER REPORT AS OFTEN AS YOU CAN. Things can change very quickly in winter and it pays to have as much advance warning as possible – especially if you're out in it.
How to cook and what to eat on a winter camping trip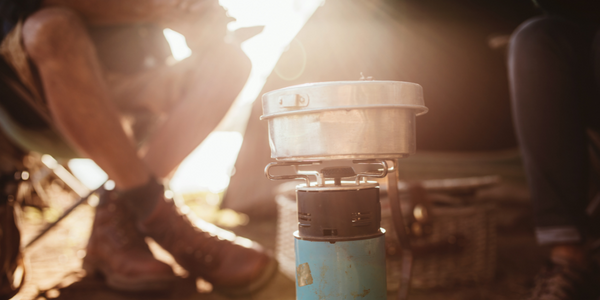 Staying well on any winter camping trip is vital. And cooking and eating well is all a part of that. In the winter, your body uses up calories to stay warm while you use up many more doing exercise, getting out and about and generally having a good time. Like any other camping trip really. Except that it's even more important you don't allow yourself to get run down when it's cold, so you can't cope with putting up tents, staying warm or just keeping well. 
We have already spoken about the difference between propane and butane for gas heating and cooking devices. In the depths of winter, solid or liquid fuel cooking equipment can come into its own, whether that's a fire or petrol powered (white gas fuel) burner. If you use gas, use a propane butane mix (readily available), and warm the canisters before using them – perhaps in your sleeping bag or tent.
Kelly kettles are really useful in winter if you are eating dried food, as they boil water very quickly and efficiently using just a few twigs. Read more about them here.
Liquid multi-fuel stoves work better at altitude and in cold weather. They are more efficient than solid fuel and will burn hotter.
Cooking over an open fire is superb, if you have the right gear. Also, you get to keep warm while you are doing it. There is something great about it, but places where you can light up are limited. Check with your campsite, and if fires are allowed take a firepit that won't damage grass or dig a pit for the fire that you can fill in later. Read our article about making a campfire.
1. What to cook on your winter camping trip
If you are going backpacking, then you might want to consider dried meals that can be reconstituted with hot water, so all you have to do is boil water and chuck it on.
However, that's not always to everyone's taste. In which case, dried foods such as rice and pasta are essential as they provide valuable carbohydrates and sugars to keep you going. Rice noodles are great for camping as they don't need heating on a stove (just 10 minutes or so in boiling water). For the really lazy there are pot noodles, but they are not the most nutritious of foodstuffs. Making sure you eat hot food is important in the winter, even if it's just a hot soup or a packet of dried noodles. Hot food will help to warm your core if you get cold and will enable you to remain safely outdoors for longer.
Eating fresh, seasonal and local food will always be good news – for you and the local people who sell it to you. And you can often pick it up along the way, so not having to worry about doing a big shop before you leave.
If you have time and a decent enough kitchen set up, there are plenty of great recipes out there to cook over a fire or on a stove. There are a number of good camping books on the market that are filled with camping cookery and tips for cooking over open fires, on single burners and on the BBQ. The best among them are:
Keeping up your energy levels in cold weather is important too – Kendal Mint Cake is great for this and has long been favoured by mountaineers. If you can't get it, take chocolate, Mars bars or similar things for a quick energy kick.
Keeping hydrated in winter is important too, so make sure you drink plenty of tea, take packets of soups and carry water.
2. Cooking essentials when camping in winter
Sharp knife. This is all you really need to cook. You don't need garlic crushers, peelers or any of that stuff. A sharp knife will serve you well.
A couple of decent pans with lids (for straining pasta, vegetables, etc.) Light, thin pans let your stuff burn easily. If you have the carrying capacity, take heavier pans.
A decent skillet. Again, heavy pans heat better. A heavy one will also be able to cope with an open fire better.
Chopping board. Something to do your prep, even if it's on your knees.
Washing up stuff. Folding bucket, tea towel, some eco washing up liquid and a sponge will do it.
Plates, mugs, bowls, cutlery etc. Tin plates are terrible insulators – better to use lightweight melamine, a material that's long been used for camping. Tin plates will conduct heat easily so, not only can the heat from your dinner burn your legs if you sit with your plate on your knees, but also it will allow your food to get cold quicker.
Seasonings. The Dinebox is an easy way to take all your herbs and spices, oils and seasoning with you in one package. Otherwise, make your own spice kit with an old biscuit tin and small plastic bottles for oils.
A reliable heat source.
Winter Camping Essentials: Check list
We're almost at the end of our guide, but, to recap, here are our top tips for safe, comfortable – and enjoyable of course – winter camping.
Take a mobile, loaded up with offline weather apps, general camping apps, maps and lots of charge. Consider a backup charger.
Check your tent's Hydrostatic Head performance. The higher the better. Choose a 4 season tent at the very least.
Take a sleeping bag that is season specific and with a temperature rating suitable for the conditions. Remember that the extreme rating is the temperature at which the standard body type for women will be protected from hypothermia. Don't use anything that isn't up to the conditions in which you'll be camping.
Use a sleeping mat or pad that will insulate you from the ground and be comfy. Self inflating mats with roll up mattresses underneath is a good combo.
Take a torch, or at the very least a head torch. There's less light in the winter so you'll need to be able to light up what you are doing at some point.
Take good cooking equipment but not the kitchen sink. You don't need it. A plate, knife, mug and pan are all you really need. Sporks, which are a combination of spoon and fork, may look like a great space saving idea but aren't great unless you are slurping a stew or eating beans. Anything else is difficult!
Take food supplies and a reliable heat source to cook it on. Include high energy foods like chocolate.
Make sure you have enough water to drink and cook with. If it's below zero, insulate it, if not, keep it close to you so it won't freeze.
Buy the best waterproof boots you can afford. Leather can often be better than Gore-Tex alone.
Take thick socks and double up.
Layer up your clothing and take stuff that will wick and dry easily. Include base layers, long johns made from merino wool or technical synthetics that wick and dry easily.
Include comfy mid layers that are warm and you can remove if you get too hot.
Remember that an insulating jacket will keep you warm when you are inactive but will also double as a pillow. Tip: sleep with next day's clothes in your sleeping bag and they'll be all toasty in the morning.
DO NOT FORGET TO PACK YOUR 100% waterproof outer shell layer. Plus over trousers and gaiters if hiking.
Pack a hat and gloves. Even if you don't need them, they will be there for you if it turns cold and you need an extra layer of warmth.
Use a dry bag to store dry clothes to change into in bad weather. Make sure your rucksack has a dry liner or a rain cover for the rest of your kit.
Always carry a basic first aid kit.
Take an axe, firelighters and matches if you intend to light a fire.
Take a Swiss Army Knife or Leatherman with all the knobs and whistles – saws, blades, bottle openers, scissors etc. It's the rules, right? And it can be used for just about anything.
Consider a folding spade for digging fire pits or toilet pits or clearing snow.
Always make sure someone knows where you are going, what you will be doing and what time you expect to return. Ask them to alert the authorities if you fail to return on time.
To help you on your way, here is your winter camping checklist download.
If you've got this far, you're tempted by a winter camping trip! So check out our list of campsites open year-round.