Traditionally, when thinking of accommodation at campsites, we would think first and foremost of tents, vans and caravans. But the increase in recent years, in what are now fully equipped open-air resorts, has also resulted in an explosion in self-catering rental options (like mobile homes and chalets). Indeed, in many open-air resorts, especially in France, this is the preferred type of accommodation now.
So how do we choose the right rental option? What exactly should we take with us? What can we afford to leave at home?
It is sometimes difficult to navigate the different types of mobile homes, chalets, bungalows etc. And what exactly is the difference between mobile homes and chalets or bungalows?
Campsited has put together a guide that we hope will help you find your way around the ever-expanding range of rental properties. We hope it will help you to make the best choice quicker, with full knowledge of the facts. And then to pack lighter, because you will know what to expect at your rental.
The different types of accommodation
Do you think that outdoor holidays are synonymous with pitching a tent, sleeping on the ground and cooking frugal meals from a tin, on a stove? Or are you unable to travel without your own fully equipped house on wheels (i.e. your caravan or motorhome)? In either of these cases, you are a traditional camper and you just need a traditional pitch!
If, on the other hand, you don't plan to spend a night anywhere other than on a mattress, or if you cook ALL your meals as you would at home, stay with us. This short guide to accommodation for rent in open-air hotels is for you.
What is a mobile home?
A mobile home is a kind of large caravan that looks like a small house, fully equipped. Kitchen, living room, bathroom, toilet, bedroom(s): the different spaces are separate. Each of them has the furniture and equipment you might expect in such a room. Despite its name implying a certain mobility, once "in place", a mobile home does not move for one or, more often, several seasons. It is most often positioned on solid blocks rather than wheels! Although their age can of course vary, mobile homes tend to be fairly standard across countries so if you have seen inside one, you probably have a good idea of what they are all like.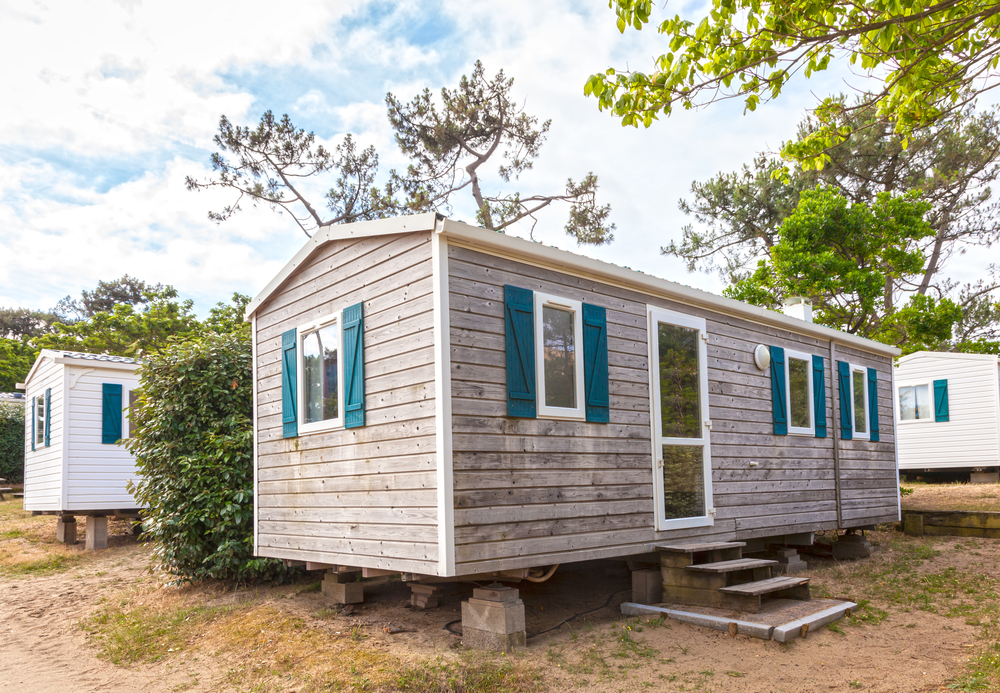 What is a bungalow?
Where mobile home fronts are usually made of PVC panels, what are referred to as bungalows in European campsites are usually made of wood. Another big difference is that they are not movable, although they are easy to assemble/dismantle. Bungalows often have a more original, unique architecture: more than the standard layout and interior design of mobile homes which tend to be the same everywhere, bungalows have a layout and décor that evokes warm countries and, above all, holidays! Finally, a bungalow rental, with its more sophisticated design, is in most cases more expensive than a mobile home, with its more basic appearance.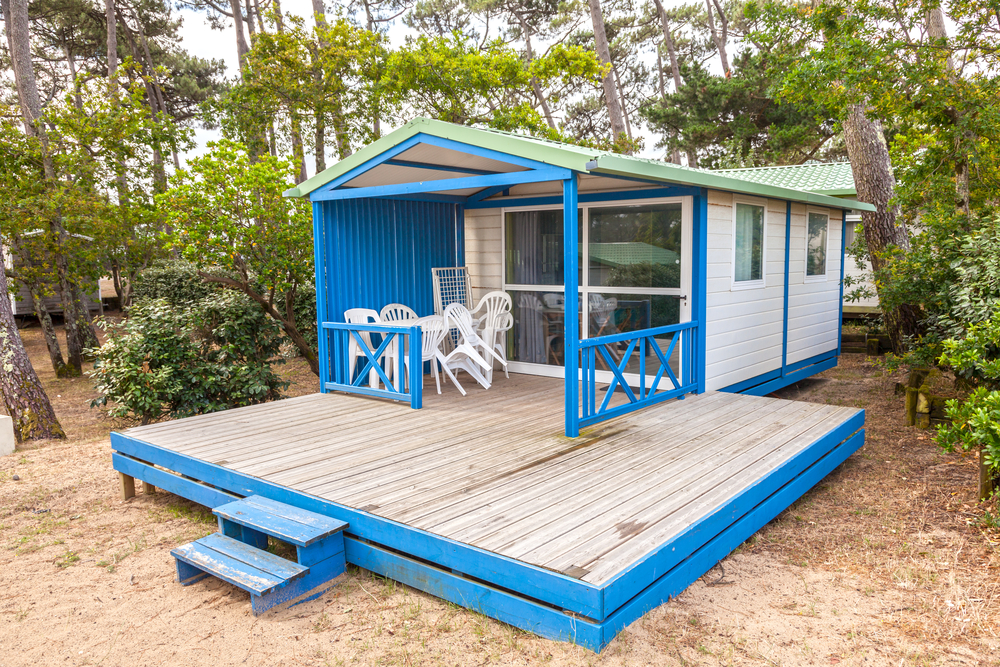 What is a chalet?
The chalet is also distinguished by its appearance: made of wood, it evokes a mountain hut. Indeed they are most often found in the mountains or the countryside, less often by the sea. Chalets generally have the same spaces and facilities as the two previous accommodation options, but it is not uncommon for a chalet to have an upper floor with attic rooms, their low ceilings giving that "ski holiday" feel…
As you can see, the three most common types of accommodation in open-air hotels are distinguished above all by their "look". All of them offer the same types of rooms, with a greater or lesser number of beds.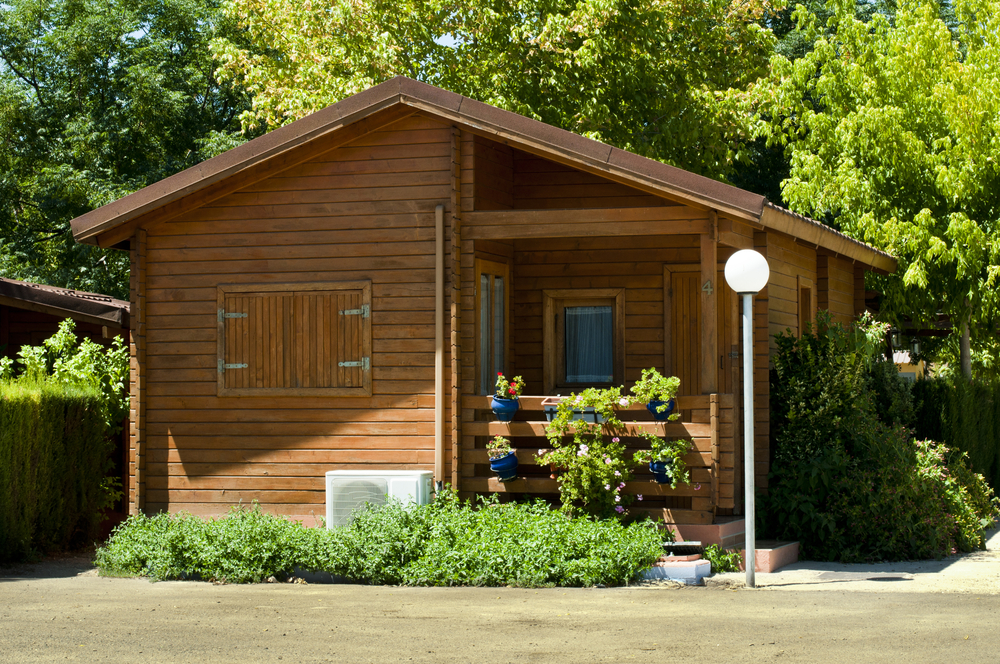 In recent years, other types of accommodation have appeared. Here are some examples:
What is a canvas bungalow?
Similar in appearance to traditional bungalows, their structure is, as the name suggests, made of canvas. For lovers of traditional camping… with a bit more comfort 😉 You could say it is a glamping tent…
What are tree houses?
Now we fully step across the threshold into the category of "glamping" accommodation! A completely wooden structure, usually with a beautiful terrace and a view over the treetops. Often, glamorous little extras are offered with these exciting treetop rooms, like breakfast delivered in a pretty basket hoisted at the end of a rope… Sounds like a dream, doesn't it?! Be careful though: not recommended if you are afraid of heights, are a sleepwalker OR have a tight budget!
What is a glamping dome?
Domes or carrés d'étoiles as they are known at French open-air resorts, invite you to sleep under the stars without having to be outside. That means, in a transparent dome, so that you can observe the celestial vault and count the stars of the galaxy until you fall into a peaceful, starry slumber. Again, this accommodation is aimed at a certain budget level. In summer, make sure to find out if there is a fan, air conditioning or ventilation, because those domes can be quite hot if not.
What is a roulette?
These vintage-looking gypsy caravans offer more basic comfort, due to their capsule size! But they could make for a very special holiday for those who dream of a bohemian lifestyle 😊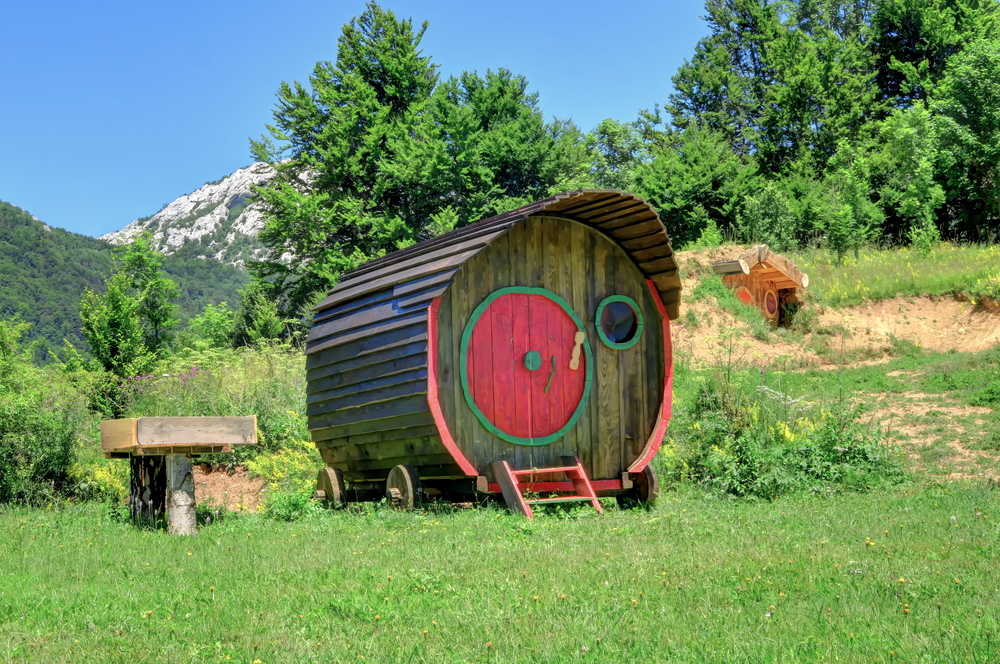 By now, you probably have a good idea of which options you like the sound of most. Now, test your reflex against the criteria below to make sure it's the right choice.
Assess your needs… and your desires
Before clicking on the "book" button, ask yourself these questions:
How many people will be staying?
How many children?
Will we be eating out or will we have to prepare all the meals?
How much do I want to spend on accommodation?
All of these questions have an impact on your choice of accommodation.
Are you travelling as a couple, for a short weekend break? In this case, there's no point in booking a mobile home or bungalow – opt for a one-bedroom rental, which corresponds to your real needs. Or if you are planning a romantic weekend for a special occasion, you may even want to push the boat out and opt for glamping or unusual accommodation, that will give you a "once-in-a-lifetime" type experience.
If you are planning a large family or a weekend with friends, you will have no choice but to opt for a mobile home or bungalow with 2 or 3 bedrooms. And it might just be the most practical option anyway.
The question of meals is also very important: if you like to cook and/or you have to watch your budget, you will have to prepare AND eat your meals in your rental. The living-dining room area can quickly become cramped for more than 4 people. This is where investing a bit more in one with a terrace pays its dividends!… A mobile home with a covered terrace, which allows you to have your meals outside whatever the weather, will increase the price even more. But it's probably worth it: the ratio of the price of the terrace to the savings on meals eaten out is hardly open to debate. Eating meals you have prepared in your rental will save you a lot of money (see our article on keeping the holiday budget down here).
What to pack / what to take
Now let's look in more detail at the different facilities available in a rental property, to see
how you can influence your budget;
what you should think about taking with you.
The below is general advice based on our experience. But don't forget that you the list of amenities available in each accommodation should be available within the description of the accommodation… And from that you can tell what is not provided and what you may need to take with you.
Sleeping
The question of the composition of your group is essential. It is the most important thing, as it will determine the number of bedrooms you will need and therefore the size of your mobile home/bungalow. The more rooms you have, the higher the price will be. In most mobile homes, there is a sofa bed which will sleep one or two people in the living area, but you should think ahead about whether everybody goes to bed at the same time and gets up at the same time in the morning and therefore whether this will be a convenient solution for the whole duration of the holiday.
In general, mobile homes with one bedroom have a double bed for a couple. If you have more than one bedroom (2 or 3 bedrooms), you will have one bedroom with a double bed and one or two bedrooms with two single beds each (which may be bunks).
Duvets and blankets are provided. However, in most cases, you will have to pay a significant supplement for sheets (and towels). You can save money by not choosing this option when booking, and bringing your own bed and bath linen. In the most luxurious accommodation, bed linen and towels are included in the rental price.
In many of the top campsites (4 and 5 stars), you can also choose to have your beds made up on arrival. Of course, it's always nice to arrive in accommodation that's fully prepared, especially when it's late and you've had a long drive. However, keep in mind that this "made beds" option also entails an additional cost.
Kitchen
Here again, the more expensive the accommodation you rent, the better equipped it will be. The most basic mobile home or chalet will have a fridge, hob, microwave oven, sink, kettle and coffee maker. Not forgetting crockery and cutlery and the basic things you need to prepare your meals in a very practical and comfortable way. However, if you have special knives, chopping boards, mashers, peelers, blenders, etc. that make food prep easier for you every day, you would do well to pack and take these with you.
The more you move upmarket, the more equipment is added: dishwasher, washing machine, espresso machine, additional kitchen utensils etc. Often one dishwasher dose/paste is provided, but if you are a large group and/or staying for several days, this will obviously not be enough; you will have to buy some or plan to take some with you. Likewise, you should check what sort of pods or coffee the coffee machine takes to pack the right sort.
If you are travelling by car and have the space, it's also a good idea to bring small containers of herbs, spices and oil, as well as long-life food and drink supplies with you. You will of course find supermarkets and you can buy your fresh food at the local markets, but having some essentials will reduce your holiday time spent searching things out in a unfamiliar supermarket.
Bathroom
As we have seen, towels are often an optional extra, but sometimes they are included. On the other hand, luxury accommodation or not, you will need to bring your own soap, shower gel and other toiletries and beauty products because an open-air resort is not a hotel! Also, although a roll of toilet paper is often included in your arrival kit, it will not be enough if there are many of you and/or you are staying for several days…
Terrace
Whether covered or not, you will be provided with garden furniture: table and chairs. You will need to verify if there are loungers or deckchairs for more comfort, or you may wish to bring your own, or your hammock, for afternoon naps. You might like to bring some candles and matches or an oil lamp for evenings on the terrace.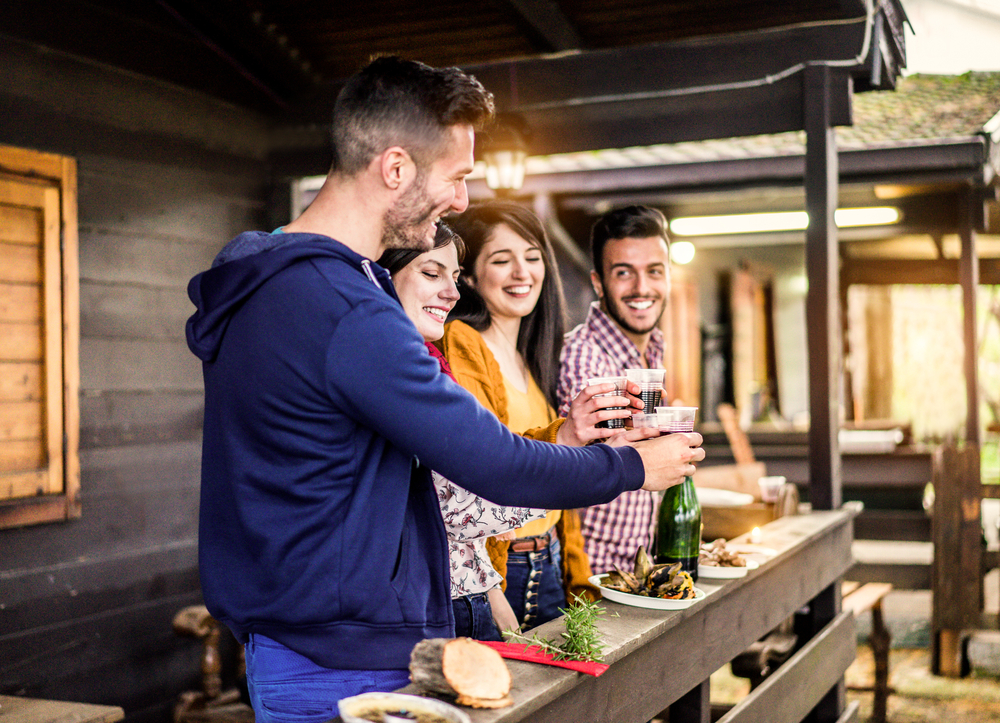 TV
Most mobile homes are equipped with a TV but this is not always the case. If it's important to you check the inventory of your rental before booking. Sometimes a TV can be rented from the reception after your arrival (day or week package), but you should reserve this in advance.
WIFI
Wifi is more and more often included in the basic price… except when it is not! A free "Wifi point" is provided in the vast majority of campsites, most often at the reception or nearby. However, it is not necessarily included or even available in all accommodation types – so check, if you are going to need or want it!
Cleaning products
In high-end rentals, the final cleaning, i.e. when you leave, is included in the price. But this is not always the case: you may need to bring some cleaning products to leave your mobile home in the same condition as you found it on arrival. Note that a sponge is often included in the mobile home welcome kit.
At Campsited we want to provide you with as much information as possible to help you make your decision. By checking the inventories of the accommodation options that have caught your eye, you can make a fully informed choice, and book with complete peace of mind.