You've planned your holiday, you've packed your bags and you've made sure you have your passport at least seven times. Now all you need to do is work out how to fit everything into a small campervan or motorhome. How hard can it be?
Even when you've trimmed down your cargo with our Ultimate Campervan Packing Checklist, there can still be a hefty amount of stuff to bring along. Storing clothes, shoes, cooking items, bedding and sports equipment, while still having space to eat and sleep, is no mean feat.
But you'll be amazed by what you can fit into your van with a bit of planning and a few clever camper storage ideas. Not only will it save you stress on the road, it will also save you so much time trying to find things. Less time looking for stuff equals more time exploring. We've come up with some nifty van storage ideas to help you keep your belongings out of sight and out of mind. Because a clean home on wheels is a happy home on wheels.
Campervan Storage Solutions
Campervan storage for clothes
Campervan clothes storage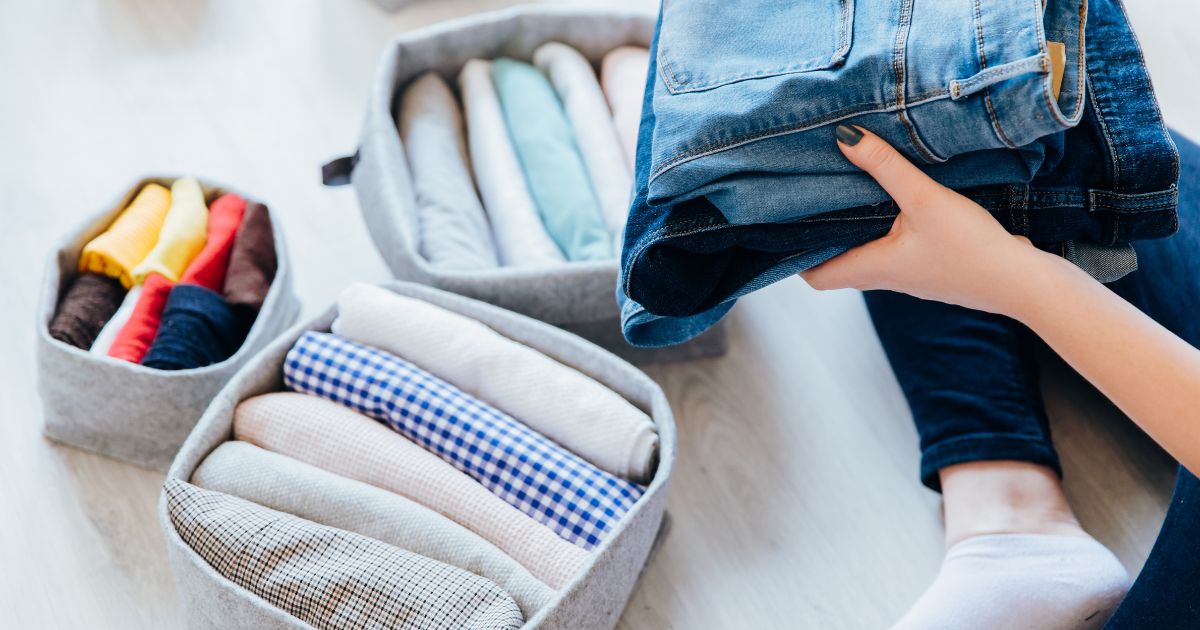 Unless you plan on wearing the same t-shirt and shorts for your entire trip (no judgement here), you'll probably find that you have a lot of clothing taking up valuable room. Try these simple solutions to stop your campervan from becoming a 'floordrobe'.
Mesh bags: Store your socks and underwear in mesh bags so you can easily find them amongst your other clothes.
Packing cubes: A must for keeping everyone's clothes in one place. Top tip: rolling your clothes allows you to fit even more in.
Laundry bag: Get a collapsible laundry bag which can be easily stowed away to stop smelly socks taking over your campervan.
Vacuum compression bags: If you're going to be on the road for a long time or going to numerous places which require different sorts of clothing, compression bags can be a great idea for storing clothing for different climates or seasons. No vacuum? No problem! Just roll them to expel the air before resealing.
Clothes in cushion covers: It might sound crazy, but keeping items that you don't need as often, like workout gear or warm layers, in the covers of your scatter cushions instead of cushions works a treat.
Campervan shoe storage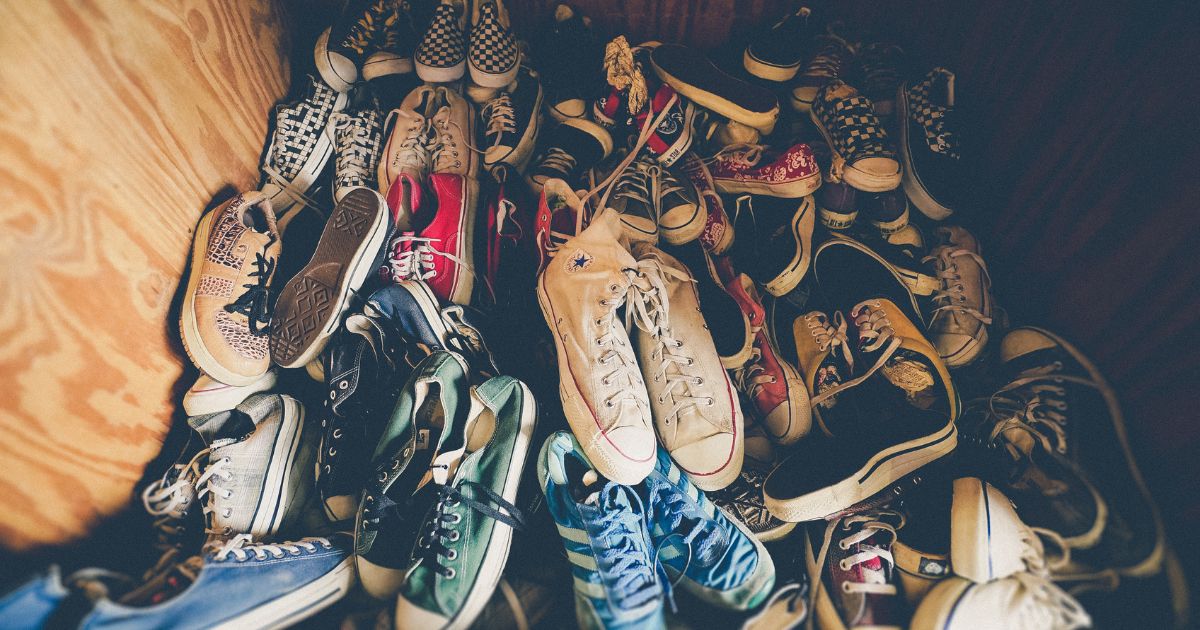 Shoes for hiking, running, cycling, canyoning, shoes for the beach, shoes for eating out… the list goes on. Keep footwear organised and out of the way to stop mess and stress while camping.
Box for shoes: A designated box that keeps shoes together will mean that everyone will know exactly where they live. No excuses!
Elastic bands: Strap shoes in pairs with heavy-duty elastic bands. You will never lose a flip flop again.
Vertical shoe hanger: Make use of your camper's height and keep shoes off the floor with vertical space-savers.
Under the passenger seats: Keep it simple by storing shoes underneath seats or in your van's inbuilt door pockets.
Campervan storage in the kitchen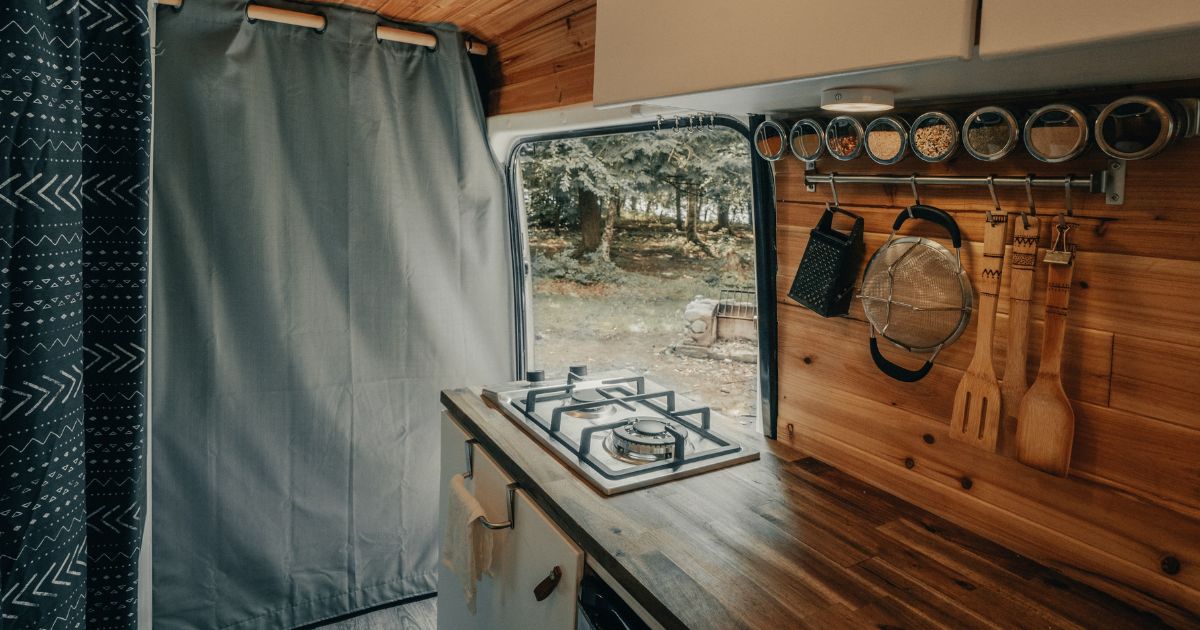 Campervan kitchen storage
The last thing you want when driving on scenic roads is the constant clattering of plates, pots and pans. Smart purchases can keep surfaces clear and noise down to a minimum.
Collapsible and stackable: Bulky, mismatched cookware has no place in a well-organised campervan. Opt for collapsible and stackable wherever you possibly can.
Choose bamboo: Lighter, quieter and less fragile than normal plates and bowls – bamboo is the way to go for space-saving camping crockery.
Drawer organisers: Keep utensils and cutlery separated with nifty drawer dividers. If everything has its own home, you won't have to spend forever trying to find the potato peeler.
Fitted cupboard organisers: These fitted racks and shelves are a great way to stop items rattling. Alternatively, place microfibre cloths between plates and bowls to protect them and deaden sound.
Campervan food storage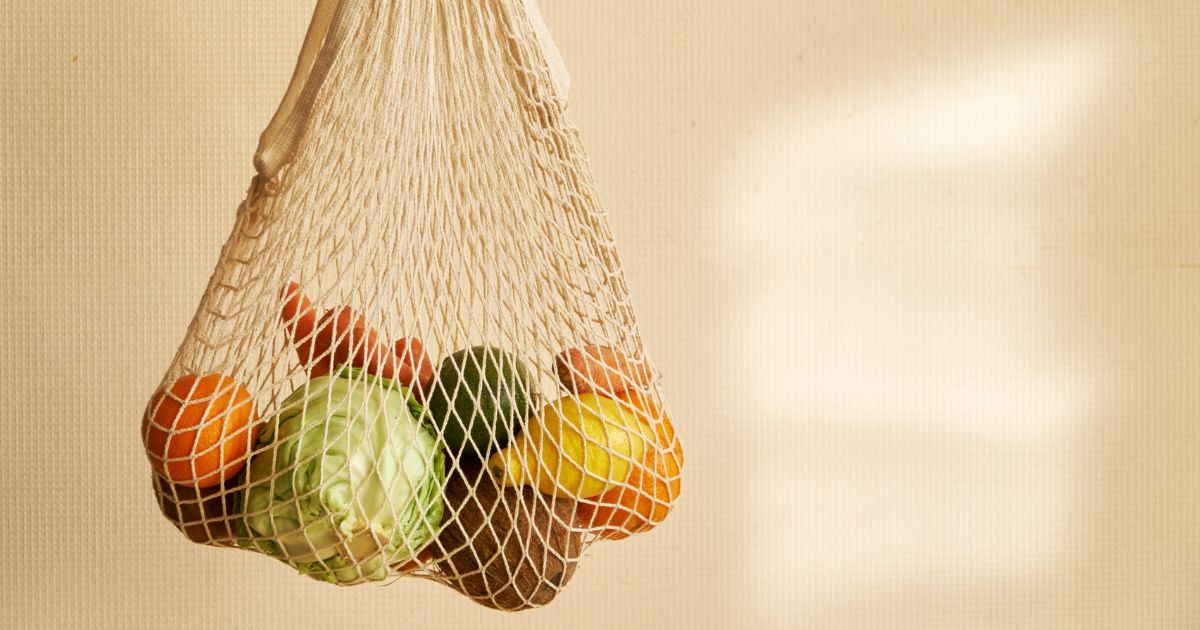 Having food sitting around in bags and boxes isn't ideal when space isn't on your side. A few little tips and tricks will keep your kitchen area nice and tidy.
Stackable tupperware: Bulky food packaging is a massive space killer for your cupboards. Keeping food in stackable tupperware can help you maximise space and keep food fresh for longer.
Magnetic spice jars: If you aren't willing to part from your herbs and spices, then opt for magnetic jars. Not only does it stop them from moving around while driving, it also looks rather stylish.
Hanging fruit bag: Bruised bananas and bashed apples are a thing of the past with a hanging fruit bag. All you need is a mesh produce bag and an S-hook over the lip of a shelf.
Space-saving campervan storage accessories
These items are perfect for creating even more space around your campervan. You really can't have too much storage.
Storage box for centre console: The empty area between the two front seats is the perfect place to add a storage box or car boot organiser. Keeping all of the things you use frequently within reaching distance is a massive time-saver.
Back of seat organisers: Books, snacks, cables and ipads can all be tucked away neatly with this slimline solution.
Bungee cords: Bungee cords are your best friend when travelling by campervan. Hang up damp clothing or strap items to your doors or walls.
Hanging wash bag: Having all of your toiletries and medical items in one place stops clutter and unnecessary rummaging. Plus, they're ideal for taking to your campsite's shower block.
Net pockets: Put these anywhere and everywhere for smaller items that tend to get lost at the bottom of bags. Most pockets attach using small screws or self-adhesive Velcro.
Suction hooks: These can be attached to any hard, flat service and allow you to hang up your tea towels, coats or bags.
Storage ideas for a van conversion
This one's for all of the self-build wizards out there. If you are planning to turn your van into a camper, it's worth taking the time to plan some really clever van storage. The possibilities are endless, but here is some food for thought.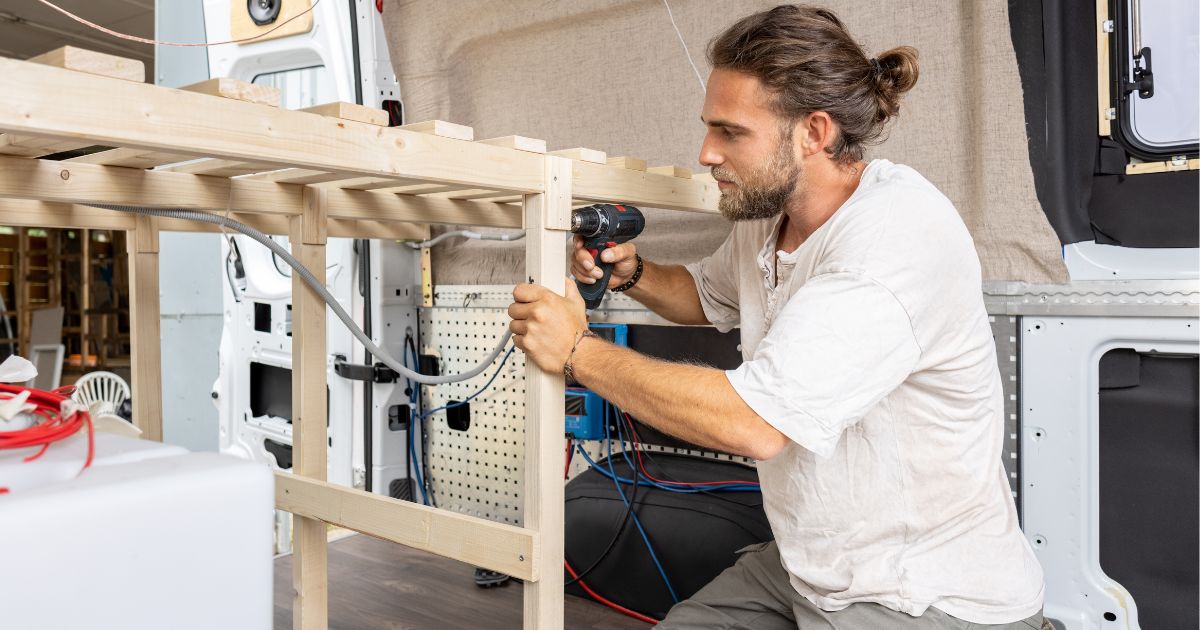 Campervan shelves
When floor space is at a minimum, shelving is essential. Make use of your vehicle's height and build upwards.
Shelves: You can fit shelves of all sizes, to store anything and everything. Remember to secure all of your items with a bar or bungee cords!
Overhead cupboards: A great use of space for high vans. Building overhead gives you maximum living and sleeping space.
Headliner shelf: A ready-made shelf can be found above the front seats in many vans. Alternatively, you can fit your own. Store camping gear, toolkits and equipment you don't need to access daily.
Over Bed Storage Ideas
The area above the bed is the perfect place for adding extra van storage. Use this dead space by storing kit and bulky items.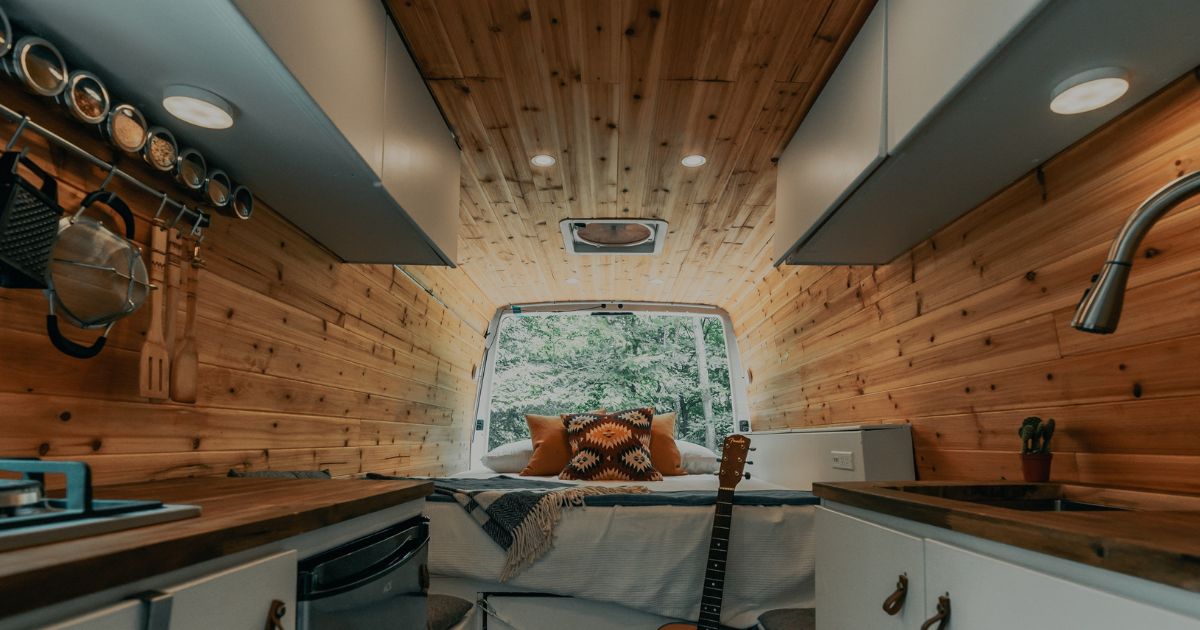 Cargo net: It's not the most aesthetically-pleasing solution but you can't go wrong with an overhead cargo net for stashing bulky clothing and extra bedding.
Pulley system: A simple but effective storage solution for surfboards, snowboards and larger pieces of kit.
Campervan storage for the 'garage' space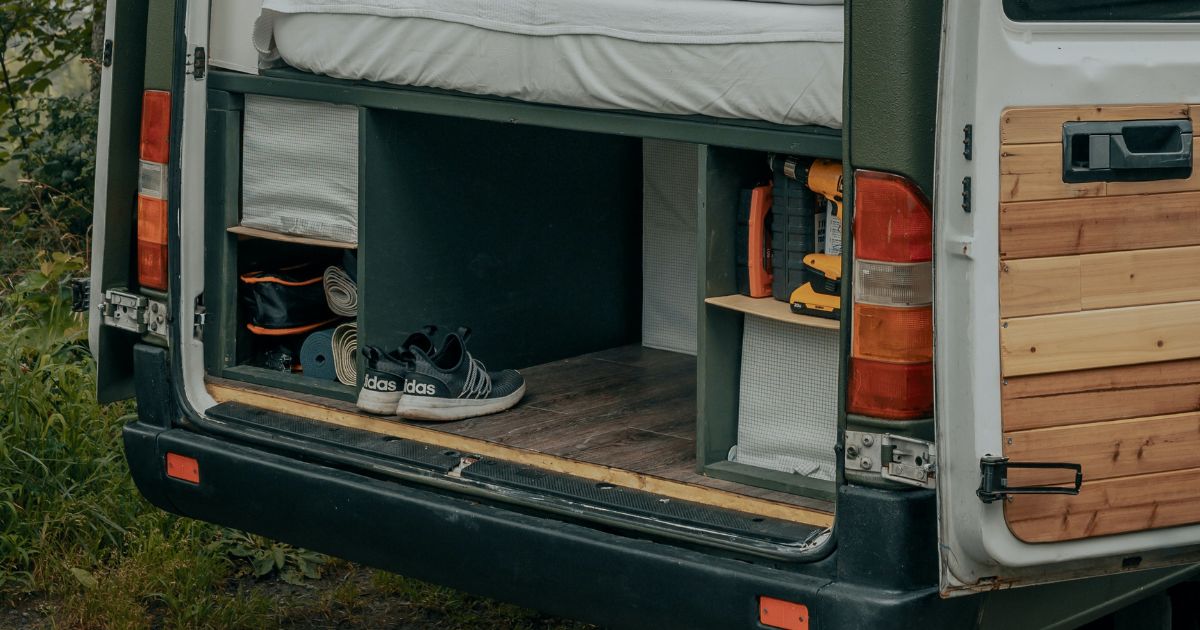 If you raise your bed, then you can access a large space underneath from the back doors of your van. Commonly referred to as the 'garage' in the van world, this area allows you to store larger equipment like bikes and camping gear.
Sliders: If you thought you couldn't fit a bike in a van without sacrificing too much room, think again! A sliding platform makes for the perfect bicycle rack. You will probably have to lower the handlebars and seats depending on bed height.
Drawers: Fitting drawers on long runners allows you to use the huge amount of space underneath a bed. They also keep the back of the van looking neat and tidy when the doors are open.
Rolling boxes: If you're not so good with power tools, then heavy-duty plastic boxes on wheels can work just as well.
Whether you are in a fully-fitted camper or a DIY van conversion, clever storage hacks are vital for you to get the most out of your campervan experience.
Open-air holidays should be spent doing the things we enjoy the most with the people we love the most. The more preparation you can do before you go, the more time you'll have for adventures.
Once you have sorted out your campervan storage once, it will make all of your future trips so much easier to pack for.
We hope these camper storage ideas help you and your family live big in a small space. Now all you have to do is decide which Campsited destination you will take your perfectly organised campervan to…
Do you have any other campervan storage ideas to share? We'll be happy to add them. Just let us know on social media – even better, send us a picture!