Are you yearning to go abroad for your summer holidays but not sure if budget will allow it? Looking for cheap holiday ideas, but you want to make sure it's also an exciting one, full of happy family memories? You've come to the right place.
Holidaying at campsites and open-air resorts in Europe – especially in France – mean guaranteed family fun and can be really easy on the pocket. But you do need to be strict on certain things to make sure you stay within budget.
Holidays can be a major expense if you don't keep spending under control, reducing it everywhere possible. Between travel, accommodation, sometimes local transport, food and activities, staying within a budget is not always easy. But there are lots of things that can help.
Choice of destination, activities, shopping 'rules': every little detail counts and can contribute to lowering the total cost of your trip considerably.
So read on to obtain 10 cheap holiday ideas, to enjoy brilliant family time without breaking the bank.
1. Book in advance and check out offers
The price of a camping holiday is generally lower if you book well in advance. In fact, many campsites offer attractive discounts for people who book early. These offers are usually available from October or November for the following summer.
By booking in advance you will have a much wider choice of dates, types of accommodation and destinations.
Our special offers are perfect for those who love holiday bargains! To nab a cheaper camping holiday, make sure to look at our promotions, updated monthly (you'll find them in the top menu). These show the best campsite offers in France, Italy and other countries, with discounts of up to 60%. They include early booking offers, last-minute discounts and accommodation-specific sales.
2. Travel out of season
Accommodation prices are much lower outside of July and August, because of lower demand. In France in particular, most people in the country take their annual leave in August, which means demand and prices are really high then. If possible for you to take your holidays in June or September, you'll enjoy the warm summer days without spending as much as in July or August.
Booking outside the school holidays also helps to avoid the crowds. This will make visiting your destination much more enjoyable. Off-season holidays are definitely a must for those in search of cheap holidays!
3. Opt for a tent
If you already have (or can borrow) camping equipment (tent, sleeping equipment, stove, etc.), a pitch is the most economical solution. Pitches are always much cheaper than mobile homes or chalets. BUT you will still have access to all the campsite's entertainment, facilities, services, etc., since it is one of the great egalitarian principles of open-air resorts that all residents are entitled to the same services.
In addition, tent pitches are ideal for travellers who want to enjoy the pleasures of the open air and camping in the most traditional sense. Just make sure to do a couple of practice runs at pitching the tent and setting it up for the day and night, so you are sure you have everything you need and can do this quickly and without stress on arrival! These practice rounds will be part of the family adventure – the kids will love them.
4. Choose a campsite with activities and entertainment
By choosing a campsite with activities and entertainment, you can fill your days and nights without having to spend any extra money. Outdoor resorts often offer sports activities (tennis, volleyball, petanque), water activities (swimming pool, kayaking), but also things like fitness classes, creative workshops and discos, so make sure to compare the facilities and activities offered within the price, when choosing your campsite.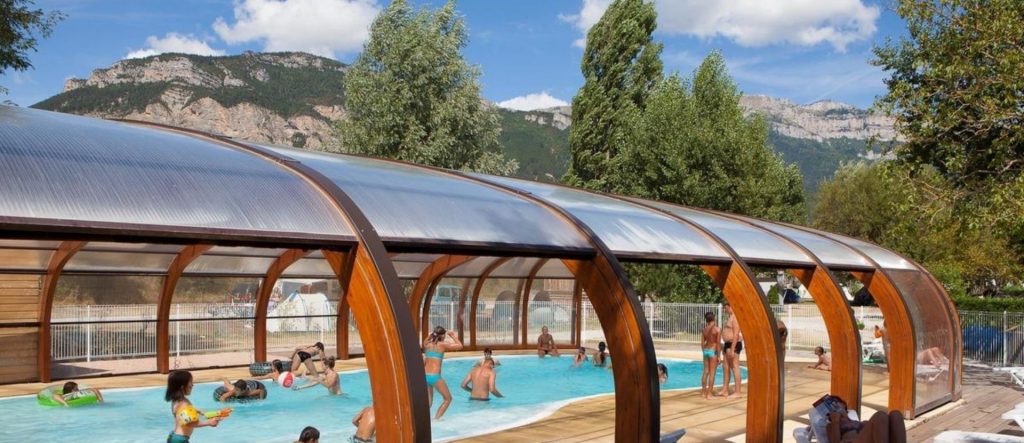 For children, many establishments offer kids' clubs with qualified activity leaders. Your little ones will be able to take part in fun and educational activities while being supervised by professionals. Meanwhile, you can enjoy moments of well-being at the swimming pool or relaxation area. Some campsites include these things free of charge, so be sure to read the description details carefully to know.
So, by booking your holiday at a campsite or open-air holiday village rather than in other types of accommodation, you are sure to save money on activities, which can mount up to become a big expense over the course of a couple of weeks.
We also advise you to choose an establishment near the beach, a river or a forest: the environment in which you stay often means free activities, by its very nature.
5. Find free activities in the area – ask locals for advice
Europe is a traveller's paradise. You'll find beautiful landscapes and interesting villages and attractions everywhere. To make the most of your stay without spending any extra money, look out for free activities in the area.
Furthermore, in the high season, many towns and villages organise festivals, concerts and events that are completely free. Ask for a calendar of local events at the nearest tourist or at the reception of your campsite: they often have all the information on events and activities available in the area.
In addition to the tourist offices, ask the locals for advice. Whether at the campsite reception, in a restaurant or bar, locals are a goldmine of information. They know all the good things about the area and how to avoid the expensive and less interesting 'tourist traps'. The hidden spot for swimming in the river, the nice little bar with live music every weekend, the least expensive local food and drinks: the locals know a lot about what to do and see in the area you are staying in, so make the most of it!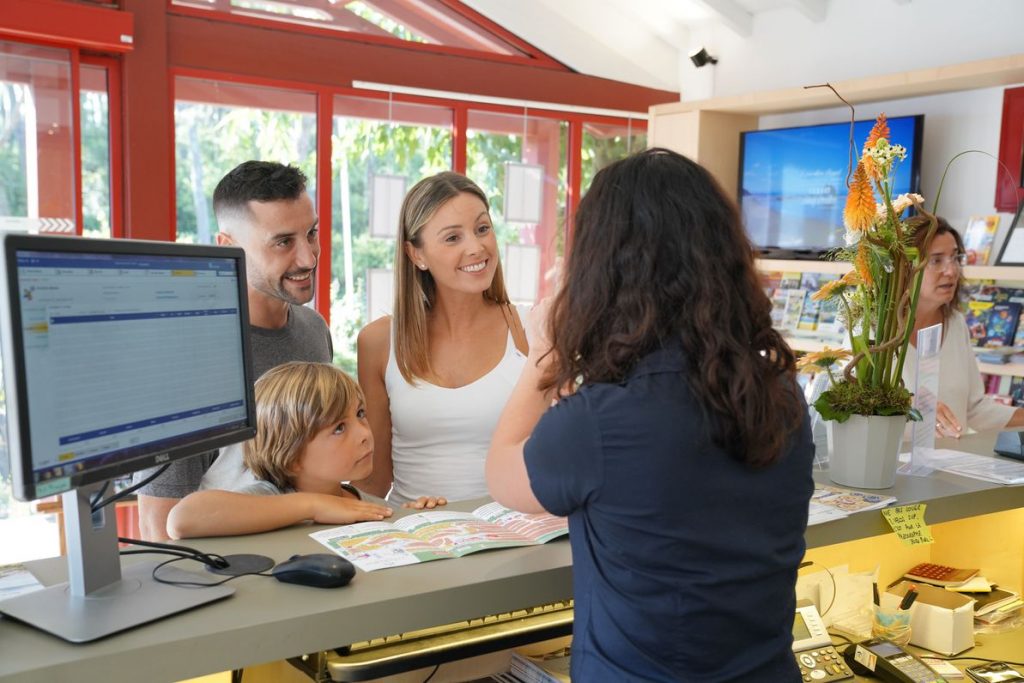 6. Cook and picnic
Food is perhaps the biggest expense when travelling. Planning your meals ahead is therefore one of the keys to a cheap holiday…
Away from home, people tend to eat out more often and indulge more (especially when travelling with children). If you want to reduce your budget, it is important to prepare your own meals as much as possible. Of course, this doesn't mean you can't treat yourself and the kids to an ice cream or croissant from time to time. But limiting this and preparing most of your own meals represents a considerable saving (and will make you all appreciate the treats more when you do have them).
If you choose a camping holiday, you will have access to barbecue and washing up areas. If you stay in a mobile home, you will have a kitchen and kitchen utensils, but if you choose a tent pitch, don't forget to bring a stove, pots, pans, plates, cups, cutlery and everything else you need to cook. A good idea is to plan a list of meals in advance and list everything you would need to prepare those meals, so you don't forget anything important.
Think of simple, economical meals such as pasta, rice salads or barbecued meat and veg with boiled potatoes and salad. If you meet some nice campsite neighbours, think about sharing food and drinks and eating together, for even further savings! Isn't that what life in the open air, reconnecting with nature and others, is all about?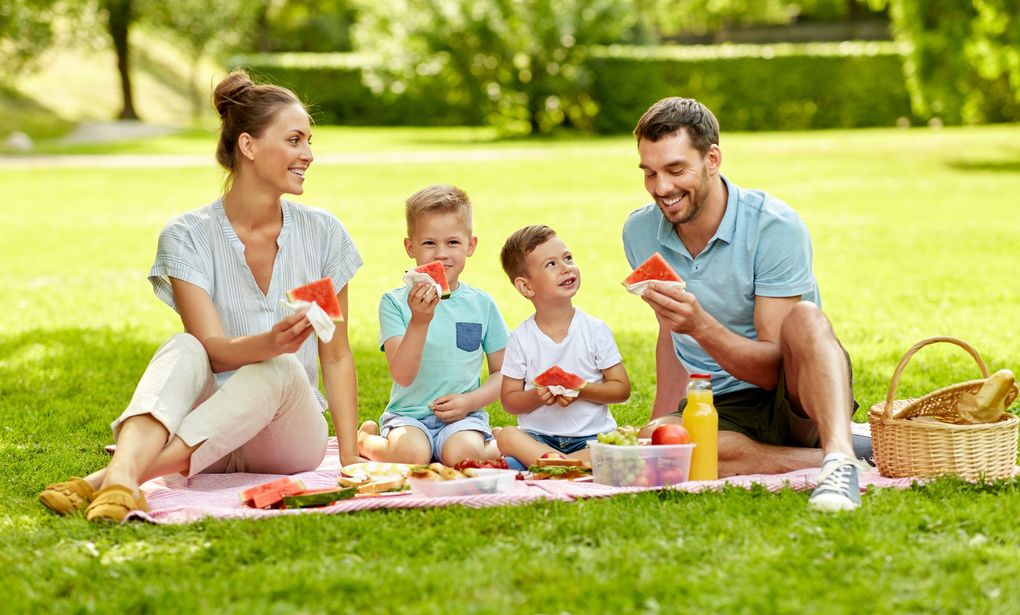 If you are planning to go on a day trip, don't forget to prepare a picnic and snacks beforehand.
You can often buy a baguette at your campsite for a classic ham and cheese roll. Cut up a cucumber and carrots into sticks to dip in hummus or eat on their own; bring these, together with little tomatoes and radishes in ziplock bags. Apples and nuts make great picnic sides too. If you have a little more time and picnic plates etc., prepare salads in plastic boxes. Tinned and dried foods like sweetcorn, chickpeas, raisins, nuts and couscous make tasty, readymade additions to salads which you can have in stock for the whole holiday.
7. Shop at the supermarket
To prepare all those meals and picnics, we recommend shopping at the supermarket: another 'key tip' for a cheap holiday. If you can do this before you arrive at the campsite or go on a big shop soon after arrival, it's ideal. This will save you money and time as you won't need to shop on-site. Most campsites have a grocery shop, which is handy for that one thing that's always forgotten at the supermarket, but to stick to your budget we advise you to buy your essentials in a supermarket.
8. Eat local products
Opting for local products will allow you to discover the local specialties while saving money. There are guaranteed to be markets near your holiday destination. If you find out what days they are on, you'll buy delicious local products at the best prices there. Again, check with the staff at your accommodation.
When eating at a restaurant, always ask about the dish of the day or plat du jour. It's generally the cheapest thing on the menu, as well as being the freshest, created by the chef based on whatever is most readily available locally that season.
9. Use tap water, make your own coffee, minimise drinks at the bar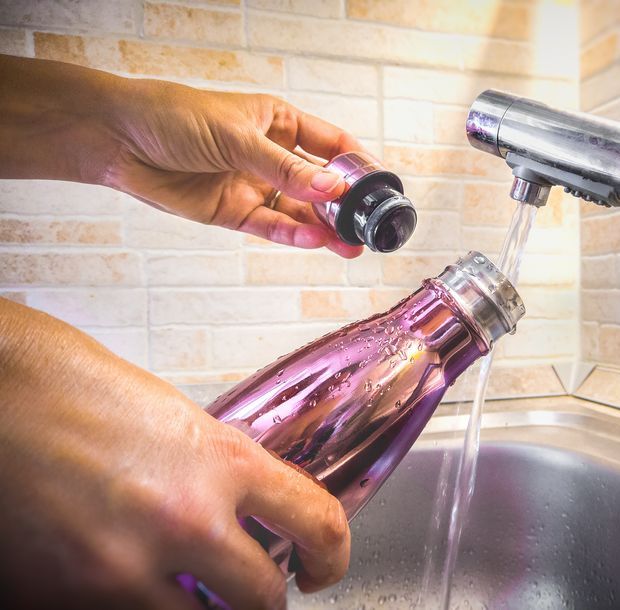 In Europe, tap water is safe to drink. Many doctors even recommend drinking it. It's a good thing that you can save money. All you have to do is carry a reusable bottle or water bottle and fill it up. This is also good for the planet.
For coffee, we recommend that you bring a plunger (or your favourite coffee-making contraption), buy good ground coffee and get in the habit of preparing it yourself in the morning and enjoying it in a lovely open-air location with a view. A packet of coffee for the whole week will cost you the same as two coffees in a bar.
If you are staying in a mobile home, you will find that there is an electric filter coffee maker, so you should slip a packet of filters and coffee into your bag, to be able to use this from the first morning if you arrive too late to go shopping on the first day. (Don't forget the cereal bars for your first breakfast!)
On holiday, people often want to relax with a few drinks in the evening. If you go to the campsite bar in the evening, you'll find your spend mounting. However, you'll find that most drinks are very inexpensive at the supermarket in most European countries – as well as olives, nuts, crisps, dried sausage and other local snacks you might want to enjoy with them. You'll enjoy the evening outdoors on the terrace of your mobile home or in your camping chair just as much as going to the bar. Why not invite the neighbours over?
10. Avoid using the car
Fuel is a significant expense at the moment. You may have no choice but to use your car to get to your holiday destination. However, once there, you can avoid using it… or at least, using it TOO much.
Walking or cycling will save you money and allow you to enjoy the benefits of the open air. However, sometimes open-air resorts are located some distance from places you might want to visit. Before thinking of taking the car, make sure to look into public transport. If available, it will add to the adventure and mean you don't have to worry about finding parking, managing parking meters which seem to operate differently everywhere, etc.
Now that we've shared all our cheap holiday ideas, it's time to start the search for the best campsite!