Dream of being the first to create tracks on brand-new snow in the morning, cross-country skiing or snowshoeing in silent, snowy forests, playing on pristine powder on your snowboard? Then a camping trip in the snow must be on your ultimate adventure list.
Whether you know a bit about it already or it's all new to you, we have put together a little guide to winter camping in the snow for you (and don't worry – this doesn't mean you have to pitch a tent, you are allowed to stay in ski chalets!)
Cheap ski holiday: join the 'caravaneige' movement
The French – with many impressive mountain ranges of their own plus easy access to Italy, Austria and Switzerland for many more – are great proponents of outdoor holidays in the snow. Rather than cold weather being a reason to stay home in front of the fire, they seem to see pristine, white, snowy conditions as even more of a good reason to go camping. So much so that they have invented a term for this great adventure, which combines the words for caravan and snow into one: 'caravaneige'.
We have to agree with them, there is something magical and reinvigorating about being outdoors, at one with nature, in the silent, stunning, all-covering whiteness.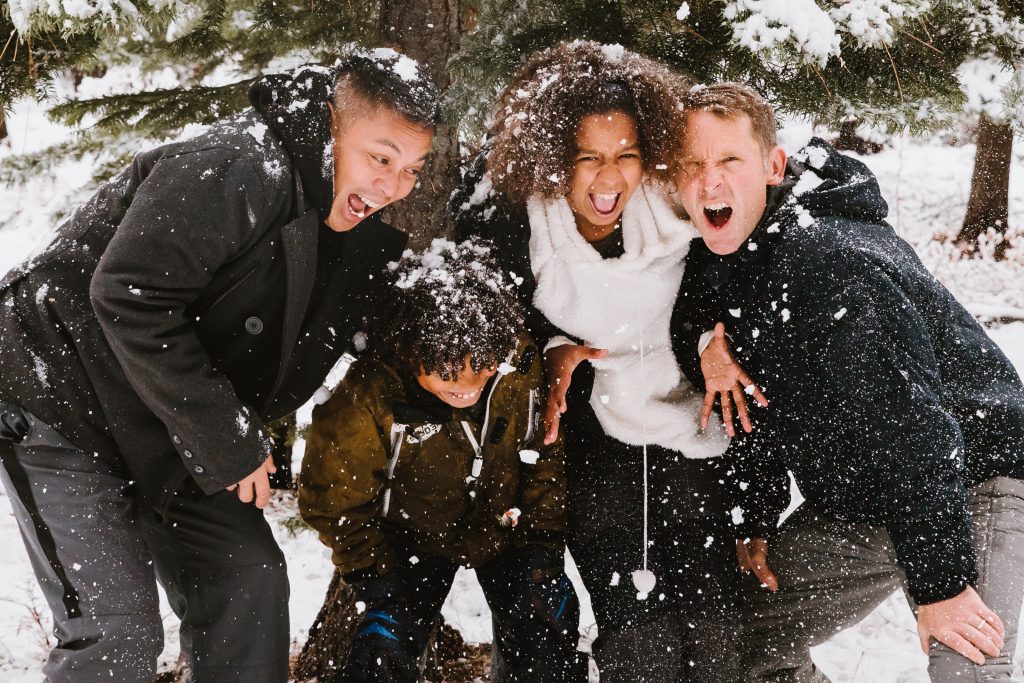 What is 'caravaneige' exactly?
The original meaning was this: caravanning or campervanning x snow holidays. Staying in a caravan, campervan or motorhome in, or near, a winter sports resort. It dates back to the 1960s, when both campsites and ski resorts first really emerged and developed. It has to be admitted: between ski passes, gear and food and drinks up the mountains, skiing is an expensive holiday, especially for families. Not ones to be limited in their fun, the French invented this economical accommodation option, which allowed people with more modest budgets to enjoy the slopes. (It's also an incredible adventure for kids!) Thus, the emergence and popularity of 'caravaneige' is an economic phenomenon. Essentially, it's an ingenious way to have a cheap ski holiday.
But since the 1960s, certain things have evolved, not least choice of accommodation options. So today, what it means is this: open-air accommodation x snow holidays. Nowadays campsites and open-air resorts – because with a plethora of amenities and on-site accommodation options, this is what campsites have evolved into in France – offer ski chalets, bungalows and mobile homes to stay in. So, you can still enjoy proximity to nature in the very special snow season, but also creature comforts like heating, dryness, an indoor bathroom and a warm kitchen!!
Imagine snuggling up under your duvet at night in your motorhome or mobile home near Peyragudes in the Pyrenees, or Megève in the Alps – your muscles aching pleasantly after a day of snowsports, so sleepy you can hardly stay awake. Before you drop off, look outside and take in a landscape blanketed in white, snow-covered trees and clear, star-filled sky. That's the wonderful feeling that only an outdoor holiday in the snow can give you!
Caravaneige has therefore become part of the list of services offered by campsites in France which stay open year-round. As well as onsite self-catering accommodation, they do generally still offer snow-cleared pitches during the winter season, so taking your caravan or motorhome is still and option (and indeed a cheaper one). There are even some sites which open only in winter, specialised in looking after powder-seekers.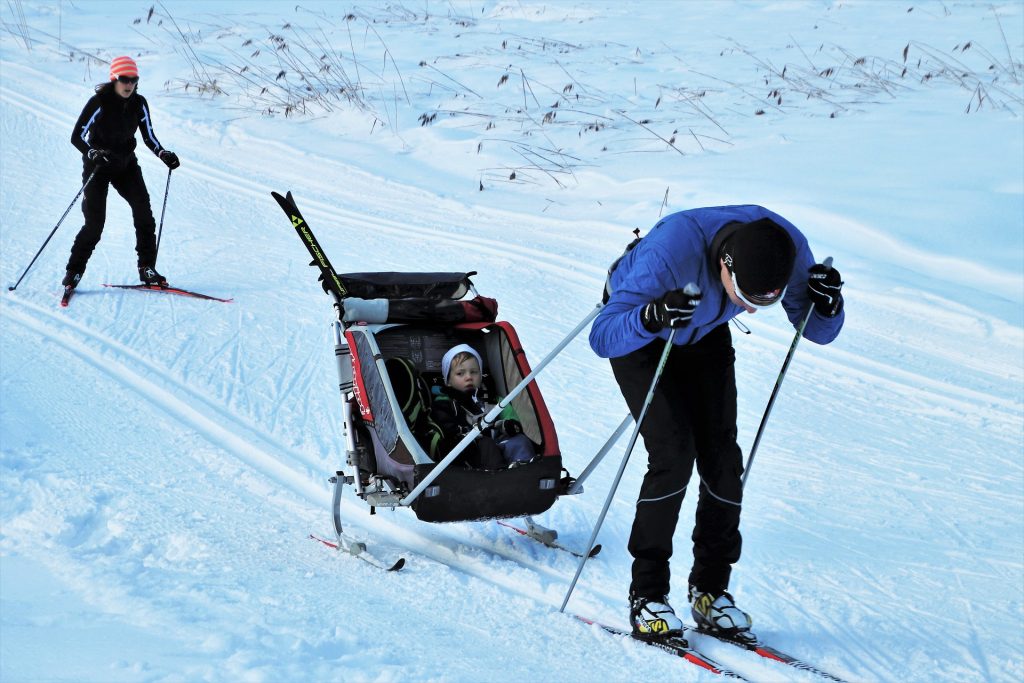 Hooked on the idea? Great. Let's look at how and where to put a caravanning holiday into practice, and get you booking a really memorable holiday with family or friends in the mountains.
What's unique about snow holidays at a campsite?
Firstly, camping in the snow tends to be in mountain locations – where there is most snow and most fun things to do in the snow.
Secondly, you need to find a campsite or open-air resort that's open in winter. Year-round and winter campsites differ from "traditional" campsites in several ways:
Contrary to what you might expect if you are familiar with typical open-air resorts in France which tend to brimming with activities and entertainment, in winter there are generally no activities or entertainment at campsites. So, no kids' clubs or evening shows, but they may organise things like snowshoe hikes or workshops on winter flora and fauna, so this could be worth asking about if you won't be busy on the slopes every day.
On the other hand, some of the bigger resorts still provide restaurant or takeaway services, which can be very useful after a long day! Others offer a covered, heated swimming pool and/or sauna or jacuzzi. So, it is worth looking at the amenities of different sites.
If you are planning on skiing, hiking or snowboarding, it's also worth looking out for a heated ski room. This is very practical, as it means your gear and boots will be dry for the next day's activities and you don't have to clutter up your accommodation with them hanging everywhere.
Some establishments will offer a shuttle bus to the slopes.
Ski chalets and more: winter holiday accommodation
Here are the options:
Rent a chalet. The most comfortable (warmest!) accommodation option is to rent a mobile home, bungalow or chalet. It is more expensive than parking up on a pitch, but a lot cheaper than renting an apartment in the heart of a ski resort. For a 100% ski holiday experience, look out for sites with wooden chalets. Conjuring up a real adventure with their traditional look and snow-covered roofs, they are hard to resist.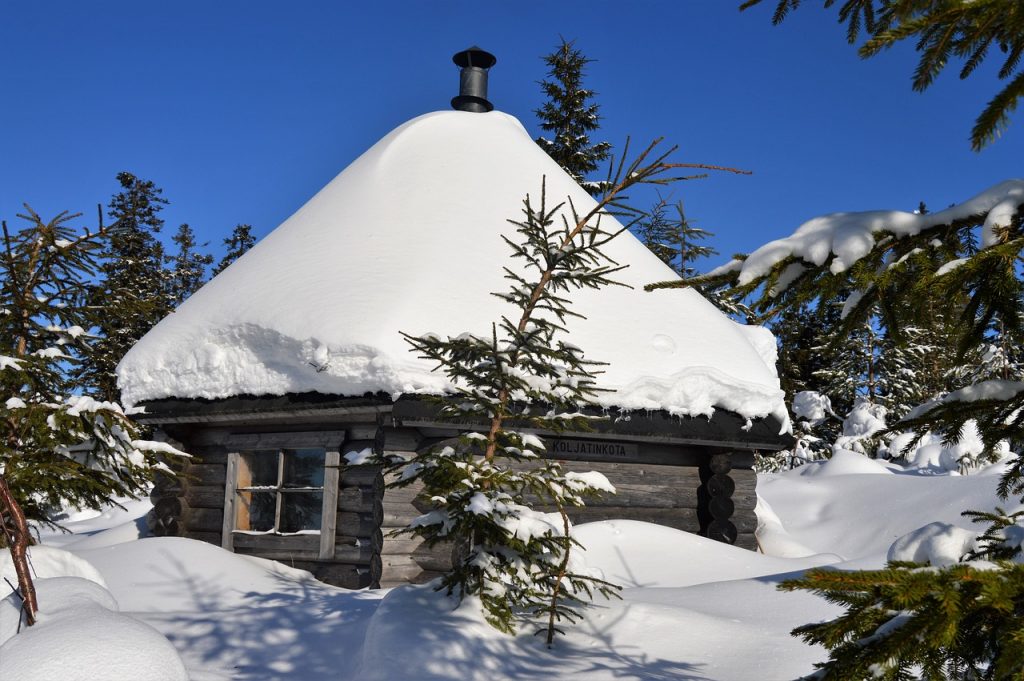 Brave a tent. If you are feeling VERY adventurous and nothing will do but the extreme camping in the snow experience (or the most economical of trips), you can always rent a snow-cleared pitch and set off for the mountains with your tent. At least the toilet and shower block will be heated! But you'll have to have all the right gear for the cold in your tent.  However well-equipped the site may be, sleeping in a tent in the mountains in the middle of winter requires preparation both mentally and logistically!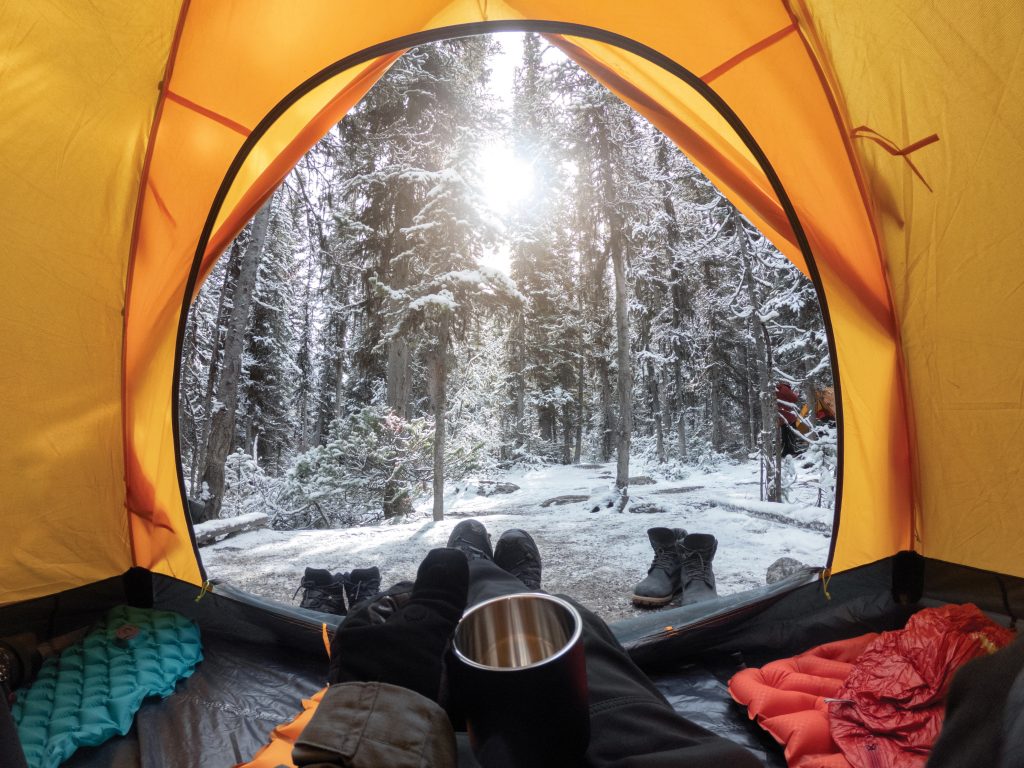 Bring your camping vehicle. This is the compromise option: medium comfort, medium cost. Pitching up a caravan or motorhome is going to be a considerably warmer option than a tent, and cheaper than a chalet. You'll appreciate the comfort of a home on wheels: heating, lighting and electricity for the long nights alone. Keep in mind though that driving in winter, especially on potentially snowy and icy roads, requires a number of precautions and legally required materials (think snow tyres and snow chains, in particular, above certain heights).
Towing a caravan or driving a motorhome or campervan in the snow
What precautions is it wise to take, when taking to the road in winter conditions?
Before setting off
It may go without saying, but the most important thing is to make sure you have snow tyres and chains for your vehicle (you may need to order these several weeks in advance of your trip). Snow tyres are mandatory above certain altitudes in France now, and if you get stuck in snow when venturing off the road, you'll need those snow chains.
Also prepare for any emergencies by having a kit on board. For example, at least one good torch in working order and spare batteries, long-life food and water, one or more sleeping bags or blankets, perhaps a small heater. (This is all in addition to the usual emergency equipment such as hi-vis vests and triangles.)
In winter, due to the cold, a vehicle can be prone to breakdowns. Book in a winter service or check your car's battery, tyres, lights, windscreen wipers and fluid levels yourself. If possible, install a battery booster, or bring jump leads. Also remember to use fuel with an anti-freeze additive.
Once on site
Take a wheel chock for leveling your vehicle on the pitch. This advice is valid in all seasons!
In the event of snowfall, clear the snow from the roof of your vehicle and your pitch as soon as possible.
If you don't move your vehicle during the day, start the engine every morning and evening. If it is a long stay, check the battery and radiator regularly.
If you need advice, don't hesitate to ask your motorhome or caravan neighbours. Caravaneige has very dedicated followers and you are sure to find someone with decades of experience to help you out!
Now the snowy slopes of the Alps and the Pyrenees are yours to discover, or the beautiful walks of the snowy forests of the Vosges, the Jura or Auvergne.
It's time to move on to thinking about where you'd most like to go. A mythical mountain range that you remember from geography classes as a child or a real off-beaten track spot that no one you know has ever heard of? There are over a hundred campsites in France open in winter, most of them located in one of the 5 mountainous areas above.
If you're not ready to commit to a destination, browse our campsites in the mountains collection instead and see if any of them take your fancy. If you have any difficulties finding somewhere for your cheap snow holiday, send our Customer Care team an email telling them the make-up of your group and the type of trip you'd like to book and someone will come back to you with suggestions. And don't forget to share your photos with us on social media by tagging #campsited!