There is no better way to discover a country's natural wildlife and biodiversity than by taking to its waterways, which are havens for many species and a source of sustainability for the future. You can learn a lot about the history of the region you're in by travelling its rivers, lakes, canals and coastlines. It's always interesting to observe the communities that have built up alongside waterways over millennia, using the water for survival, transportation and industry, both in the past and at present. Marvel at the spectacular natural pathways and prehistoric landscapes the waters have carved out through the Ardeche Gorge and the recently discovered unique cave systems and ancient paintings that now constitute part of the UNESCO World Heritage sites, or meander down the Dordogne River network by canoe or kayak and discover the natural routes along the way.
Kayaking and canoeing are excellent pastimes for keeping active and fit, and are suitable for all ages and levels. You can do it on calm lakes or gentle rivers if you are a novice, or take to the sea or try white-water kayaking in the French alps, if you're more adventurous or experienced. Solo, in a group or as a family, you'll be sure to find your preferred environment and level of challenge, wherever you are in France. Wherever you go, you'll benefit from the pleasure and sense of well-being that comes with outdoor activities in nature: that perfect balance between physical and mental well-being. You also can enjoy peace of mind, knowing that this enjoyable pastime has a relatively low impact on the natural ecosystems.
Useful information for kayaking holidays in France
Kayaking holidays in France for families
The Dordogne River or Loire Valley regions are perfect places to start your kayaking career, with expanses of calm waters, ideal for beginners and children. If you're really keen, you could try a tailor-made package that can take you from campsite to campsite as you kayak your way down the river with experienced guides, equipment rental and transportation.
White-water kayaking in the French Alps
This generally requires a good level of skill, to be able to navigate waters safely, but that doesn't mean you can't start from scratch. Courses are available for complete beginners, as well as for intermediate levels, for those who want to improve their skills before setting out. Beginners can opt for more stable sit-on-top style kayaks and practise on gentler river descents.
If this sounds like something for you, the French Alps won't disappoint, with their dramatic mountain ranges and variety of descents, which are likely to be exciting and memorable. The best time to try white-water kayaking is generally through the spring and summer months, when ice melts to form rapid flows and higher waters.
Canoeing in the Ardeche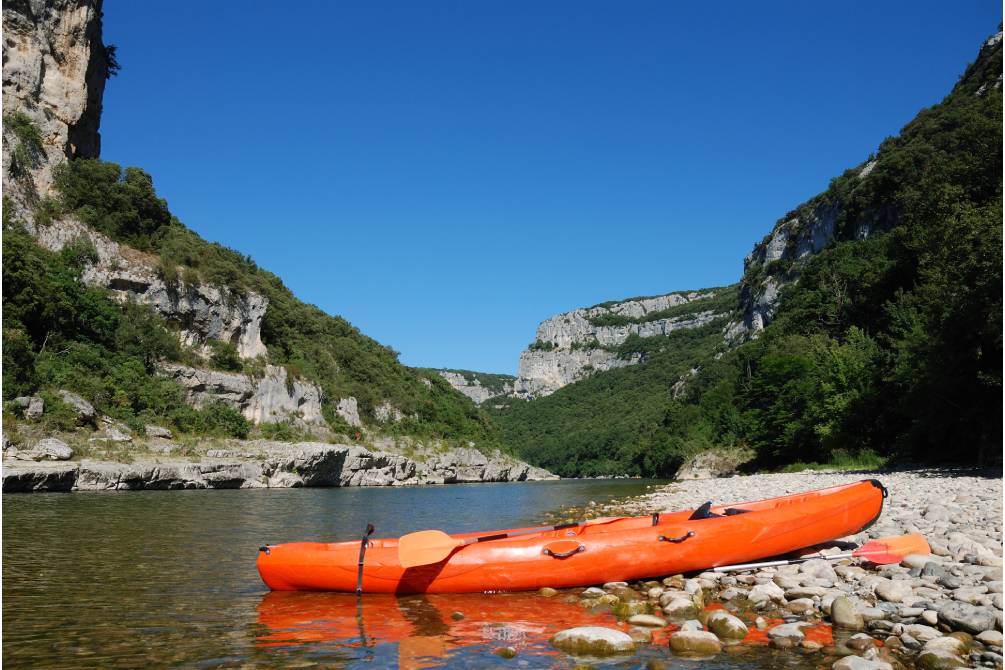 Without a doubt, this is one of the most popular regions for canoeing and kayaking, due to its impressive gorges and caves. Often referred to as "The Grand Canyon of Europe", this area enjoys a sunny Mediterranean climate and is an ideal introduction to canoeing or kayaking on your adventure holiday.
This stunning area has a variety of terrain types, from rapids to long stretches of flat water, running through the gorges. You'll find water-based activities and guided tours suitable for all levels of experience, including family and beginners' packages.
Try a guided group tour
Group tours are a great way to meet new people and packages can even include overnight camping, where you will experience unspoilt nature and nights under the stars. Take in the little medieval villages along the way and explore the ancient cave systems, for a truly unique trip.
Relax along the Loire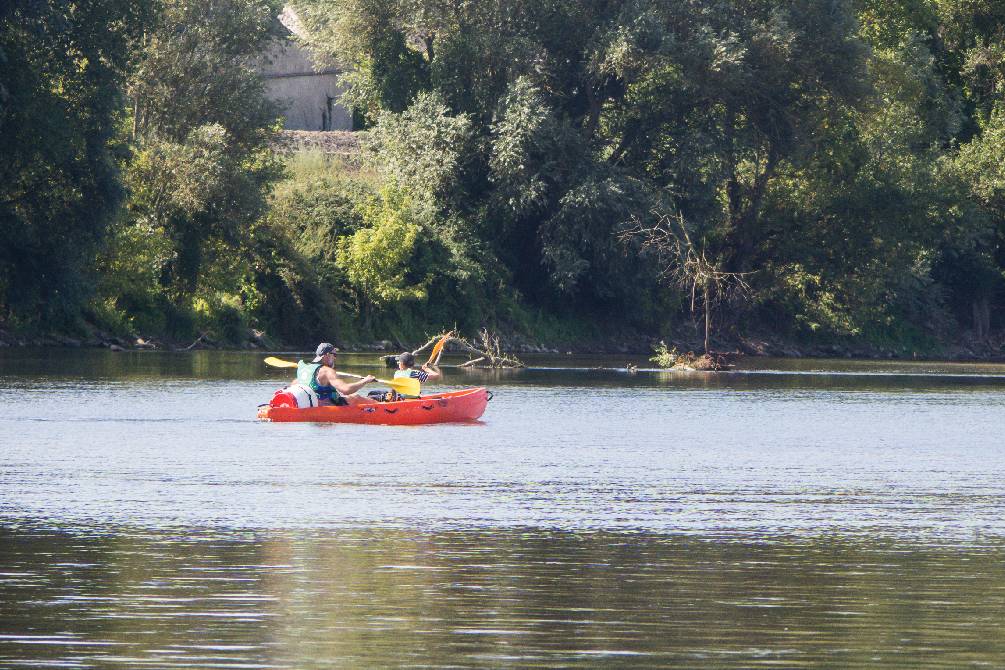 Meander through the Loire Valley by hiring a kayak or canoe to drift by fairy-tale castles and vineyards at a leisurely pace. The endless stretches of river are particularly suitable for families and beginners and the canoe centre at St Dye has a variety of equipment for hire and guided trips.
Open sea experience
The Atlantic Coast of the Vendee is within easy reach if you fancy taking to the open waters for your kayaking holiday in France. Take a guided trip if you are starting out, or simply hire a kayak if you are more confident.
Choose a campsite close to activities and nature
If you chose a riverside campsite, you can wake up close to the water and to your trusty steed for the day! Alongside the Vezere or Dordogne rivers, the Ardeche region, or in the French Alps, you will find numerous campsites that offer kayaking and canoeing tours and equipment hire onsite. Also, being surrounded by the sounds of nature, rather than sounds of a building and nearby traffic, allows us to relax and fully immerse ourselves in the adventure.
Get the best out of your kayaking holiday – FAQs
What to expect and useful things to know for your open-air activity holiday in France.
What facilities will I have at my campsite for my kayaking holiday in France?
There are all sorts of campsites in France available to book through Campsited. It's up to you what style and size, surroundings and amenities you choose. Use the curated lists in our megamenu to filter for sites with the elements most important to you.
What family entertainment is available in campsites in France?
Many campsites offer different types of entertainment for all the family, be it fitness classes, sports facilities, swimming pools or children's clubs. Many campsites have playgrounds. Evening entertainment such as discos and shows is often offered in the high season, as well as on-site restaurants. Campsites in France tend to be community-oriented, so it's easy for children and adults alike to make friends and enjoy social interaction and shared experiences. They are generally enclosed and safe enough to allow children to explore independently from a reasonably young age.
Can I find campsites near to the water for my kayaking and canoeing holiday in France?
Yes. You'll find many campsites scattered along the rivers and waterways of France which are strategically situated for these activities. You can often access the water directly from the campsites. This means you can park up and relax from the moment you arrive.
Can I hire kayaking equipment directly from the campsites?
Many campsites offer kayaking or canoeing equipment hire, especially if you have chosen a waterside campsite. Check what's available in the campsite description and consider booking equipment ahead when you are making your accommodation booking. As a bonus, you may also find that you can book guiding or instruction directly from the sites.
Can I bring the family pet to a campsite?
Yes, most family campsites in France cater for well-behaved pets, although there may be specific restrictions – check for this information in the campsite description and be sure to let the campsite know about your animal when you are booking.