Whether you're a novice nudist or a seasoned practitioner of naturism, a successful outdoor holiday at a naturist campsite or holiday village means following best practice. So if you're thinking of booking a naturist holiday, you might like to look through the short guide below, so you know the 'rules' and also pick up a few tips.
Once you've decided it's the right option for you, you can browse our listing of naturist campsites to find the destination that suits you best. We offer 10 different options in France – in the beautiful and interesting southern regions of Occitania and Corsica, as well as numerous others.
A radical break from the every day means different societal 'rules'
A naturist holiday in the open air offers a radical change and real break from everyday life.
We may be able to be nude at home and even in specific dedicated places near home (for example certain swimming pools reserve slots for naturist swimmers), but it is rare to be able to be naked all day and pursue our daily activities like that.
Such a break with the 'rules' we all observe in our daily lives – perhaps without even realising it – requires new ones to be observed.
Official principles
Here are some of the principles and recommendations of the Fédération des Espaces Naturistes de France. Following them is a big step towards a successful naturist holiday:
Observe naturism as a healthy, family-oriented, natural practice.
Show tolerance and respect everyone's individuality.
Understand people who may be apprehensive about discovering naturism.
Respect other naturist holidaymakers' wish for peace and quiet if organising sporting or cultural activities.
Do not tolerate any voyeuristic or exhibitionist behaviours in campsites, that could shock children or adults.
Preserve nature and the environment in campsites and the surrounding area. Promote water and energy saving, waste collection and selective sorting.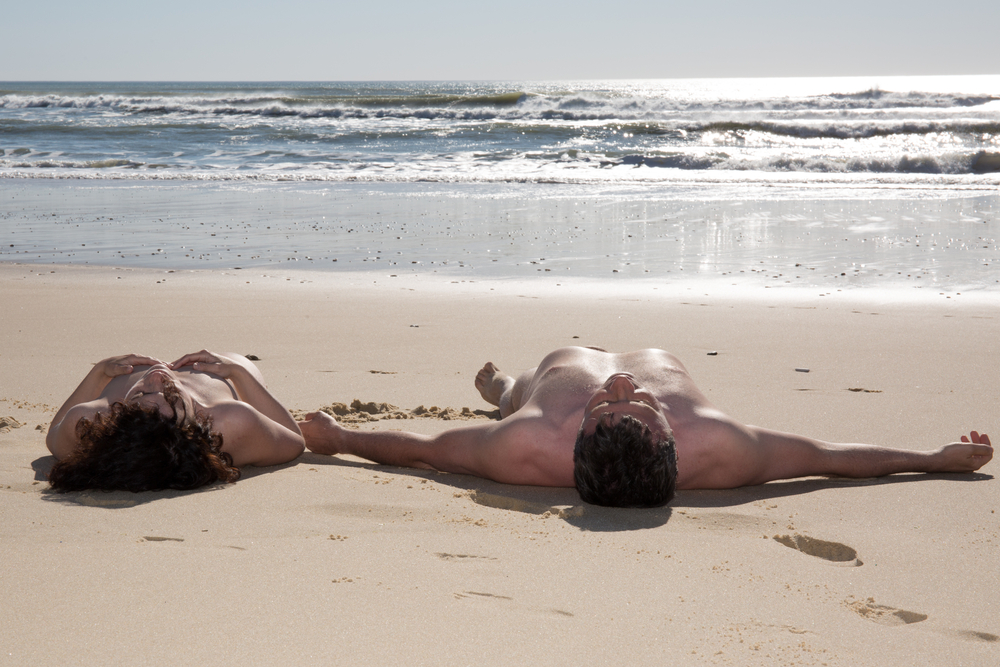 Other recommendations
The above are some of the "official" rules. But we can offer a number of other recommendations (most of which are simply common sense):
First of all, when you arrive at your naturist open-air hotel, you should take off your clothes! Even if this is your first stay, you'll have to take the plunge. Don't panic: it's keeping your clothes on in a place where everyone is naked that is a real eye-catcher. You will blend in more easily in this new environment if you play along. Moreover, you will soon realise that no one is there to stare at you. This is one of the basic precepts of naturism: naked, we are all equal. You will also discover that in the bathing areas, nudity is no longer just encouraged, it is almost compulsory.
Of course, there are exceptions to the "all nude" rule:
Bad weather, too low temperatures
Medical reasons
Sport or activity
All these reasons may lead you to put on a t-shirt and/or shorts. Teenagers, who are often shy and self-conscious, are also exempt from the nudity requirement.
Next, make sure your whole family exercises discretion. Nudity for all erases social classes and the desire to judge our fellow human beings. Discretion is required on naturist campsites, as well as good manners: avoid looking at the physical characteristics of other holidaymakers, as well as their possible handicaps or injuries. Keep in mind that for some of the people around you, this will be their very first naturist experience. Their apprehension and shyness is perfectly understandable, as it is for teenagers. Kindness, friendliness, understanding and pedagogy are therefore required. Being attentive to others, to their apprehensions and doubts, also helps build human connection: it is a guarantee of conviviality, of shared experience and thus a factor of success of your stay.
Finally, respect the regulations of the campsite: avoid being too noisy, drive slowly onsite, etc. These basic rules are even more important on naturist campsites because of the very philosophy of this type of living: to live serenely and in harmony with the environment.
Values
Naturist campsites are a really good way of teaching our family important values, or even just reminding ourselves! Life these days can teach us bad habits, which sometimes require the shock of a complete change of scene to shed.
Respecting yourself and others, without judgement: these are values at the heart of the naturist philosophy. Respecting nature is also an essential precept. The preservation of the environment, its beauty and its benefits, leads naturist holidaymakers to be particularly conscious of sustainable practices. So for example:
Don't light fires just anywhere; only in the places provided for this purpose.
Don't throw your rubbish anywhere, and be sure to sort it.
Watch your water consumption, especially in summer and in areas prone to drought.
Avoid taking your car whenever possible: walk and cycle more.
Shop at small local producers.
Making efforts like this will help you to fit in at a naturist campsite and your naturist holiday is more likely to be a success. Also, you will feel better afterwards and will get more out of your holiday!
Sport and activities
Many people have questions about practising sport naked. Here are some clarifications.
First of all, respecting our own body and other people implies impeccable personal hygiene. This is all the more true when you use communal facilities such as swimming pools, aquatic areas or other sports facilities. Also on the hygiene theme, remember to keep a towel with you at all times: for sitting on in a restaurant, lying on a deckchair, etc.
Be aware of protecting your skin from the sun. Doing sport naked leaves you more exposed than normal, so bring a good supply of sun cream… and use it.
Finally, if a sport requires the use of special protection and/or equipment, practising naturism obviously does not exempt you from wearing them.
This being said, practising sport naked has many advantages.
Mens sana in corpore sano: When you practice naturism, you often become more conscious of being in good shape and taking care of your body. This is a good thing not only for your physical health but also for your mental health.
Naked, the body is unhindered, its movements are easier: swimming in the nip is such a pleasure that it's hard to go back once you have done it! As for the advantages of a naked tennis match? Perspiration evaporates more easily and does not soak into your clothes, so you feel fresher after.
Discover new activities and focus on wellbeing
Naturist campsites are above all… campsites! They share the same type of accommodation, facilities and activities you will find at any other campsite of the same level. Sports tournaments are a classic example: you'll find basketball, tennis or petanque tournaments at naturist campsites too and they offer great moments of conviviality between holidaymakers. With the added benefit of helping to maintain your physique and keep you healthy. Naturism is about reconnecting with essential values, including conviviality and shared experiences!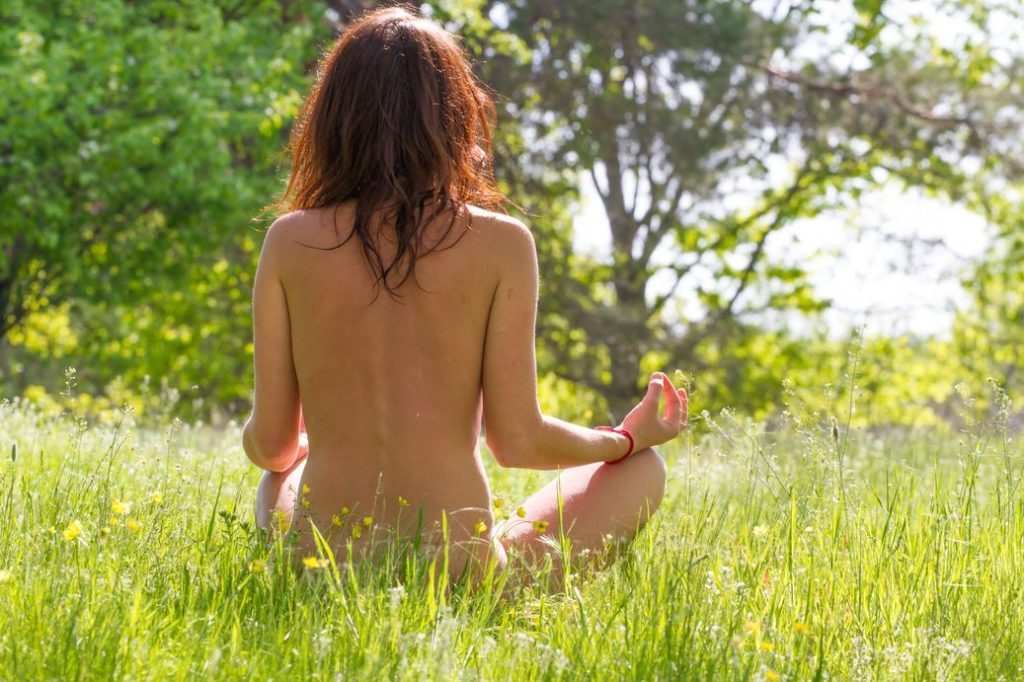 However, there are often slight differences from "traditional" campsites in the kinds of activities offered and the ways of practising them. Naturist open-air resorts are particularly oriented towards well-being, relaxation and reconnection with essential values, so they often offer activities focused on these things. Yoga classes, pilates, tai chi: "gentle" disciplines and activities that promote well-being as well as a reconnection with one's body and sensations. Alone or in a group, these activities are generally practised in the middle of nature, in a particularly pleasant, peaceful atmosphere.
Finally, many naturist campsites offer hikes (sometimes called "rando-nues") which are done in a group but generally respect certain people's preference to hike quietly as if alone, and reconnect with nature through the discovery of the fauna and flora.
So a naturist holiday will often expand your horizons and introduce you to new activities and interests, that you never knew would make you feel so good!
So now you're fully equipped for a successful naturist holiday! All that's left to do is choose from the selection of naturist campsites and resorts on Campsited to finalise your holiday plans. From comfortable and fully equipped mobile homes and bungalows to pitches for your tent or camper van, you're sure to find the accommodation you prefer in a great destination.