Where to go camping in Spain, where to find chalets in the most beautiful locations and the outdoor activities you don't want to miss on a holiday… or a longer stay.
Beaches, fun, destinations rich in history and culture, delicious foods and drinks, landscapes of stunning natural beauty… Sounds too good to be true? That's what awaits you on an open-air holiday in Spain and, in this article, we'll prove it! We'll also give you all the information you need to organise your stay in Spain, whatever the season, whatever the length of stay.
Why camping in Spain?
Are you considering a holiday in Spain? Here's why it's a great idea:
Climate: Spain has a great climate all year round, perfect for taking advantage of the great outdoors and really living life in the open air.
Variety: Spain is culturally rich and has a great variety of scenery and activities, so it has destinations to suit every taste.
Good road conditions: it is easy to get around on the road in Spain, even with motorhomes and caravans, both on the coast and inland. There are also good plane and bus links.
Well-equipped campsites and resorts: most Spanish campsites and open-air resorts are very modern, with both traditional camping and self-catering accommodation options, as well as facilities for families, pets, etc.
Costs: especially in high season, the cost of a holiday in Spain can be higher than you might expect. But by choosing to stay at a campsite, even in self-catering accommodation, you can easily enjoy a low-cost trip.
Wild camping in Spain: is it possible?
Wild camping is illegal in Spain, although there are grey areas in the legislation, which vary from region to region. In general, it is permitted for campers and vehicles to stay overnight in car parks or rest areas, for the purposes of rest before driving again and to avoid dangerous situations on the road. In such cases, however, the rules of respect and common sense always apply: limit yourself to using the space of the motor home – don't draw attention to yourself by setting up chairs, tables and barbecues outside.
The law is applied pretty strictly and fines are hefty, particularly in national park areas, near beaches and in crowded centres, and especially in high season. So if you really want to experience the thrill of wild camping, your best bet would be quiet rural areas during the low season – but bear in mind that it can still be a risk and consider a pitch at a campsite instead.
Best time to go camping in Spain
Spain is a great destination for camping, or staying in a chalet in an open-air resort, in any season, depending on which regions you plan to visit.
A camping holiday in Andalusia is a great idea all year round, but it can be super-hot in summer and you may find the temperatures more pleasant and places less crowded in autumn and spring.
Galicia and Asturias, in the north and on the west coast, lend themselves more to a summer holiday as it can be rainy there in other seasons. These northern coast provinces are especially great spots for surfers and, of course walkers, with the Camino de Santiago running through both.
The east coast between Barcelona, Valencia and Aragon is at its best climate-wise from May to September.
Best places in Spain for an open-air holiday
With its incredible variety of cultures and ecosystems, a whole year would be too short to get to know Spain properly! So, for a shorter trip, we recommend that you choose two or three regions, depending on what you want you want to spend your time doing and what are most curious about.
Here are our picks for the best places in Spain.
Andalusia camping: tapas, flamenco, beach and millennia of history
Andalusia enchants with its kaleidoscope of atmospheres and cultures.
Visit Seville, amidst tapas and flamenco shows.
Immerse yourself in the magic of the Alhambra in the centre of Granada, one of the country's most iconic and picturesque architectural complexes.
Explore Cordoba's Mezquita, a labyrinth of columns where millennia-old religious traditions intertwine.
Relax on the coast of Malaga, the birthplace of Pablo Picasso, and dive into the crystal-clear waters of Marbella.
For adventure, conquer the snow-capped peaks of the Sierra Morena and explore the wildlife-rich marshes of the Parque Nacional de Doñana.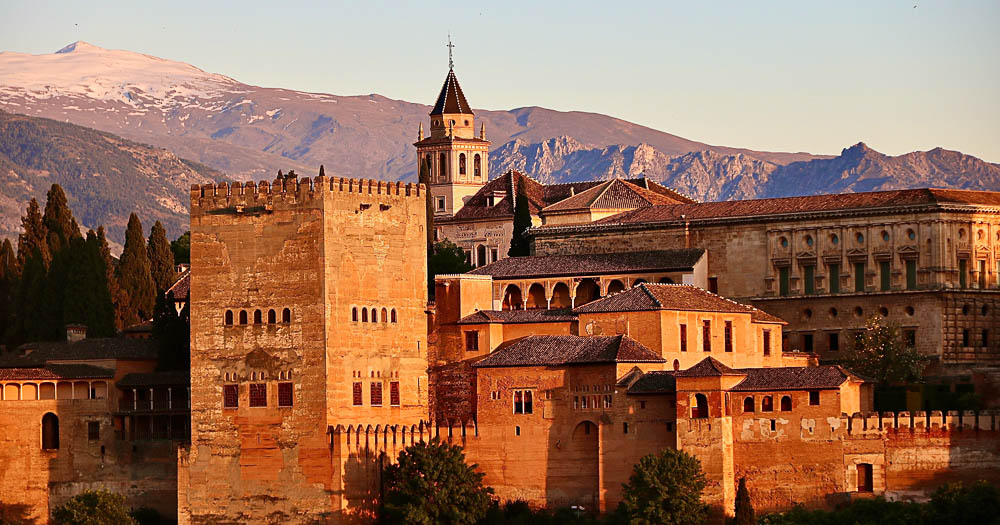 Valencia camping: paella, sea and mountains
A camping holiday in the Valencia region is possible all year round, thanks to the Southern Mediterranean climate. Start with the famous city of Valencia, where you should spend at least a couple of days visiting the historic centre and the futuristic Science City complex, and enjoying delicious giant paellas (the regional specialty) accompanied by a good sangria in one of the traditional restaurants.
Then, you can move on to the Costa Blanca if you want a beach and relaxation holiday, or to the mountainous nature reserves of Sierra de la Mariola or Sierra Calderona, if you're looking for scenery and walking.
Camping in Aragon: architecture and nature off the beaten track
Choose a campsite in Aragon for a holiday off the beaten track. Discover the Moorish-style Mudejar architecture of the capital Zaragoza, before moving on to the medieval town of Albarracin, perched on cliffs and rich in archaeological sites.
After a few days in the city, immerse yourself in the unspoilt beauty of the Pyrenees: explore Ordesa Park, nestled between valleys dotted with waterfalls and rivers, perfect to escape the crowds and be at one with nature.
Asturias
Asturias feels authentic and natural and you'll return refreshed from a stay here.
Take a trip along the coast, stopping off in the various fishing villages (we recommend Cudillero in particular) or hunting for unspoilt rocky beaches such as Playa del Silencio or Gulpiyuri. Or, choose to visit traditional Asturian craft villages such as Grandas de Salime and Taramundi, within the Oscos Biosphere Reserve.
Finally, visit the elegant capital Oviedo, where you can wander the attractive city and admire the art of renowned painters such as Dalí, Picasso and Miró.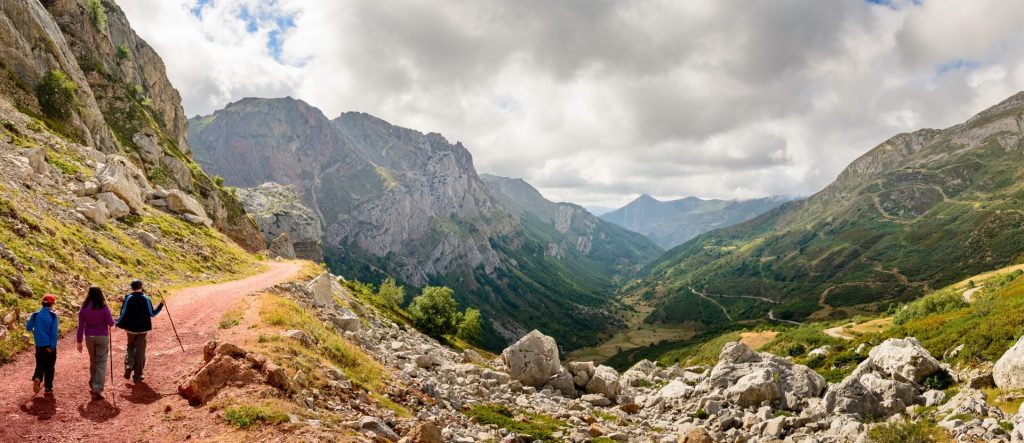 Castile and Leon camping: history, biodiversity and hiking
For a dynamic sports holiday, choose a camp site in Castile and Leon. The Picos de Europa National Park offers the perfect backdrop for hiking, climbing, mountain biking and canoeing: plan on spending at least 3-4 days here if you want to discover different trails and try out different sports – otherwise you might leave disappointed, as there is a lot to do.
Then add a stop in the three famous UNESCO World Heritage cities of Ávila, Salamanca and Segovia, pearls of Renaissance Spain where every step is a history lesson.
Madrid camping: culture, nightlife, art and modernity
If this is your first time in Spain, include a few of days in Madrid in your itinerary. The capital deserves at least 3-4 days for the main attractions alone: the art museums (Prado and Reina Sofía above all), the Royal Palace and Plaza Mayor, the Gran Vía and Retiro Park. Take a break in one of the characteristic cafés in the centre and discover the city's nightlife, enjoying tapas in typical taverns.
For a good night's sleep, choose accommodation at a campsite just outside the city, perhaps around Aranjuez or Alcalá de Henares, which have good train links to the city centre and are also good starting points for visiting other regions.
Camping in Galicia: Santiago de Compostela and the poetry of the Atlantic
A camping holiday in Galicia is the perfect choice if you are looking for impressive ocean views. Plan an itinerary along the coast with breath-taking cliff walks and pretty seaside villages and towns such as La Coruña or Vigo. Visit the world-famous Santiago de Compostela, the end point of the Camino of the same name, and don't miss UNESCO heritage sites such as the Tower of Hercules.
Camping holidays in Spain: useful tips
Now that we have discussed when and where to go, let's take a look at all the practical aspects that you should keep in mind when organising a holiday in Spain.
How much does it cost to go camping in Spain?
Spain is no longer the cheapest country in Europe to holiday in, due to its popularity but, as always, there are ways to stay in Spain on a budget. Staying at a campsite, in a mobile home or – even cheaper – in a tent, can be a good option. You can find the best prices in low season, or if you book well in advance, or keep an eye on our special offers pages (updated monthly).
What are the campsites like in Spain?
As always, it depends on the number of stars, the price and the location but, in general, campsites in Spain are well-equipped, with a wide range of services such as swimming pool, restaurants, kids' clubs and sometimes guided excursions. Campsites in coastal areas tend to be the most luxurious, while in some inland areas you may have to settle for something more rustic (or maybe that's just what you're looking for!).
What are the roads like in Spain?
Spanish roads are mostly in very good condition. Like in France, Italy and other European countries, the whole country is connected by toll motorways, known as autopistas, and free state roads or autovias, which both allow you to travel quickly and easily between the country's main destinations.
Watch out for speed limits in urban centres, where the limit is 30 km/h on dual carriageways and 50 km/h on four-lane roads. On motorways, the limits are 120 km/h for vehicles of less than 3.5 tonnes and 90 km/h for heavier vehicles.
We hope we have made you want to travel to the land of flamenco and sangria! All that's left to do is to plan your ideal itinerary, book the campsites in Spain that best suit your needs and set off on your Spanish adventure!