An open-air holiday can be a really rewarding adventure for a family. It's chock full of excitement, new experiences and opportunities to learn and grow that will stay with you forever. But, as every good Cub Scout knows, for a successful camping trip, you've got to be prepared – and that takes planning.
Here we're going to break down exactly what to take on an open-air holiday and reveal our top camping essentials, so that you can head off on your hols with confidence on your side.
Top tips for planning a camping holiday
Book ahead, pack strategically, power up and plan for fun : these are the keys to a successful, stress-free holiday, in our book!
Choose your campsite early
First: plan ahead. Campsites and open-air resorts are becoming a more and more popular choice of holiday accommodation and the best ones book up fast. Decide the kind of location you want to be in and the campsite facilities which are most important to you. Then use the filters in our search tool, or the curated lists of campsites by type in the top menu, and book early to get what you want!
Pack in an organised way
If you're travelling by car, it's a great idea to pack your camping gear into large semi-transparent plastic boxes that you can put in the boot. You'll find these at most large homeware department stores or camping goods centres. It's a great way to organise what to take camping. Put all your outdoor equipment in one; cooking paraphernalia in another; bedding in a different box; food in its own box. This way, it will be easy to find what you need when you get to the site. It also helps you organise your thinking and avoid forgetting things. Make sure you keep a box at the top with the food, drink and other stuff you will need on the journey.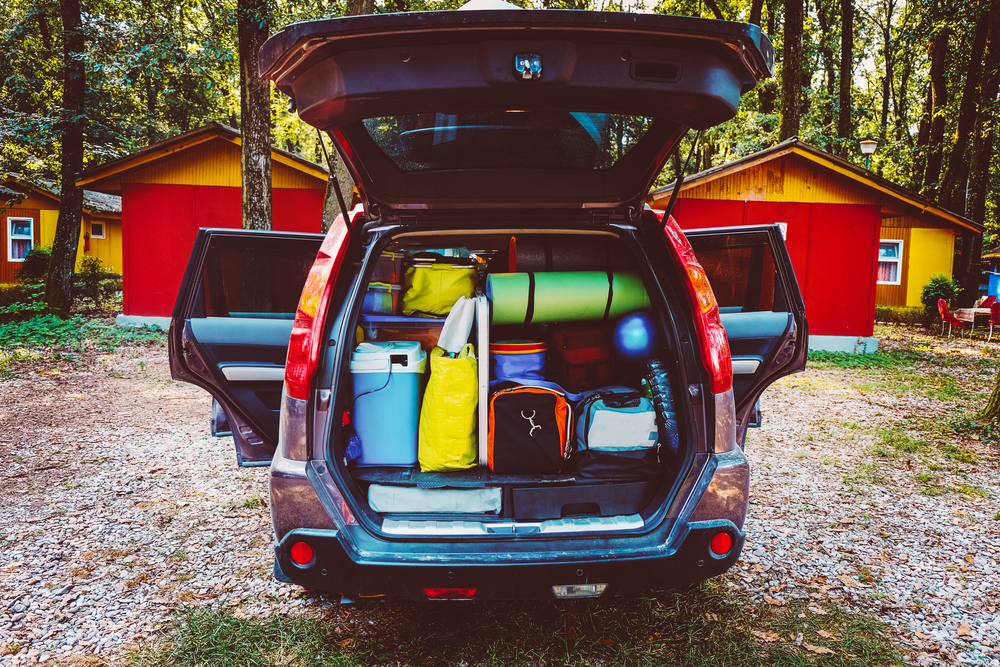 Power up: electronics and gadgets
You might be leaving the modern world at home, but you will still need power. While most campsites will have power points at each pitch, you'll still need your own charging equipment. Whatever sort of accommodation you choose, you'll want a few torches. Also pack a battery-powered lamp that you can hang up. Extra phone-charging battery units (powered up before you travel!) may just come in very handy. And bring extra batteries and fuel for everything that needs it.
Plan for fun: don't forget distractions for kids
To keep kids occupied without being too laden down, think about :
Games that can be played on the journey
Reading and activity books
Drawing and colouring materials
Music, nursery rhymes and audio books (Spotify or mp3 playlists).
Checklists : what to bring on a camping holiday
Clothing checklist
Depending on where you are going, obviously you'll need different sorts of clothes and footwear. But here are a few essentials that always come in handy :
Light, quick-dry clothing that can be easily washed and dried by hand
Dry clothes specifically for sleeping in
Socks
Breathable, waterproof layers
A pair of flipflips or other shoes that are easy to slip on and off for walking around camp and taking off every time you go inside the tent, camper or mobile – this is a key camping rule to get everyone in the habit of from day one !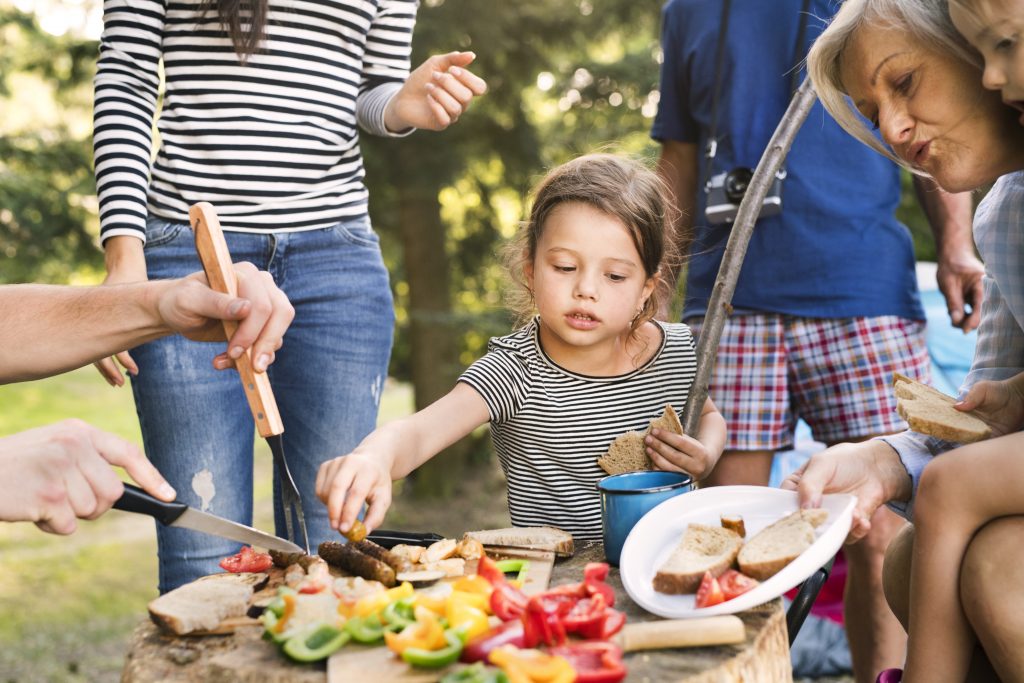 Food checklist
Of course you will have to do shopping during your trip, but there are certain things it is just handy to have with you, if you are travelling in your own vehicle and have room for a box of food. You never know who will be hungry when and whether it will be easy to source the right type of food at the time !
Cereal bars
Fresh fruit and veg which travels well (and a peeler, mini chopping board and knife stored with them), dried fruit like raisons and apricots, nuts
Crackers, biscuits and buns
Longlife spreads that do no need to be refrigerated like peanut butter, almond butter, tomato or olive paste
Salt, pepper, oil and mixed herbs in small containers
An 'emergency' meal like pasta and a jar of sauce
Water filters
Tea, coffee and fruit juice concentrate.
It's also a good idea to make a rough meal plan for the holiday and bring the dry and tinned food with you, or buy it in one big supermarket shop shortly before or after your arrival. You don't have to stick rigidly to the plan, but it will give you options. While there is often a shop on site, they are generally small mini-markets with limited stock.
Plan for big appetites while camping – you'll be enjoying a lot more fresh air and activity than you would get on a normal holiday!
Food prep
If you're not staying in a mobile home with its own kitchen, then a gas stove with a few butane cylinders will be your best friend. There is a wide range of models available: from folding, super handy one-fire ones, to real mini stoves that will almost rival the one in your kitchen at home. Even if you have one in your campervan, cooking outside is often more enjoyable and your bedroom won't smell of dinner!
A cooler bag is another essential item. From thermal bags best suited for short hikes or for food and drinks to be consumed during the day, to 40-50 litre cooler bags, again you have choice. Don't bring too many perishable foods right from the start, but to replenish as you consume (of course buying bags of ice when you do).
Check the cooking facilities at your campsite and in your accommodation unit at the time of booking, so you know what cooking utensils and equipment you'll need. Some of these items may be included with on-site accommodation, but many are not and may be worth packing:
Plates, glasses, cups, cutlery
Small, thin chopping boards and good knives
Napkins, kitchen roll, wipes
Pots and pans as needed
Lunchboxes or containers for storing leftovers and packing picnics
Salad bowl-style bowls
Tinfoil and clingfilm to seal everything and avoid attracting animals
Scissors, kitchen knives, bottle openers, tin opener
Sponge, washing up liquid and drying cloths for washing dishes
Lighter and candles.
The list could be much longer and more specialized depending on the level of cooking, but here we will stop at the essentials. To reduce the environmental impact of your holiday, try to avoid disposables. Bring reusable utensil sets, which can now be purchased almost everywhere, convenient and easy to wash.
Barbecue lovers, rest assured, we haven't forgotten about you. If you are planning barbecues with family, friends or tent neighbours, you will first need a grill, charcoal and dewax (much better if environmentally friendly) and the "tools of the trade": tongs, spatulas, etc.
Personal care
Toilet paper
Shower towel(s)
Beach towels for all water activities other than showering
Shampoo, conditioner, shower gel, handsoap
Toothbrush and toothpaste
Cotton buds, scissors, razor blade, tweezers
Deodorant
Brush or comb
Sunscreen and after-sun cream (preferably biodegradable)
Mosquito repellent spray (best if biodegradable).
Not on the list of essentials, but still important for some people: hair elastics, shaving foam and/or aftershave, face and body creams, hair dryer and/or straightener (and travel adaptors if needed).
Travel safe: the camping first aid kit
Don't forget that you will be exposed to the sun and insects more than usual, and doing more outdoor activities like walking, hiking, biking, etc. which your body may not be used to! So do bring a first aid kit, containing at the very least:
Wound kit including plasters, gauze and disinfectant, or even better a small bottle of iodine tincture
Medicines for fever and stomach pains
Anti-inflammatory and analgesic medicines
Mountain walking kit containing whistle, compass, flint, thermal blanket, pocket knife
Water purification tablets
Antihistamines or other medications you may use in daily life.
In this case, better to have an extra tablet and not use it, than to have one less when you need it.
FAQs on what to bring camping
What equipment will I need for tent camping?
To set up any type of tent, these are the essentials not to forget:
Stakes
Tie rods
Extra ropes and bungees
A hammer or axe to pound the stakes and secure the tent
A small shovel to dig or level the ground before pitching the tent
An extra insulating tarp to place on the ground to reduce direct contact with the ground and keep the environment cleaner.
Once it's set up, it's time to make the tent a liveable space. Here's what shouldn't be missing:
Lightweight yoga-type mat or mattress to create an extra layer
Inflatable air mattress with a pump
Sleeping bag
Blanket or sheet
Pillow or equivalent
Indoor lantern or hanging lights if the tent design allows it.
Since you are likely to spend a lot of time outside the tent, it is important to devote some preparation to the outdoor space and optimize it for comfort and relaxation. The list of outdoor essentials for camping may vary depending on everyone's needs, but in general we recommend:
A mat to take off your shoes and wipe your feet before entering the tent, to keep the space where you sleep clean
Tarpaulin tarp to hoist at the entrance of the tent, as a shelter from rain or sun
Folding camping chairs
Side table
Hammock (friend of your best naps!)
Rope for hanging out cloths or wet swimsuits and clothes + clothespins
Biodegradable washing powder/ liquid
Plastic bags for dividing trash when there are no trash cans in the immediate vicinity.
Torches and batteries, candles and matches.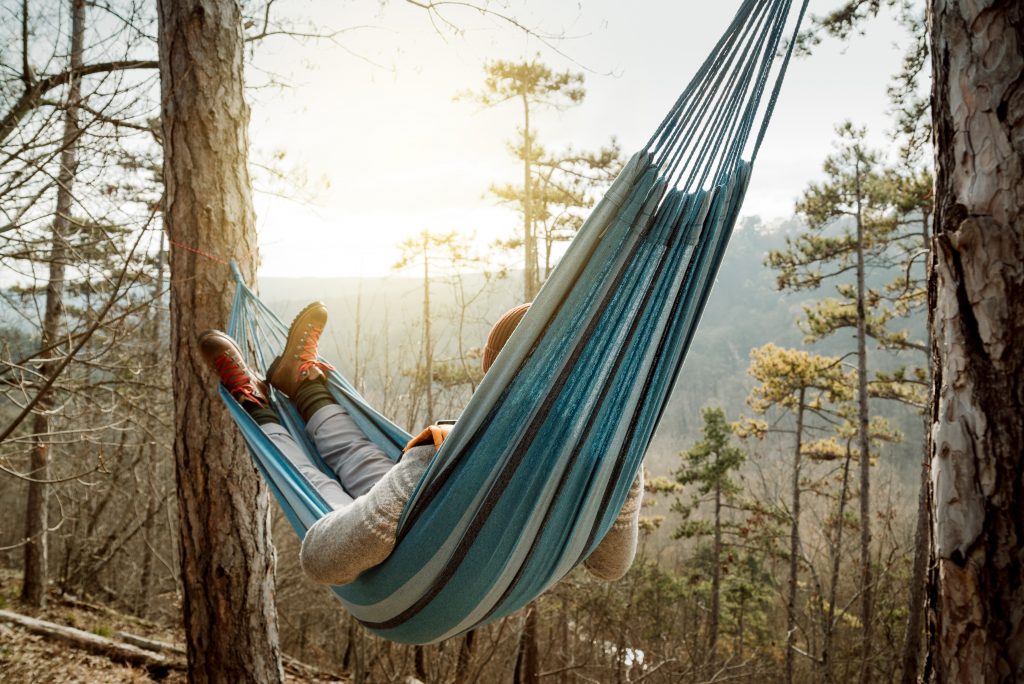 Can I build a campfire at a campsite?
Not all campsites allow you to have a campfire, so check this when booking if it's a a make-or-break for your family trip. Where you can, fires must always be safely contained, so bring a fire ring with you (a metal circular ring that is pushed into the ground to help make sure your fire doesn't grow too wide) as well as all the other things you usually use to make a fire. Read our article on how to make a campfire here.
What clothes do I need for an outdoor holiday?
Apart from your usual holiday clothes, make sure to pack a large warm jumper, hoodie or sweatshirt for sitting outdoors at night time. A light rain coat may be very useful. Don't forget sunhats or baseball caps for everyone too, as well as sunglasses. Light, long-sleeved tops and full-length trousers are very useful to protect you from mosquitoes, or the sun, particularly if you get burnt.
What should a camper's first aid kit contain?
A well-stocked first aid kit for minor cuts and bruises is one of your camping essentials. You can pick up a complete kit from most good camping stores and you'll expect it to contain things like: plasters and bandages; tweezers and scissors; freeze spray, insect bite cream and disinfectant. Always make sure to add bug spray, after-sun lotion, antihistamine and pain killers.
What's the best sleep kit when camping in a tent?
Bring season-appropriate sleeping bags or covers as well as pillows (or just the cases, which can be stuffed with clothes, if you need to travel lighter). An extra inflatable mattress is great to have for that extra bit of relaxation space. A battery-operated fan is very useful for very hot weather. You might also want to consider a mosquito net for some regions. If you're bringing a pet then think about where they will sleep too, bringing their own bedding and whatever else will reassure them in the new environment. Read more about camping with pets here.
We hope these tips have helped you make your own personal list of gear to take camping. Don't forget the last and perhaps the most important ingredient: a positive attitude and determination to have fun! Take a look at our range of campsites throughout Europe and choose the one that suits you best!