Never before has there been so many amazing ways to camp in France – from high-end double beds in luxury tents or cottages, to sleeping under the stars, or in huts in an adventure park. You can let your imagination run wild.
Gone are the days of a canvas tent being your only choice. Now, you can stay in a teepee, a fully transparent geodome in the woods, surf pods or even a gypsy caravan. Campsite providers have come up with a wonderful range of accommodation types to book into, and all with excellent access to enjoy the stunning natural landscape of France.
Couples will love the luxury of a yurt while kids will be amazed at the opportunity to spend a night or more in a Hobbit House. Entire families can book into a tree house and experience a true bird's eye view of the forest canopy.
The increased choice has also brought camping to a whole new group of people, attracted by these unique accommodation experiences. Camping is back on the map for a whole new generation. A lot of the new interest in unique and unusual camping choices was born out of the burgeoning festival experience, which tried to add luxury to the onsite camping experience – or simply offer a slightly less basic option for "VIP guests" or those willing to treat themselves!
Now, you can recreate those glamping experiences on a normal holiday with your family. If this sounds like your kind of thing, then read on and let our guide to quirky camping feed your imagination.
Top tips for a unique camping experience
Choose your favourite and book it early
Due to the nature of these unique camping destinations, they are very popular and book up fast. Also, to keep them special, most operators only have one or two of each type of accommodation. They generally don't want to create a mass-produced feeling on site. So, the best advice is to book early to make sure you get the very best version of your dream camping experience.
Choose a style that suits your group
While there's a huge range of camping types that you can choose from, it's still best to choose carefully. Families with very young children probably don't want to risk being in a treehouse. A safari tent is great for bigger families who want to have space and their own terrace to relax on. Some couples on a romantic break may like the idea of a transparent bubble in the woods, to cosy up and watch the stars from bed – but others may not like the fact that anyone wandering past will have a full view of the inside of their bedroom!
Step back in time
You could book your family into a teepee to get the authentic feeling of living like a Native American in the 18th century. Or choose a yurt – they are still used today in Mongolia and other parts of Central Asia by nomadic farming communities, but by staying in one you will be experiencing a design that dates back three thousand years. Both constitute amazing and exciting history lessons for you to give your kids!
Glamping is built on fantasy
The Hobbit Houses, Bubble Lodges, safari tents and treetop globes that are available in certain campsites are pulled straight from the books and films that we love to wrap ourselves up in. If you want somewhere to excite the imagination, then this is exactly the kind of camping accommodation you need to look into. There are glamping options built into the side of hills, within theme parks, inside and over trees, on their own tiny lake island or somehow hovering magically over fast-flowing rivers.
A year-round experience
Glamping pods and tents often come with wood-burning stoves, hot tubs and large windows that soak up even the winter sun. In many of them, you can book a stay at any time of year because they are so well insulated with natural materials and heated by the sun, solar energy and fires. These aren't just summer experiences. Imagine stepping out of a roasting hot yurt on a snowy day in winter? Now that would be a taste of the wild that many never experience. A lot of operators will offer season-specific rates and activities depending on when you decide to visit. A forest in autumn or winter, with its blanket of fallen leaves and changing colours, is just as magical as it is in the height of summer.
You'll get to contribute to rural economies
Many working farms and other community enterprises have turned over fields and woodland to these unique camping experiences. Staying in them is a great way to contribute to the local rural economy, and help people who live there year-round to stay in their local areas. The surrounding pubs and cafes also benefit as guests wander around and spend time in local businesses.
You're supporting traditional craft skills
Although yurts and teepees are based on traditional designs from Mongolia and North America, the skills needed to build them in France are in short supply. Many require specialist crafts that are under threat of extinction. These unique camping sites need to hire local people such as woodworkers and craftspeople to build and maintain the accommodation and so their existence helps to keep traditional skills in circulation.
A boutique hotel experience in the centre of a forest
It's an incredible feeling to wake up in a boutique hotel-quality bedroom and then open the door and find yourself in the middle of nature. The open air and the natural landscape are amazing partners to a luxury holiday and they complement each other perfectly.
Immerse yourself in forest bathing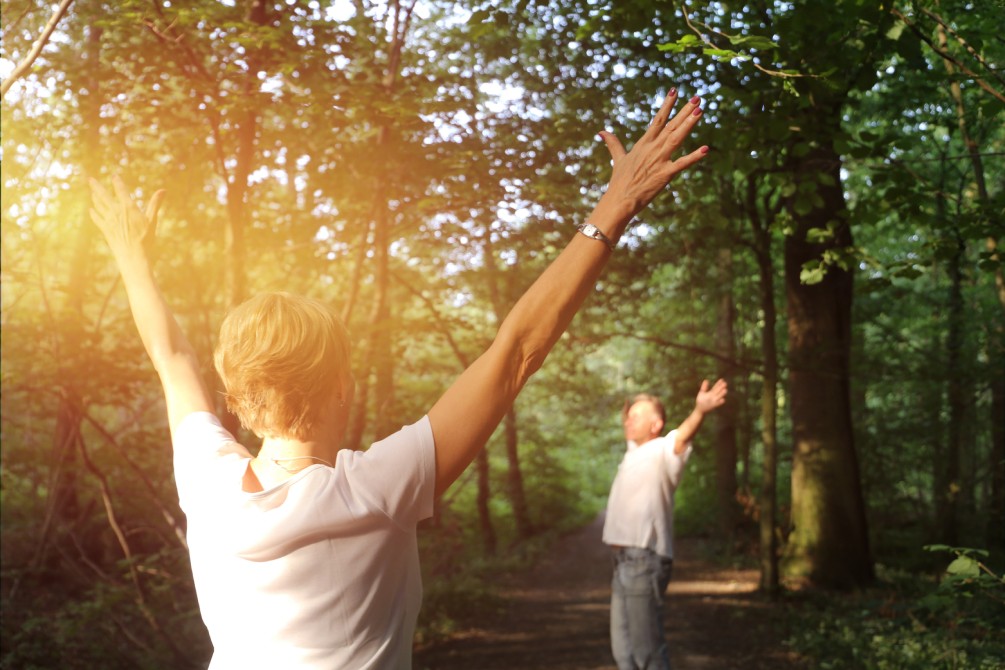 If you want to experience forest bathing, then these unique camping sites are perfect for you. Forest bathing is the practice of spending time near trees, with no purpose or plan other than to be there. You switch off from technology and allow yourself to be entirely immersed in the sounds, sights and feelings of nature. Akin to meditation, this popular Japanese practice is said to offer significant health benefits and is a sure-fire stress reliever. A tech-free stay in the wild, with luxury accommodation to boot, almost guarantees that you will return to your normal life revived and refreshed.
Why Does Glamping Work?
Eco-friendly, glamorous and a chance to reconnect with your loved ones – what's not to like about choosing a unique camping experience?
Glamping is a luxury introduction to camping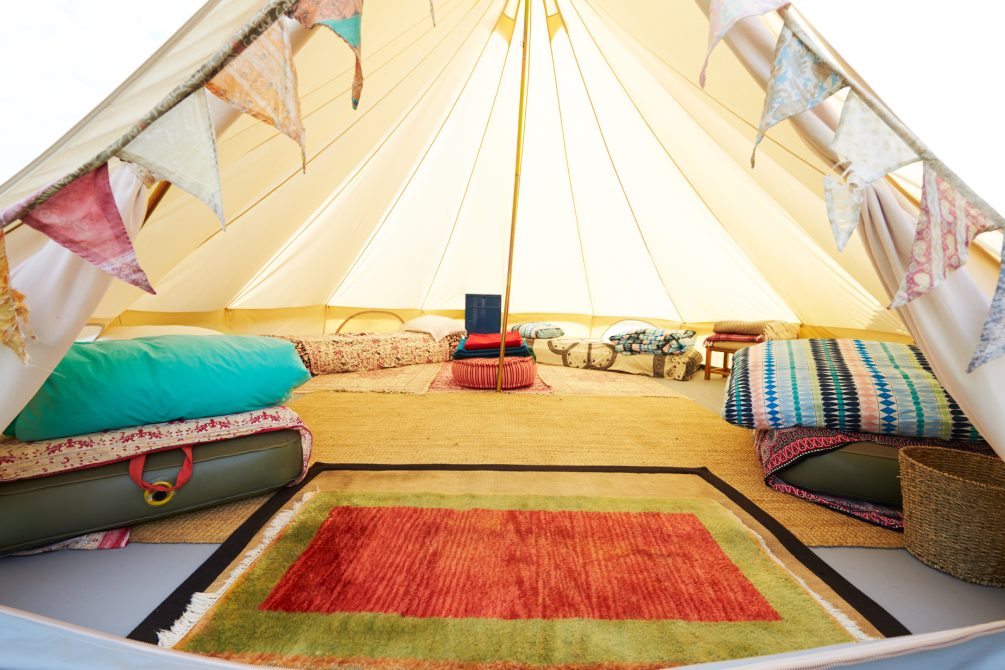 Luxury campsites with unusual accommodation are a wonderful way to get the first-time camper to try it out. Ultimately, they'll fall in love with the outdoors and the extraordinary benefits it offers as much as the accommodation itself.
Unique and unusual camping can be in very unusual places
You'll find quirky camping options in places that don't normally have campsites, such as the edge of rivers, mountainsides, or in woodland far from tourist areas.
Glamping is good for the environment
Most glamping providers are very aware of the environment and, while they offer a luxury experience, they do it with ecology in mind, so you can enjoy the wild with none of the guilt.
Simple design makes for exciting camping
The most exciting glamping options can be the simplest – like a Native American teepee with a fire at its centre, or a treehouse. Families love these.
Glamping is a great way to let your family reconnect
Getting into the wild in unique camping accommodation is a fantastic way for your family to reconnect and bond. It's such a refreshing experience.
Quick Glamping Questions
Check our frequently asked questions about glamping, before browsing for your perfect place to stay.
Do you have to build a glamping tent or structure yourself?
No, luckily glamping accommodation is already set up when you arrive, so you can start enjoying the experience immediately.
Are the transparent bubble pods suitable for children?
Kids will love the idea of bubble pods, but in reality they are probably best for adults. Once the sun comes up you are flooded in light, plus at night you feel surrounded by the woods, which some kids won't like.
Can you travel in a gypsy caravan?
It depends on the provider. Some campsites keep their gypsy caravans fixed on site while others allow you to tour. Enquire before booking if you want to travel with it.
Which type of glamping accommodation is best for big groups?
Safari tents tend to be the biggest. You can also hire groups of hobbit-style pods for larger groups. Some operators will rearrange the accommodation to suit group size.
Are tree houses safe?
They look like they're floating in the tree canopy, but treehouses are generally very well-built and designed for safety. Even with safety precautions observed, treehouses probably aren't the best option for young children.
Now you know all the options, you're fully equipped to decide on the best camping experience for you!