You may have seen the Tour de France fly by when on holidays in France and asked yourself is there a female version of the Tour de France, a Women's Tour de France? Well, the answer, as of 2022, is yes.
In July 2022, you have an opportunity to watch history in the making during your camping holiday in France. If you plan right, you'll get to watch a stage of Tour de France Femmes (Le Tour Femmes), the very first women's stage race by the organisers of the Tour de France !
The women's Tour de France (sponsored by Zwift) takes place 24 – 31 July 2022, right after the famous men's race. It's an 8-day stage race, starting on the Champs Elysées in Paris, where the men's race ends, and finishing at La Planche des Belles Filles in the middle of a national park in the beautiful Vosges.
We've identified all the campsites within 20 kms of the race route. Among them there are campsites in the Champagne region, sites in historic and unique Alsace and others near the stunning mountains, waterfalls, lakes, forests and thermal springs of the Vosges. Head to our Campsites around the Women's Tour de France page to have a look.
Now to give you the lowdown on what else to do while you're there – and perhaps help in your decision about which stage to plan your holiday around.
What are the stages of the Women's Tour de France (Le Tour Femmes)?
Stage 1 -PARIS TOUR EIFFEL > CHAMPS-ÉLYSÉES
Stage 2 – MEAUX > PROVINS
Stage 3 – REIMS > ÉPERNAY
Stage 4 – TROYES > BAR-SUR-AUBE
Stage 5 – BAR-LE-DUC > SAINT-DIÉ-DES-VOSGES
Stage 6 – SAINT-DIÉ-DES-VOSGES > ROSHEIM
Stage 7 – SÉLESTAT > LE MARKSTEIN
What's to see on stage 1 of the Women's Tour de France?
Well, this is a stage starting and finishing in the centre of Paris, so there's everything in the wonderful city of Paris to see! As well as taking in the excitement of the race on the Champs Elysées, you'll be able to climb the Arc de Triomphe, marvel at the Eiffel Tower from Trocadero, eat ice-creams on Île de Saint Louis, visit Notre Dame on Île de la Cité, wander the steep, narrow streets of Montmartre, picnic in the Jardin de Luxembourg or Tuilerie Gardens, visit the museums… and return to the calm of your campsite in the evenings, exhausted !
This a good guide to the neighbourhoods, parks and gardens, and other attractions of the French capital.

What's to see on stage 2 of the Women's Tour de France?
The big-ticket item near stage 2 is Disneyland Paris. If you have kids with you on this TDFF adventure, you're probably going to have to include a day trip to the most famous fun park of them all! For some insider tips, have a look at our guide to planning a camping holiday around a visit to Disneyland Paris.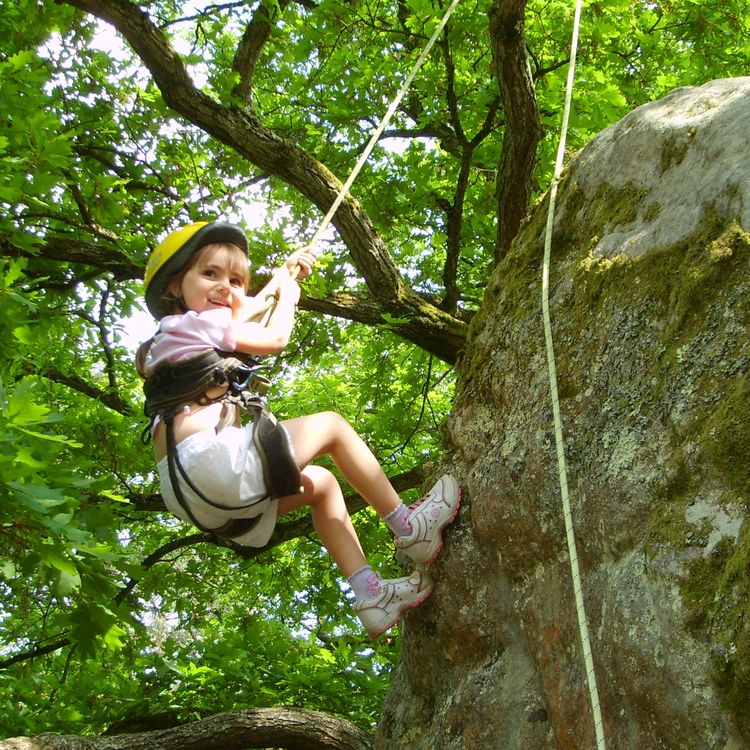 The next best-known attraction in this area is the fabulous Forêt de Fontainebleau, the second-largest forest in France. Bordered by three rivers, this forest park offers loads of parkland to explore and numerous activities : there are 150 kms of walks on sentiers bleus, as well as about 200 rock-climbing routes for all levels of climbers, and the château of Fontainebleau to visit.
Speaking of castles, the Château Vaux-le-Vicomte is well worth a trip. It has one of the best examples of a 17th century French formal garden – indeed it served as inspiration for Versailles. There are children's games in the gardens and on certain days there are water shows in the fountains (check days and times when booking your visit). The château is fully furnished and there is a carriage museum in the grounds too.
Lastly, the area around Meaux has got several attractions: the Parc Naturel du Patis, a lake where you can rent boats, as well as a beach on the Marne river (although being the nearest 'beach' to Paris, this is likely to be quite busy in July !)

What's to see on stage 3 of the Women's Tour de France?
This is where the race starts to get a little hilly, moving away from the greater Paris area and towards Épernay and Champagne country. Épernay itself is a must-visit if you are interested in wine culture – it is the Champagne capital, its kilometre-long Avenue de Champagne said to be the most valuable road in the world, due to the more than 200 million bottles of champagne in cellars under it! You can visit many of these wineries, from famous ones like Moët et Chandon and Mercier to smaller, more intimate ones.
The larger town of Reims, nearby, also has some champagne houses and a fine cathedral. And you might like to break up the sightseeing with a visit to the new Reims pool, a big swimming complex with separate pools for serious swimmers and for families, with waterslides and games, as well as an adults-only spa area.
Between the two towns are kilometres of vines, which make for a pretty landscape to visit by car, by bike or on horseback…. With your exploring punctuated by some champagne tasting, naturally!
For more structured exploration, the Montagne de Reims park is a park with walks, discovery trails, exhibitions and other activities to learn about the local flora.

What's to see on stage 4 of the Women's Tour de France?
This stage starts in Troyes, a charming medieval town which is a great place to just wander around for a morning. It has interesting architecture: cobbled streets and half-timbered houses dating from the 16th century, narrow alleys only wide enough to walk through in single file. It has museums and Gothic churches with pretty stained-glass windows to visit. And it has lots of restaurants and a real café culture, being known for its cakes, pastries and breads. So, take your appetite with you.
The Seine & Aube Greenway, or Voie verte des grands lacs Seine et Aube, starts at Troyes and runs for over 40kms to Port-Dienville, offering a lovely family cycling opportunity. It brings you past the Lac d'Orient and Forêt d'Orient, which are great places to stop for watersports, relaxation on the beach, and exploration or aerial activities in the forest. There is also an animal park to visit, in Mesnil-Saint-Père (Espace Faune de la Forêt d'Orient).
Nigoland, meanwhile, is a big theme park with over 40 rides, along the lines of Disney and Parc Astérix.

What's to see on stage 5 of the Women's Tour de France?
Stage 5 starts in Bar-le-Duc, a pretty Renaissance town. You can download a discovery walk of Bar-le-Duc here. The castle and ancient seat of local royalty is now a museum, which has a special children's booklet to make the tour more fun.
Meanwhile, if there is anyone in your group who's had enough of sightseeing, they might be tempted by a day of tranquil carp fishing on the Etangs du Pacquis, or indeed a stroll or jog around the lake. There is a 2km loop starting and finishing at the Base nautique de Brognard.
Or, if the weather is not playing ball, you could plan a trip to the indoor play complex of Piste Zim, with activities for babies, toddlers and kids up to the age of 12.
If you are keen on doing some bike-packing, this might be one of the best stages to base yourself near, as you can hook up with La Voie Bleue. This is a 700km cycle route running from Luxembourg to Lyon, that takes you along canals and rivers, through wetlands and by lakes, with lots of pretty villages, towns, historical and cultural sights to discover along the way. And you can dip in for as long or as short a discovery tour as you want.
What's to see on stage 6 of the Women's Tour de France?
Stage 6 starts in Saint-Dié-des-Vosges and anyone who goes there climbs the Roche Saint-Martin – an unusual rock formation which can be scaled by a narrow staircase, to enjoy an aerial view of Saint-Dié-des-Vosges from 600m above.
If that little climb whets your appetite for a more adventurous hike, you could go on the search for Nideck Waterfall, the highest waterfall in Alsace and famous from the Tales of the Brothers Grimm (make sure to read the stories it features in before your trip, to make the escapade even more exciting !) It's only a 3km hike to get to La Cascade du Nideck, on a trail suitable for intrepid adventurers of all ages. You can make the hike a little longer by diverting to visit the castle ruins on the way.
Two even more impressive, medieval, fairytale castle ruins are the Châteaux d'Ottrott. The Rathsamhausen et Lutzelbourg castles are right beside each other, overlooking the Alsace Plains. The former has a huge, incredible 'dungeon-palace' and visiting it really helps you to imagine what life was like back in the 13th century.
In the Bruche Valley, you could also visit the Mutzig Fort, historically significant as it was the largest defence fort in Europe when it was completed in 1914. You could combine a visit with an afternoon on the Portes Bonheur Greenway, a section of an old railway line of about 10kms, under the benevolent gaze of Mont Sainte-Odile, perfect for family bike rides, walks, runs, scoots. Join it at Rosheim or Saint-Nabor.
And nearby, you should also cycle the Bruche Canal bike path, which runs from Molsheim to Offenbourg (in Germany), passing by Strasbourg and lots of other villages. It goes alongside the canal for 18km, but it is in fact 48km in total, with the rest of the route crossing the serene fields and forests of the Alsace. You can join the path at lots of different points along the way, so you can make it as long or short a cycle as you like. There are walking paths and vineyards to visit round here, as well as playgrounds and kayaking, so leave lots of time!

What's to see on stage 7 of the Women's Tour de France?
The Tour de France Femmes will reach the main climbs in the Vosges in the final two stages. (The great thing about long, hard climbs is that they give spectators the chance to see and identify the racers, who are, of course, going by more slowly!) This stage ends in Le Markstein & Le Grand Ballon, a mountain resort over 1000m high, with hiking and bike paths, horse-riding, fishing, a pool and a playground.
But before arriving there, it continues through the Alsace wine region, passing by lots of vineyards specialising in Riesling and Gewürztraminer wines, perfect refreshment for a hot July day. The Alsace Wine Route website is a great source of information about the 50 vineyards and other things to see in this famous wine region on the border of France and Germany. The race route also passes through lots of pretty villages, any one of which could make a good spot to watch the race go by, wander around for a while and have lunch: Bergheim, Eguisheim, Turckheim, Kaysersberg, Riquewihr, as well as the larger town of Colmar. Colmar's cobblestone streets are lined with pretty, half-timbered medieval and early Renaissance buildings and it has several areas to visit, including Little Venice and the Tanners' area. You can even visit by boat, along the canal. In fact, you'll have no shortage of things to see and do around here for a few days.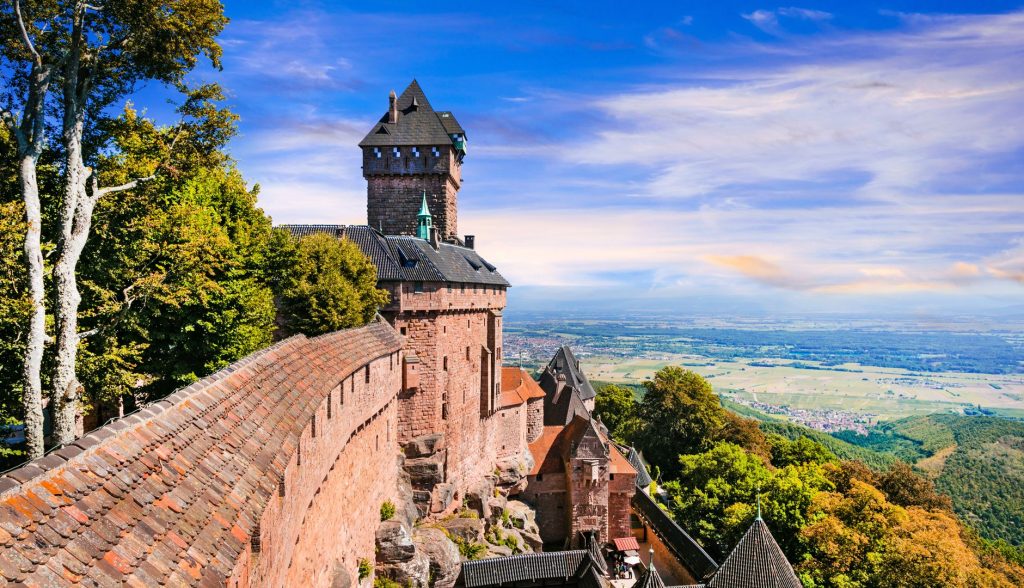 Going towards the Vosges mountains, you could stop to visit the well-preserved Haut-Koenigsbourg Castle and step back into the Middle Ages for a few hours. Or indeed the less-visited, but still interesting, Château du Hohlandsbourg, which enjoys lovely views from its height of more than 600m.
If it's too hot for all that, you could go for a dip and a sieste on the little stretch of beach at the Base Nautique Colmar-Houssen, or head to one of the several other pools in the area.

What's to see on stage 8 of the Women's Tour de France?
The last day of a cycling stage race is always exciting and this will be no exception, so to holiday in this area and watch the finishers come in would be a very good choice!
The race finishes at La Planche des Belles Filles, with a climb reaching an eye-watering altitude of 1336 metres. La Planche des Belles Filles is a family activity resort in the heart of the Ballons des Vosges Regional Nature Park, with activities for families of all ages: accrobranche (a sort of aerial obstacle course in the trees), hiking, cycling, mountain biking and rafting. So, near here could be a great place to base yourself.
Other places to discover nearby include the Cascade de Longeligoutte, a lovely waterfall almost 10m high, and the Réserve naturelle régionale de la tourbière de la Grande Pile, or Grande Pile bog, with its unique flora and fauna to be spotted on a short discovery trail, well suited to family adventures. The Réserve naturelle des Ballons Comtois, meanwhile, offers 90kms of waymarked trails for more intrepid hikers and cyclists to explore.
Anyone with a bike shouldn't miss the Hautes-Vosges Greenway either. It offers over 50kms of cycling trails through beautiful natural surrounds. You can cycle almost the whole 50kms if you go all the way from Cornimont-La Bresse to Bussang, or you can start at Remiremont and go either direction, for a shorter ride. The trail, which winds along the valleys of the Moselle and Moselotte rivers between meadows and forests, passes lots of interesting sites to stop and see on the way.
Lastly, for a family-friendly forest walk punctuated by the excitement of spotting some local animals, visit Parc animalier de Fougerolles-Saint-Valbert. Nature lovers of all ages will LOVE this 5km out-and-back woodland walk inhabited by deer, sheep, goats and other local animals. Panels will tell you all about the native fauna.
Have we convinced you to plan your 2022 summer holiday around supporting the first ever Women's Tour de France?
Kick things off by finding your chalet, mobile home or pitch, at one of the great campsites on the route, all listed on our Campsites around the Women's Tour de France page.