On your bike: why planning a camping trip by bike just might be the best thing you ever did
There's something very special about travelling under your own steam by bike and France is a great place to have a holiday doing just that. Add camping to that plan and you will have conjured a holiday that puts your health, enjoyment and fitness all in one fantastic bundle. It's also something that will suit the whole family as there are cycling routes all over France for every kind of cyclist – beginners and children to active adults. There is also an abundance of campsites that cater to bike camping and there is nothing more satisfying than pulling into your campsite at the end of a great day's cycling and finding a chalet or other accommodation ready and waiting for you. There will likely also be a pool you can plunge into after your long, hot day on the road, if not the sea itself. Cycle camping consumes lots of energy and so you are going to want to make sure you get a good night's sleep and lots of nutrition at the campsite. Do your research and choose a site that suits your group and won't be too noisy. It is also ideal to book somewhere with a grocery shop and restaurant on the site so you don't have to get back on the bike until you're ready to hit the road again. Your children will love the freedom of this adventure, as will their parents. Choose a nice flat route and you'll have a low-impact, high-intensity adventure that will fuel memories for a lifetime and make every day of your holiday different to the one before. Here's our guide to getting on your bike while camping.
Adventure road
Careful planning is the name of the game if you aim to carry all you need on your bike.
Pack light
The idea of carrying everything for your holiday on your bike will give you cause to think about what is actually essential for your trip. If it's your first time, you'll need to buy some new things. The most important question to ask when doing this is: how much does it weigh? Quick-dry clothing that can be washed on arrival at the campsite and is dry the next day before you leave is handy usually very light – and in fact most technical cycling gear is light and quick-dry. While you don't need technical cycling gear, the padded shorts and easily accessible back pockets can improve the comfort of your trip!
Sleep tight
If you book to stay in a chalet or cottage on a campsite you can often request sheets and towels to be included, which saves a lot of space and can feel like a real luxury at the end of a grubby day! Decide on your accommodation before buying and planning supplies -that way you can cut down on unnecessary purchases ahead of your bicycle camping trip.
Light up
Whatever type of campsite you end up staying in, a torch and batteries are indispensable for your trip. You'll also want to have some matches to light BBQs and fires and some mosquito repellent items.
Tent it
If you do decide to use a tent, then choose very carefully. Some are much lighter than others. Also, they don't all need to be tied down each night. If you're arriving at a campsite late and plan to get back on the road early the next day, then a standalone popup tent might do the job best.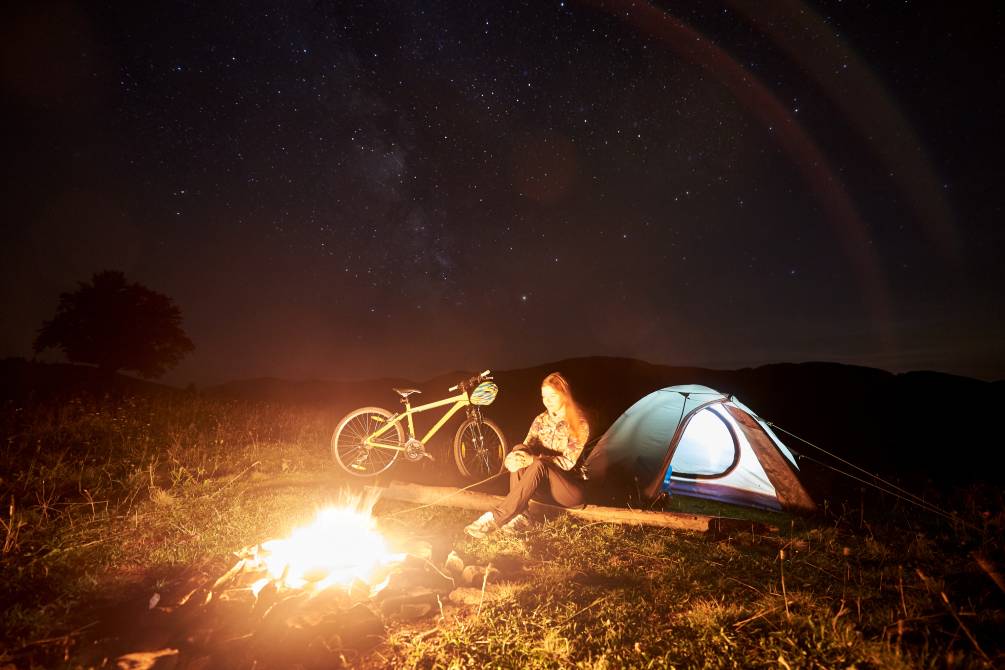 Split the weight
On a family trip, think like a team. Split your luggage into smaller bike bags that will spread the weight across everyone in the group. These bags, that hang across the back wheel, are much better than rucksacks. Keep your own back free to stretch and enjoy the view. Even young kids can carry their own luggage easily if packed properly. Bike hire companies can advise on the right kind of gear.
Plan for shops
It's not practical to carry food on a biking camp trip, so choose your campsites with plenty of access to shops that will allow you to buy food and cook it without waste or excessive cost. Many campsites have their own bakeries, grocery stores and restaurants.
Hire a local
You don't need to bring your own bike to France. You can hire one locally in the region you're visiting and do a loop route that brings you back to return it. Or find a provider that will let you leave the bike in another location to be collected. This is quite common.
Ask the experts
Many campsite providers know the road conditions and distances between their camp and the next. They will be able to advise you on the routes to follow for your family or group and suggest detours and diversions along the way that will be easier for the kids but bring you to even more exciting destinations.
Peddle pushers
Spend a week cycling and camping in France and you'll lose yourself in nature, fitness, and good humour.
Nature's best
Cycling and camping are such perfect bedfellows because they both put you at the heart of nature and face-to-face with the best that France has to offer: beautiful landscapes, historic villages, stunning castles, great coastline and an excellent appetite for the delicious meals you'll find along the way!
Low impact, high gains
Cycling is a low-impact sport. It doesn't hurt the joints like running, it supports the body and yet it pushes your heart and lungs in all the best ways. It's a wonderful cardiovascular sport and that's why you'll see a fixed bike in every gym in the world. However, a week of gentle cycling in the open air will likely deliver more benefits than weeks of working out in the gym.
Team spirit
Cycling is a fantastic bonding exercise if you go as a group. Families love it as it's a great equaliser, with the kids sometimes being much better than their parents. You can pair off and chat and plan as you cycle and when dinner comes around everyone will be ready for it. Choose routes that are car free or very quiet, so you don't have to worry about dangers from traffic and everyone can relax as they travel.
Surprise yourself
There are so many small villages and hidden valleys to find near great campsites in France. You can cycle up to farms and vineyards and really feel part of the landscape. Veer off the beaten path and see what you can discover. There's no hurry – the journey is the destination.
Beginner's luck
Cycling is a fantastic way to get fit. Obviously, it may not be as enjoyable to cycle long distances every day if your body is not used to it at all, but you can be an almost-beginner. Find a good cycle route near your home before you go and do some light cycling to make sure you enjoy it and that you are motivated to do it each day for your holiday. You'll find you can cover distances and peddle for longer than you thought, and you'll be much more confident when you get to France.
Forward thinking – check the important FAQs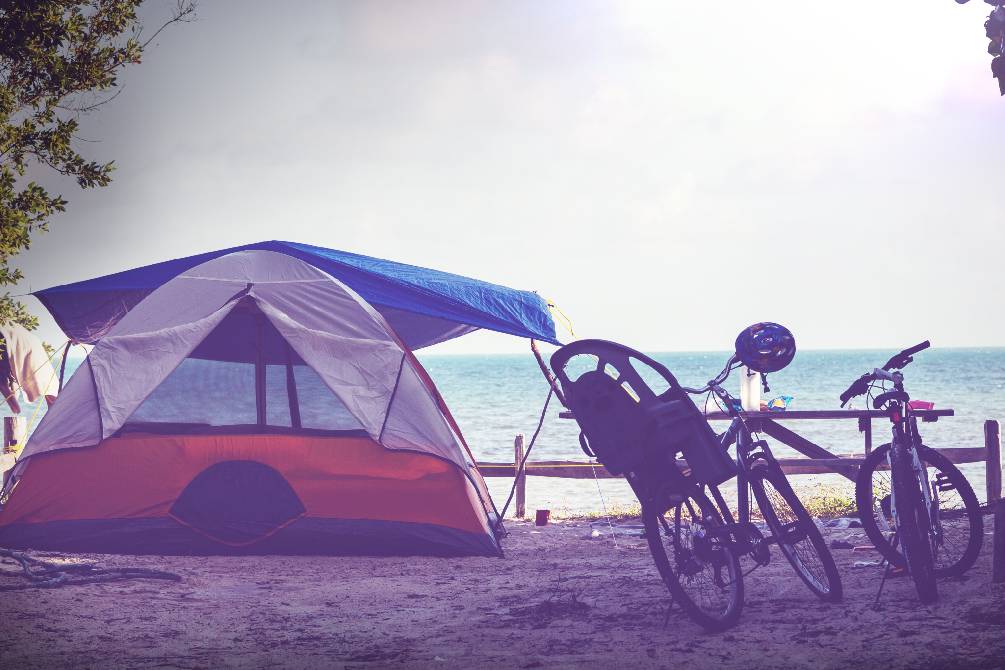 Still wondering if a cycling camping trip is for you? Try our frequently asked questions and see if they help
What kind of a first-aid kit should I bring?
A good first-aid kit can be picked up in most large camping stores. They usually contain things like plasters and bandages; tweezers and scissors; pain relief; freeze spray and disinfectant. Always make sure to pack some bug spray, sun block and after-sun lotion. You may want a product to deal with chafing, like bike-specific chamois cream or Vaseline. And pick up some rehydration products from a sports store or pharmacy too.
Do I need to learn how to fix a bicycle puncture?
It's not mandatory but it is a good idea if one person in the group, at least, has a rudimentary understanding of how to fix a puncture. It's not so difficult once you learn and if you use a local bike hire company you can arrange to have them send someone to come and fix it for you if you're stuck. The handiest thing on the road is often to simply replace the inner tube, so have a couple of spares as well as a pump or two, of course. Even if you can't manage to fix it yourself, if you have the equipment, another cyclist will often stop and help. Do also pack a repair kit, in case of a second puncture or so you can repair and reuse the damaged tube if you want to, when you arrive at the campsite.
Will it be easy to find places for coffee and snack breaks on the cycle route?
French cycle routes are well resourced. But there may be stretches between villages without cafes or rest stops, so always have water and snacks. Even a flask of coffee could be great to pack, just in case you find a beautiful spot to have an unexpected break. The sorts of snacks that are ideal on the bike are fruit, nuts and energy bars. Pack a few treats as well – it is a holiday after all.
My family wants to cycle relatively flat, car-free routes. Is this possible in France?
Yes, France is a very cycle-friendly country and has lots of safe, car-free routes. There is a 1,200km route along the Atlantic coast called La Vélodysée that starts in the north of France at Roscoff and hugs the coast all the way down. Reportedly, around 80% of this is on dedicated cycle paths. This part of the coast is also dotted with lots of campsites to choose from, so it's a perfect route. You can travel from campsite to campsite each day and probably never leave the route for your entire holiday.
What distance should we plan to cover each day?
More than you think. Even a complete beginner will cover 30kms in a day if you pick the terrain correctly. Choose a flat area like the Loire Valley or the gentle hills of Bordeaux to make things easier. As your holiday continues? you'll find the family will be cycling further and further each day.