Looking for gift ideas for a seasoned camper or a lover of outdoor holidays? Whether you're buying for someone who frequently wanders the wilderness with nothing but tent and torch, or someone who prefers luxury glamping, campervan adventure or even just a cottage with a view, there's heaps of choice.
Camping Christmas present ideas that'll make for very 'happy campers'
Lightweight portable hammock
A portable hammock is the perfect gift for a camper looking to fully immerse themselves in nature, be that sleeping under the stars in the open countryside, having a powernap on a hiking expedition, or just catching some rays in the back garden!
Often light-weight and packed in a handy travel bag, camping hammocks like the affordable and durable Quecha one-person hammock from Decathlon are easy to assemble and hang from trees, hooks, gates or whatever you discover in the great outdoors.
Portable coffee maker
Nothing beats a warm brew in your tent, van or glamping pod before a big adventure and, with many portable coffee makers on the market, your chosen giftee will be the best bunker-barista in town!
The portable and easy-clean Aeropress Go is made for coffee-lovers on the go and its espresso function makes it possible to serve up espressos and even lattes and cappuccinos while on hols.
But you'll be spoilt for choice with the many alternatives on the market.
Portable camping solar charger
If your special someone is a tent or van camping enthusiast, then a portable solar charger is a real treat, especially if they use a mobile phone or other small electronic devices to keep connected to the 'real world', to track their open-air activity or to map their intrepid adventures.
Check out our Top 10 best camping gadgets for more Christmas gift inspo.
Camping gift ideas for couples
We all know that couple who loves open-air adventures, right? Those romantic, adrenaline-seeking getaways plastered all over Instagram really have us thinking #couplegoals – and there's some brilliant camping gear gift ideas that'll be right up their street. We've listed a few below: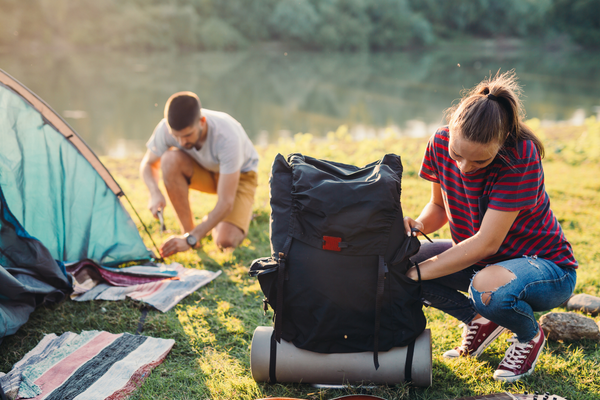 Double foldaway camping mattress
Camping mattresses really can bring the comfort of your own bed to the woods, mountains, lakeside or wherever your open-air trip takes you.
Not limited to tent camping, a foldaway mattress can bring an extra layer of comfort to a motorhome bed, glamping pod, shepherds hut or homestay, bringing a cosiness that couples will oh-so appreciate.
Portable camping mattresses like the NeoAir Camper Duo offer a light-weight, portable, supportive and gapless sleeping experience, providing optimal relaxation before a day of exploration.
So why not give your chosen couple the gift of connection and comfort this Christmas?
Fast-drying travel towel
Chances are the camping couple you're buying for love a cold-water dip or open-air shower? Perhaps they wouldn't shy away from a hike in the pouring rain? If so, his-and-hers quick-dry travel towels are a genius Christmas present for them!
Microfibre fast-drying towels like the Bearz Outdoor towel (2-pack) is the camping accessory that'll have them wondering how they've lived without it in the past!
Their microfibre technology keeps them lightweight, breathable and above all else, dry in super-speedy time, creating the perfect grab-and-go backpack item for tag-team adventurers.
Personalised camping decorations
Who doesn't love a personalised accessory housed in their tent, campervan or caravan?
You'll find lots of camping-themed customisable items and can support local crafters on independent selling sites like etsy.com, such as novelty bunting, doormats, mugs and clothing – ideal for a couple who love to put their stamp on their home-from-home.
Check out more campervan gift ideas here.
Camping gifts for him
Looking for camping gift ideas for your dad, brother, partner, friend or Secret Santa colleague? From tools that bring out his inner cave-man to high-tech gadgets and gear, you won't be short on choices for his present. We've listed a few ideas to tempt you…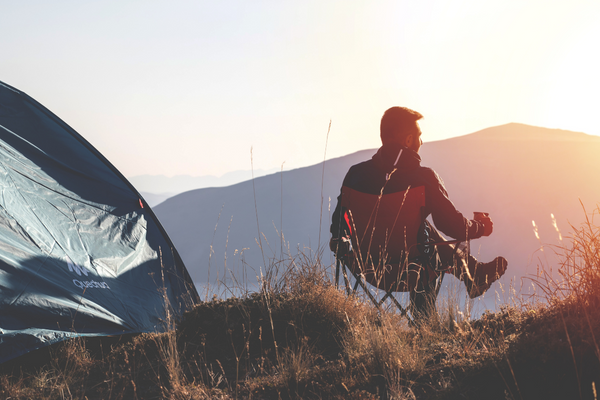 Fire starter kit
If he's into the great outdoors, connecting with nature and trying out wild camping techniques to woo his family or group of friends, then a flint fire starter will help him to channel his inner-neanderthal male and create an all-weather camp side fire to be proud of.
Used in military operations as an ultimate outdoor survival tool, magnesium fire starter kits like the Light My Fire Ferro Rod can be used for campfires and barbecues, using a flint and steel technique to get the flames in full flow (use with caution).
LED headlamp
A rechargeable headlamp is a generous and incredibly practical camping gift for him, especially if he's into running, cycling and any other open-air activities that often happen after sunset (which, since the clocks have changed, means any time after work).
Usually lightweight, adjustable, battery-powered and with combined spotlight and floodlight capabilities, LED head torches will light his way and give him that cool outdoorsy image too.
Insect repellent device
For the man-about-camp looking to protect his tribe from those annoying, blood-thirsty bugs and mosquitos, this handy gadget will work a treat – and be a great conversation starter too!
There's a good range of portable, electronic insect repellents on the market, such as the Thermacell MR300 Mosquito & Midge Protector which covers a 20sqm area, without messy sprays or oily lotions.
This will be on his must-bring gadget list for all future camping crusades.
Camping gifts for her
In need of some inspiration for a camping present for mum, your sister, wife or another important lady in your life? From the 'need-to-haves' to the 'didn't know I needed' gifts, we've listed three Christmas gift ideas that'll have her living the open-air life to the fullest!
Discreet on-the-go female toilet
Surveys tell us that one of the main inconveniences women fear when camping (or on a camping road trip) is needing to use the toilet. Sometimes it's not as easy to find a spot to 'go' al-fresco as for their male counterparts.
Ladies can struggle to find private, comfortable spots to spend a penny in the absence of public toilets. Over the years we've seen a revolution of portable female urinals and portable potties and, although you might get a little giggle when she opens the gift, she'll be thanking you for years to come!
We love the Car and Camp pack from SHEWEE, a hamper pack with a portable female urinal and pocket-sized loo bags for the whole family too.
Camping hanging rack
Packing and unpacking on an open-air holiday can feel chaotic. With many essentials to sort through, it can feel like an overwhelming and arduous task, but purchasing a portable storage tool can be a total Godsend, keeping your camping gear and personal stuff organised, dry and within easy reach.
A pop-up hanging rack, like the one from Kilos Gear is the perfect camping gift for her this Christmas and has detachable hooks for everything from cooking equipment to wet clothes.
Portable hot shower
If the eco-conscious lady in your life enjoys camping in the wild, or travelling self-sufficiently in a campervan, a portable solar-heated shower is a brilliant gift!
Yes, most campsites have wonderful wash facilities, but she can choose to shower in the comfort of her own open-air home at any time, or even use it to rinse off camping gear, the kids or the dog!
Much needed after a day of hiking, biking, driving or swimming, a portable shower like the Risepro Solar Shower is made from recycled materials and stores solar energy to heat up a large pouch of water in just a few hours of sunlight.
Funny camping presents for Christmas
Prepare for all the lols this festive season, with our pick of funny camping presents.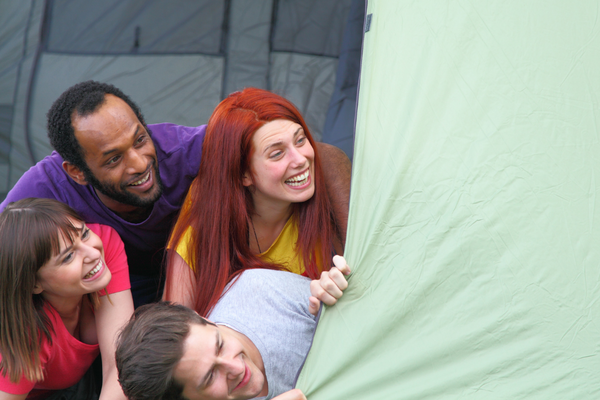 Hidden noise device
Imagine how bemused and annoyed your campmates would be hearing a cat's meow or rubber chicken every 10 minutes in the wild?
If you know a prankster who enjoys ruffling feathers on a camping trip, then a prank sound card like the ones from Firebox is made for them! You can also find a number of recordable devices to create an endless cycle of strange noises or wild animals roars!
Campmates won't be thanking you for the gift, but the culprit will be in their element!
Umbrella hat
Now you might not see these parading on a catwalk at London Fashion Week, but you could be the trendsetter this novelty headwear is crying out for!
Perfect for a family or camping crew who brave the elements and enjoy an outdoor adventure or two, a full-sized umbrella hat is both practical and a real statement headpiece.
Brands like Heqishun offer 5-packs of these colourful creations, adjustable for adults, children and pets too! We'll await the #umbrellahat selfies that'll be viral in no time!
Novelty cookware
A laugh a minute can be had with a pair of novelty, person shaped roasting sticks. Hilariously made for cooking food on a campfire or barbecue, you'll have fun deciding how to strategically place your sausages, marshmallows and whatever else from your food hamper that'll get you the biggest laughs.
There's lots of novelty cookware available, like the woman / man twin grill tool pack from Cakefly. An excellent gift for someone with a slapstick sense of humour!
The gift of adventure
If you're looking for a bigger gift, why not wrap up one of these outdoor accessories together with the print-out of an outdoor adventure booking? Give your loved one(s) a long weekend or a week in the open air to look forward to, to help them through the long, dark days of winter! Use the top menu to browse by country and destination or by the types of surroundings and activities you most enjoy and don't hesitate to ask our Customer Service team for advice if you're not sure where to go.