Where to go camping in Croatia, where to find chalets in the most beautiful locations, and the outdoor activities in Croatia you don't want to miss on a holiday… or a longer stay.
With pretty, historical walled cities, waterfalls and other awesome natural wonders, and 2000 kilometres of coastline, Croatia offers the perfect mix of adventure and relaxation. It's just next to Italy, sharing a border and the beautiful Adriatic Sea with the Italians, so much more easily accessible by road or ferry that you might think. In fact, a trip combining Italy and Croatia should definitely be considered.
In this travel guide, we'll give you all the information you need to easily organise your trip to Croatia: ferries, car or campervan hire, campsites and open-air resorts, and places to explore in this fascinating destination.
Whether you're there for a week, a month or even longer, Croatia is a stunningly beautiful, safe country which will impress and amaze you every day of your stay.
How to get to Croatia
Flights to Croatia
The best located international airports from an open-air holiday point of view are Zadar and Split, as they are seaside cities offering immediate access to the beaches, islands and pretty coastal towns you will likely want visit. Zadar is handiest, closer to Italy and to most of our stock of 20+ open-air resorts and campsites in Croatia.
It's also possible to fly into in Zagreb and Dubrovnik, but make sure to look at where the best accommodation and activities are and then check distances before you book. Croatia is a big country and – from either of those spots – you could end up with hours of driving or bus journeys to get to your final location.
Ferries from Italy to Croatia
You may find that the best places to go in Croatia are easier to reach from Italy. It's only a hop,skip and jump by car or campervan from Trieste, or by ferry from Ancona. Travelling by car is generally more convenient if you arrive from northern Italy (for example, Venice) and plan to stop in Istria, while, if you are coming from central Italy, the ferry is very handy.
From Ancona ferry port, there are departures to Zadar (7-9 hours) and Split (9-11 hours), in the central part of the Croatian coast. Prices vary according to route, number of passengers, type and size of vehicle. A bridge passage for a single person without a vehicle can cost around 100 to 120 euro for a standard round-trip ticket. For two people in a medium-sized campervan, the fare ranges from 350 to 500 euro for departures from Ancona. Fares can vary considerably: naturally, you will get the best prices in low season or by booking well in advance, while the highest prices are in July and August, when these routes become very popular.
To find the best fare for your dates, we recommend using our price comparison and ferry booking tool. With all available timetables and fares conveniently on one page, the selection and booking process will be smoother. If you are planning an on-the-road trip to Croatia, you can also consider booking a return trip from different cities, which is also very easy to do on our website.
There is a second ferry route between Dubrovnik and Bari, which – although more expensive than the other route and not as handy for the locations we recommend you to stay in, in Croatia – is an option worth knowing about for a campervan trip in particular.
Rent a car in Croatia
If you are able to get a direct flight to Croatia and can afford to splash out for more flexibility on your trip, a rental car, or indeed a campervan or motorhome, will allow you to marvel at more of the 2000km long Croatian coastline and get to more adventurous places, difficult to reach by public transport. It will also give you that extra bit of comfort for a more relaxing trip.
To check dates, prices, car types and pick-up locations available, use our:
(Tip: For more choice, select an international airport as your pick-up location.) Prices in high season start at around 650 euro per week for a compact car.
If having your own transport would push the holiday budget out too far, don't worry – there are good bus lines all along the Croatian coast making travel by public transport possible and affordable. So, choosing to stay an extra week at a campsite and forgoing the hire car is definitely an option. You won't be short of things to see and do nearby your campsite.
Croatia holidays by the sea: the best locations
If, in your imagination, Croatian beaches appear as infinite stretches of white sand, you will be in for quite a surprise when you arrive! Although these types of beaches do exist, in reality most of Croatia's coastline is characterised by picturesque cliffs and rocky inlets, with white and grey pebble beaches and crystal-clear water in shades of green and blue. Best explored in the water, armed with mask and snorkel!
Istria and the Bay of Kvarner
Istria is the northernmost part of the Croatian coast, yet it enjoys a mild climate that allows the beach holiday season to begin as early as spring.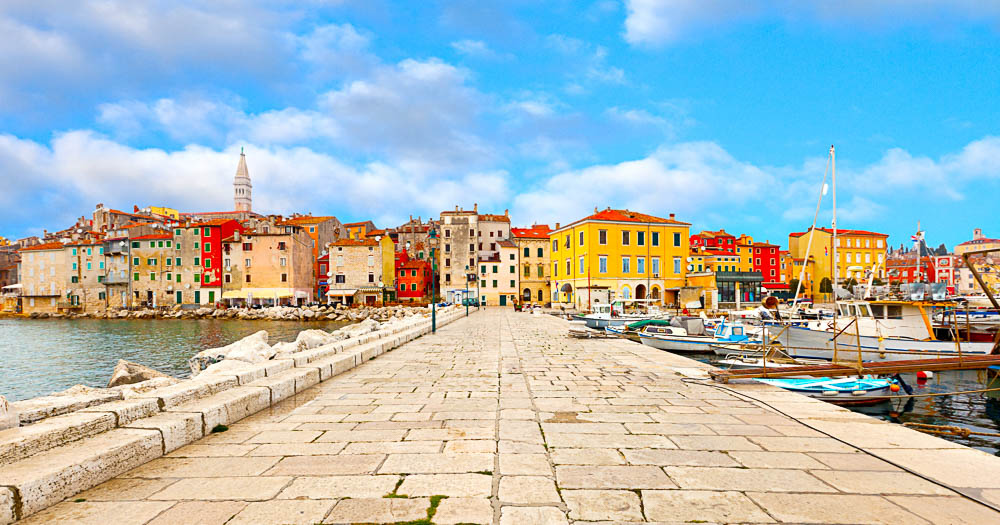 The area around Rovinj boasts the most beautiful beaches in the region, with sheltered bays and coves that are great for children. Meanwhile, those who want more adventure can head for the islands of Losinj and Krk, which have secluded coves, including the pristine beach of Sveti Ivan, and quieter villages surrounded by lush vegetation and a network of hiking trails perfect for escaping the summer crowds.
There are lots of seaside campsites in Istria, with very affordable prices, from 10-15 euro per pitch, with direct access to the sea, a swimming pool, restaurants and plenty of facilities and activities for children and young people. You can even find places to stay on the islands: here you tend to get more exclusive open-air resorts, including 4- and 5-star campsites, with bungalows and mobile homes overlooking the sea and activities such as scuba diving and snorkelling.
Northern Dalmatia
The coast of northern Dalmatia, nearest the city of Zadar, is characterised by headlands and rugged cliffs dotted with islands. And it is on these islands, from the more remote Selve and Dugi Otok to the more popular Ugljan and Murter, that the region's most noteworthy beaches can be found. Slanica beach on the island of Murter is particularly suitable for children, with shallow waters and various facilities. Those who want to enjoy the sun in complete tranquillity, on the other hand, can take a ferry from Zadar and spend the day in Silba or Olib.
Chalets and campsites in northern Dalmatia are easy to find.
If you don't want to travel too far from Zadar, you can definitely use here or nearby Zaravecchia as your base. They are really beautiful spots: Zadar city is very underrated and there are campsites just outside the centre, surrounded by Mediterranean vegetation and with activities such as kayaking, fishing, bike rides and swimming.
The nearby islands of Ugljan and Murter also have several luxury, eco-responsible resorts, notable for their commitment to sustainability and reduction of waste. Prices will be a bit higher, but if you are looking for a relaxing outdoor holiday in unspoilt surroundings, it will be money well spent. The more remote islands have a few guesthouses but no open-air camping and self-catering accommodation. They can be visited on a day trip from the mainland.
Southern Dalmatia
On the "Makarska Riviera" in southern Dalmatia, to find an enchanting, secluded beach, all you have to do is stop on any stretch of road where there is a path leading to the sea, and follow it to the beach.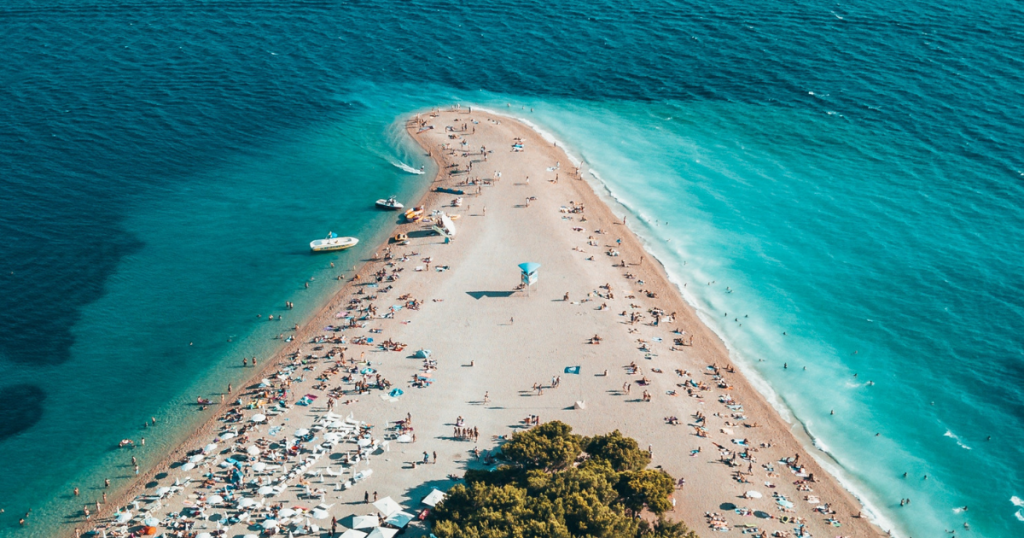 However, we can't not mention Zlatni Rat beach on the island of Brač: a white pebble beach famous for the fact that it is perpendicular to the coast and for the shape of its tip, which changes depending on how the wind blows. Also renowned are the beaches on the island of Hvar, a popular destination for those with their own boat because of its generally calm and transparent waters.
Campsites on Brač island
If you want a traditional tent camping adventure, easily accessible from Split, the island of Brač is an excellent camping destination. Campsites are nestled in the natural setting of the Mediterranean maquis and often have direct (sometimes even private) access to the beach. Pitches are well spaced out and children will be kept entertained by the sea and the many activities on offer. There is also a decent choice of restaurants with local cuisine, both within and beside the campsites.
The best excursions in Croatia
Croatia has become world famous thanks to its coastline and crystal-clear sea, but don't forget the Dinaric Alps, which snake their way across Croatia, creating a variety of landscapes such as waterfalls, lakes, caves and imposing peaks.
The country's must-see destination on an outdoor holiday in Croatia is the Plitviče Lakes National Park, a UNESCO World Heritage Site. Characterised by its rich flora and fauna, the park boasts an 18-kilometre network of trails that cross the 12 largest lakes and allow you to admire the system of waterfalls that connect them. Its proximity to Rijeka and Zadar makes it a perfect day trip from the coastal campsites of Istria and the Dalmatian Coast.ia.
Paklenica National Park is another natural wonder, home to Croatia's largest mountain range, Velebit, offering over 150 km of hiking trails suitable for all levels. As the massif is so close to the Croatian coast, any trail on Velebit guarantees breathtaking sea views. Like the Plitviče lakes, Paklenica is easily accessible from Zadar (only 25 km away) and is within a couple of hours of Split as well.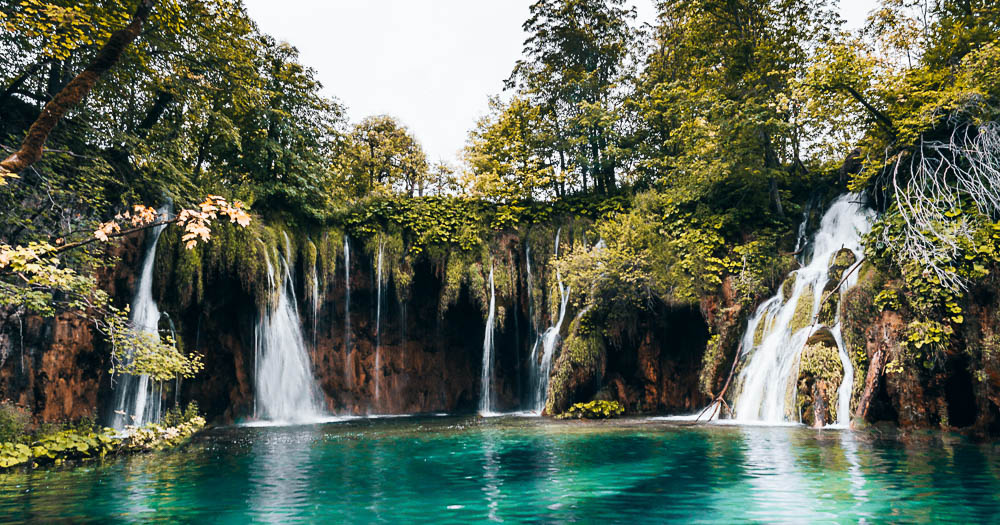 Avid walkers and hikers will be interested in the Via Dinarica and the Via Adriatica, two medium-high difficulty routes of over 1000 km, which run the length of the country, from Istria to Dubrovnik. The former, with several possible variations, also continues into the neighbouring Balkan countries, making for an epic adventure over a few months.
The nicest towns in Croatia
Istria: Poreč and Rovinj
Both characterised by a strong Venetian influence, Poreč and Rovinj are the main towns in Istria to visit. The former boasts precious marble and Byzantine mosaics considered among the most valuable in the world, while the latter combines a lively nightlife with Roman buildings and Baroque architecture on a cliff overlooking the sea.
Zadar
A historically important city for Venetian rule over the Mediterranean, Zadar boasts a vibrant old town dotted with churches and interesting structures such as the Sea Organ, which produces sounds based on wave motion.
Split
Croatia's second-largest city, Split is worth a visit for its atmospheric old centre of stone alleys, bars and restaurants set within ancient walls, buildings such as Diocletian's Palace, the elegant waterfront full of life, and the nature on the surrounding hills that give it a verdant feel as it slopes towards the majestic mountains in the background.
Dubrovnik
At the southern tip of the country, Dubrovnik is known as the pearl of the Adriatic. It is impossible to remain indifferent to the beauty of its marble streets and stairways, its sheer walls shimmering in the sunlight and the orange-red sunsets from the top of Mount Srđ. Lose yourself in its alleys at first light, to enjoy its beauty in silence before the (sometimes chaotic) city life awakens. But be prepared to pay more for the privilege of visiting Dubrovnik.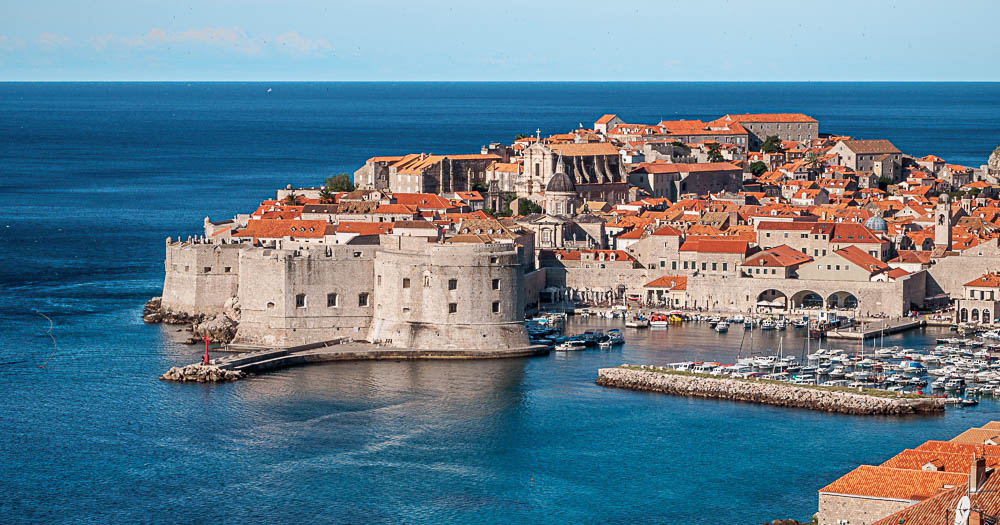 How much does it cost to go on holiday to Croatia?
Croatia is no longer a low-cost destination but, apart from exceptions like Dubrovnik, it is still possible to stay or holiday in Croatia on a lower budget than in many European countries. Activity and sight-seeing costs are not excessive, if you avoid very famous attractions such as the Dubrovnik city walls. Restaurant costs can easily be reduced by cooking at the campsite or buying at local markets and picnicking.A few money-saving tips will make your budget go even further:
First of all, don't forget that Croatia has its own currency. The currency in Croatia is the kuna, which at the current exchange rate (June 2022) is equivalent to 0.13 euro. Order some kuna before departure, to avoid losing money on an unfavourable exchange rate in places like airports on arrival.
As we have already seen, the cost of travel can vary and to save money it is good practice to book travel well in advance.
Staying on a campsite in a tent or campervan is pleasant in Croatia and will cuts costs considerably. A motorhome pitch for 2 adults and 2 children starts at as little as 350 euro for a whole week in late August, and generally has lots of fun services included such as a swimming pool.
What to do in 7 days in Croatia? An itinerary: Istria and the Bay of Kvarner
It is impossible to visit the entire Croatian coast in one week, so put that idea out of your mind! We're recommending an itinerary which will allow you to discover the northern part of the country, between Zadar and the Italian border.
Day 1: Zadar
After arriving by plane or ferry in Zadar, take a day to explore the historic city centre.
Day 2: Plitviče Lakes
Only an hour and a half from Zadar, the Plitviče Lakes are a must-see on any itinerary. Spend the day exploring the park's trails and waterfalls, taking a picnic with you. At the end of your visit, head straight north to the island of Krk.
Days 3-4: Krk Island
Venture to Malinska, and explore the beaches. Take time to relax, hike, sample the island's unique local gastronomy and admire the architecture of the town of Krk. If you prefer, you can use the second day to also visit the island of Lošinj.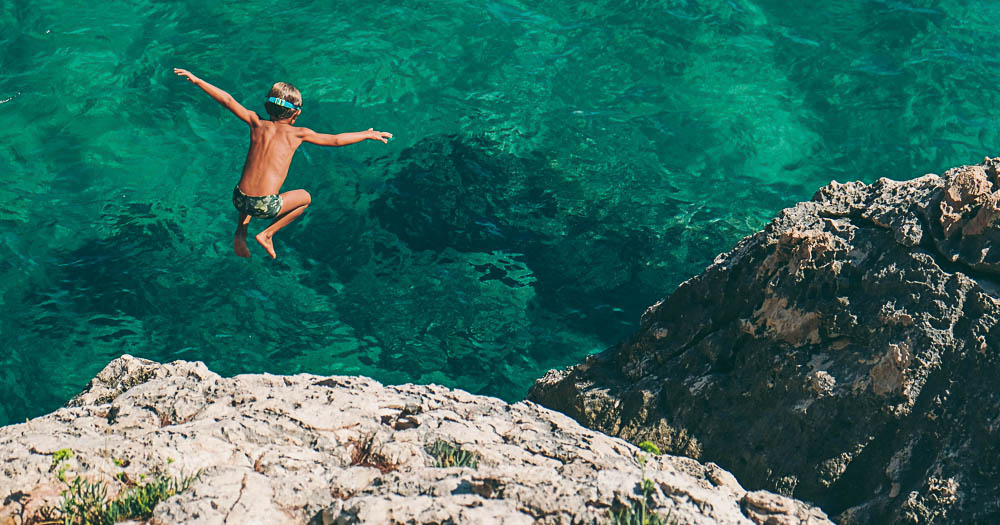 Day 5: Rijeka
Devote half a day to Rijeka, strolling around the market square and waterfront before heading to Učka Nature Park, where you can stay overnight.
Day 6: Učka Nature Park
Explore the park and its many trails and viewpoints, for a day dedicated to getting in touch with nature. Visit the Korita spring and perhaps organise a hike to Brgudac, a charming mountain village. Check the maps for more difficult trails for experts.
Day 7: Rovinj
In an hour's drive you'll arrive in Rovinj, where you can choose whether to explore the maze of alleyways in the old town, organise some hiking in the Golden Cape Nature Park, or relax on the beach.
Day 8: Poreč
Visit the unique mosaics of Poreč's basilica and take one last swim at one of the beaches around it before heading towards the Italian border. (Poreč is just over an hour from Trieste).
Useful tips for travelling in a campervan in Croatia
Camping outside campsites or equipped rest areas is not allowed in Croatia, so always check that there is a campsite in the area you plan to visit.
Speed limits for cars, campers and light caravans are 50 km/h in urban areas, 90 km/h outside urban areas, 110 km/h on highways and 130 km/h on motorways.
If you decide to visit Croatia in winter, don't forget winter tyres and snow chains.
On the coastal descent to Dubrovnik, there is a short stretch of coastline belonging to Bosnia and Herzegovina, where documentation checks often create some traffic and possible delays. Take this into account if you have strict timetables to adhere to.
Feel you know enough to plan a trip to Croatia now? Croatia is great from early spring, but if it's a summer holiday you're thinking of, don't forget to start planning as early as possible to get a wider range of accommodation and options, save money and get your adventure off on the right foot! Start your search by browsing our camping and self-catering accommodation in Croatia.