It's almost that time of year where the age-old question of 'what to get Dad for Father's Day?' runs riot in your mind.
Perhaps this year it's time to think differently, exchanging material gifts with memories that'll last much longer.
If there's one thing we've learned in the last few years, quality time with loved ones and being in nature are the two of the things that matter most. So, why not combine them and plan a short, open-air trip to France?
We think it's the perfect gift for Dad (or your father figure) on his special day – and camping offers you a more affordable way to make this happen.
So, why not book a family camping trip in the great outdoors – and get active!
Outdoor activity breaks create happy, happy memories for you both (and the extended fam, if they're on the guest list). If your old man has a taste for adventure in the open-air, there's nothing more fulfilling than a French camping trip – and all the fun activities that come with it.
Almost all campsites in France have both pitches for tents & campervans, as well as some type of on-site glamping accommodation to provide the base camp for your active holiday.
How would your Dad like to spend Father's Day 2023 in a luxury bell-tent, treehouse, gypsy caravan, bio-dome or something equally eccentric and unique? If your budget allows (or your siblings are chipping in) you could go for something with a bit more luxury. French campsites really do have it all!
So, back to the adventures.
Here are 5 active experiences that'll gain you the award for most thoughtful child. We've teamed these with a selection of campsites and bookable tours nearby:
1 – Take Dad wine tasting at a French vineyard
This is the perfect excuse to treat yourself to a day of wine tasting, so take advantage of it!
This activity of course, is not suitable for children. But if you're planning a Father's Day weekend without the little ones, this is a brilliant gift idea!
Thanks to the country's world-famous wine heritage, you'll find tours and tastings all over France. It'll encourage you all out of your comfort zone as you'll taste wines that you don't know, and learn more about them. You'll also get to enjoy the outdoors and some fantastic vineyard and surrounding countryside scenery.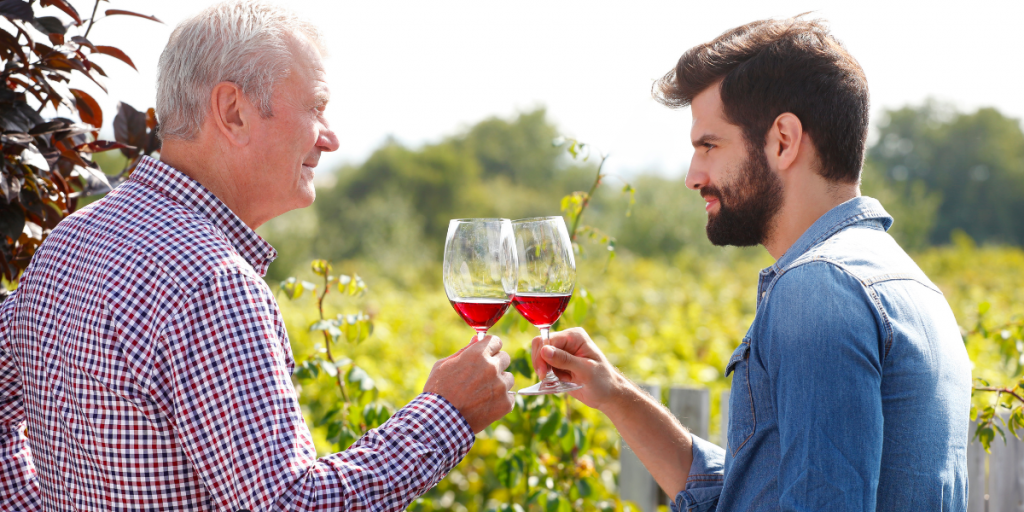 >> Check out our activities and tours here <<
Choose from Avignon, Bordeaux, Carcassonne, Toulouse, Burgundy or Champagne-Ardenne, depending on what area is most convenient for you to get to. Search directly by destination using the link above.
Tip: Contact your campsite host in advance for help booking a wine tour. This'll save you the hassle of organising it when you get there and means you get a designated driver (if you plan on getting tipsy!)
2 – Book a spa day for Father's Day
Let's face it, even if your dad or partner might never admit it, almost everyone loves a good massage.
Combine the great outdoors with a spa moment and give Dad the pampering of the decade! If his life is busy with work, family and endless DIY tasks, a day of spa treatments will give him some well-deserved 'me' time. He might not jump at the idea initially, but after spending time in a sauna, steam room, jacuzzi or on a hot stone massage bed, you might find it hard to drag him back out!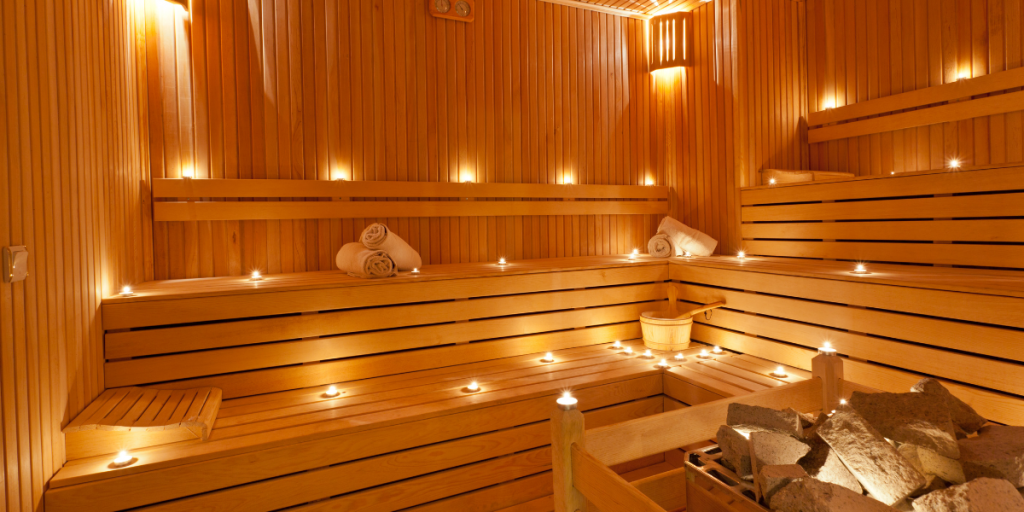 >> Take advantage of our selection of campsites with spa for a weekend <<
Camping itself is an opportunity to recharge your batteries and escape from the stresses of your daily life. So, linking the two is the perfect mix for Father's Day 2023.
3 – Try water sports in France.
Water activities are so exciting and provide hours of family entertainment.
Adventure activities like diving, sailing, canoeing, windsurfing, water skiing, paddle-boarding, swimming are fun family activities. They have the ability to get your heart-racing, but also calm your soul too. Whether it's the sea, a lake or a river, there is something so refreshing about a few hours in the water, so get Dad in a wetsuit and watch him take like a duck to water!
Physical activity gives you the chance to let off steam together, have fun and work up an appetite – and France has an abundance destinations beside the water.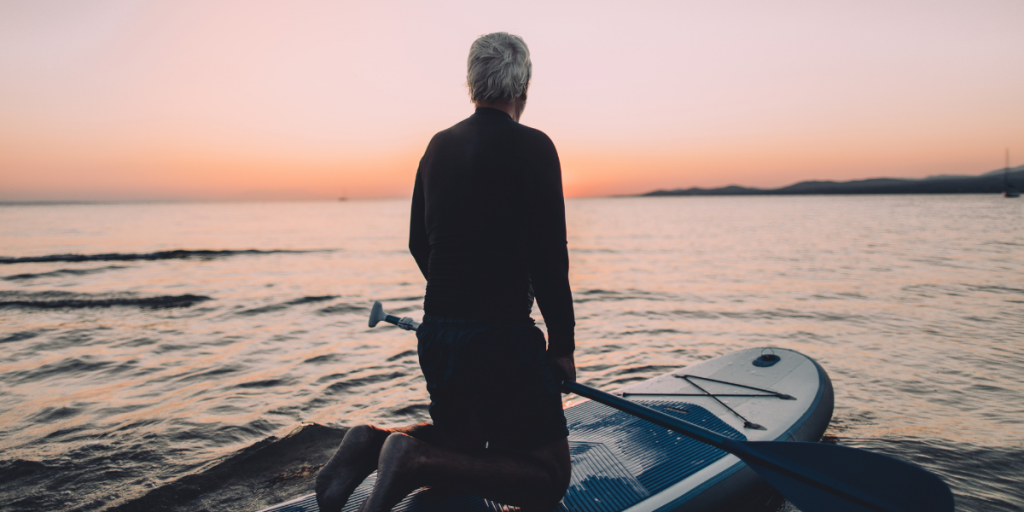 You'll be able to rent equipment or use your own, and some activity centres offer training too. Speak to your campsite host who can help you book in advance. 
>> Find all our campsites in France with water activities here <<
4 – Head to the beach to celebrate Father's Day 2023
We all know that the sea air is good for us! Plan a road trip to the beach and breathe in the salty air together. He'll love it!
You could take it easy, rent some deckchairs and catch some rays with a good book – or take Dad on a coastal walk for the best viewing spots and a bit of joyful exercise.  
Spend a couple of hours on (or in) the sea. France has some of the most crystal clear waters in the world and you can choose to dip your toes in the sparkling Mediterranean Sea, English Channel or Atlantic Ocean. You could even take a boat trip and tour the coastline together, or scuba dive peacefully alongside native coral and sea life.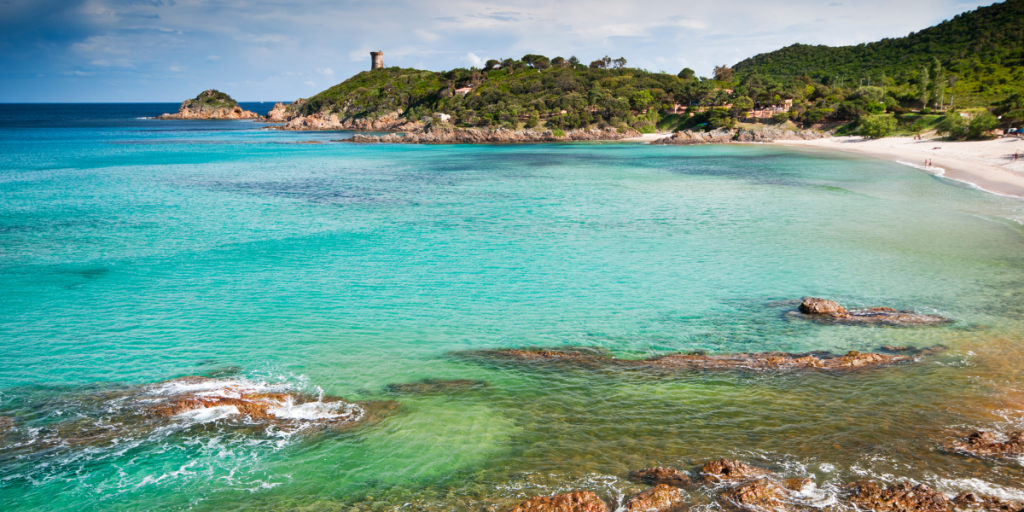 Above all else, take the opportunity to do simple things together like savouring an ice cream, watching the sunset together, or treating yourself to a good family meal (freshly caught seafood is a must if he's a fish lover!)
You'll find spectacular coastlines in places like Brittany, Nouvelle-Aquitaine, The French Riviera, Paca and South Corsica.
>> Discover our selection of seaside campsites in France here <<
5 – Enjoy the mountains and what they have to offer for Father's Day
There are a thousand and one ways to enjoy the mountains.
Maybe for Dad it's a hike with a rewarding picnic at the top (and a side of fabulous view) that's his go-to. Or he might prefer some mountain biking for even more thrills. Perhaps you're both into paragliding? Or up for giving it a try?
The mountains are made for adrenaline-fuelled family fun, so make your Father's Day treat one that'll make him feel alive!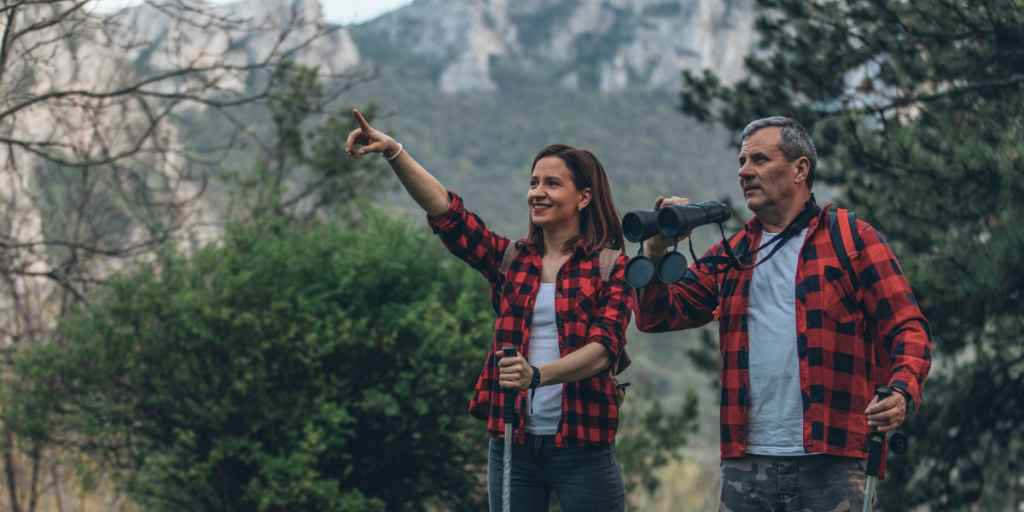 The mountains are just as pleasant in the Spring and Summer as in Winter and Autumn, and their way-marked hiking trails allow you to take in breath-taking landscapes and greenery as far as the eye can see. 
Just remember to be prepared for all weathers. Hiking gear doesn't have to be fancy – a durable pair of walking shoes or sandals, backpack and weather-proof clothing usually does the trick, but research the terrain and check the weather in advance!
And we're sure you don't need reminding about bringing sun-block (even on cloudy days the powerful French sunshine can get you).
Find all the activities in Auvergne-Rhones-Alpes but also in the Pyrenees. You can also find all the campsites in the mountains here.
>> Here's some more of the best hiking trails in France <<
Have fun and follow us for more inspo…
We hope that these ideas for special Father's Day activities and stays for all tastes have inspired you and that you now know what you will do for this very special day. Don't hesitate to follow us on our social networks for even more inspiration!