No one wants to leave their pet at home, especially when embarking on a camping adventure in the great outdoors. If ever there was a holiday destination that suited your favourite four-legged friends, it's a campsite – and, if you dream of travelling overseas together, then a pet passport is a must.
The price of a pet passport varies between countries but, in general, the cost is made up of 3 things: a microchip, mandatory vaccinations (such as rabies and tapeworm) and the passport itself. It should cost around €85, when purchased together.
Upon qualification and purchase, the passport will contain a description of your dog, the microchip details, its vaccination record, contact details for the owner and for its vet.
In this guide, we'll break down each pre-requisite for a pet passport, helping you to travel between countries with greater ease and allowing you more time and energy to focus on having the holiday of your life with your furry-friend in tow. So, let's talk more about travelling abroad with your pet.
Travelling abroad with your pet
Many campsites welcome pets (which, in the context of passports, mainly refers to dogs, cats and ferrets only) although dogs are the most frequently travelled pets – and if you haven't read our extensive guide to camping with your dog, now's the time! We're talking all things planning, packing and preparation for your pooch's open air-adventure.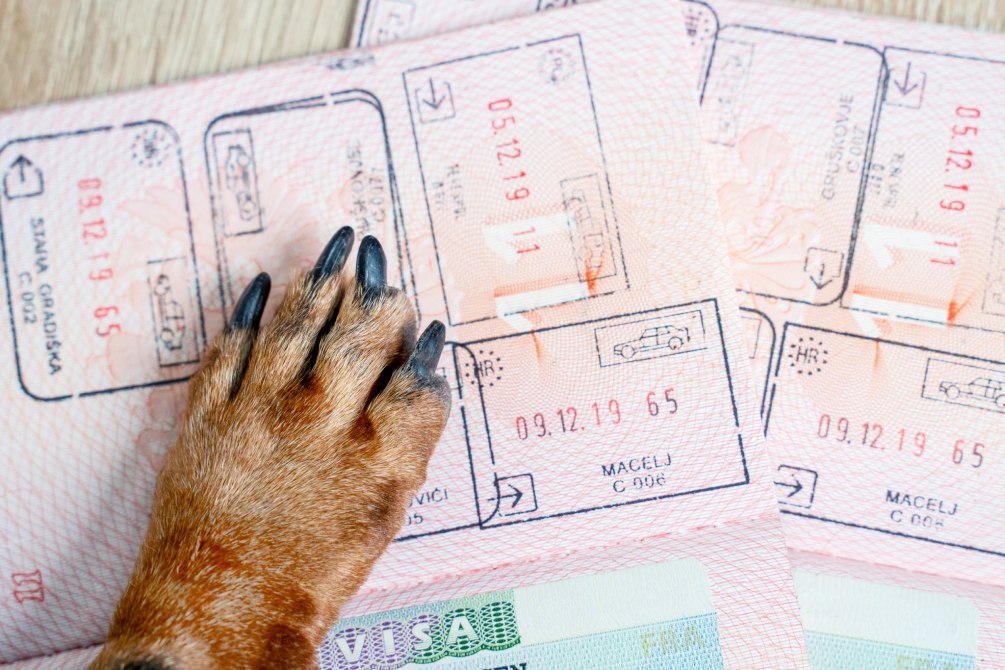 You'll also find many glamping and homestay hosts who'll welcome pet's too, with chalets and cottages on French campsites and beyond considering your pet part of the family! It's becoming increasingly normal to bring (well-behaved) pets to café's, shops and restaurant terraces too.
If you're considering a road-trip, staying in a campervan, RV or motorhome means you can bring your pet along, whilst customising their environment and allowing a little more flexibility with where you stay and what you bring. Check out our guide to campervan holidaying with your dog for tips on travelling safely and some pet-friendly destination inspo.
Important: In most cases of travelling overseas, your pet must be at least 12 weeks old and you'll usually have to wait another 12 weeks from when they get their primary vaccinations before you travel.
The good news is that it's a lot simpler to bring your pet with you from another country since the pet passport was introduced. However, Brexit has brought some changes to the pet passport for owners from the UK (which we'll talk about in more detail in the next section).
Travelling from the UK with your pet
If you're a traveller from the the UK looking to holiday abroad with your pet, you'll need to make sure any existing European pet passport doesn't pre-date January 2020 (when the UK left the EU) as it's likely this will now be invalid – and you'll have to reapply for a new one.
You'll need to apply for an Animal Health Certificate (issued by your vet) no more than 10 days before travel to receive a new UK pet-passport. This rule applies to guide dogs, also.
However, if you are from an EU country and travelling to the UK, the pet passport is still valid. Here's our up-to-date guide of the EU Pet Passport Programme and its alternative in the UK.
Pet passport essentials
A pet passport is a document, just like a normal passport, that states that your pet is allowed to travel with you, within specified locations and it is a legally binding document that most countries recognise.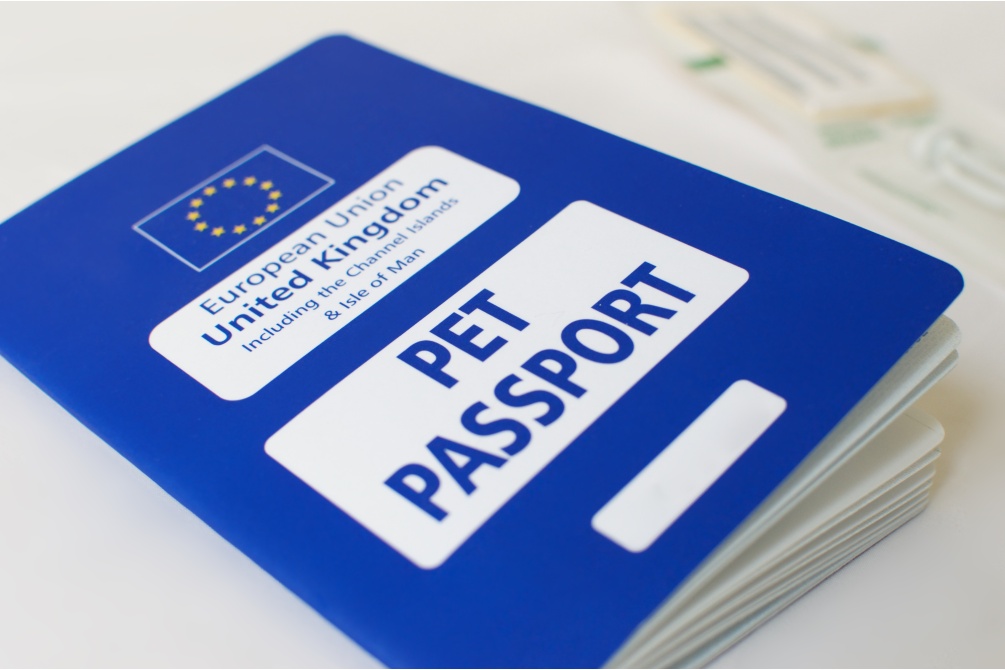 To give you an idea on the possibilities of travelling abroad with your pet, EU pet passports allow you to travel together in 27 EU member states as well as non-EU destinations like Andorra, Faroe Islands, Gibraltar, Switzerland, the UK and the Vatican City. Here's a useful guide to countries accessible with an EU pet-passport.
Unfortunately, the passport cannot be used for any other type of animal, so if you wish to travel with other animal types, such as birds, then you'll need to check the legal requirements of the country you are travelling to.
Here's a list of essential considerations when applying for your pet passport:
Make sure your pet is microchipped or tatooed – It is mandatory that your pet is legally identifiable, to you and it's country of residence and you will be asked to prove this as part of their passport application. You can ask your vet for a microchip (if your pet doesn't already have one) and the documentation to validate this.
Make sure your pet is vaccinated – Often completed at the same time the microchip is implanted, you'll need to ensure your pet is protected against rabies and tapeworm (at the very least). Once your holiday plans are firmly in place and you're clear on the county (or countries) you'll be visiting, your vet will check the relevant regulations and decide on your pet's treatment plan. You'll be given a health record or medical booklet which will act as proof when applying for the passport.
Check your pet passport is in date – Your pet's passport is usually valid for four months, or until the rabies vaccination expires, whichever is shorter. If you plan to travel again after more than four months, you'll have to repeat the process.
Limit the love – You can travel with a maximum of five pets at one time. Each must have their own pet passport. If you are travelling with a larger group of pets, you'll need to provide documentation that states there is a reason for so many pets to travel, such as a dog show or other group activity.
Ensure your pet is well-prepared for travelling abroad – Alongside the mandatory passport requirements, most campsites will only welcome well-behaved and at least moderately obedient pets, so ensure your basic training is up to scratch, especially since the environment will be new, exciting and, at times, a sensory overload for your beloved pet. You'll also want to ensure they're equipped with the essentials to keep them safe, well-fed, comfortable, hydrated and entertained. You can get more pre-holiday pet tips and packing checklists here.
Travelling abroad with your pet is so much fun and can create a lifetime of happy memories. A pet passport is not only designed to legally identify your pet and protect destination countries from risk, but you'll get peace of mind knowing your adored pet is healthy, protected and traceable on your open-air adventure.
Passport? Check! Ok you're ready to book your overseas camping adventure. Now let the fun begin.
First stop… Choosing a pet-friendly campsite.