Everything you need to know about the pet passport
No one wants to leave their pet at home, especially when they're going on a camping trip in the great outdoors. If ever there was a holiday destination that suited your favourite four-legged friends it's a campsite.
Most campsites welcome pets, including both dogs and cats, although dogs are the most frequently travelled pets. The chalets and cottages on French campsites, for example, are generally pet-friendly and it's normal to bring your (well-behaved) pet to café and restaurant terraces in France, as well as around the campsite in general.
It's a lot easier to bring your pet with you from another country since the pet passport was introduced in the European Union. However, Brexit has brought some changes to the pet passport for owners from the UK.
Essentially, since the UK left the EU, it is no longer part of the pet passport programme and any existing UK pet passports are not valid (if the pet has not yet returned to the UK, their passport will become invalid on arrival back in the UK). There is now a replacement system for the UK and a different agreement for Northern Ireland. However, if you are from an EU country and travelling to the UK, the pet passport is still valid. Here's our up-to-date guide to the EU Pet Passport Programme and its alternative in the UK.
Pet passport essentials
Travelling with your pet is a wonderful experience, so get your admin done in plenty of time and hit the road together.
First, the paperwork
A pet passport is a document, just like a normal passport, that states that your pet is allowed to travel with you, within the EU. It was created to allow people to move more freely within European Union member states and it is a legally binding document that all EU countries recognise. It is only valid for three types of animals that are considered pets: dogs, cats, and ferrets. It cannot be used for any other animal type. If you wish to travel with other animal types, such as birds, then you need to check the legal requirements of the country you are travelling to.
Limit the love
You can travel with a maximum of five pets at one time. Each must have their own pet passport. If you are travelling with a larger group of pets, you will need to provide documentation that states there is a reason for so many pets to travel, such as a dog show or other group activity.
Microchips and more
If you are an EU national or resident, then to get a pet passport you must ensure that your pet is microchipped, has been vaccinated for rabies and has had treatment against tapeworm. Your pet needs to be vaccinated against rabies at the same time as the microchip is implanted. Your vet can help you with all of this and with your application for the pet passport. The passport will contain a description of your dog, the microchip details, its vaccination record, contact details for the owner and for its vet.
Crossing borders
EU pet passports allow you to travel with your pet within the 27 EU member states. Andorra, Faroe Islands, Gibraltar, Greenland, Iceland, Liechtenstein, Monaco, Norway, San Marino, Switzerland, the UK and the Vatican City are also included.
Count the cost
How much is a pet passport? The price of a pet passport varies between countries but, in general, the pet passport microchip, vaccination and passport itself should cost around €85, when purchased together. Rabies and tapeworm vaccinations are mandatory but your vet may recommend other treatments too, such as against ticks. These will increase the price.
Repeat travellers
The pet passport is valid for four months or until the rabies vaccination expires, whichever is shorter. If you plan to travel again after more than four months, you'll have to repeat the process.
UK pet passports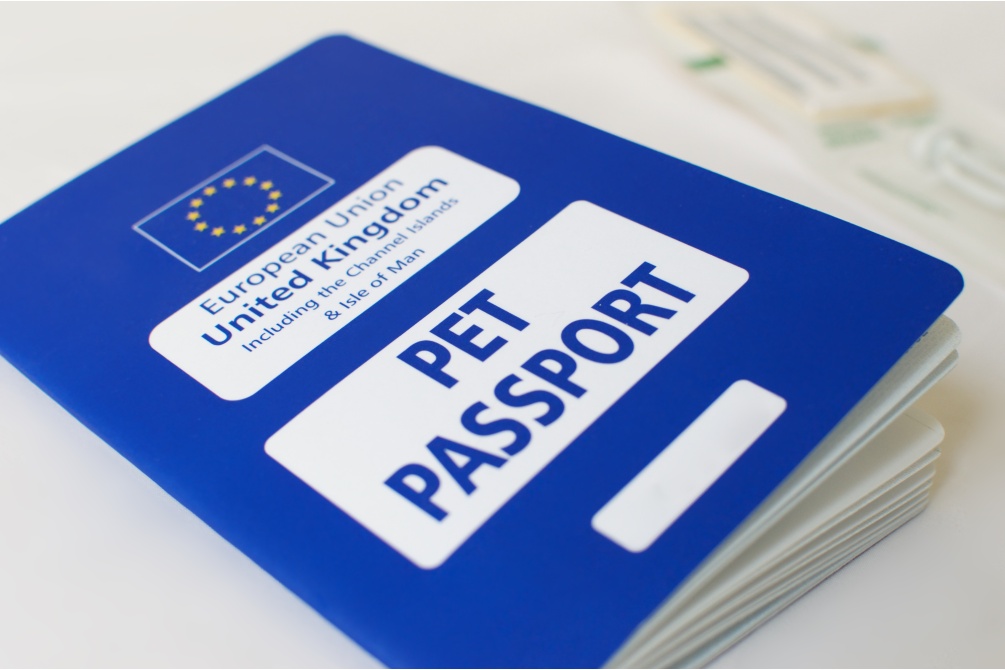 UK pet owners left the Pet Passport Programme at the same time that they left the European Union. Now, if a traveller wants to bring their pet on holiday, they must have an Animal Health Certificate issued by their vet no more than 10 days before they travel. They also need to be microchipped, have a rabies vaccination and be vaccinated against tapeworm. Your pet must be at least 12 weeks old and you will have to wait 12 weeks from when they get their primary vaccinations before you travel. You need to apply for an Animal Health Certificate every time you travel. This rule applies to Assistance Dogs, such as guide dogs, also.
Northern Ireland exceptions
As the post-Brexit deal in Northern Ireland is different to other parts of the UK, the situation with pet passports is different also. The original UK pet passport is no longer valid but the authorities plan to bring in a new Northern Ireland-only pet passport so that movement of pets between Northern Ireland and the Republic of Ireland is still possible. Until that happens, you will have to get an Animal Health Certificate to travel with your pet from Northern Ireland.
Double the benefits
Why you'll benefit from your pet's company on holiday as much as they will from yours.
Quality time
Our pets spend most of their time with us when we are in our normal, day-to-day, stressful lives. We usually have to squeeze in time to walk them, so it's a real treat to have holiday time to really enjoy their company properly. Holiday time is probably one of the most beneficial things for our relationship with our pets.
Widen your horizons
Bringing your pet on holiday will make it even easier to meet other people on the campsite. Dogs are naturally nosey and will walk straight up to other dogs, leaving you to talk to their owners. Cats attract the attention of everyone, so you will be inundated with children and their parents coming to say hello. These experiences will increase the conviviality of your trip.
Frequent fliers
Pets dislike being left behind and while they could probably do without the hassle of travelling, they are much happier in the company of their owners. They bond with their owners and rely on them for everything, so the experience of being left behind in a kennel or cattery is probably harder for them than the journey. It's also beneficial for pet owners to be able to share their most enjoyable times with their pet.
Into the woods
There's nothing a dog enjoys more than a good walk, so bringing them into the countryside with you is a fantastic adventure. Check the local arrangements for animals and make sure you know whether you can let them off the leash on beaches or in the woods. Most places are fine, but it's good to check with campsite management or the local tourist office as to local arrangements.
Slow train coming
Dogs and cats find travelling by plane very stressful. It's rare that you can take your dog into the airplane cabin, so they will usually be placed in the hold in a pressurised and temperature-controlled area. To save this, if bringing a pet you should consider driving to your holiday, taking the ferry if need be. Another option is to take the train, which is a much more pleasant experience for your pet, even if they need to travel separately.
Pet passport checklist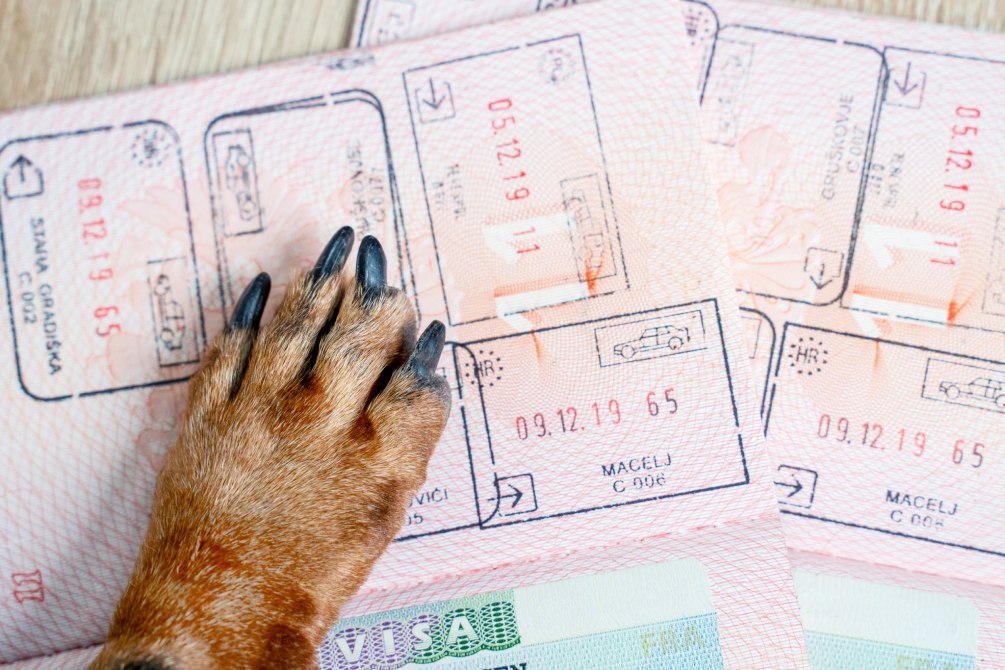 Still got questions about bringing your pet on holiday? Try our frequently asked questions section.
Will it be too hot for my pet on a campsite in France?
Dogs and cats don't love the heat and probably won't be used to some of the temperatures in a French summer holiday. Make sure there is plenty of water and shade for your pet at all times and give them every opportunity to swim to cool down. Also think about having your dog's hair cut before the trip, if that's appropriate.
Are all campsites pet friendly?
No, you'll need to do your research. Many are, but there will be some that prefer not to have animals on the campsite. Also, others may only allow pets in certain types of accommodation or into certain parts of the site, or at certain times of year. Check all this before you book.
If I book a chalet will my pet have to sleep outside?
This depends on the property, but usually your dog or cat will be allowed to sleep inside. Lots of campsite chalets have air conditioning so if you think this will be a bonus, confirm at time of booking. And don't forget to bring your pet's familiar bedding.
Will I have to keep my dog on a chain at the campsite?
You have to make sure that your dog is safe and not likely to bother or scare anyone at the camp. You may not need to tie them up at all times; you will have to make a judgement on their temperament and act accordingly. The travelling, the heat and the new environment can leave them anxious, so be aware that they might not be as relaxed as they are at home.
Will there be somewhere to leave my pet if I want to go away from the campsite for the day?
Unfortunately, no. Your pet will be your responsibility for the whole duration of your holiday. You can't leave it alone at the campsite at any time.