It's hard to know what to do with your dog when you go on holiday. Do you feel guilty leaving them at kennels? Is paying for a pet-sitter out of the question? 
With many hotels and holiday lets having a strict no-dog policy, a campervan trip is the perfect solution for a holiday with your beloved best friend. And you'll be spoilt for choice with Campsited's huge range of dog-friendly campsites.
Not only will you save money by bringing them on the road, you'll make your trip even more memorable.
Your dog will love the new smells, sights and experiences of an open-air holiday, not to mention the quality time spent with their best friend. And having them there will encourage you to get outside and get exploring. 
Learn more about the benefits of camping with your dog in our guide to camping with a dog, with tips on what to bring, where to go, dog-friendly campsite etiquette and preparing your pooch for an adventure of a lifetime!
Travelling with your dog in a campervan, RV or motorhome doesn't have to be stressful. With our survival guide, you'll know exactly what to bring and how to keep your hound safe and sound while on the road.
So without further ado, here's everything you need to know to go on a campervan holiday with your furry friend.
Pet passports
First thing's first, if you're travelling abroad, your precious pooch will need some documentation.
This usually comes in the form of a pet passport or animal health certificate – depending on where you are coming from or heading to. But there are  a number of other requirements when travelling abroad with a dog. Notably, most EU countries require the dog to be microchipped or tattooed and have proof of a rabies vaccination and sufficient worm treatment.
Make sure you check the rules of the country you are heading to well ahead of time, to avoid any stress. Generally there will be an official government information source; and your vet's office may also be a good source of information.
Learn more about preparing your dog for trips in the UK and overseas.
Dog safety tips for campervans
Keeping dogs safe while driving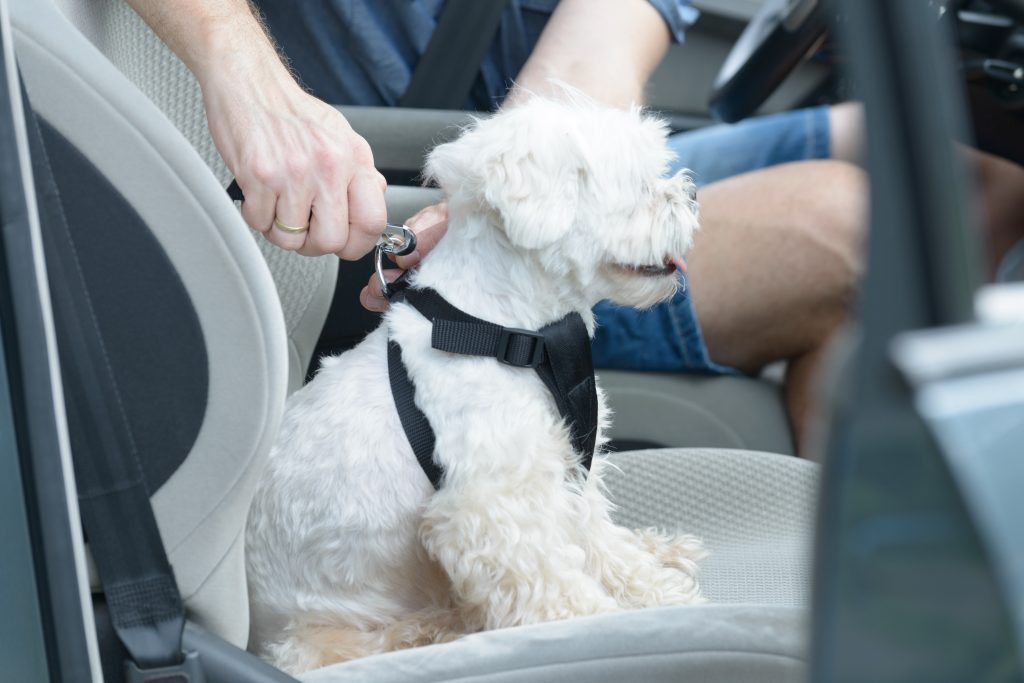 Whether you're driving in the UK or the EU, keeping your dog safe while on the move is vital. There's lots of exciting and sometimes unpredictable distractions on the road that may cause your dog to fidget or want to wonder, so a gentle restraint will keep you both calm and in place. 
According to Rule 57 of The Highway Code, you must "make sure dogs or other animals are suitably restrained so they cannot distract you while you are driving or injure you, or themselves, if you stop quickly."
This can best be achieved with a seat belt harness, pet carrier, van dog cage or dog guard. Experiment with different sizes and styles – and don't forget to read the reviews from other travellers. Here's a review of some of the best pet-seatbelts on the market that we found useful. 
Other EU countries have variations of this rule, but the main message is that it's always best to be on the safe side by keeping your dog restrained while driving.
Keeping dogs cool in hot weather
It's a well-known fact that you should never leave a dog in a hot car, and the same goes for campervans, RVs and motorhomes. Summer campervan trips can be hot, hot, hot and you'll need to take extra precautions to keep your pet cool.
While driving, open the windows to create lots of airflow. If you're on a long journey, make sure you take a break every two hours to give your dog fresh air, lots of water and a chance to stretch their legs.
If you have to leave your dog in the van for a very short period of time, avoid parking in direct sunlight, keep vents and windows open, close blinds or curtains, and make sure they have easy access to water. If in doubt, don't leave them – it's not worth the risk.
When you're out and about, try to find lots of shade and cool swimming spots. Avoid walking dogs on hot pavements to protect their paws. You can check the pavement with your bare feet; if it's too hot to stand on for 5 seconds, then it's too hot for your dog.
Keeping your campervan clean
Having your dog with you on muddy trails, sandy beaches or swimming in lakes is magical… until you get back to base with a dirty dog that wants to climb all over the campervan. Bring along a collapsible bucket or, better yet, a travel shower, and the dog's own set of towels, and make sure they get a good rinse and towel dry before re-entering the campervan.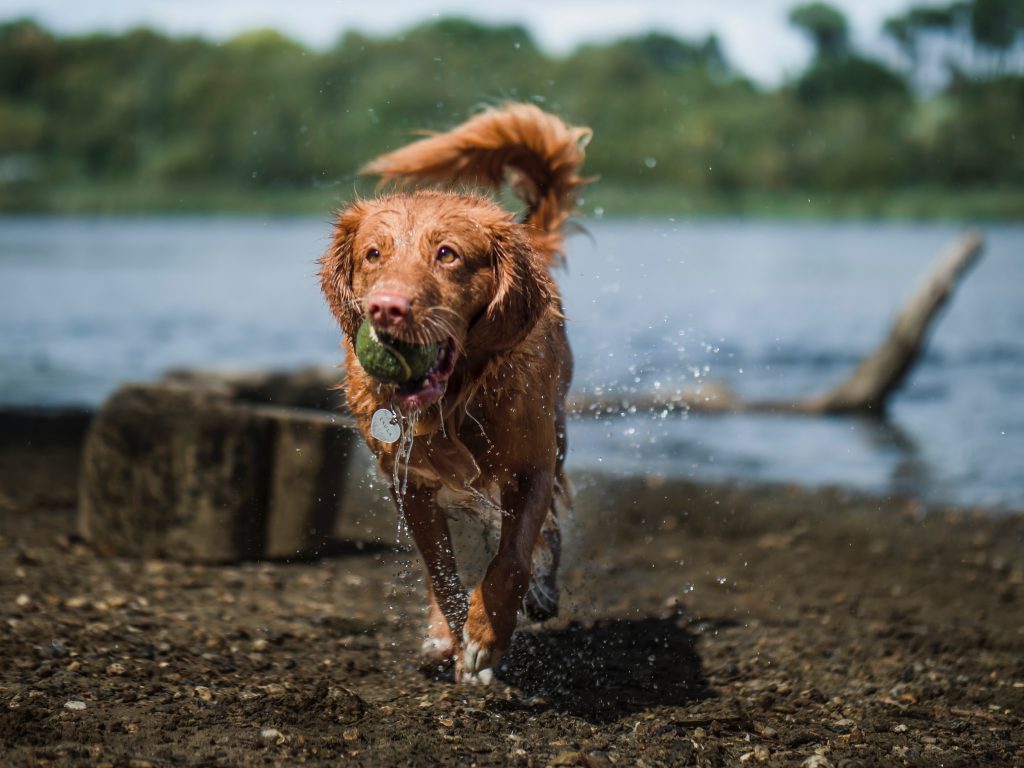 Opting for a hardstanding pitch over grass can help prevent muddy paws in your living space when it's wet.
Dog hair can be a bit of a nightmare in a small space and dogs may shed more hair in warmer climates, so bring their brush to detangle them outside and pack a small broom or dustpan and brush to give your van a sweep daily.
Old towels and blankets are a must for protecting your interiors and can be shaken off outside.
If you're taking a puppy camping and they haven't quite cracked the toilet training – or may get travel sick – keep paper towels, old newspapers, a neutralising spray and disinfectant spray in the van at all times.
Dog accessories for travel
When you're packing for your next campervan holiday, don't forget to pack some essentials for your furry friend:
Dog poo bags
Collar, harness and leads, with a tag with your contact number while on holiday
Dog toys
Travel water and food bowls
Familiar food and treats
Collapsible bucket or travel shower
Dog shampoo
Dog brush
Old towels and blankets
Their favourite bedding with a familiar scent
Seat belt harness, pet carrier, van dog cage or dog guard
Cleaning items: paper towels, old newspapers, neutralising spray, disinfectant spray
Any medication they are taking (or that may be required in the area you are travelling to)
A first aid kit, including antiseptic solution, flea treatment, tick remover and bandages.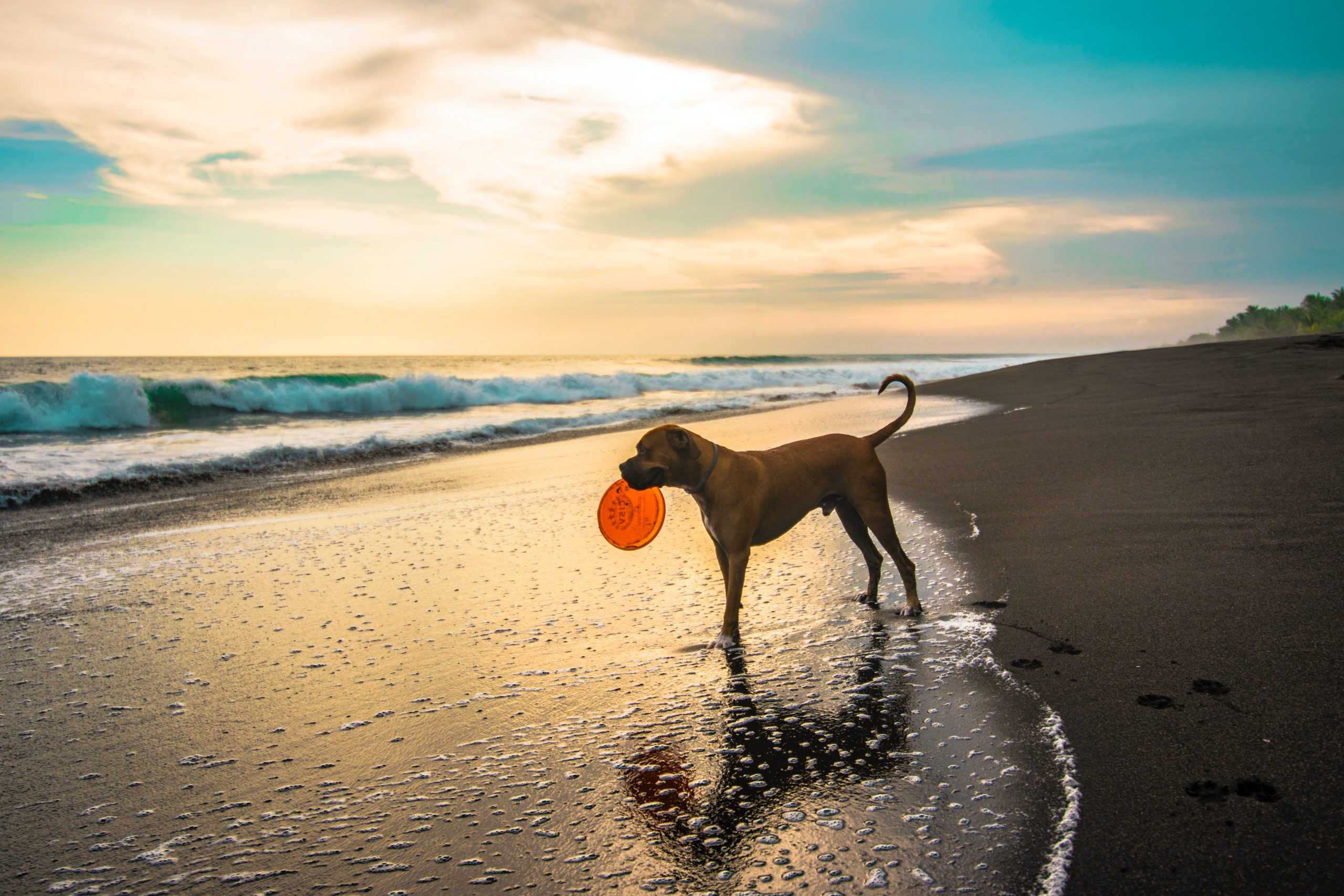 Camping with dogs
Getting good sleep can make or break your trip, so make sure your dog has somewhere to sleep without keeping you awake. For some people, the dog belongs in or on their bed. For others, that's a big no-no. Depending on the amount of space in your campervan, RV or motorhome, you have a few options for dog beds.
If you're in a small camper, it might be worth using a dog crate or pet carrier for safe driving that doubles up as a campervan dog bed overnight. Pets at Home have a great range of dog crates.
You can also set up a sleeping area on the front seats of the van to keep your dog separated from you. If you are in a larger RV or motorhome, then you can bring your normal dog bed from home.
Sticking to routine
The key to a smooth camping trip with pets in tow is routine. Try to walk and feed your dog at the same time as you would at home. Sticking to routine can help to keep your dog more relaxed and settled.
Great places to go on a campervan holiday with a dog
City, sea or mountains?
Urban campsites, due to their more restricted spaces, are often stricter with regard to the admission of pets. The same applies to city attractions, such as museums, exhibitions, public transport – so it might be best not to plan city visits when holidaying with your dog in any case (although more public / private spaces are welcoming dogs these days, so check first before dismissing). 
Choose natural destinations such as seaside and mountains, where your dog has more space to move around and be outdoors – and you'll also benefit from an enjoyable, scenic ride too!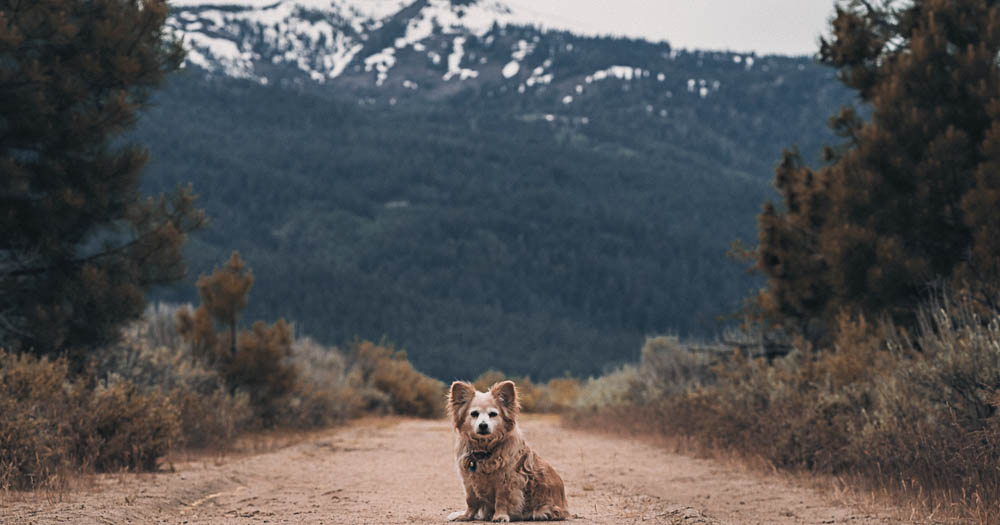 Best places in the UK for a campervan holiday with your dog
Cornwall
Cornwall is arguably one of the most beautiful coastal counties in the UK and its spectacular coastline and open spaces are ideal for dog-walkers and campers. You and your four-legged bestie (or pack) can embark on en epic road-trip, following the South-West Coast Path and stopping off for a cream tea, swim and sniff around popular destinations such as: 
Newquay – A surfer's paradise, popular for it's long-stretches of sandy beach, rugged cliff paths and many campsites. You'll meet plenty of dog-owners (and dog-lovers alike) on way-marked footpaths and in cosy cafes and see dogs dipping their paws in the water. It's worth checking the rules of some beaches, which restrict dogs in peak tourist seasons, but the coast paths are always free-reign. 
The Clay Country – You've probably heard of the Eden project, famous for its unique dome structure and bio-diverse flora and fauna. The Clay Trails where it is found are rich in Cornish history and ideal for dog-friendly activity and nearby accommodation. You'll pass historical landmarks which'll transport you back to the days of traditional clay mining and see forestry, lakes and sea views along the way. 
Lake District National Park
One of England's treasured UNESCO World Heritage Sites, the Lake District is not only astoundingly beautiful, but attracts dog-lovers from far and wide who adore its many walking trails, camping grounds and dog-friendly public attractions. Here are a couple of our faves: 
Take your dog on a boat across Lake Windermere – Not every activity on holiday needs to involve hill-walking and paddling. Dogs on leads are usually allowed on rented boats for free. They'll love playing captain of the ship – and the photo's will be priceless!
A Keswick walking trail – This stunning, countryside town has many circular or adjoining walking trails where you and your dog can wonder peacefully through lake and hillside footpaths, old railway lines, ancient stone circles and vast forestry. 
Best places in France for a campervan holiday with your dog
Dordogne
The Dordogne Valley is a great place to travel in a motorhome because of its rich heritage, much of which is dog-friendly:
At most of the castles, like those of Castelnaud, Bridoire or Beynac, or La Maison Forte de Reignac, dogs are allowed, so you can fully enjoy these interesting heritage sites with your furry friend.
Dordogne also has lots of prehistoric sites. Unfortunately, very few caves are accessible with your dog (including the famous Gouffre de Padirac and the Lascaux Caves), but there is one exception: the Presque Caves.
The many famous and charming medieval towns such as Curemonte, Collonges-la-Rouge, Rocamadour and Sarlat can be strolled and admired with with your dog.
Gardens such as those of the Manors of Eyrignac, Limeuil and Marqueyssac are lovely to stroll around together.
The Haut-Quercy tourist railway in Martel is dog-friendly.
La Roque Saint-Christophe will challenge you both.
Brantôme: Dogs are allowed join the outdoor part of the tour of this "Venice of Périgord", but not the indoor part, inside the museum.
Périgueux, a City of Art and History, is sure to interest you both.
There are also loads of open-air activities for you to enjoy together in this area:
Wild swimming in the breath-taking setting of the Dordogne River
Hiking: Dogs are allowed throughout the Causses du Quercy Regional Nature Park
Gabare or canoe trips, yes, dogs can hop onboard!
Visit the vineyards of Bergerac and Montbazillac.
Brittany
A great campervan holiday with your dog would be in North Brittany, taking in the Route du Mont St Michel and the treasures of the Emerald Coast and the Pink Granite Coast. You and your canine companion will love the diversity of the landscapes: steep cliffs, rocks with pink reflections, blocks of granite sculpted by the wind and the tides or white sandy beaches, all bathed by an emerald sea. These enchanting landscapes are punctuated by towns and fishing villages with authentic Breton charm and intriguing scents.
Visit Mont-Saint-Michel on the border between Brittany and Normandy, one of the most beautiful jewels of French medieval heritage! You'll walk the 3km path from the car park to the Mont (as dogs are not allowed in the shuttle bus). While you won't be able to take your dog into the abbey at the very top, you'll be able to explore all the rest of the Mont together.
The Emerald Coast with its bays, small fishing ports and pretty medieval sites such as the Château du Guildo and the Fort la Latte (Château de Roche Goyon).
The shale and pink sandstone cliffs of Cap Fréhel offer one of the most beautiful views in Brittany.
The island of Bréhat: cars are banned on the island, you'll have fun discovering the island on paw and on foot or by bike.
The Pink Granite Coastal Walk along the Douaniers path, between Perros-Guirec and Trébeurden has many beaches and creeks and archaeological sites to explore.
Other sites to visit in the area with your dog:
Kerdalo Gardens in Trédarzec
Beauport Abbey in Paimpol
Gallo-Roman thermal baths of Hogolo in Plestin-les-Grèves
Castle of Bienassis in Erquy
Cider Museum in Pleudihen-sur-Rance
Guildo Castle in Créhen
Broceliande Forest
 The medieval city of Dinan
Languedoc-Roussillon
Travel by motorhome through the Languedoc-Roussillon region, passing through the Gard, Hérault and Cévennes. There are rushing rivers and gorges to swim in, mountains to hike and beautiful gardens to visit.
Pont du Gard: Listed as a World Heritage Site, this ancient and majestic site is set in a splendid natural setting your dog will love. Take time to wander the paths through the garrigue and admire the gorges of the Gardon. The Pont du Gard is very easy to reach by motorhome.
Cévennes National Park is a little corner of paradise in the heart of the Cévennes. The best thing to do is to take a boat or a kayak to fully enjoy this unique place by water, but you can also of course hike it. Other dog-friendly activities in the park include the Cevennes steam train, Allègre les Fumades and Cheylard d'Aujac Castles, the Aven Armand Cave, La Bambouseraie en Cévennes, Le musée des vallées cévenoles and a walk in the Gorges du Tarn.
The Cirque de Navacelles is a natural site classified as a Grand Site de France. The views of the cirque from the viewpoints are extraordinary, but to be totally immersed, there are magnificent hikes in the heart of the cirque. The site is easily accessible from the top by motorhome, but the descent into the heart of the cirque with a motor home is not recommended – walk down or use the shuttle bus.
The Hérault Gorges offers the gorges and their steep cliffs, the Devil's bridge which is great to swim or canoe, the Clamouse cave, Saint-Guilhem- le-désert, a medieval city among the most beautiful villages in France, and beautiful walks.
Salagou lake, nestled in the middle of arid red rock hills, is an ideal spot for enjoying a relaxing day with a dog.
Grand Travers beach, located in La Grande-Motte, it is one of the most pleasant dog-friendly beaches on the Mediterranean.
Carcassonne and the Cathar country in Occtania
The amazing ruins of the Cathar fortresses, perched on rocky peaks dominate the plains and the towns of this area, welcome dogs to visit.
Carcassonne is famous throughout the world for its fortified city, the largest in Europe. It is listed as a Unesco World Heritage Site and the medieval city is dog friendly. You will even find doggie bars in some shops! Only the Château Comtal is not accessible to dogs.
Montagne Noire is a preserved natural area, ideal for forest walks with doggie river swims.
La Rouge Forest, in Saissac, is great to explore on foot or by bike, with 25 kilometres of path. For an even more challenging walk, with more wild and steep sections of path, try the Lampy.
Classified as a Unesco heritage site, the Canal du Midi is a touch of tranquillity. Aboard a rental boat, drift under the shivering plane trees. Or along the towpaths, cycle as far as you like.
Finally, visit Le gouffre de Cabrespine. It is a huge underground cavity 80 metres wide and 250 metres deep. Your pets are welcome.
Best places in Italy for camping with your dog
Fortunately, as in many countries, dog-friendly campsites in Italy are becoming more and more numerous, so you will have no trouble finding a facility willing to accommodate your four-legged friend wherever you choose to go. Nevertheless, there are some areas of Italy that are more suitable for a holiday with your animal friend. Here are a couple of suggestions:
Trentino-Alto Adige
The mountains and valleys of Trentino offer an excellent setting for long walks with your dog and, in general, campsites in Trentino are well-equipped with dog-friendly spaces and facilities. Val di Fiemme, Val di Fassa, Levico and the Trento area are all good options for enjoying nature with your pet.
Tuscany
If you prefer the sea, on the Tuscan coast resorts of Castiglione della Pescaia, Marina di Bibbona, Marino di Grosseto and Torre del Lago have public dog beaches, as well as well-equipped campsites, where your dog can run around without worrying about disturbing bathers.
==>The best areas of Tuscany for a camping holiday<==
Campervan holidays with a dog
Campervan holidays with a four-legged friend can be truly magical. Sharing experiences in nature, exploring new places and developing an even closer bond with your family and pets is what open-air holidays are all about.
Now you know what to pack, where to go and how to keep your pet safe on the journey. We hope this survival guide means that no good dog gets left behind.
Have you any other tips for taking the dog on a campervan holiday you could share with us? Let us know on social media. And share a pic of your pup in your van 🙂