Surrounded by crystal-clear waters and crisscrossed by a widespread network of trails, Corsica is a little piece of paradise! Both for those who enjoy relaxing by the sea and sightseeing; and for activity enthusiasts, with hiking, climbing and mountain biking opportunities that are out of this world.
A land with a complex and troubled history, the "Island of Beauty" is located some 7 hours by ferry off the south coast of France, just north of the larger Italian island of Sardinia. As a result of this distance from the mainland, it has a strong, unique personality and defined, indigenous gastronomic and cultural traditions, a joy to discover, as well as its stunning geography.
In this article, we'll provide you with all the practical information, from ferries to campsites, to what to expect in terms of costs, and a range of itineraries to best plan your holiday on this enchanting island.
A holiday in Corsica: here's why
Corsica may have always aroused your curiosity but never enough to choose it as a destination for your next holiday. Maybe you reckon "it's probably just like the rest of France but harder to get to"? Well it's time to think again.
Here are some good reasons to holiday in Corsica:
It has both sea and mountains, very close to each other, so you don't have to choose between the two.
It has both pristine natural beauty spots and cities with vibrant nightlife for those evenings when you feel like partying.
It has a unique culture, neither Italian nor exactly French, for a unique experience.
It is THE perfect destination for a road trip, either with a campervan or with your tent and car or bikes.
It is accessible with or without your own vehicle.
Basically, it's a destination that has lots to offer everyone and especially those who want to fill up on new experiences during the vacations. Have we convinced you? Follow our advice and start your preparations!
Ferries to Corsica
Corsica is easily accessible by ferry from Toulon and Nice in France, Livorno, Savona and Genoa in Italy and several other places, taking between 4.5 and 10 hours, depending on departure and arrival points.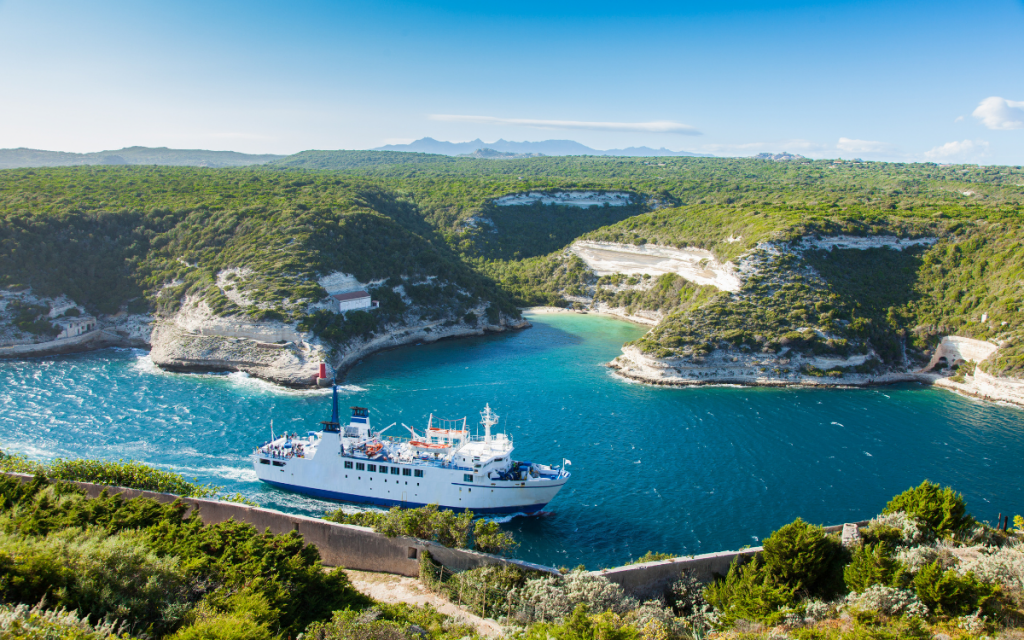 Prices vary by route, number of passengers, type and size of vehicle. Indicatively, a pedestrian can pay around 50-100 euros for a standard round-trip ticket without any extra services or cabins, while for two people in a medium-sized motorhome the fare ranges between 230-300 euros. As a general rule, booking in advance, especially if you plan to travel in the high season, not only helps you avoid the risk of running out of seats, but also sometimes allows you to find special offers and thus save something to put towards an extra dinner out!
To find the best fare for your dates, we recommend that you use our ferry booking tool, which allows you to compare the routes and prices of different ferry companies. You'll find all available schedules and fares conveniently on one page, and the selection and booking process will be fast and easy. Even if you're not 100% sure of your travel dates at this point, it may be worth booking something now – remember that companies offer 'Flex' tickets which, for an additional fee, allow you to change your departure dates free of charge.
Another important note: Even for shorter routes, carriers often offer cabin accommodation, Wi-Fi and other options. Based on experience of long ferry trips with small children, we can confirm that splashing out on a cabin, even for a day-time sailing, as a base to relax and play in, is often well worth the investment! And you'll see that adding any extras like this at the time of booking can save you money.
Corsica coastal holidays: the best locations
Between secret coves, white sand and water so clear you can see your own reflection, being disappointed by Corsica's beaches is virtually impossible. However, we can suggest a few particularly charming gems.
The south-eastern coast
Corsica's south-eastern coast, between the towns of Bonifacio and Porto Vecchio, boasts the island's most picturesque and best-equipped beaches.
The famous Santa Giulia beach, located at the foot of a mountain a few kilometres from Porto Vecchio, offers breath-taking views, various restaurants, and facilities equipped for water sports.
Rondinara, nestled between two rocky headlands, has calm, shallow waters, making it an ideal destination for children. It does not have many services aside from the rental of deck chairs and umbrellas, so make sure you come well provisioned for the day, with lots of water, snacks, etc.
Finally, the beach at Palombaggia, a UNESCO World Heritage site, is considered one of the most fashionable on the island, with several stylish bars and restaurants and a postcard-perfect landscape that is a must-see.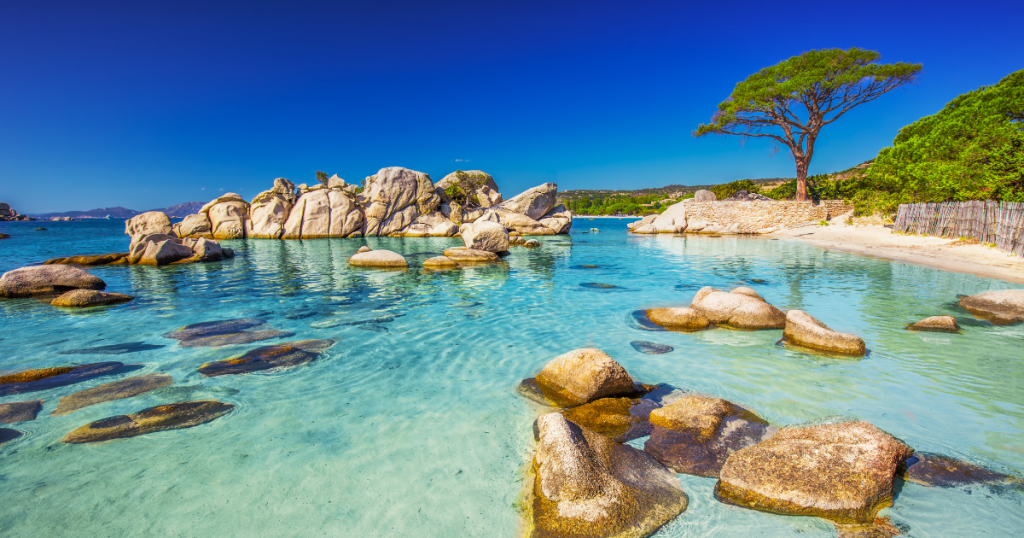 Cargese and the west coast
The west coast is a little wilder and more unspoilt than the east, so you can expect fewer people, but consequently also fewer services.
The beach at Cargese, very private and famous for its transparent water, is particularly popular with those who have a boat during their holiday.
La Girolata beach and the adjacent Scandola and Calanchi di Piana Nature Reserve offer some of the most poetic, rugged scenery in Corsica. Characterised by a narrow, sandy shoreline, the area is only accessible on foot and by boat and is therefore not particularly easy with small kids.
North and South: the differences
The northern part of Corsica is the wildest, most unspoilt and least crowded and touristy. For this reason, the north is particularly suited to those who love nature, walking and hiking, those who prefer peace and quiet and those who want to visit the island on a budget. The southern part is more 'picture-postcard', so to speak, with crystal-clear beaches and charming towns, but also more touristy, which is reflected in the prices of everything from food to accommodation.
The east and south coasts are also easier to reach with large vehicles, such as campervans or motorhomes, due to the wider roads. This should not be underestimated if you are planning a holiday with a large vehicle, as many roads in Corsica can be pretty small, steep and windy.
The best excursions for your holiday in Corsica
Although Corsica is thought of as a predominantly seaside destination, the island actually boasts a significant mountain range and countless hiking opportunities.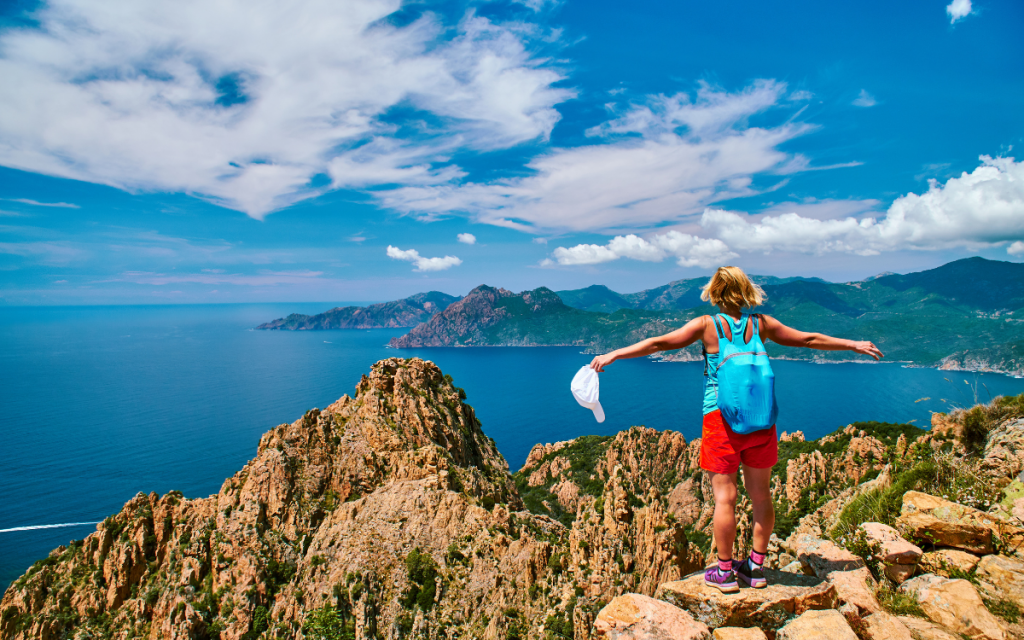 The hiking route par excellence is the GR20. It is very difficult and only suitable for seasoned hikers. It crosses the island from north to south, from Calenzana to Conca. In total, it is about 200 km and can be covered in a fortnight of strenuous walking.
Keen walkers who prefer something less strenuous can opt for the sea-to-sea itinerary, which crosses the island horizontally from Porto Vecchio to Propriano, traversing the Mediterranean maquis, passing perched villages and centuries-old forests of oak and chestnut trees.
As for shorter hikes, in the northern area, we recommend the walk to the Seneca Tower, a trail of about 1h30 that starts at the Colle di Santa Lucia and offers a panoramic view as far as the islands of the Tuscan archipelago. In the Piana area, there is also the Capo Rosso hike, which leads to the Turghio Tower overlooking the cliff between the gulfs of Porto and Sagone.
Finally, around Bonifacio, it is worth exploring the Bonifacio cliff path to the Pertusato lighthouse: a loop of about 3 hours in which you can admire the limestone cliffs on the outward journey and the enchanting town of Bonifacio in the distance on the return.
It is always a good idea to take into account the heat and the sometimes uneven terrain: start early in the morning if possible and bring enough water, especially if you're planning to walk with children in tow.
How much does it cost to go on holiday to Corsica?
Going to Corsica is no longer the low-cost holiday it may have been a few years ago. But you won't have to go bankrupt after ten days discovering this fascinating island.
As we have already seen, you can keep the cost of the ferry down by organising to travel off-season, by comparing all the prices and perhaps selecting less popular routes, and by booking in advance. As for accommodation, the best way to keep costs down is to opt for a campsite instead of a hotel. Most of them offer on-site accommodation as well as pitches for tents and vans. A week in a campsite for two adults and two children can, in fact, cost less than €500, often with services such as a swimming pool included. The possibility of preparing your own food, when the mood takes you, saves even more, as you won't be obliged to eat every meal at a restaurant.
For things to do and sights to see: if you organise yourself with your own beach equipment, beaches are free, and hiking and mountain walks are doable independently. Petrol might be the only unavoidable expense, but in general it is possible to organise a 7-10 day holiday in Corsica for the whole family without breaking the bank.
Holidays in Corsica: must-see towns
Ajaccio
Corsica's capital and Napoleon Bonaparte's city, Ajaccio is worth a visit for its markets, its pastel architecture and its cultural and historical richness.
Bonifacio
Bonifacio is Corsica's most popular town and its unique layout offers absolutely extraordinary views of the cliffs. Visit the citadel for the best views of the sea and take a boat trip for even better ones of the town!
Calvi
Less crowded than the previous two, Calvi is a perfect mix of the authenticity of its wild side and the worldliness of its touristy side. Combinea visit to Calvi with a stroll through the intricate and picturesque alleyways of nearby Ile Rousse, for a quiet day out.
Bastia
A typical port town, Bastia will be your first point of contact with Corsica, if you arrive by ferry. Explore its charming old city perched on the hill, before moving on to the lower part where you will find all the services you might need to organise the rest of your holiday.
Campsites in Corsica
Corsica boasts a wide range of campsites all along the coast, with a particular concentration near the most popular beaches. Gone are the days of spartan campsites with only the most essential services. Nowadays, most of them are equipped not only with pitches, but also with bungalows and mini-apartments and often offer services such as a swimming pool, restaurant, Wi-Fi and mini-club – allowing you to have some adults-only time on holiday.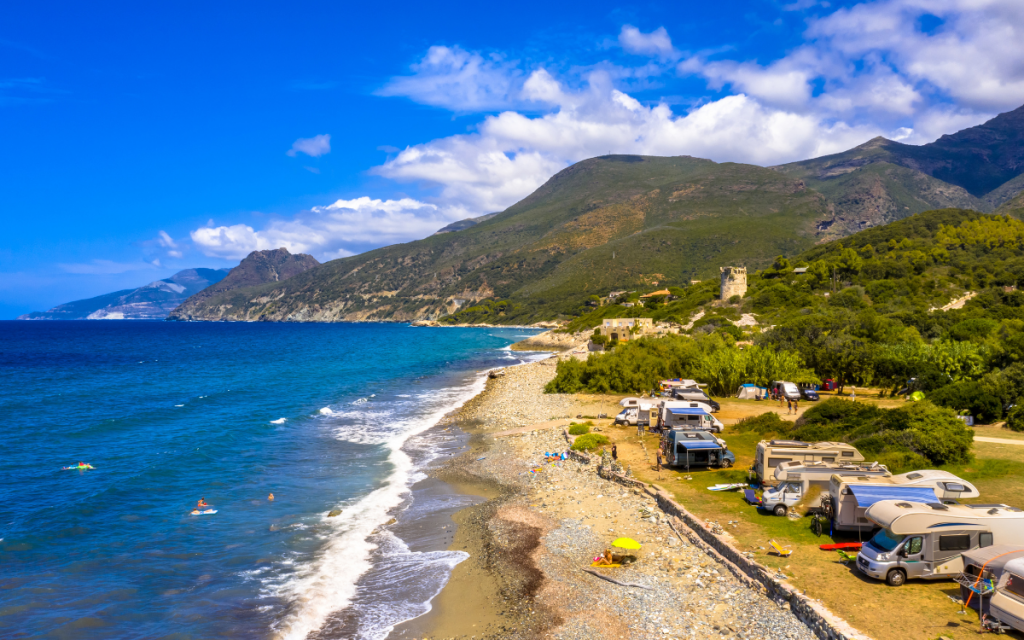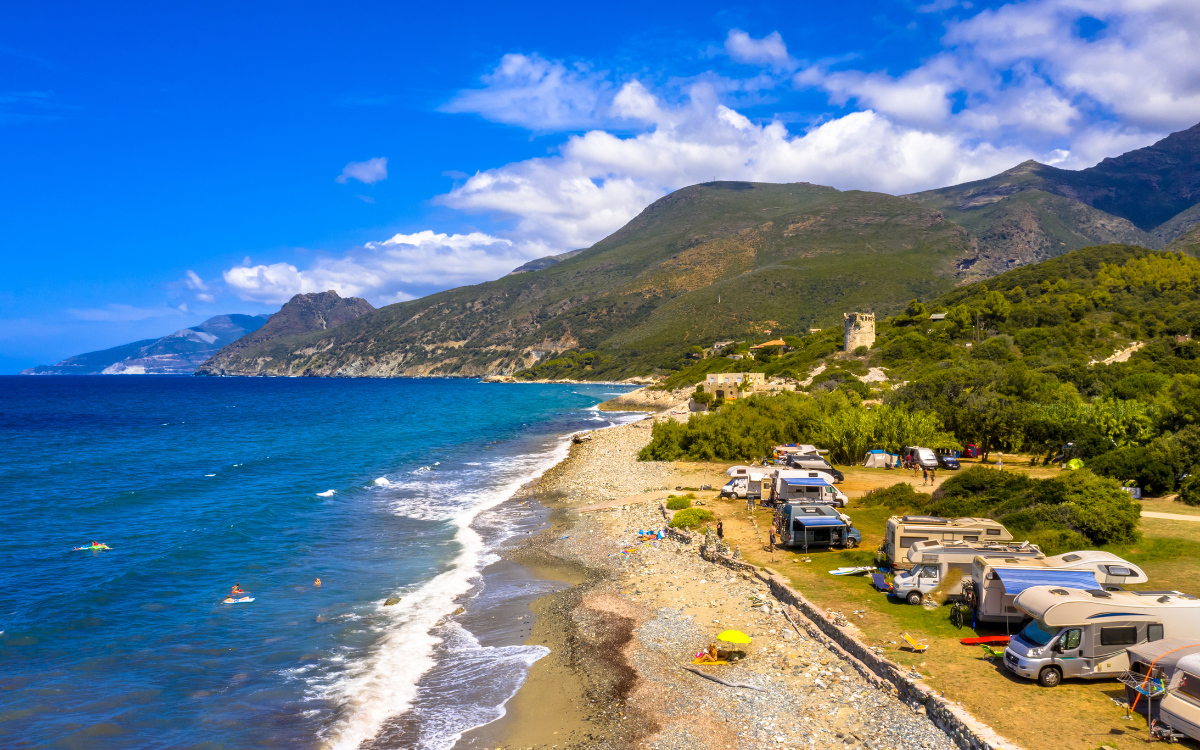 Due to the seasonal nature of tourism on the island, most campsites are only open during the summer season, between April and September. They usually have special offers for the less crowded periods at the start and end of summer, so be sure to book early if you want to save up to 20% on rates.
Have a look at our campsites in Corsica and book your holiday now at great prices.
A 7 day road-trip in Corsica
Day 1: Bastia and Cap Corse
The ferry arrival point, Bastia is the logical place to start an itinerary. Spend a few hours touring its old city on foot, past alleyways and little churches, before getting back behind the wheel in the direction of the 'finger of Corsica'. Cap Corse is dotted with charming villages, among which we particularly recommend Erbalunga with its colourful little port and the black beach of Nonza. The day ends in Saint Florent, on the north-western side of the island, where an evening stroll along the seafront is a must.
Day 2: Saint Florent – Ile Rousse
Between Saint Florent and Ile Rousse lies the incredible Agriates desert, which is definitely worth a visit. Passing several beaches, you then arrive at Ile Rousse, a pretty, colourful village where you can stop for the night. Another option is to continue further to Calvi, a port town with an interesting fortified citadel.
Day 3: Calanques de Piana and surrounding beaches
The Calanques de Piana, along the coast between Calvi and Ajaccio, are spectacular red granite formations that can be visited from various viewpoints along the road or by planning a hike. The area also boasts remote and breath-taking beaches such as La Girolata, which can only be reached on foot or by boat. Count on spending the whole day on this stretch of road, to arrive in Ajaccio in the evening.
Day 4: Ajaccio
After so much wandering, a stop in Ajaccio will allow you to slow down a bit, fill up on culture and try the tasty Corsican food at some of the city's great restaurants. If you have the time, a boat trip to visit the Sanguinaires Islands, opposite the city, is worthwhile.
Day 5: Bonifacio
Drive the 200 km to Bonifacio in the morning and devote the day to visiting this enchanting town of white cliffs. Immerse yourself in the timeless atmosphere of the citadel, discover the fortress, the walls, the small churches and the market square, to crown it all with the majestic King of Aragon's Staircase.
Day 6: Porto Vecchio or Corte
Those who want to get their fill of the sea can devote the day to the magnificent beaches around Porto Vecchio: Rondinara, Santa Giulia and Palombaggia are just some of the countless possibilities offered by the south-east coast. Those who prefer to include a bit of trekking in their itinerary can head straight to Corte, which can be used as a base for a few excursions, for instance to nearby Lake Capitello. In Corte do not miss the traditional mountain food: breathe in the fresh air while enjoying a delicious charcuterie board.
Day 7: Return to Bastia
After a last dip in the sea or a last walk, take the day to return to Bastia, where you will board the ferry again for the mainland.
Corsica's culinary specialities
When you think of Corsica, cuisine may not be the first thing that comes to mind, but the richness of Corsican gastronomy will leave you literally speechless!
Let's start with the appetisers and nibbles. On a platter of typical cold meats and cheeses, you cannot miss: figatellu, a sausage made from pig's liver, prisuttu, a lean raw ham, lonzu (pork loin), coppa with peppermint, and brocciu, a soft goat's cheese that can accompany almost any dish, breakfast included.
It's no surprise that Corsica's traditional and most delicious main dishes are fish-based: hence we have bouillabaisse, a soup made with redfish, mullet, conger and gurnard accompanied by a sauce made with breadcrumbs, olive oil, saffron and chilli pepper, called rouille. Another typical fish soup is aziminu, prepared with lobster and shellfish. For those who prefer meat, traditional dishes are veau aux olives and civet de sanglier, wild boar casserole accompanied by chestnuts, carrots, garlic, onion and fennel.
Finally, as typical desserts, we recommend the dried fruit tortas and the fiadone, made with brocciu and lemon. And since gastronomy is as liquid as it is solid, we have to end with a tasty traditional digéstif based on myrtle or chestnut: rappu.
Corsica by camper van: an island to discover
The motorhome is undoubtedly the means of transport that allows you to explore the island with greatest freedom, especially considering the poor public transport network between the different parts of the island. The vast presence of well-equipped campsites, in the middle of nature, overlooking the beach or near the towns, makes organising an overnight stay extremely easy: the only difficult thing will be the choice!
You can compare campervan rental prices and book directly on Campsited!
Traffic rules
With the advent of tourism, Corsica's road network has been expanded and improved, but the roads are still quite narrow and winding, especially inland. So don't expect to find motorways (there are none), which at least saves on tolls.
Speed limits on the island are 80 km/h outside built-up areas and 50 km/h in urban areas. It is good practice to respect these strictly for safety reasons, but also to avoid fines during frequent police checks in the busiest months.
Useful tips for holidays in Corsica in a motorhome
The possible itineraries for exploring Corsica are many and, as we have said, very different, depending on the area chosen. In a motorhome, we recommend driving down from Bastia along the eastern side, where the roads are wider and straighter. The west coast along the calanques is wilder and more scenic, but has narrow roads and blind bends that could pose some difficulties for larger vehicles.
Another important aspect to bear in mind is the ban on wild camping in Corsica. To avoid fines or unpleasant inconveniences, organise overnight stays in regulated campsites, which you will have no trouble finding.
Have we convinced you that wild and wonderful Corsica is well worth the trip? Get out the French phrase book and start planning an adventure with friends or family!