View of the Saint-Georges church in Lyon – France
Many people count the city of Lyon among their favourites and it's not surprising. The former capital of Roman Gaul has it all. Culture, fresh air, nature, gastronomy… As a place to live or simply to visit, be it for a weekend or a longer stay, Lyon has much to offer.
Lyon is nestled in the Auvergne-Rhône-Alpes region, which means that it is surrounded by sublime sites and landscapes. Ideal for nature lovers and outdoor enthusiasts.
The city of Lyon has an area of just over 47 km and is a pleasant place to walk or cycle. It is built on two hills: Fourvière, known as "the hill that prays", and the Croix Rousse, "the hill that works". It is bisected by two rivers: the Rhône and the Saône.
So you can explore the city landscape, while also enjoying culture, fresh air and nature.
Lyon, a cultural city for everyone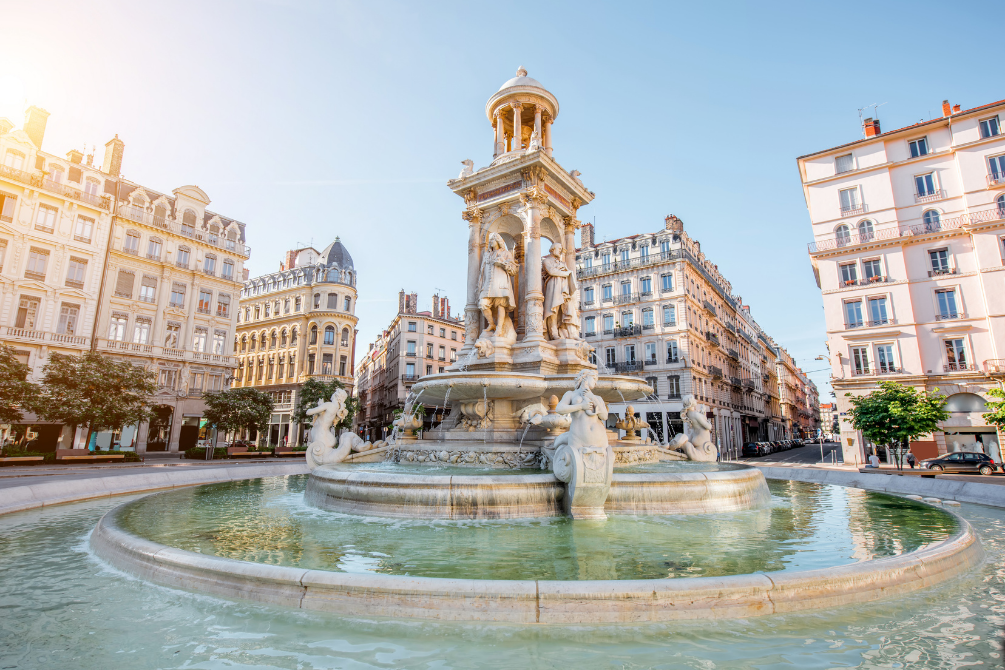 As well as being famous for its festivals, including the Fête des Lumières, Lyon is home to numerous theatres, museums, monuments and concert halls. Make sure to take time to appreciate these cultural gems on your trip. Visit the museums, take advantage of guided tours, get greedy with the great gastronomy or marvel at the many shows and events held in venues around the city. Find all the activities and visits available on Campsited here.
A list of the interesting spots to visit in Lyon
Musée des Confluences
MAM – Museum of Puppet Arts
Museum of Fabrics and Decorative Arts
LUGDUNUM – Roman Museum & Theatres
Lyon Museum of Contemporary Art
Cinema and Miniature Museum
Basilica of Notre Dame de Fourvière
Hôtel-Dieu de Lyon
Saint Jean Baptiste Cathedral
Bellecour Square
Bartholdi Fountain
Fresco of the Lyonnais and the wall of the Canuts
The Aquarium of Lyon
Get lost in the many green spaces of the city of Lyon
If there is one thing that is not lacking in this charming city, it is green spaces. Whether you're visiting the city as a family, solo or with friends, the parks are a place to get some fresh air, take a break and reconnect with nature. It's a great way to step back and get away from the crowds for a while. After all, Lyon is the third biggest French city, after Paris and Marseille.
Take advantage of the green spaces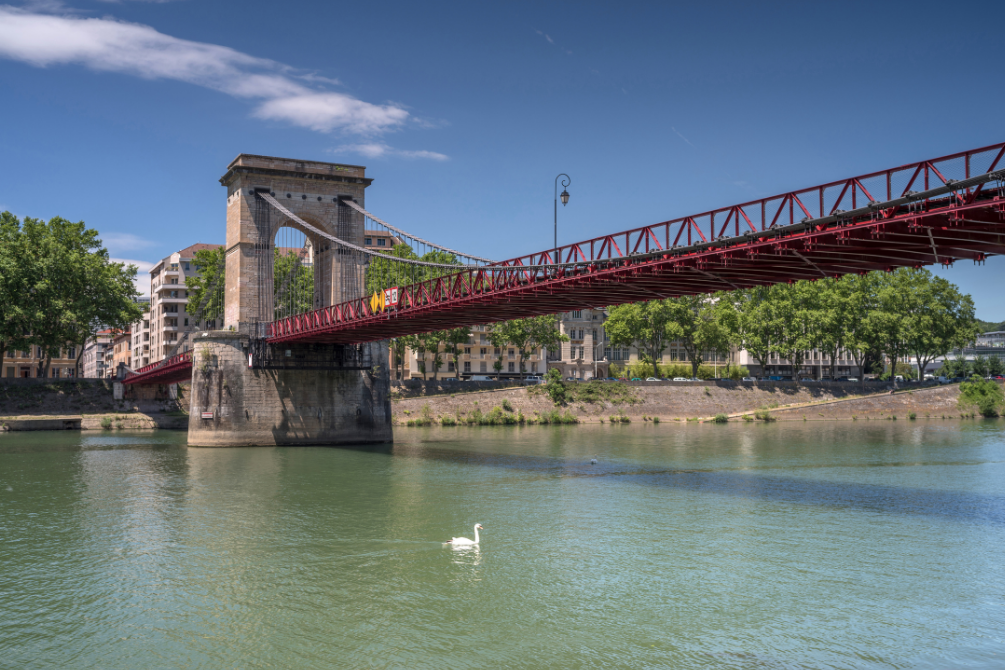 Cycle up the banks of the Rhône to the Parc de la Tête d'or. Visit its zoo and botanical garden. This park is a must for nature lovers.
Enjoy water activities in the Lac des Eaux Bleues and take advantage of the Grand Parc de Miribel-Jonage to go hiking. This area covers 2200 hectares.
Use the cycle paths of the Parc de la Feyssine on the banks of the Rhône, to go for a bike ride.
Enjoy remarkable views of the city, old city and the Croix-Rousse hill from the Parc des Hauteurs, Esplanade de Fourvière. You can get there by funicular.
Enjoy the fitness trail in the Parc de Lacroix-Laval and take the Petit Train.
You can discover the city of Lyon and its cultural sites, but also take the time to recharge your batteries in its many open-air, green spaces.
Lyon culture and fresh air: Suspended Masaryk Bridge across the Saône
Whether you are planning to visit Lyon for a short or a long time, take advantage of the campsites around the city to combine a city break with a stay in the open air.
Check out our partner campsites, ranging from 2 to 5 stars, to find the campsite that suits you all year round. In the countryside, on the edge of a lake or river, near the city centre… It's up to you to make your choice!
See our selection of campsites in Rhône-Alpes.
If you have time to take a whole week, you can really make the most of your stay by having lots of mini adventures around Lyon.
Hiking around the city of Lyon
Lyon culture and fresh air: Lac du Bourget and Aix les Bains
Lac des Eaux Bleues – about 20 minutes drive from the Parc de la tête d'Or. Approximately 8.5km or a 2 hour walk.
Parc naturel régional du Pilat – about 1h15 drive south from Lyon. Approximately 7km or a 2 hour walk.
Grand Bois, sentier du Grangent (near Saint-Etienne) – 5km or about an hour's walk.
Mont Saint-Rigaud – About 1h20 drive, north of Lyon – 11.7km or 3h15 of relatively difficult walking (difference in altitude 509 m).
Circuit du col du Joncin, crêt Lacrampe, Aux Pilons – less than an hour's drive, northwest of Lyon. 16km or 4 hours of relatively difficult hiking (difference in altitude 623 m).
Croix des Bergers, Massif des Bauges – about 1h45 from Lyon by car, and 40min from Aix-les-Bains. Approximately 16 km or 4h30 of relatively difficult hiking (altitude difference 550 m).
Leave with peace of mind with car hire
Planning to stay at a campsite when you holiday in the Lyon area? Think about hiring a car to make it easier to get in and out of the city, and also enjoy the region and the surrounding sites. In addition to offering you the largest number of campsites and activities, we also offer car rental to facilitate all your stays and holidays in the great outdoors.