Spending the day in the woods is a sure-fire way to re-balance your emotions and refresh your energy levels. While people in every country of the world know how great it is for us to get outdoors and especially to get close to trees, only the Japanese have given it a name: shinrin yoku, or forest bathing.
Contrary to our automatic assumption, this intriguing term does not necessarily involve water – it's simply 'bathing' in the forest itself and all it can offer. It is essentially a mindfulness practice, involving the natural environment – an activity that helps recharge your batteries when the pressures of the 21st century have sapped them.
As a practice, forest bathing is most closely aligned to meditation. It asks us to disconnect from the modern world and be completely in the moment. The idea is that you use all your senses to experience the forest or natural environment you're in: listening to the wind in the trees while feeling it on your skin, touching and holding plants as well as smelling their presence. You feel the forest floor beneath your feet and watch the clouds and sky break through the canopy of the forest overhead.
Among the health benefits, studies are now showing a connection between forest bathing and lower stress and blood pressure levels, as well as improved immunity.
Read on for a guide to incorporating forest bathing into your camping trip and gaining its many benefits.
How to forest bathe
First off, forest bathing is a tech-free zone so plan to leave your headphones, devices and other distractions behind. You can simply wander or stay still within a forest environment, or you can enjoy it through some of these activities.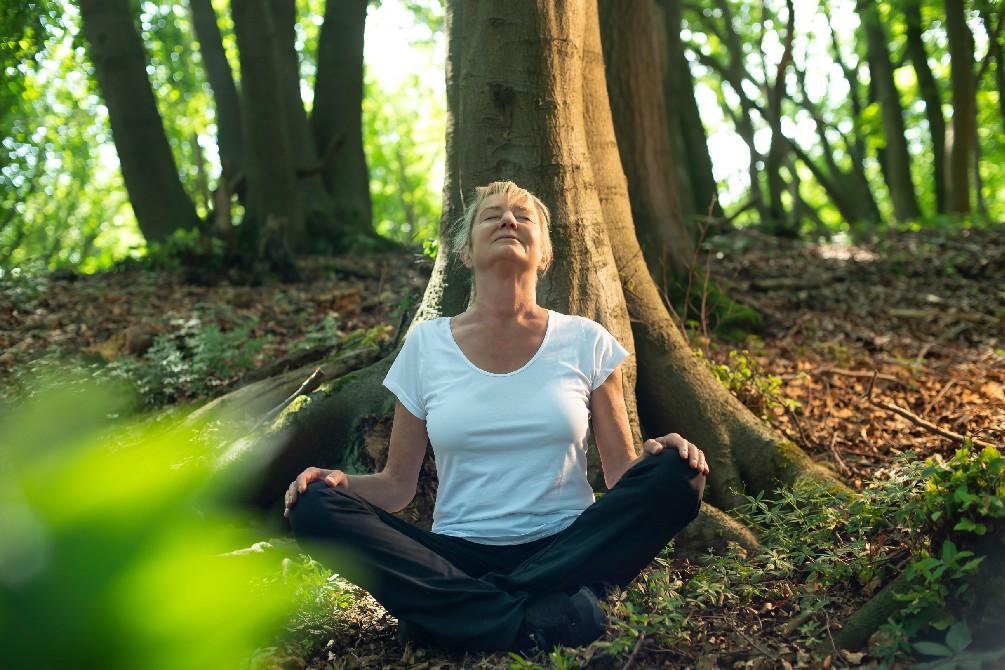 Walk into it: hiking
Hiking is a good friend of forest bathing. It gets you out into nature, allows you to feel the earth beneath your feet, and brings you to places that you can't experience by vehicle. Forest bathing should be aimless rather than following a strict path so, while hiking, take some time to simply be at one with nature. Stop and listen to the wind or lie down in heather and watch the clouds move over the trees. The experience can be incredibly fulfilling, especially combined with the physical exertion of a hike.
Dive in: swimming
Wild swimming in rivers and lakes is a wonderful companion to forest bathing. Lying in a river rock pool as ice-cold water cascades over you is a wonderful release that puts nature directly in your path. The dark colours of lakes and the rushing sounds of rivers also help you cut yourself off from the modern world. It's this ability to disconnect that makes forest bathing so attractive and a real counterbalance to our busy, technology-filled lives.
Great heights: climbing
Rock climbing outdoors is a great way to literally touch the earth and see what's right in front of your face. The focus and care needed to climb safely allows you to be completely in the moment and aware of the fragility of nature. A rock-climbing trip will put forest bathing and its beneficial energy right at your fingertips as you make your way across the face of rocks, mountains, and cliffs. The payoff at the end of a climb is of course the incredible views often on offer.
On the water: canoeing or kayaking
Canoeing and kayaking can bring you to lake islands and secret sections of river and coastline that are rarely visited by humans. It allows you to get deep into a part of nature that is normally just out of reach. The only power spent is the strength of your body and it's completely eco-friendly. Consequently, it's a great companion to forest bathing. There is a beautiful stillness when you stop paddling and simply feel the rhythm of the water as it lifts and drops your vessel over and over.
Brush strokes: painting in the open air
The French 'En Plein Air' painting practice is perfect for forest bathing. Set up your easel in a quiet corner of a forest and you can lose hours completely focused on trying to capture the scene in front of you on your easel and in colour. Each stroke of your brush will push you deeper and deeper into the environment.
Nature photography
The art of nature photography is a great example of a hobby that will allow lots of time for forest bathing. Remember, though, that forest bathing is all about leaving technology and purpose at home, so make sure you put the camera away sometimes and observe with your senses too.
Bird watching
Bird watchers need patience, time and quiet to reach their goal – all the same ingredients as forest bathing. By following birds to their natural habitats and then simply observing their lives without intruding on them you are already getting most of the benefits of forest bathing.
Visit a national park
National parks are created to protect natural habitats. By visiting one you are putting yourself in the path of nature. Take time when there to simply wander among the trees and enjoy the experience of being one with nature.
Why it benefits us
Forest bathing delivers benefits almost immediately by creating a sense of appreciation, wellness and our place in nature.
Forest bathing requires that you switch off from the modern world
When you go forest bathing, you need to leave technology at home. You don't need a soundtrack or want to worry about being in contact, so leave your devices at home. Doing this is in itself recognised as a first step in mindfulness, meditation and natural rejuvenation, all contributors to better mental health.
Forest bathing is eco-friendly, ensuring you're not the only one who benefits by taking part
Like many natural activities, forest bathing employs the idea of Leave No Trace – entering and leaving natural spaces with no evidence that you were ever there. Choosing this over an activity that requires power and technology puts us all one small step closer to a healthier environment.
Forest bathing encourages the return of areas to their wild state
As forest bathing increases in popularity, communities are attributing more value to wild spaces. People are learning that they can repair parts of their environment that have been reshaped by development by allowing them to return to their natural wild state. Even small areas in concrete cities can be 'rewilded', allowing nature to thrive and creating the conditions for forest bathing.
Forest bathing encourages us to protect our existing wilderness
Through participating in forest bathing, we become closer to and more educated about nature. We can measure its benefits through the volume of life continued in pristine wilderness areas and we are encouraged to protect these. The more we engage with nature, the more we will value it.
Forest bathing delivers real health benefits and promotes mental wellbeing
Growing evidence confirms that being exposed to trees, open skies and birdsong has a positive role in strengthening mental wellbeing.
Forest bathing in summary
Still unsure about forest bathing? Check our Faqs to learn more about this great outdoor escape.
What is forest bathing?
Forest bathing is the practice of communing with nature, without technology, workplace demands or modern pressure. Its name comes from the Japanese phrase shinrin yoku (shinrin means 'forest' and yoku translates as 'to bathe'). It's based on the belief that being in nature can create positive change in our mood, restore energy levels and generally rejuvenate us.
How does forest bathing help?
Forest bathing is a wellness practice that is believed to have significant health benefits. Its practitioners cite growing evidence that suggests it can not only affect stress levels, it can even reduce blood pressure, cortisol levels, and affect memory and ability to focus.
How do I practise forest bathing?
Forest bathing demands that we slow down and disconnect from technology. You need to find a place where nature thrives, such as a forest, and either walk or simply spend time within it, prompting yourself to notice the life that exists there – not just animal life, but all natural life.
Where can I do forest bathing?
Forest bathing doesn't actually need to be done in a forest. You can practise it in any natural surroundings, such as a meadow, a beach, a mountaintop or a local park. Any small place within which nature thrives is big enough to practise forest bathing.
Can forest bathing really improve your immune system?
Medical researchers in Japan studied the activity of human natural killer cells in the immune system before and after participants were exposed to trees. These are the cells within our body that help us fight viruses. They were able to demonstrate increased activity in the natural killer cells seven days after a visit to a forest and the benefits lasted for up to a month.
Book an open-air break, to try forest bathing on your next holiday.