Camping or living in the open air is a fantastic way to get closer to nature and it's even more rewarding when you do it in an eco-friendly way.
Lots of campsites now offer 'eco-friendliness' as a reason to choose their properties and have real green credentials. Eco does not necessarily mean slumming it, or just wild camping either – luxurious "eco-glamping" experiences exist!
Green campsites always bring you closer to nature and encourage you to make more sustainable choices. They're often designed to blend into their natural surroundings, allowing us to camp among wildlife soaking up all of Mother N's goodness. 
One of the great things about an eco-camping adventure is how easy and enjoyable it is to teach kids about the environment (and how to protect it) without them even realising they are learning.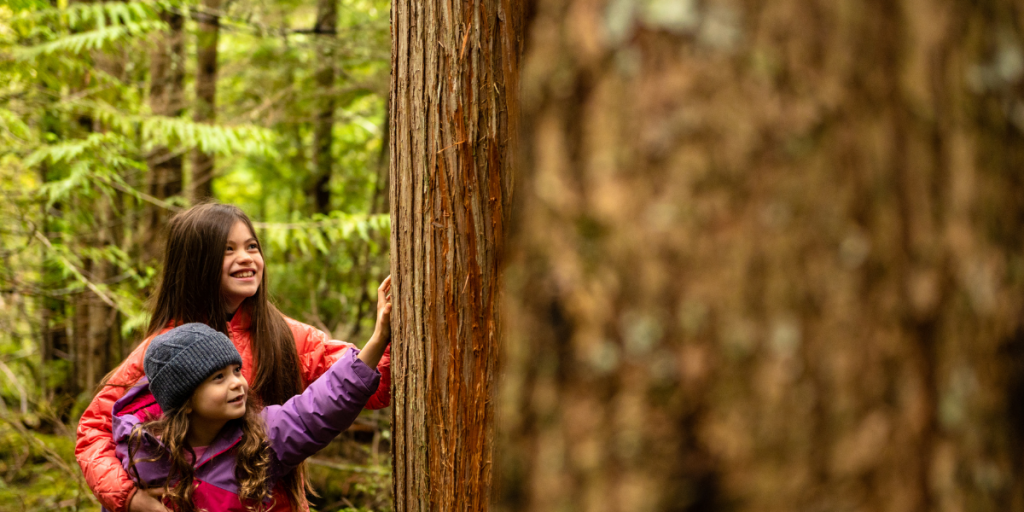 They'll learn how to respect wildlife, reduce their environmental footprint and set the bar high for the next generation of eco-camper. If children have a positive experience in nature while observing the environment and its importance to our lives, sustainability will become second nature to them.
You can find our list of environmentally-friendly campsites here, or read on to find out what characteristics you can expect from them, why we think eco-camping is great, campsite planning advice – and how you can become a more responsible camper.
Eco camping is the way of the past and of the future.
Eco campsites reacquaint us with the simple and beautiful materials and ways of living of the past – often closer to nature than those of the present.
They also encourage us to live more sustainably, and this changing of habits and increased consciousness of the impact of our consumption and behaviour on the environment can be taken with us back home after our open-air holiday.
Traditional designs rediscovered
Many eco camps are unique and beautiful, because their accommodation units are integrated into the natural landscape and use natural materials.
Generally, they use only recycled or recyclable building materials to limit their carbon impact. They often also use traditional designs like yurts, teepees and domes to create the impression of natural villages that blend into the countryside around them.
Eco-friendly camping is a return to the way we used to build housing – non-invasive, functional and one that works with the environment and not against it. So, these campsites marry sophistication with simplicity.
You don't necessarily have to sacrifice comfort to stay in these 'green' accommodation units either – You can find the same types of facilities and equipment as you would find in a traditional mobile home or cottage, but be safe in the knowledge you're reducing your environmental impact. 
Wildlife in its natural habitat – eco-campsites have it all
Eco-friendly campsites are all about getting out into the wild and enjoying it without damaging it. Consequently, they tend to be places that are rich in wildlife.
As more and more species come under threat from industrialisation, now is the right time to try and see them in their natural habitat.
And remember, every species of fauna and flora in our world plays an important role in our eco-system, so must be protected. We know that's easier said than done with 'nuisance wildlife' like mosquitoes, but there are ways to exist more harmoniously, with less harm caused to each of you (and the environment). For example, natural bug spray.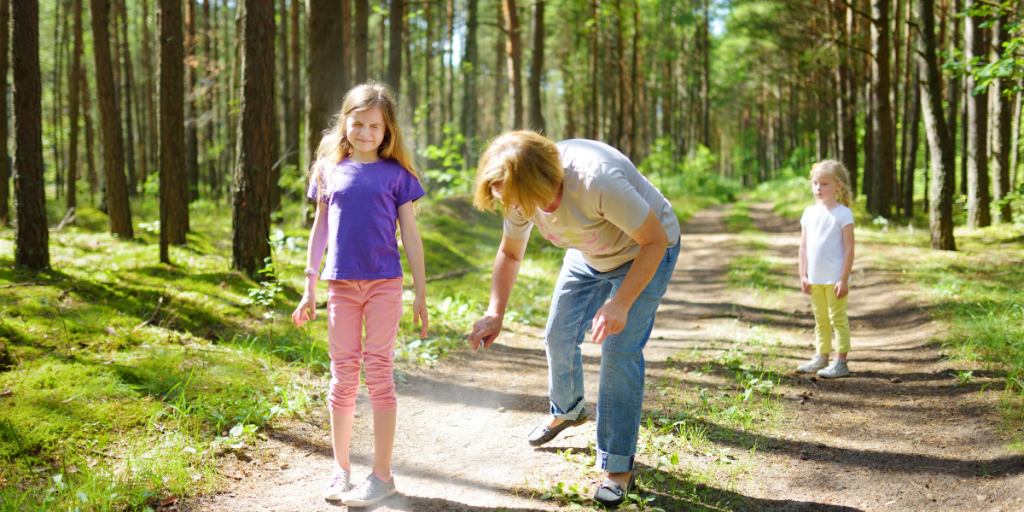 Make a homemade bug repellent for camping 
All you need is: 
1/2 cup of apple-cider vinegar / or white wine vinegar – The acidity will deter the bugs and also has anti-bacterial properties. 
A few drops drops of citronella or lemongrass oil (or a mixture of both) – Bugs hate the smell of citrus!
1/2 cup of water – to dilute it all down and help create an even 'mist' on your skin.
8oz glass bottle – Helps to reduce your plastic waste and packaging waste – and is re-usable time and time again. 
Reduced water use
Careful use of natural resources, in particular water, is one of the essential criteria for an open-air resort to get eco credentials. Measures such as water pressure reducers and automatic taps will be in place to control and reduce water use.
A bucket shower might be an option alongside regular shower facilities, which is a fun outdoor shower experience that allows you to become more aware of the amount of water a typical shower uses.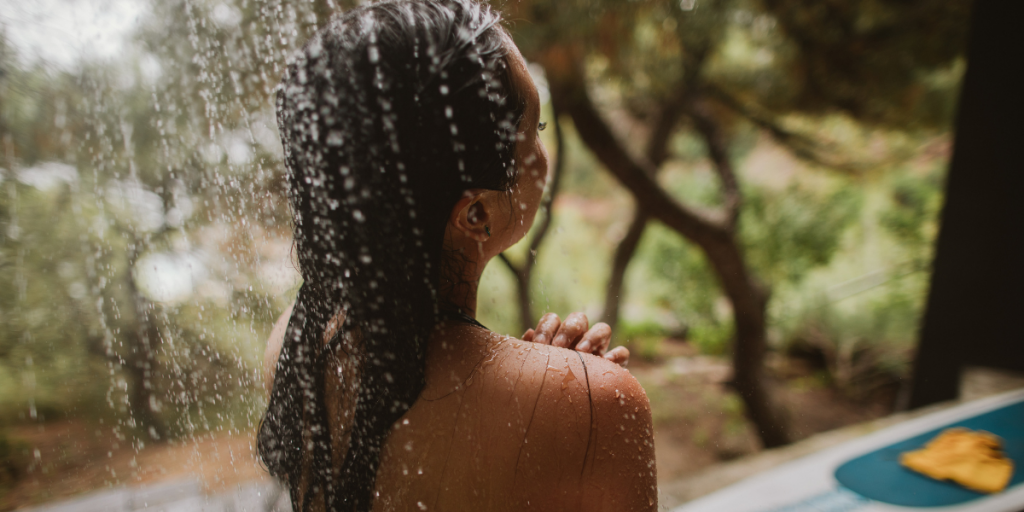 Many eco campsites have a controlled water source and are also set up to recycle water, with their own water treatment facilities, so your dish water, washing and drinking water will be both filtered and less wasteful. 
Having a deeper appreciation for water and reducing waste will make you a more sustainable camper. Team that with a plastic free shampoo bar and biodegradable soap and you're winning! 
Reduced car use
More and more eco campsites will have e-vehicle charging points. That said, campsites with an environmental focus will usually encourage you to park your car on arrival and only use it for necessary trips. Many offer bike hire, information on public transport too and access to alternative 'greener' travel means.  
There's lots of eco-friendly campsites with nearby public footpaths that lead you to epic hiking trails, so you'll love using your feet as the primary mode of transport!
Do note, sometimes cars are not allowed within the campsite, so check with your host before you go. 
Eco toilets 
Eco campsites will generally have dry, composting toilets available as an option – and in some of them, it may be the only option. This not only saves water (and lots of nasty chemicals), but it allows 'human waste' to return to nature and feed trees and plants.
If you've never used a composting toilet before, don't be alarmed, they're usually very clean, made from sustainable materials and encourage you to do your business and then, instead of flushing with water, cover with sawdust (or something similar). 
Eco toilets are surprisingly hygienic and have minimal impact on the environment.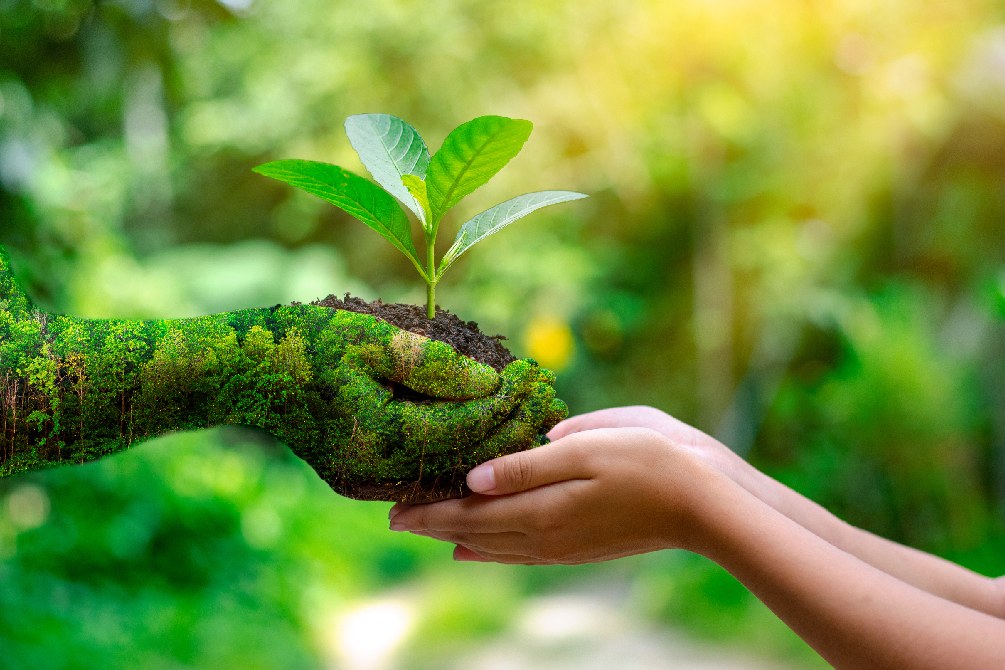 Realise how little electricity you actually need when camping
A really committed, eco campsite will go off-grid and rely on solar power as a primary source, it gives you a chance to observe your electricity use.
A cool box, for example, is a perfectly good way to keep food and dairy fresh for extended periods without running a fridge 24 hours a day – add that to your list of camping gear. 
Camping in the open-air allows us the rare escape from daily stresses and our obsessions with technology. Our phones and devices churn through power, and in reality, do we really need to be using them on holiday?
Most outdoor activities work just fine without added technology like trackers and fitness watches, which need to use power to charge, so prioritise what's important. 
If your phone (or other electrical devices) are essential to keeping connection to the outside world and documenting your holiday, then bring a portable solar-charger – that's a great compromise!
Use of camping eco-friendly products 
One of the hardest jobs in treating wastewater is removing the oils and chemicals we put in while showering. So why not try some eco-friendly soaps and shampoo bars, produced without petroleum and packaged without plastic, to pollute our water and land less?
You can also use this opportunity to try to cut out paper and plastic. You don't need to use disposable plates, cups or packaging while camping. You can find reusable versions made from recycled or recyclable materials like bamboo, wood or enamel.
And we're sure you're already making use of a reusable bottle in your everyday life – be sure to pack it in your camping gear kit bag!
Children will learn valuable reflexes
Spending a week in an eco-camp will probably teach your children more about the environment and how to protect it than years of schooling. 
Sleeping in eco-friendly accommodation, using composting toilets rather than chemical ones, thinking about their everyday water use and living in a natural habitat are life lessons that will stay with them forever.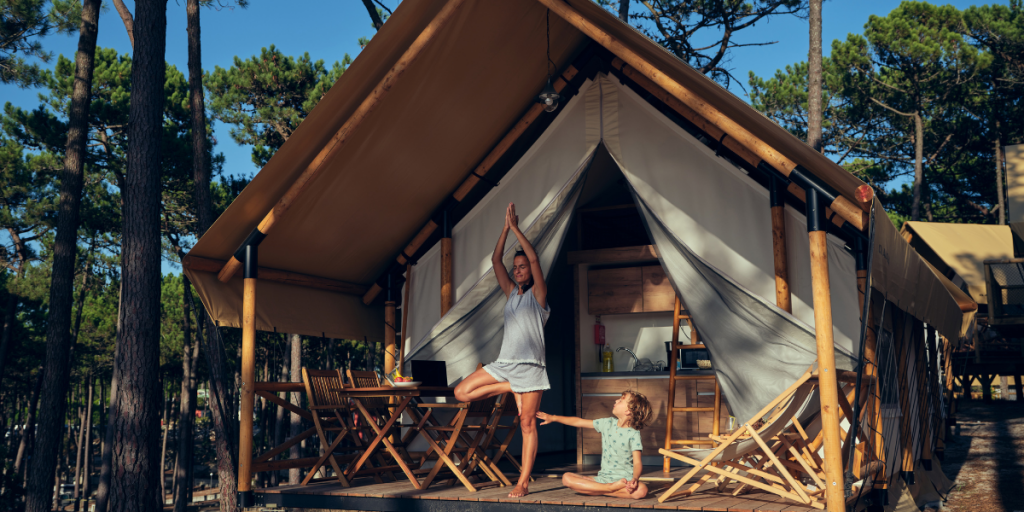 They'll get 'environmental education' without a classroom and you'll get well-rounded, eco-conscious children that'll pave the way for generations to come.
Plan more sustainable meals
Much of respecting the environment is to avoid using what you don't really need. This also has a positive effect on the holiday budget!
So, when buying food, think carefully and buy only what you need for your planned meals, to avoid excess food waste.
Buying local produce which has not created a carbon footprint by travelling from another country is also a great way to support global sustainability and bio-diversity. And of course, vegetarian food choices are a lot more planet-friendly than meat or fish.
While you have more time for creativity and research in your meal planning, why not try to eat more vegetarian meals during your holiday?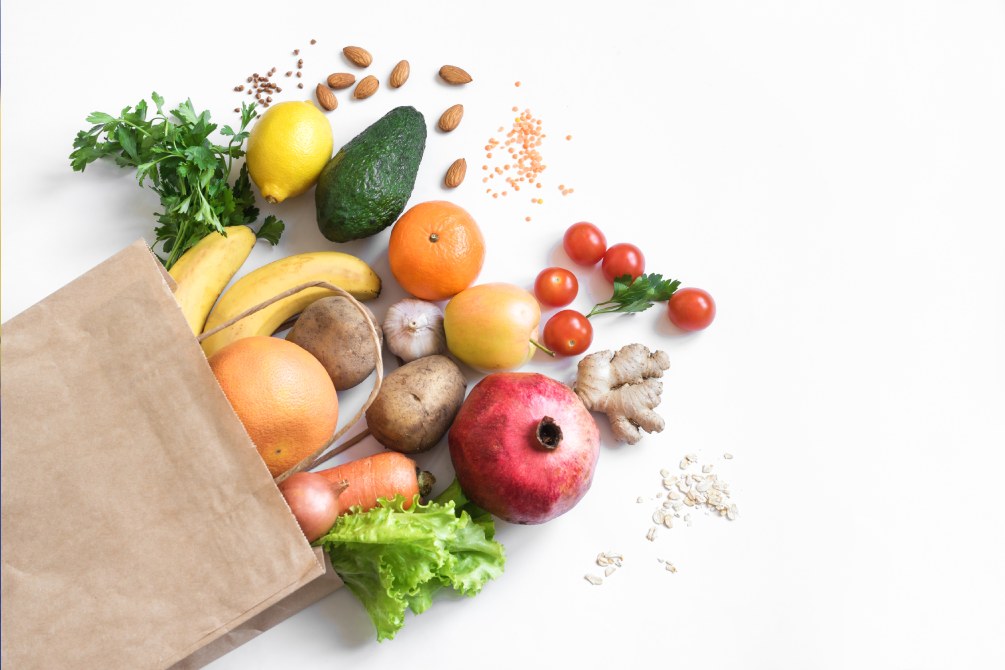 Try these activities on your eco-holiday
There are lots of activities that will also help you to become more conscious of nature – and to reap its benefits, coming home feeling all the more healthy and serene. Here are just a few ideas – make it a family game to come up with more!
Relax with some forest bathing
Forest "bathing" can be done in any natural habitat, not just in a forest. Simply identify a natural area, leave behind the technology and other distractions and "bathe" in the environment without any purpose other than to enjoy what's around you.
>> Read more about the benefits of the emerging trend of forest bathing here <<
Try wild swimming
Wild swimming is a hugely popular activity that simply involves finding a river or lake to plunge into. Europe is full of both, so it won't be hard to find pristine rivers to swim in and a picnic by the riverbank will be unforgettable.
Early summer is the best time for this activity, as the harsh heat and infrequent rain of August means many rivers, pools and lakes run dry, especially in the south of Europe.
>> Find campsites in France near rivers and lakes here <<
Watch birds
Bird watching is a wonderful activity that leaves no trace and can be done anywhere. Once you have learned a little about it using a book or other resources, it's hard to watch a bird without noticing patterns in its behaviour that are quite similar to our own.
Hike… or just ramble
Ask about walks and hikes in the area at the local tourist office – they will often have a booklet mapping and explaining the itineraries of the most popular and accessible marked trails in the area, which will showcase the local beauty spots and make you appreciate your natural surroundings all the more.
Don't forget lots of water, snacks, sunblock and hats!
>> Read our article on hiking with kids <<
Return to what's important in life
Enjoying an open-air holiday – or life – in harmony with the planet, is getting back to what is really important: the environment we live in. Much of the rest of the 'stuff' we concern ourselves with day to day is superfluous.
But it is essential to get back to living a life close to nature at least occasionally, to remind ourselves of how fantastic the world is, to reorganise our priorities and to focus on what is good for us.
Have we convinced you?! Go on, book your next camping trip at an eco-friendly campsite.
Frequently asked questions about sustainable camping
What is eco-camping?
Eco camping is camping with little or no impact on the environment. Composting and solar-powered electricity are examples of practices you could expect at eco-campsites. Some of the best examples are campsites that have been built from the ground up to have a very low carbon footprint, using only materials and power sources that are sustainable and recyclable. But some existing campsites have also made big efforts to make their operations more environmentally friendly and we should all look out for them.
Are eco-camps hard to find?
No. These days, green credentials are a real badge of pride that campsites like to advertise widely. More and more campsite operators are switching to eco-friendly approaches. Campsites that were previously mains electricity only are gradually switching to partial or complete solar power, and waste water treatment is becoming an important issue for many sites. The use of plastic is discouraged and the enforcement of recycling rules are widespread. Find eco-friendly campsites on Campsited here.
Why do people prefer eco-friendly campsites?
Camping in itself is an inherently eco-friendly activity. The people who enjoy it like to be in natural environments and realise the importance of protecting them and so, there is a gradual move towards demanding more eco-friendly campsites.

Usually they are just as comfortable as regular campsites, if not more so. The operators of eco-friendly campsites have spent a lot of time problem-solving the camping experience from an environmental perspective and so they have usually also found ways to improve the experience overall.
Are eco-friendly campsites suitable for families?
Eco-friendly initiatives are almost always family-friendly too. They are about reconnecting with people and nature and recognising the power we all have to make a difference in the world. Achieving this while on holiday with your family is a great experience and will be new and fun for kids.

Living in a way that doesn't leave a footprint or have a cost for the environment is not only a great adventure you will have together, but it will hopefully shape your kids' attitudes and behaviours in the world in a positive way.
Are campfires eco-friendly?
Yes, so long as you don't use petrol to light them. Use fallen branches from the area, always make sure to put the fire out properly and, once it has cooled down, erase all trace of your campfire. Leave the environment just as you found it. If you need more advice and tips on this, read our article on making a campfire.
Ready to channel your inner eco-warrior and become an ultimate eco-camper?
There are so many adventures in available to you – and the planet will reward you abundantly for your eco-consciousness. 
Follow our socials for more camping tips and tricks. And don't forget to tag us in your eco-adventures… You could even create a challenge to see if you can get through your holiday without creating any waste!
>> Book your eco-camping adventure today <<
Happy camping!