When the days are longer and sunnier, the temperatures are rising and nature is blooming, the moment for hiking, picnics and adventures in the mountains is upon us!
If you are looking for a breath of fresh air, incredible scenery and an opportunity to recharge your batteries in contact with nature, we have just the thing for you: 10 fabulous, active day trips in Lombardy, to be savoured without moderation on your Italian camping holiday.
Where to go walking in Lombardy
With its picture-postcard lake and mountain scenery, Lombardy is a region of extraordinary natural beauty. It also has hiking routes for every taste and level of ability, which makes it our top choice for a walking holiday in Italy.
From itineraries through the perfect villages on the shores of Lake Como and Lake Garda, to the verdant glades of the valleys around Bergamo, Brescia and Sondrio and the prominent rocky ridges of the Lecco area – when it comes to hiking in Lombardy, you really are spoilt for choice.
Where to find information about hikes in Italy
Safety is paramount when hiking, so it is important to use reliable sources when choosing trekking routes, to make sure that they are suitable for the abilities of everyone in your group. In addition to getting inspiration from blogs such as ours, it is a good idea to consult the official tourist office of Lombardy, as well as information provided by mountain refuges. These sources will often provide very detailed, precise indications on how to get to the trail's starting point, walking times, type of terrain, elevation and so on.
Walks near Milan
The sheer size of Lombardy can sometimes be intimidating: everything seems so far from Milan, where many people arrive. Yet, if you want to feel like you are escaping to the middle of the Italian countryside without having to travel all day, we have great news for you! Most of the region's most picturesque walking trails are no more than 2 hours from Milan.
Whether you choose to go it alone, in a group with friends or with the whole family, you'll find something to suit your needs and experience in our top 10 trekking routes in Lombardy. Shall we start?
1. Hikes and walks in Italy: The Wayfarer's Path, Lake Como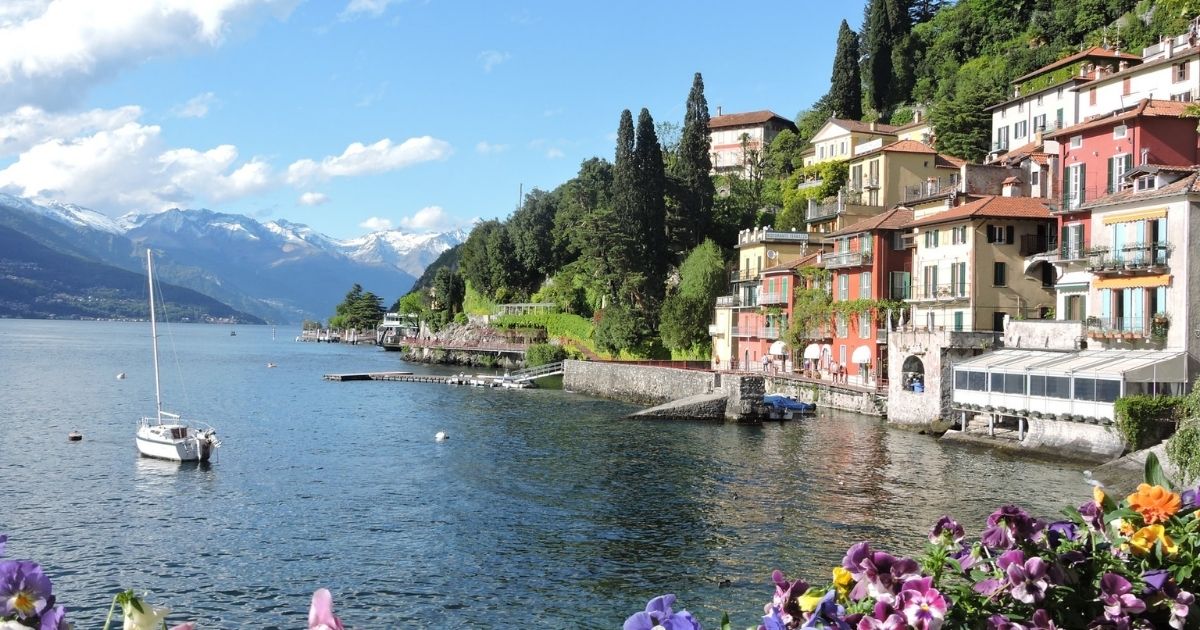 Undoubtedly one of the most romantic trails in the region, the Sentiero del Viandante (Wayfarer's Path) winds along the eastern shore of Lake Como, between Abbadia Lariana and Colico, for a total of 45 km. Its length makes it a perfect hike to do in stages, 3 or 4 depending on the pace of the walk, but those who prefer a day trip can easily choose just one stage, thanks to the excellent rail connections available in each of the towns crossed.
The section from Abbadia Lariana to Lierna will immerse you in the rural landscape between mountain and lake. The second stage takes you lower down, to Varenna, a magical village of intricate alleyways steeped in history. The third section winds its way to Dervio, amidst fishing villages and mountain hamlets, while the fourth ends in Colico along the shores of the lake.
Thanks to the excellent condition of the paths and the low altitude, this is a trek that is suitable for everyone and can be done in any season of the year. To admire particularly picturesque views and avoid very high or low temperatures, we recommend spring, when the walk is dressed in flowers, or autumn, with its warm colours and cool breeze.
2. Walks and hikes in Italy: Val Codera in the Alps
The lower Val Codera, about an hour and a half from Milan, is a place to admire the unspoiled charm of a perfectly preserved Alpine valley. The hike begins in Mezzolpiano, where the path enters the forest, passes through some panoramic stepped sections and wide rocky spaces, flanks the valley with lots of ups and downs, and finally reaches the village of Codera.
You can choose to return by the same route or to lengthen the route, in a loop that crosses the valley to the hamlet of San Giorgio and then descends to Mezzolpiano. The hike does not require any particular physical preparation, but it should be noted that its duration of about 6 hours can be difficult for young children.
3. Hikes and walks in Italy: Monte Bestone, Lake Garda
The Monte Bestone trek is a must for those who want to enjoy breath-taking views of Lake Garda, with minimal effort. Well signposted and suitable for all the family, path 110 starts in Le Balze, near Voltino, and climbs to the top of the mountain, winding its way through green woods, dramatic ridges and enchanting views of the Veronese side of the lake.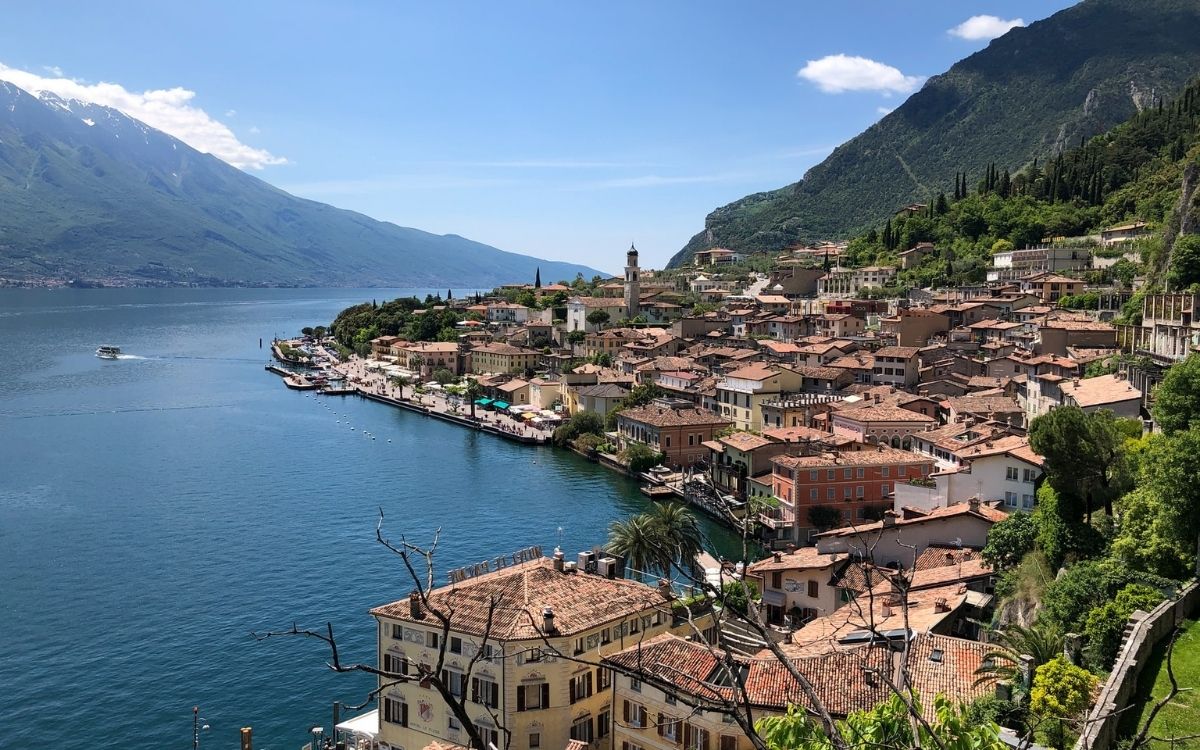 Once you reach the summit, you can take a breather while admiring the boats moored in the distance, the majestic Mount Stivo and the sheer drop to the village of Limone sul Garda below. The descent is along the same path as the ascent, for a total of about an hour and a half of trekking… not counting the countless photo breaks that are impossible to resist!
4. Hikes and walks in Italy: The Creste del Monte Resegone trail, Lecco
The Resegone is a popular peak in the province of Lecco and can be reached by various paths of varying length and difficulty. The Sentiero delle Creste, suitable for experienced hikers in good physical condition, is perhaps the steepest and longest (about 6 hours one way), but its panoramic points of historical and natural interest, including the Passata, the Porta di Serrada and the Torre di Val Nigra, are worth every effort.
At the summit you can take a well-deserved break at the Azzoni Refuge, immediately recognisable by its characteristic red colour. It offers traditional Lombardy cuisine and also overnight accommodation, for those wishing to split the trek into two days.
5. Hikes and walks in Italy: Mount San Primo and Belvedere, Lake Como
A hike up Monte San Primo offers a 360-degree view of the crystal-clear waters of Lake Como, the majestic Alps and, on a clear day, even the Apennines to the south. The trail starts at Piano Rancio and takes about two and a half hours to complete. It is not particularly difficult and is suitable for the whole family.
6. Hikes and walks in Italy: Lakes of Barbellino in the Orobie Alps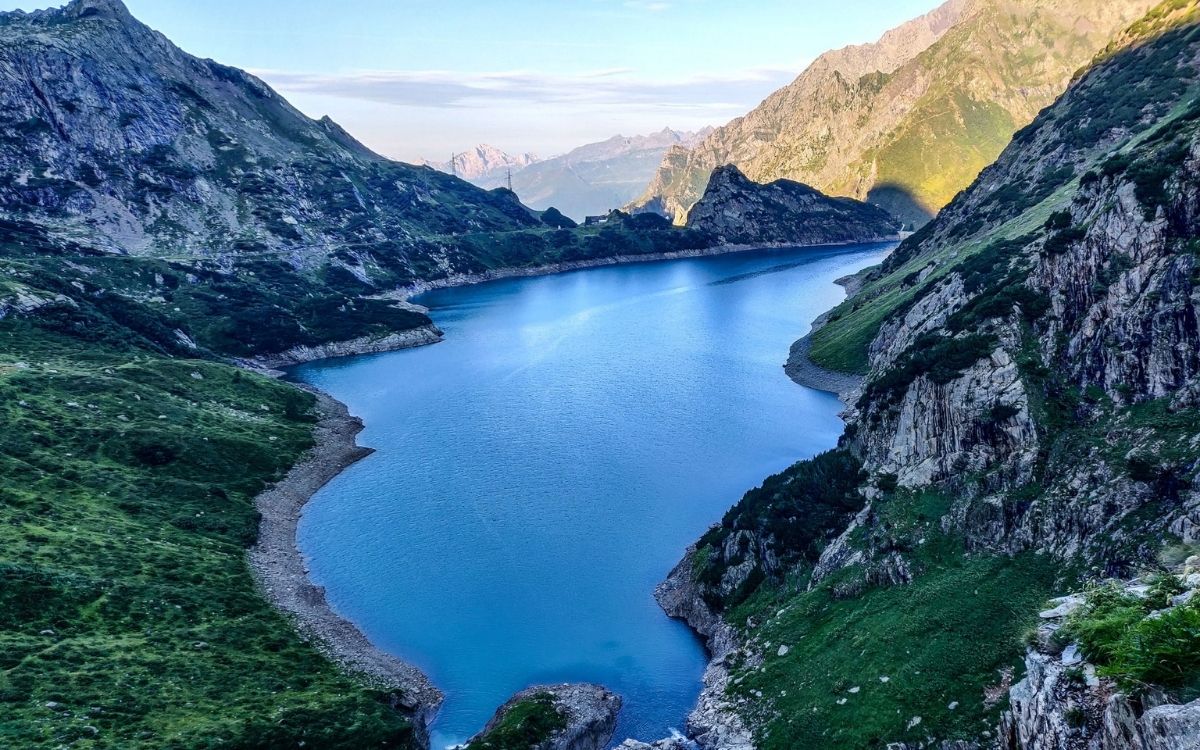 This trek of intermediate difficulty is a little-known gem of the Alta Val Seriana, set at the foot of the Orobie Alps. The hike starts in Valbondione and leads to two lakes of the same name. The first and larger one is fed by a dam that is opened once a year, over the Serio waterfall. The second, smaller and wilder one, offers an unspoilt natural landscape dotted with snow until late spring. Great for those who like to enjoy nature without too much company.
7. Hikes and walks in Italy: Cenghen waterfall, Lake Como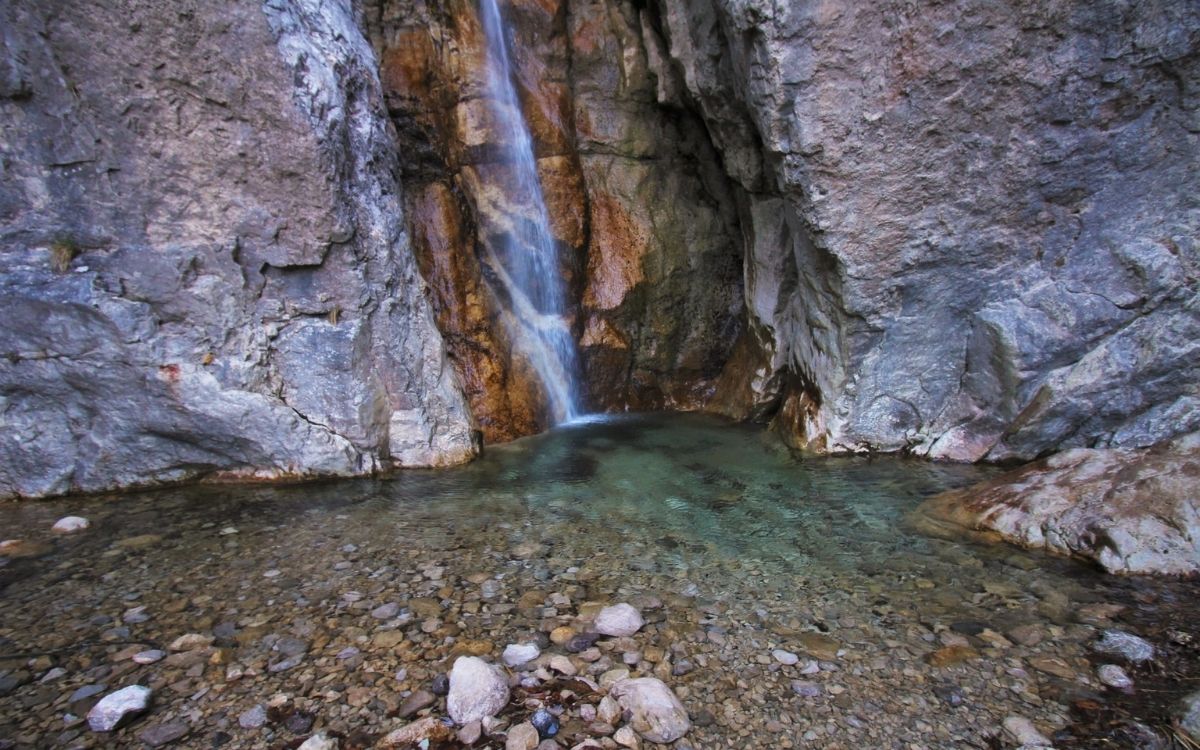 An easy looped walk, this one is for the whole family, perfect for a Sunday picnic. From Abbadia Lariana, take the first part of the Sentiero del Viandante (Wayfarer's Path), then follow paths 4A and 5A. The 50-metre-high waterfall is spectacular and forms a small, crystal-clear pool, in which you can cool down on hot summer days.
8. Hikes and walks in Italy: the Grigne mountains, Lecco
With their dolomitic rock formations, the Grigne massif stands out like slender fingers against the pre-Alpine landscape and offer a range of hiking routes surrounded by rich vegetation.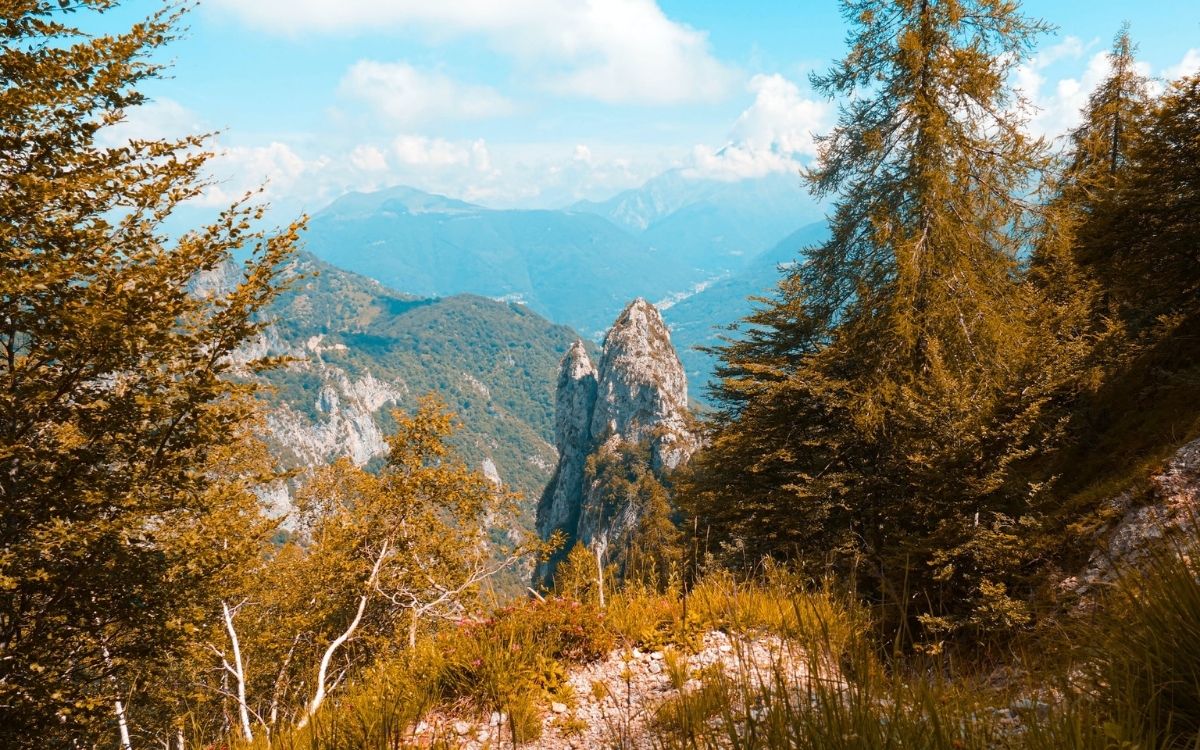 The Northern Grigna, or Grignone peak, overlooks gentler lake views and can be accessed by the Bietti-Buzzi Refuge trail, for example. The Southern Grigna, or Grignetta peak, is characterised by a more rugged and rocky profile, and can be visited on routes such as the Piani Resinelli trail. Both are dotted with mountain huts offering refreshments, where you can enjoy the warm summer sun and good Lombard cuisine.
9. Hikes and walks in Italy: Three Valleys Trail, Brescia/ Bergamo
This is a 120 km loop walk in eight stages, at low altitude. It is ideal for hikers who want to gradually work their way up to longer and harder routes. The Tre Valli trail crosses the ridges of Val Trompia and Val Sabbia to the east and Val Camonica with Lake Iseo to the west, offering a variety of unforgettable landscapes. Each stage takes between 5 and 7 hours and has a high variant, which is a little more demanding, and a low variant. You'll find some of the most beautiful villages in Italy along the route. Also, Val Camonica is home to the greatest complex of rock drawings in Europe and is a UNESCO site.
10. Hikes and walks in Italy: Path of the forest spirit near Milan
And to finish with a touch of magic, there is the Sentiero Spirito del Bosco, a fun, easy, family trek inhabited by elves, fairies and other fantastic creatures that live in the forest, as well as other exciting features. Less than an hour from Milan, the hike begins in Prim'Alpe (leave your car in Canzo). Wooden sculptures of magical creatures punctuate the route, which ends at a labyrinth of logs in Terz'Alpe.
Do you already know any of these hikes? Which ones did you like the sound of most? Let us know on Instagram or Facebook!
If these ideas have convinced you to visit the region, keep up the momentum and plan your camping holiday today. Take a look at our range of campsites in Lombardy right here. They all have a range of accommodation options, including lovely chalets and mobile-homes to stretch out in after a long day's hiking.