Camping at Christmas
It's the most wonderful time of the year and believe us, you're not the only one dreaming of a wild Christmas this year, with many adventure-seekers like you craving alternative ways to celebrate the Yuletide and see in the new year. Camping at Christmas really is the gift that keeps on giving.
Picture this…
Chestnuts roasting on an open fire beside your tent, motorhome, or within your cosy wooden lodge or glamping pod
Mulled wine brewing and pigs-in-blankets browning on the barbecue or camp stove
Long, frosty walks amongst snow-topped trees, robins and holly bushes
Building a snowman in the woods (or a 'sandman' on the beach)
Listening to Cliff's greatest hits on your portable speaker beneath the starlight
(okay, we'll let you scrap Cliff for the serene sounds of nature, but still, need we go on?)
In this guide, we'll help you turn Christmas tradition into a great expedition, bringing all the festivities and joy from your usual surroundings to an intimate, home-from-home, open-air retreat.
Where can I go camping this Christmas?
Before deciding where you'd like to go (and what you'd like to do), a great way to start your decision process is to consider the climate that'd best fulfil your festive fantasy, be it on home soil locally, cross-country or overseas.
Budget and time permitting, the world is your oyster, from sunny coastal retreats abroad to crisp, wintery European city breaks, good old Blighty with it's unpredictably exciting 'will it? won't it?' snow situation. It's your Christmas, so do it your way!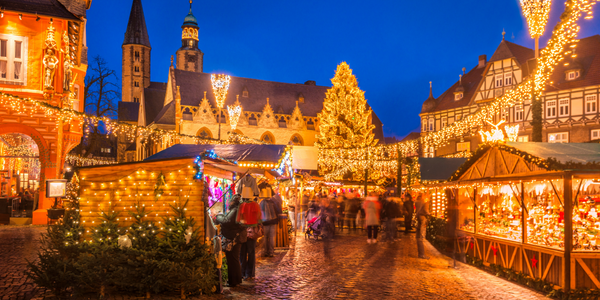 You might want to plan your camping stay around nearby Christmas markets, lights trails or events. You can find some spectacular displays in Europe. Have a peak at some of our favourites. Or maybe you'd like to escape the crowds entirely and make use of your own private, secluded grotto.
Secondly, have a think about where on the 'wilderness scale' you'll feel most comfortable (and invigorated) to set up camp – of course this will also depend on your camping confidence and how well equipped you are with gear and know-how. Open-air accommodation ranges vastly from immersive, stripped-back camping, to luxury homestays and one-of-a-kind glamping resorts. Your chosen retreat will be one of the main things protecting you from the elements, so give it some real thought.
Filter your specific dates and check availability for your dream destination.
Above all, do your research of the area, come well-prepared and book early to avoid missing out. Open-air campsites are in high demand, especially around Christmas time and mostly booked up months in advance, so let us help you make your first decision – A hot or cold Christmas?
How to do Christmas while camping
Fact: Mid-winter camping is so much fun.
Granted, it's a far cry from those warm Summer nights in your tent or motorhome, but it's arresting beauty brings a whole new perspective on Mother N's great outdoors, and a keener appreciation for those little things, like a roaring fire, bed socks and spooning a cosy sleeping bag (or your partner if they're lucky!).
Falling asleep under a starlit, wintery night sky is like nothing else… and we challenge you to tell us otherwise!
Waking up to crisp mornings and birdsong, seeing frost, or even snow, setting around you before a morning hike will make you feel alive and entirely connected. Dare you even try a Christmas Day cold-water dip?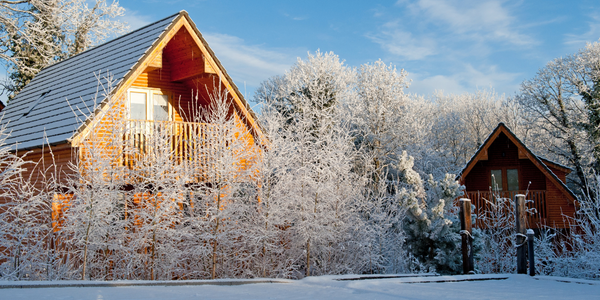 Snow holidays give you the guarantee of a White Christmas and often benefit from their idyllic location neighbouring snow-capped hills, mountains or pristine ski slopes.
But, in true Scout style, be prepared! Especially if you're planning a Christmas pitch-up in a tent or motorhome. The chilly temperature will be your most obvious risk and hypothermia is the gift you can't return! So, prioritise thermal camping equipment, access to hot water and a source of heating. Your main focus (aside from having the time of your life) should be staying warm and dry.
Check out our ultimate guide to winter camping , where our Campsited veterans have gathered their greatest tips and tricks, from choosing the perfect accommodation and camping essentials, to keeping safe and cooking up a feast in your winter wonderland.
You can also download our winter camping checklist here.
Winter glamping at Christmas
If traditional tent camping isn't your thing, there's plenty of ways to get those outdoorsy winter feels in more luxury accommodation, complete with log burner, a nearby hot shower and multi-functional kitchen! Think shepherd's huts, tree-top houses, log cabins, homesteads, ski-chalets and heated bell-tents, where some doors are open year-round for visitors.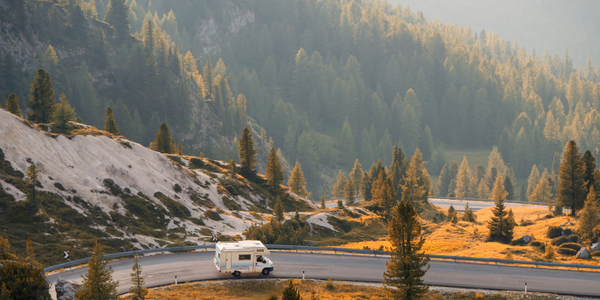 Join the 'Caravaneige' movement, a French term coined for caravanning in the snow. Find out more about snow holidays in the open-air.
What more, you can pack much lighter than conventional camping, saving space in your backpack for a few Christmas decorations to add some festive sparkle to your new abode.  
Christmas camping in the sun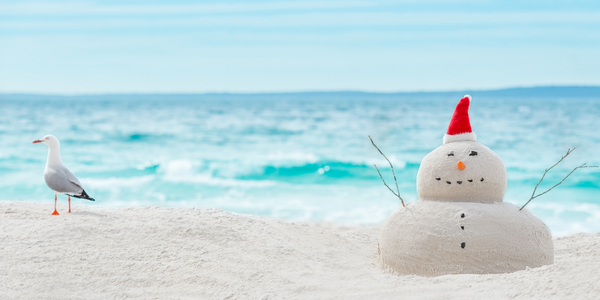 For sun worshippers looking to bring the spirit of Christmas to a hotter climate, there's a whole world of camping and glamping locations to explore.
From Europe to Africa, you could indulge in some alternative cultural traditions and stay in a truly unique home-from-home on your warm winter escapade.
A little birdy tells us that more of you prefer spending precious money on an experience for Christmas, something that creates longer lasting, more meaningful memories than material presents. Why not give yourself (or a special someone) the gift of adventure with a dose of vitamin C?
Don't forget to pack the essentials like sun protection and bug-repellent – oh and there's no harm in taking a Christmas t-shirt and Santa hat to bring those all-important homeland festivities to your place in the sun.
Check out our great destinations in South Africa for a Christmas holiday in the sun – or a Christmas gift of burst of warmth in January or February.
Christmas camping checklist
Wherever your Christmas break in the open-air takes you, here's a list of optional extras guaranteed to bring that festive cheer.
Christmas decorations: Deck the tent (or whichever your chosen accommodation) with boughs of holly, tinsel or at least a string of battery or solar-powered fairy lights to brighten up your surroundings and bring the colours of Christmas to your unique retreat.
A Christmas present for your fellow camper(s): If you're not travelling alone and hoping to exchange a small gift or two, we've got some great ideas for him, her or them. From novelty camping present ideas, to must-have tools to tackle the great outdoors, here's some inspiration for the perfect Christmas camping gift.
Christmas music for camping: Blast out the classics on your mobile phone, Bluetooth speaker or go acapella. You'll find some great Christmas playlists on well-known streaming platforms or, for something more traditional, why not print off the lyrics to well-known carols and serenade your camping tribe around the ole' campfire?
And when the Christmas tunes start to grate on you, check out our Winter camping playlist on Spotify:
Christmas camping games: Let your imagination run wild as you play eye-spy in your new, fruitful surroundings or, if your backpack allows, load up with a few travel-sized board games, suitable for adults or children. Oh what fun you'll have.
Christmas camping feast: Forget the usual stress caused by dozens of pots and pans flying around the kitchen, ingredients lists as long as your arm, oh and that dreaded clean-up aftermath (while remembering to smile and keep a heard of excitable family members happy and under control!).
Christmas camping recipes
When planning for your Christmas dinner, these are the things you've to remember:
It always saves time and packing space to portion up as much as you can before leaving home, in this case particularly the flour, baking powder, sugar, brandy, elderflower cordial, dried fruit and spices.
Bring cling film to tightly wrap around the filo pastry to keep the rest fresh for your journey home.
It sounds obvious, but read through all the recipes a couple of times before going food shopping or setting out, to make sure you haven't missed any implements or timings. They're laid out in the recommended cooking order: i.e. the croquettes come before the chicken as they provide useful hot water for the stock.
All recipes are designed to feed four people.
We reckon this whole meal can be cooked on a double-burner camping stove with one saucepan and one frying pan, if necessary (rinsing between courses required!). You'll need a couple of large mixing bowls and the usual basic implements: wooden spoon, frying spatula, chopping board etc., as well as a potato masher. A thermos flask will serve you well for keeping mulled wine hot, a sieve for getting it in there, and a jug or a couple of spare mugs will be handy for the main course.
Christmas camping recipes: festive drinks
Hvid Gløgg: Danish White Mulled Wine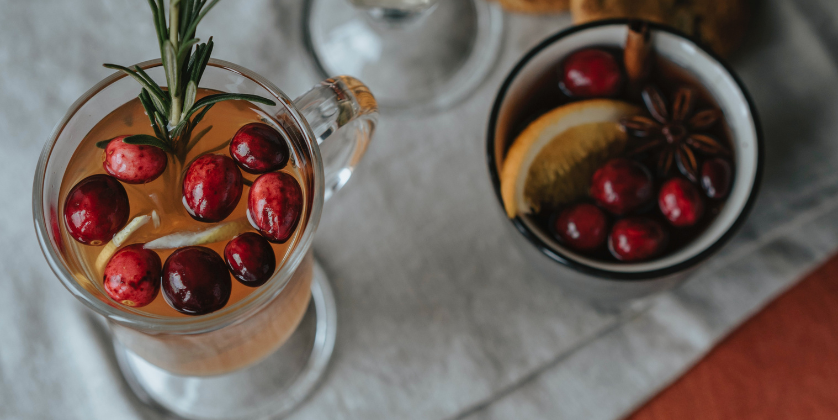 In honour of 'hygge', the recent craze for Denmark's brand of candlelit, friendship-centred cosiness, we've turned our backs on the ever-present red mulled wine for something a little unusual. Scandinavians tend to drink this outside while singing carols – tune up!
This recipe is first in the list because we recommend making it, pouring it hot into a thermos flask and allowing it to sustain you while you rinse the saucepan and crack on with the cooking.
Ingredients
1 bottle medium dry white wine (something inexpensive)
75ml elderflower cordial
75ml brandy
1 organic lemon, sliced
1 heaped tablespoon flaked almonds
2 tablespoons caster sugar
2 cinnamon sticks
6 cardamom pods
3 star anise
Method
Tip everything into a large saucepan and slowly heat to just below boiling point, stirring to dissolve the sugar – don't allow it to boil or simmer. Keep it there for at least 15 minutes to allow the flavours to infuse, then strain it into your thermos flask.
Christmas camping recipes: to start
Date, Walnut & Blue Cheese Filo Parcels
Let's start with the cheese board, all wrapped up in crispy pastry. There's something rather luxurious about this simple starter and, usefully, they can be eaten with your hands hot out of the pan to save on washing up!
Makes 8 parcels
Ingredients
2 sheets filo pastry
150g dates, finely chopped
3 tablespoons walnuts, finely chopped
100g blue cheese
2 teaspoons lemon thyme leaves
2 tablespoons butter, melted, plus 1 more for frying
Method
Put the dates and walnuts in a mixing bowl, crumble over the blue cheese, sprinkle in the thyme leaves and give everything a thorough mix together.
Lay a filo sheet out on the chopping board and cut it into four strips, top to bottom. Keep the other sheet covered with a tea towel to stop it drying out.
Place a spoonful of the mixture onto the bottom left corner of the first strip, about an inch from the end. Fold the bottom right hand corner up over the mixture to form a triangle. Lift and fold the whole triangle over, so it rolls up the pastry sheet, then fold it right to enclose the mixture. Keep folding until you reach the top of the sheet; brush the tag end of pastry with melted butter to seal it and then brush the whole parcel with butter. Transfer to a plate. Repeat with the rest of the sheet, and then the second bit of filo.
Melt half of the final tablespoon of butter in the frying pan until it foams, then sear the parcels for 4 minutes on each side until they're golden brown and crisp. You'll probably need to melt the rest of the butter in between batches.
Christmas camping recipes: for main
Parsnip and potato croquettes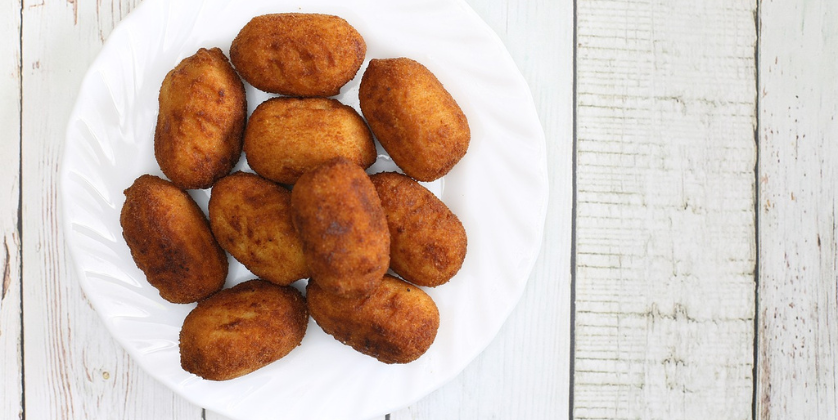 Makes 16 (this might be one per person too many, but we'd never risk short-changing on food at Christmas. You can fry any leftovers up with bacon and eggs for Boxing Day breakfast.)
Roasties are surely everyone's favourite part of Christmas dinner. The turkey might be dry and the Brussels sprouts soggy, but nothing else matters if those tatties are crisp. We wouldn't have you missing out on that, so we've come up with a stove-top alternative that guarantees that crunchy exterior vs smooth middle, with a hit of both vegetables at once. The faff of the usual flour/egg/breadcrumb croquette coating has been swapped out for a simpler version using olive oil and breadcrumbs, which gives the same crispness with less mess.
Tip: so you don't have to boil water for the chicken stock (below recipe), drain the potatoes and parsnips over a jug to catch the hot water.
Ingredients
750g potatoes, chopped into 1 inch chunks
500g parsnips, sliced into similar size pieces, the chunky end about 1cm thick, the tail end longer, so they cook evenly
1 tablespoon Dijon mustard
2 tablespoons butter
a splash of milk
1.5 tablespoons olive oil
200g breadcrumbs/semolina
salt and black pepper
Method
Cover the potatoes with plenty of water and bring to the boil. When the water has been boiling for a couple of minutes put the parsnips in (this is so they finish cooking at the same time). Keep an eye on the parsnips, they will soften more quickly – you might need to scoop them out a minute before the potatoes finish cooking, but they float to the top so this is easily done.
While they're cooking, tip the breadcrumbs out onto a plate for later.
When the potatoes and parsnips are soft, drain them over a jug, and use the water to make up the stock for the chicken (next recipe). Return the drained vegetables to the saucepan and put them back on the heat briefly, shaking the pan around to steam off as much water as possible.
While they're still hot throw in a tablespoon of butter, the mustard and a splash (about a tablespoon) of milk. Season and mash.
Scoop up a big tablespoon of the mash and form it into a fat sausage shape with your hands. Brush it with olive oil, and then roll it in the breadcrumbs until well coated.
When you're 15 minutes away from serving up, start heating the second tablespoon of butter with a dash of olive oil in the frying pan. When it's foaming hot, fry off the croquettes in two batches, turning them so they're golden brown and crisp on all sides.
One-pot red wine chicken with bacon and cranberries
See the tip under the croquette recipe, above.
A rich, rosemary-fragrant stew, touched with smoke and cranberry sweetness: this is deceptively quick and simple, and tastes surprisingly festive. Don't reduce it down too far; you'll probably want a bit of sauce to dip those croquettes into. We're confident you'll be making this one again, at home or away.
Ingredients
8 free-range boneless chicken thighs, halved
12 shallots, peeled and quartered
4 cloves garlic, crushed
8 rashers of smoked free-range bacon
2 tablespoons cranberry sauce
1/2 bottle red wine (decent enough to happily drink the rest of the bottle)
200ml chicken stock, made up from a cube with the hot water leftover from boiling the vegetables (above)
2 tablespoons flour
1 tablespoon finely chopped fresh rosemary, or 1 teaspoon dried
1 tablespoon olive oil
black pepper
Method
In your large saucepan, fry off the bacon until crisp and then scrape out onto a plate, leaving the fat in the pan. Tip in the chicken, brown that off and add to the bacon.
Now put the shallots in, and sweat them over a low heat for 10 minutes until they start to soften. Add the garlic and rosemary and cook for one minute.
Put the chicken and bacon back in, sprinkle over the flour and stir for 2 minutes.
Pour in the wine and stock, stir in the cranberry sauce and season with pepper (it'll probably have enough salt from the bacon and stock).
Bring to the boil and simmer with the lid on for 10 minutes, then with the lid off until the chicken is cooked through and the sauce reduces – another 5-10 minutes, depending on how saucy you like it.
Brussels sprout & red cabbage coleslaw
No one really hates sprouts any more, do they? Modern Brussels have been bred to be sweeter than the vegetables that earned such a gloomy reputation, and as long as you don't boil them to baby-food there's no excuse to shun these tiny cabbages any more. If anyone's still not convinced, you can't beat covering stuff in a creamy dressing to persuade the fussiest of eaters.
Ingredients
150g sprouts, outer leaves removed
1/2 a small red cabbage
1 teaspoon Dijon mustard
3 tablespoons mayonnaise
1 tablespoons full fat natural yoghurt (or you can use all mayo)
3 spring onions, finely chopped
salt and black pepper
60g walnuts
Method
Slice the sprouts and red cabbage as finely as you can. In a good-sized bowl, mix together the mustard, mayonnaise, yoghurt and spring onions, and season well. Stir through the shredded vegetables, and then break up the walnuts over the top.
Christmas camping recipes: dessert
Christmas cake drop scones with brandy custard
These aren't 'just' pancakes – they really do turn into light, spiced and fruity cake in the frying pan. For extra Christmas points, pour the batter into large metal cookie cutters – they definitely taste even better when shaped like a Christmas tree…If you have an open fire going, there could be nothing more cosily festive than cooking these in the glow of the embers.
Top tips:
Contrary to common belief, boiling only reduces alcohol content rather than getting rid of it entirely, so if you're making this for children stick to plain custard. Before you leave home: combine the flour; baking powder; salt; mixed peel and raisins; cinnamon, mixed spice and orange zest into the same bag. Mix the milk and vanilla extract in a bottle and give it a good shake to make sure all the vanilla doesn't stick to the bottom.
Ingredients
2 eggs
75g caster sugar
200g plain flour
150ml milk
75g butter plus 1 tablespoon to fry in
50g raisins
50g mixed peel
1 teaspoon mixed spice
1 teaspoon cinnamon
1 teaspoon baking powder
a pinch of salt
1 teaspoon vanilla extract/paste
zest of 1 orange
400ml ready-made custard
4 tablespoons brandy
Method
Melt the butter in a saucepan.
In a large bowl, beat together the eggs and sugar. Stir through the flour and fruit mixture, then fold in the melted butter and milk.
Melt the last tablespoon of butter in your frying pan. Wipe out the saucepan and pour in the brandy.
When the butter is foaming hot, dollop tablespoons of the cake mixture into the frying pan and cook for three minutes or so until golden brown underneath. Flip them over and cook for another three minutes until browned all over and cooked through. If you're using cookie cutters just flip the whole thing over, cutter and all, to cook on the other side, then gently press out.
While they're cooking, heat the brandy until it boils (or very carefully light it to burn off the alcohol), then pour in the custard and stir until hot.
Serve immediately with a dollop of custard, and subtly loosen your belt.
Do it differently, do it in style. Book your Christmas camping trip with us today.
M
e
r
r
y
C
h
r
i
s
t
m
a
s
!!