The surprising benefits of walking barefoot
The health benefits of spending a holiday in the open air, enjoying quality time with family and friends, away from our usual routines and obligations, are well known. If you are considering, or have already decided on, a camping adventure for your next holiday, you may be interested in learning about some of the other advantages of this type of break.
Open-air holidays give us a chance to re-connect with nature, which is increasingly important in the modern world, where we spend a lot of time inside and in front of screens.
One of the ways to connect with nature on your next camping trip is to try walking barefoot around the campsite or in the surrounding nature. There are many health benefits of walking barefoot in nature, including physical benefits, as well as those related to mindfulness and to the subconscious generation of positive feelings remembered from carefree childhood times.
Known as 'earthing', or 'grounding', barefoot walking in nature means ditching your shoes and socks and walking on any natural surface, like grass, soil or sand.
Camping and the campsite way of life lends itself easily to barefoot walking. Campsites are a great place to get started. So, whether you're just daydreaming about your next holiday, or have booked your dream campsite and are already planning your time there, read on to find out more about barefoot walking?
Reasons to try barefoot walking in nature
Re-connect with nature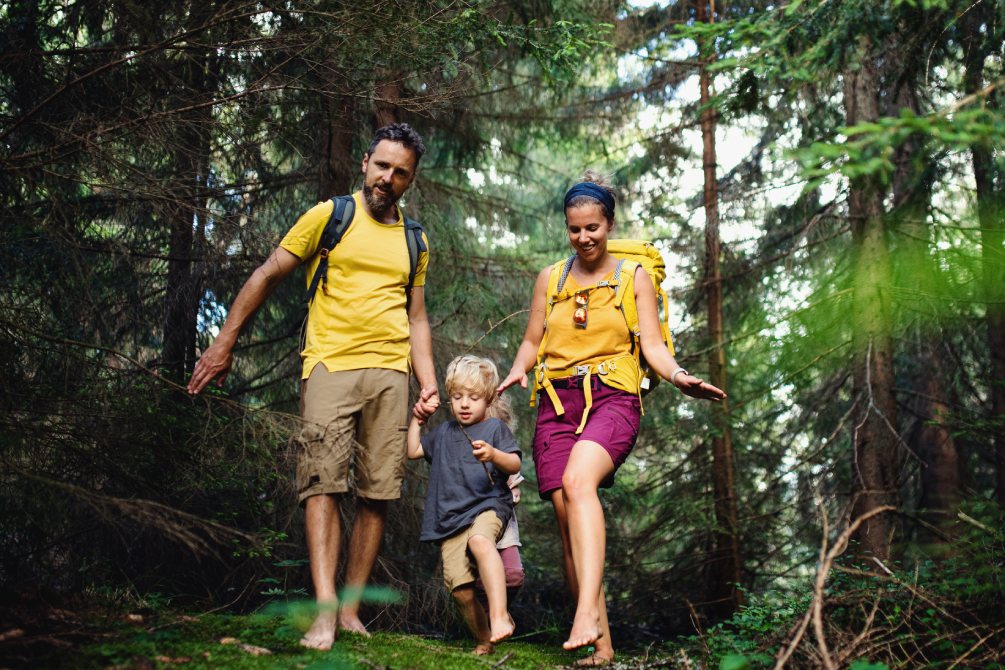 Going barefoot is one of the easiest ways to become immediately more aware of the natural environment around you. Barefoot walking leads to greater awareness and connection with different terrains, landscapes and animals.
Get a good night's sleep
Fresh air has been proven to have a positive influence on our sleep quality, and exercise in general also helps us to get a better night's rest. Walking barefoot in nature combines these things, giving you the best chance of getting a good night's sleep – or at the very least, tiring the kids out so you can enjoy a relaxing glass of wine around the campfire!
Health benefits
There have been many studies to research the medical benefits of walking barefoot. These include helping to strengthen the immune system, regulating high or irregular heart rates, assisting with the functioning of the nervous system and decreasing blood viscosity. Plus, walking in general has many additional health benefits, like helping to regulate weight, reducing the risk of cancer and improving cardiovascular health.
Practice mindfulness
Barefoot walking is a great way to practice mindfulness, as the new sensations you are constantly experiencing through your feet help you to stay in the present moment and conscious of the earth underneath you. Walking in nature, with picturesque landscapes like forests, beaches or mountains to feast your eyes upon, has to be among the settings most conducive to practicing mindfulness and positive thinking.
Step out of your comfort zone
Doing a new activity has been shown to increase happiness. The benefits of stepping out your comfort zone include improved confidence, increased creative thinking and personal growth. Whether you're a seasoned camper, or if it's your first camping trip, an open-air holiday is ideal for trying new experiences – whether that's barefoot walking or a different outdoor activity, you will be sure to learn more about yourself.
Increase serotonin levels
Recreational activities in general help to boost your serotonin levels. Not only do camping trips lend themselves to recreational activities, they are also a great way to spend time with family and friends, which has also been shown to increase serotonin levels. The feeling of getting back to what's important in life is guaranteed to increase general feelings of happiness.
Relieve stress
Many people talk about how feeling the sand between their toes when they first arrive at the beach is an instant stress reliever. Try barefoot walking on your next camping trip and experience the same feeling continuously.
Create memories with the family
Camping trips are a great place to create new memories with the family, especially when you try a new activity together, and walking barefoot in nature qualifies as a new activity! Kids are used to running about barefoot outside, joining in with them can be a great way to re-connect with your children.
Top tips for safe barefoot walking
Start with short periods of time
When trying barefoot walking for the first time, it can be tempting to ditch your shoes for good, but we recommend starting with small walks without your shoes and building up to longer walks. A half an hour walk around a grassy area of the campsite is a great start.
Only walk on soft surfaces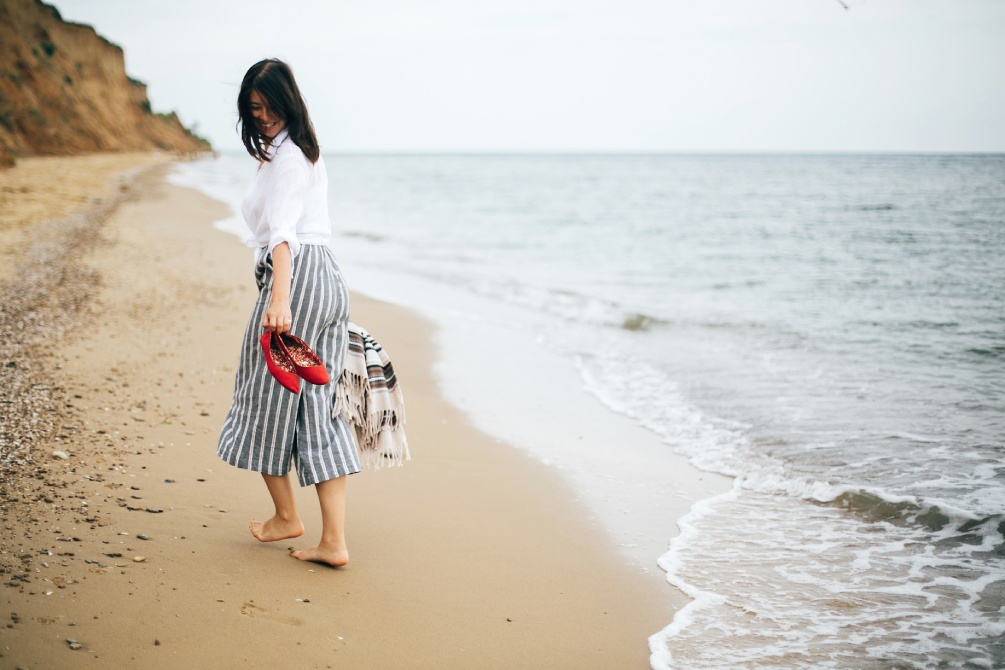 Although there are health benefits to enjoy from walking barefoot, it is important to note that these are applicable to walking on soft, natural surfaces, like grass, sand or soil. Walking on harder manmade surfaces can actually damage your feet, so it's best to stick to the softest terrains in your campsite and surrounding environment.
Be aware of your surroundings
When you first start barefoot walking, it's important to be aware of your surroundings at all times to make sure it's safe. Teaching children to be careful and keeping watch together can teach important skills and reflexes and of course, focusing on particular aspects of our surroundings is a great way to take our minds off other things.
Set up a foot washing station
If you're practicing barefoot walking, it's important to properly clean your feet regularly and definitely before entering your accommodation! While campsites will have facilities like showers and taps, it is a good idea to set up a station next to your accommodation, especially if you're travelling with kids.
Examine your feet
After practicing safe barefoot walking and thoroughly washing your feet, it's important to check your feet for any injuries or splinters, even if you don't feel any pain. It's a great habit to get you and your children into and is a great daily practice to carry out to help prevent any more serious injuries.
Find out more about the benefits of walking barefoot
We've shortlisted some of our most frequently asked questions about barefoot walking and common misconceptions.
Is there a right way to walk barefoot?
There is no one right way or technique to barefoot walking, so stick to what feels comfortable for you. A general walking technique to avoid injury is to touch your heel down gently first, then the rest of your foot. Only when your entire foot is flat on the ground should you put weight on your foot.
How can I prepare for barefoot walking?
There are many ways you can prepare for barefoot walking before you try it out in nature. We recommend trying a minimalist pair of shoes beforehand, to get your feet used to walking without a heel and with less support. You can also practice an activity that requires you to go barefoot at home, like yoga or pilates, these activities will also help with your balance, which can be beneficial for preparing for barefoot walking.
Can I walk barefoot in cold temperatures?
While barefoot walking can be safe year-round, it is a good idea to start practicing barefoot walking in the warmer summer months. After you become used to barefoot walking and have developed the reflexes of noticing possible hazards on the ground, stopping when you could have an injury, etcetera, you can do it at cooler times of year too. In general, it is not really a good idea to practice barefoot walking in very cold temperatures.
Should I do other activities barefoot?
Walking is a great place to start, in terms of activities to try barefoot, as it is a low impact activity and is easy – so you can concentrate on your surroundings at the same time. Once you've got used to that you might be interested in starting barefoot running or other sports.
Is it safe for children to practice barefoot walking?
In safe environments like a grassy area in a campsite, or on a beach, it is perfectly safe and natural for children to walk barefoot. It is a good idea to inform children beforehand of what to look out for, or practice barefoot walking as a family to begin with. If your children want to barefoot walk with friends or without parental guidance, you can always scout out the area in advance or give them clear instructions to make sure they stay safe.