A camping trip is one of the most fulfilling holidays you can take – a real opportunity to get away from your daily routine and reconnect with family and friends. It's a chance for a complete change of scene and to channel your inner adventurer, whilst staying in a different and exciting type of accommodation which makes you reconsider your normal habits and maybe change some for the better.
Camping has evolved over the years to become easier and more accessible, with all sorts of new accommodation options like lodges, safari tents, tree houses, chalets and mobile homes joining the traditional options of tents, caravans and campervans. But there are still age-old, practical camping hacks which can be useful for any type of camping, at a campsite, or deep in a forest. After reading about our best camping tips and tricks, you'll be keeping and upcycling all sorts of household things in preparation for your next trip to the great outdoors. You'll never look at a jar, a cork or a belt in the same way again and you'll have an exciting second… third… and fourth life for your plastic bags. 
Camping tips to improve your outdoor trips
Here are our top 10 hacks and tips for your camping adventure. 
1. Prepare food before you set off
A great idea to save you time when you're camping is to prepare your food for the first couple of days before you leave. Plan for a few days by choosing your food wisely. For cheese, for example, note that cantal, gruyère or parmesan cheese can be kept for a week, even without a refrigerator.
You can chop your veggies, prepare your brekkie and even whisk up your pancake mix. These foods can then be transported in travel size containers, so that when it comes to eating, you won't have to keep the happy campers waiting long.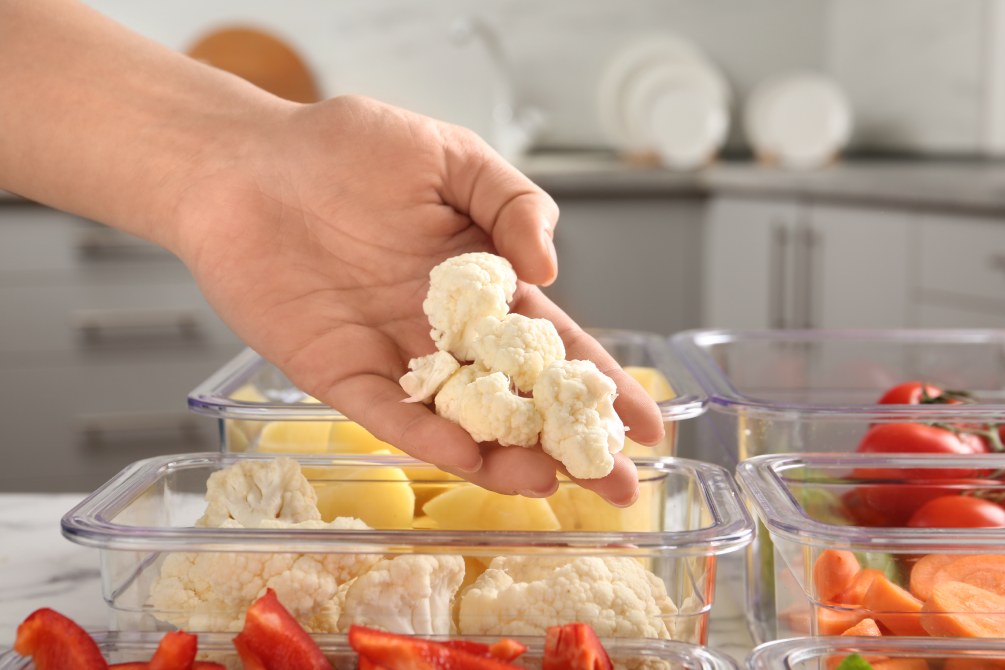 Here are a few of our favourite food prep steps:
Start your camping holiday with a unique breakfast on your first morning, with a minimum of fuss: break a few eggs into a clean bottle before you leave home, add some salt and pepper and you could even dice up and bag up some chorizo to go with it (which doesn't need to be refrigerated). Tip the bottle and bag into a saucepan to make fiery scrambled eggs in the morning – if you're not in accommodation with a stove, you can even do this on the campfire! Celebrity chefs will be stealing this idea in no time.
Save up small containers like Tic-Tac boxes throughout the year to use for spices. The issue with spices is that you rarely need the entire jar or bag on your camping trip, yet they take up vital space and weight. A great way around this is to wash out and save up small containers that you habitually use, so you take a travel-sized amount of your favourite herbs and spices away with you and your meals are just as tasty as at home. Using a bit of tape, you can label each herb and tape them together too, to locate them easily. 
Offer a grown-up version of toasted marshmallows. Pack some cream liqueur along with the marshmallows and skewers, and you've got a campfire party on your hands.
Learn more about preparing, cooking and dining al-fresco on your camping holiday.
2. Prepare the essentials to keep clean
Staying warm, dry and clean are priorities for a successful open-air holiday (alongside staying fed and hydrated of course).
Travel-sized or plastic-free deodorants, moisturisers and toothpastes are a great space-saver. If you're really keen, you can even try creating 'single-use soap sheets' using a potato peeler, a couple for each day – and pop them in a sandwich bag to keep the weight down in your baggage! You can also do this with a washing-up soap bar for the dishes!
Read more about travelling efficiently and see a full list of essential items that'll complete your camping getaway.
2. Re-use plastic bags
We all hate single-use plastic bags, right? Well now you can open up that drawer which has been filled with bags over the years and give them that exciting second life they were waiting for! Open-air holidays offer endless uses and reuses for old plastic bags 🙂
Not only can you use plastic bags for carrying wet togs and clothes, for wrapping individual picnic items in the backpack in case of spillages and as bins, but a plastic bag can come in handy to keep things dry, to temporarily patch a tent or anorak if they get a tear… or even as waterproof socks if you're caught in a deluge out hiking!! 
3. Start your campfire with ease
Never struggle to start your campfire or barbecue again, with a pre-made fire-starter kit. 
Keen to channel your creativity into homemade fire-starters? Try dipping cotton wool pads in wax before your trip and moulding them into ready-made, lightweight fire starters… or soaking corks in alcohol, leaving to dry and bagging up. Old egg boxes can be filled with charcoal and the whole box used as a firelighter, too. And if you run out of materials, snacks make great fire starters too! Crisps are flammable and, combined with small dry branches and kindling, will help light your campfire.
4. Loosen up your belt for your pots and pans 
A key to successful camping is to keep your accommodation feeling spacious, organised and comfortable, so make the use of your outdoor space.
A belt is not only for holding up trousers… secure it to a tree along with some hooks… et voilà! You have your very own drying rack and storage point for pots and pans.
Trees are also great for tying up a drying line or a hammock should you be sleeping under the stars.  
5. Travelling light (in two ways)
Create a nightlight with your headlamp. When the light fades, you might want to harness some of your own light so you can see where you're going. If you have a headlight, this can also be turned into a lantern by strapping it around a jug or bottle of water. If it has a red light setting, use that, as this will be much gentler on the eyes for you and your fellow campers.
A non-toxic glow in the dark paint added to the inside of a jar also makes for a great hand lantern. 
Talking of glow in the dark tips, for parents who want to want to be able to follow their kids' movements after the sun goes down, use glow stick bracelets to make them easier to spot. Pop a few around each little wrist as special camping equipment and know you'll be able to find your children in the dark.
6. Don't get bugged by insects 
Love camping, but don't love mosquitoes? Well, one simple, age-old camping trick to deter the pesky insect is to take a bundle of sage for on top of your campfire. Not only will the mosquitoes leave you alone, but you'll have a lovely aroma for the evening.
Another trick to stop ants from getting on to your food is to put small, water-filled dishes under the legs of your table, which act as a moat without a drawbridge. Sometimes you have to be cruel to be kind!
7. Stay warm throughout your trip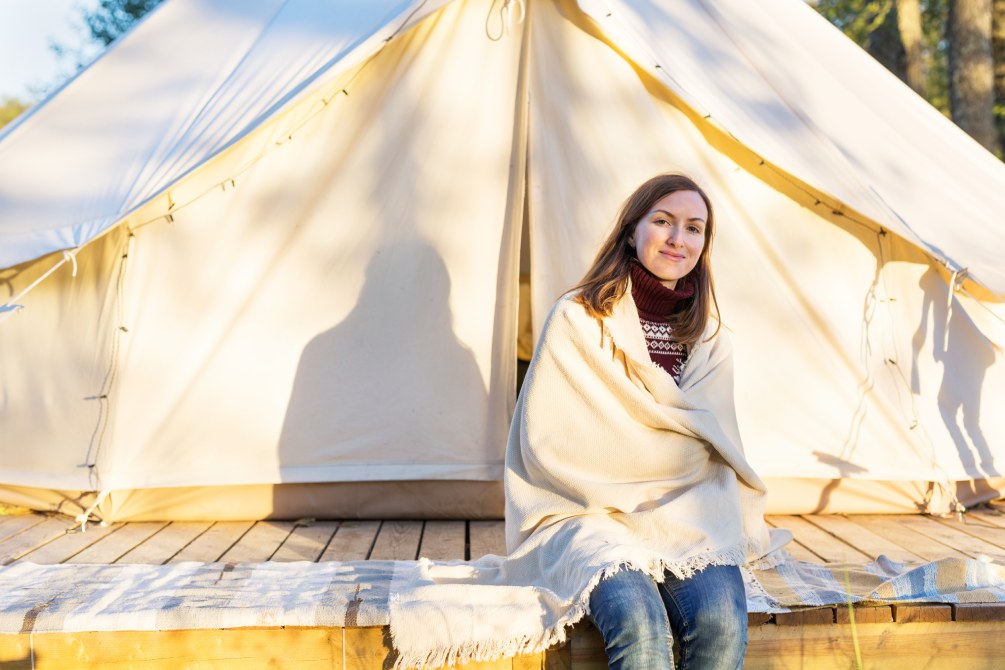 You never know when the temperature might change or if you'll suddenly get soaked through, so have an emergency blanket, which will keep you warm should the weather turn cold or wet. A foil blanket does the job too and can be lighter to travel with.
Learn more about getting cold weather-ready with our ultimate guide to winter camping.
On the flip side, you can also use this to reflect the sun on super-hot days, to remain cool. 
8. Sleep easy
Sleeping in a tent does wonders for our health on every level. Fresh air, nature's soundtrack all around you and Mother Earth underneath your sleeping bag all conspire to rejuvenate us.
One great way to make a tent more comfortable in all terrains is to use children's foam flooring tiles inside the tent. They keep the ground warmer in a tent, and are also brilliant for if you're holidaying with a dog – comfortable for them and easy to take out and clean. You could also use a yoga mat under your sleeping bag to make it an even more comfortable experience. And you might even use it for some yoga during the day!
Make a makeshift pillow by filling a pillow case (or even the bag your sleeping bag came in), with clothing. If you always fill it with next day's clothes, they'll be all warm and toasty for your next-day adventure!
9. Plan and prepare the pooch
If you're bringing your canine companion on your camping holiday, we're super excited for you! You'll both love spending time in the great outdoors and you'll be overjoyed with how much it'll lift your dog's spirit, watching them sniff and tail-wag in their new playground!
You'll need to ensure your pet is well equipped with all the essentials to keep them safe, identifiable, comfortable, well fed and hydrated. Pet insurance and vaccinations are also a pre-requisite for a camping holiday with your dog. You can learn all about it here.
10. Stick a cork on it
Not only can old corks make great firelighters (see point 3), but they can save you a lot of worry, especially if you're staying near (or going on an adventure that involves) water. Cork your keys (put a cork on your keys) before you leave on your adventure, and if they drop anywhere, particularly into a lake or river, you'll be able to find them more easily. 
What are the benefits of knowing camping hacks and tips?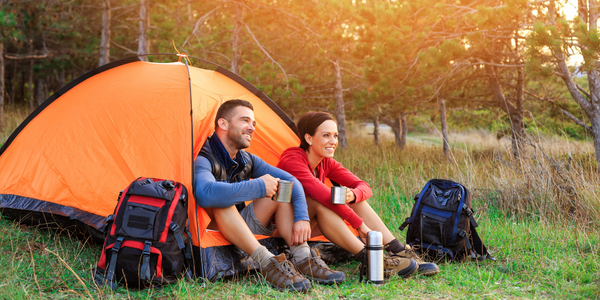 Here's why we think it's handy to have a few camping hacks up your sleeve for your next trip. 
Saving on materials
If you love the idea of having all the camping gear, but don't think you can justify the cost of materials, then camping hacks are the perfect way to get the best of both worlds. Not only do you get all the snazzy gear such as your new lantern for the evening, but you also have a headlight and a bottle of water for the day. 
Creating extra space 
Space is generally at a premium when packing for your camping trip. Even if you are travelling in your own car, it will get packed up very quickly. Every crevice counts and if you can save on space then why not? Bringing smaller containers of the kitchen essentials is a great camping tip which saves you space without compromising on your dietary needs.
Being prepared for every eventuality
Often you come up against new challenges when you're camping, which is one of the reasons it's such a fantastic holiday. Camping tricks and tips like waterproof, plastic-bag socks and an emergency blanket aren't just helpful, they could be the difference between an adventure and a disaster. 
Being able to camp anywhere
Camping with your family is one of the greatest pleasures there is, with many campsites offering superb facilities. But what about when you want to take your happy campers off-piste, as they say? A few camping hacks can make a night away from the campsite in the wild possible. Knowledge is power!
Read more about wild camping and the rules to be aware of.
Improving your skill set
Not only is it cool to know some camping tips and tricks, but you are also helping build a problem-solving skill set, which could come in useful for other eventualities. By picking up these skills, you and your family will be better prepared to adapt everyday items for great new uses.
Useful info regarding camping hacks and tips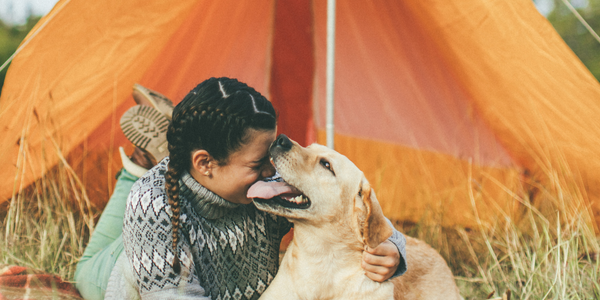 Are there any holiday time-saving tips?
Yes, one way to ensure you don't have to keep unpacking and repacking your backpack is to pack bags within bags. Simply have a bag for socks and underwear, this way you can put that to one side rather than having your items all over the tent or chalet. Similarly, a bag for toiletries etc. These will then all fit nicely into your backpack and save time. 
How can I be more eco-friendly?
One way to be more eco-friendly is to cut down on plastic waste. That means reusing items such as plastic bags and each camper having their own refillable water bottle. You could also use bars of soap or shampoo (in a reused plastic bag or lunch box) instead of liquids in plastic bottles. 
I need more space, what can I do? 
Towels tend to take up a lot of space, so make one or more of your towel collection microfibre towels, which dry quickly, are lightweight and roll up to be very compact. Shoes also take up space, so try tying these to the bottom of your bag by the laces, so that you have more room inside for other things. 
What type of camping holiday is right for me?
Or should we say 'what type of adventurer are you?' – There are camping options to suit all types of personalities, hobbies and bucket-lists. Here's some inspiration to help you decide on your dream destination.
A nature park holiday– If you want to get off the beaten track and immerse yourself in nature, a camping adventure in the wilderness of a nearby nature park is a great chance to escape comfort zone to forget about everyday life. You can discover wild places, such as the Morvan regional nature park in Burgundy where you'll find many activities there, or plan a stay in Lozère, a paradise for nature and animal lovers. It is an ideal playground for the whole family to recharge their batteries and discover new horizons.
A rural 'go where the wind takes you' holiday – Not having a geographical limit for camping will also allow you to avoid places that are too touristy. It's often nice to get away from the hustle and bustle and into the countryside for a while. Being prepared to camp anywhere can help you find places that are a little less frequented by tourists, with peace and quiet. For example, you can opt for the Var hinterland. Far from the crowded beaches of the Côte d'Azur, this more remote part of the same region hides real treasures that are little known and that guarantee you an unforgettable experience in an enchanting setting.
A mountainside holiday – Introduce your children to life at altitude by choosing a mountain campsite. A splendid setting awaits you and the fresh air is the best way to recharge your batteries. It is generally advised to avoid going above 2,000 meters of altitude with children under 18 months, in order to gently accustom them to the high mountains. There are lots of lower mountain ranges in France, Italy, Spain and other countries that offer fresh mountain air and activities without very high altitude, though. You could opt for the mountains of central Corsica, for example, or the superb valley of Tavignano.
A countryside holiday – The countryside and nature are far from being synonymous with boredom for youngsters. You don't have to put them through a daily hike, but you can introduce them to tons of unique activities that they will only find in a natural setting. And if you're camping without children, the countryside is the most wonderful way to disconnect from your urban day-to-day, amongst valleys, lakes, forests and canopy of lush greenery.
A seaside holiday – When you choose open-air accommodation, you can often sleep right beside the beach. You might struggle to find less-frequented spots right on the coastline, but going to sleep with the sound of the waves and waking up with a morning dip before breakfast make for a special experience.
A sporty holiday – New places and wide open spaces, also mean new activities in nature. Look out for opportunities to try rafting, canyoning, kayaking, sailing, mountain biking, accrobranche and the so many other fun activities that are great with friends or family.