Breath it in: how to connect with nature and recharge on a camping trip
Humans have always known that being outdoors in nature is good for our bodies and minds. Yet the evolution of our societies has been towards more and more urban living.
For centuries, rising with the sun and retiring as the moon rose gave a natural structure to our lives, which was in tune with the natural world. However, as industry thrived and electricity made it easier to work through the night, our synchronicity with this natural rhythm reduced.
We have lost many of the natural health benefits of this harmony. We've lost a steady dose of vitamins from sunlight each day, as well as daily exercise from travelling on foot, physical labour, pulling food from the ground and raising our own sources of meat. Our energy levels have faded as we lost our connection with the living world around us.
But now, with research showing the benefits of getting back to nature, we are returning to the woods, forests and beaches with more passion than in over a century. We're seeking out the healing experience of being in the sea or the forest, the health benefits of foraging for and eating wild ingredients. We're taking note of the relaxing effects of simply listening to the sounds of nature. We're slowly re-learning our place in the world.
If you're thinking of taking a camping trip, here are some ideas for how to connect with nature while you're doing it.
A natural rush
Nature pays back, all we have to do is go there. Here are some great benefits of planning a camping trip in nature.
Feel happy
One theory is that we are naturally happier in nature, as our brains are wired to be surrounded by living things. Being among trees and grasslands is not only beautiful, but it reassures our subconscious minds that we are protected and near sustenance. It's suggested that this is why children are so much happier when running in the countryside – it's their natural environment. It also explains why we are drawn to natural building materials like wood and slate. It reminds us of home.
Let the noises of nature block out the mental chatter
For many people, the sounds of a forest are some of the most relaxing sounds there are. The wind in the trees, the creak of the canopy, the buzzing of bees and the birdsong overhead. Even the crunch of the land underfoot is satisfying. It all adds up to a healthy noise that can banish the modern world and refresh our minds.
Inhale nature's goodness
The air is fresher in a forest because trees and plants are natural filters, pumping oxygen into the environment and soaking up pollution. Many people keep plants in their homes for this reason, so imagine the goodness of hundreds of acres of this natural filtration.
Bathe in the serenity of trees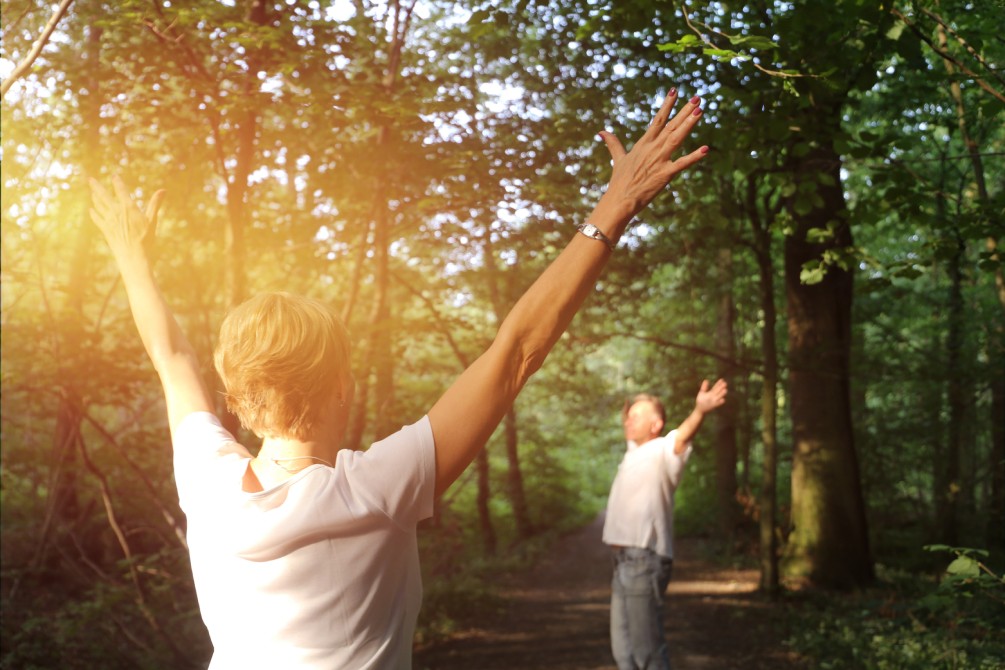 "Forest bathing", or spending time among trees, is growing in popularity all over the world. While it first got labelled in Japan, this recognition of our natural attraction to trees and forests and their positive effects on our mental health is universally applicable.
Reboot your taste buds
Forage for wild garlic, herbs, and mushrooms in the wild and you'll have a hard time going back to dried ingredients. Take to the shoreline and gather seaweed for an iodine-rich bath or natural fertiliser. The wild is simply full of goodness.
Become rooted in change
People are happier when they know where they are from. By visiting nature, we become closer to it, even when we are back in the city. You will find yourself planting more flowers and growing more trees in your yard because you have a better sense of where you are from. Time spent in nature lets you put down roots.
Harness the power of the wind
Big business has begun to harness the natural power of the wind in energy creation, but anyone who has walked a hillside on a windy day can tell you about the wind's power to fill a human with energy and banish their worries. Taking a walk on a windy day is one the most refreshing things you can do.
Let sunlight banish the winter blues
Many communities in countries that have long dark winters have realised the benefits of sunlight in defeating depression and changing our moods. Studies have proven that even a day in natural sunlight can change your mindset.
How to connect with nature and your loved ones
Give your family the chance to really reconnect with each other and the land, with a trip into nature that excites, surprises and invigorates them.
Take a hike
Walking has been proven to be just as beneficial as running – sometimes more so. Plan to get your family out on an extended hike into nature to stretch their muscles and fill their lungs. The views they will experience, the exercise they undertake and the skills they learn in navigation, nutrition and family bonding will be priceless.
Climb a tree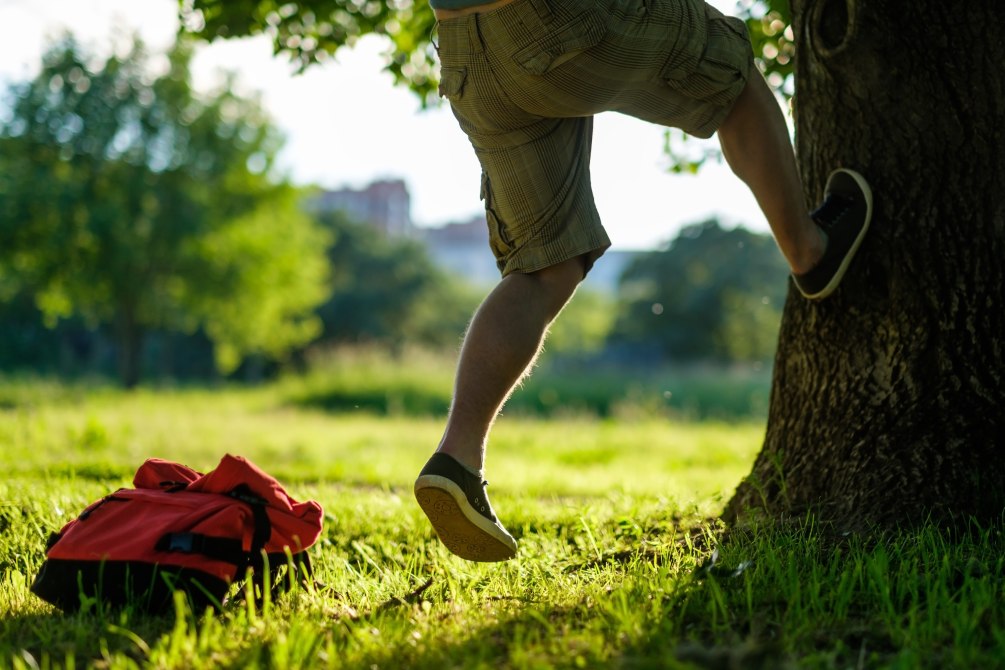 Many forest parks in France have treetop climbing facilities, where you can safely challenge yourselves to reach greater heights and discover a true sense of the treetop canopy. If you can't find a tree-climbing centre, then simply find a great climbing tree and let your kids (and you) test out their climbing skills. There are few things as fun as climbing your first tree and for many city kids it never happens. Kickstart a great memory by getting your family off the ground and into the treetops.
Jump in
Wild swimming has never been so popular. It's common to take a dip in the sea while on holiday, but have you and your family ever jumped in a lake or sat under a waterfall? It's a breath-taking experience that is both freezing cold and startlingly refreshing and it won't be forgotten in a hurry. The rivers of France have been flowing for centuries – isn't it time you gave them a few minutes of your time?
The birds and the bees
Help your family learn what lives in the woods. Bring a guidebook or app to identify and teach your kids about the insects and birdlife around them. Include the sound of birdsong also so that your kids can learn to identify them. It will mean you might have to do a little bit of research in advance, but it will be worth it.
Eat up
Gastronomy tours on farms and country estates are great ways to introduce your family to the natural goodness of the land. There are many campsites near farms or small businesses in rural France that offer tours and activities which kids will love. It's a great chance to let them see where honey comes from, what an organic chicken is like and what bread is really made of.
Quick questions about natural escapes
Still unsure if a holiday in the wild might suit? Try our frequently asked questions for some tips
Is connecting with nature a good theme for a family holiday?
You might think your children only care about their devices, but you'll be amazed at the appetites they build and the activity they manage to complete when you drop them into the wild. From climbing trees to conquering mountains, there's a whole world of excitement for your family to get involved in and most of it is for free.
Are there many campsites near wild places?
Almost all the campsites in France are located near or within driving distance of a natural landscape such as a national park, or a mountain or valley. Some campsites are created to be completely surrounded by nature, giving you a view to wake up to which you'll never forget.
What kind of accommodation can I stay in on a French campsite?
There are lots of different campsite accommodation types in natural environments – from chalets to treehouses, forest cabins to cottages, safari lodges to yurts. Some of these are incredibly luxurious too. For a really natural experience, look inland in France away from the busier coastline and you'll find wonderful family and couple-oriented camps with incredible choices of landscape and accommodation.
Are there eco-friendly campsites in France?
Yes, there are many eco-friendly campsites and demand for them is growing. The most popular ones are those that have designed everything around protecting the environment – including solar power, sustainable building materials, natural water sources and experiences which leave no trace on the environment.
Can I get into nature but still have a luxury experience?
The most luxurious campsites are in some of the wildest places. You can find an incredible treehouse in the canopy of a forest or a bell tent in a lush valley. There are shepherd huts in places that can't be reached by car, with views that you can only imagine. Campsite providers have reinvented getting out into nature and luxury is a natural by-product of that experience.
Dreaming of a natural escape? Try camping in France